Creative, stimulating design doesn't just happen. Since its inception, WeWork has had a global in-house team of artists, architects and interior designers that strategically design spaces. The designs have encouraged engagement, stimulation and inspiration in both WeWork members and guests in over 700 WeWork locations worldwide. 
Crafting these spaces takes thought and collaboration from many teams, including the global studio, lighting, and art and graphics teams. It begins with planning out a space in a way that complements existing building architecture, then layering the space with finishes, lighting, and carefully curating furniture and art.  
The WeWork design formula
WeWork employs distinctive, recognisable design elements across all of our locations. This includes using similar styles of fixed joinery, furniture, framed artwork, neons and lighting. A consistent aesthetic reinforces the global brand identity. The design team also finds strategic moments to inject customised immersive experiences and moments of surprise, making each space feel individualised.
The history of a location plays a big part in the design process. Our team researches the history of the building, neighbourhood and city that houses a WeWork, in order to collect images that will inform designs – from wall finishes to fabric choices. For an upcoming project on Wardour Street in London, for example, the team explored the building's history and connection to the film industry as well as its art deco architecture.
The WeWork design team iterates on the strategy by collecting member feedback, evaluating competitor offerings and keeping up to date on market trends. We synthesise these inputs, then innovate on the ideas to create a vision that aligns with WeWork values.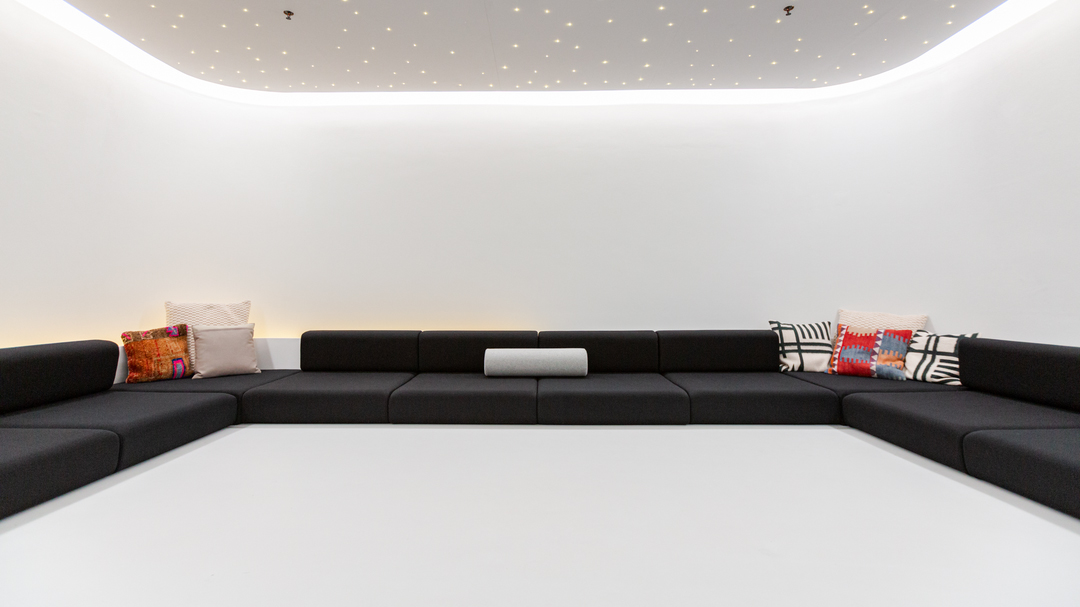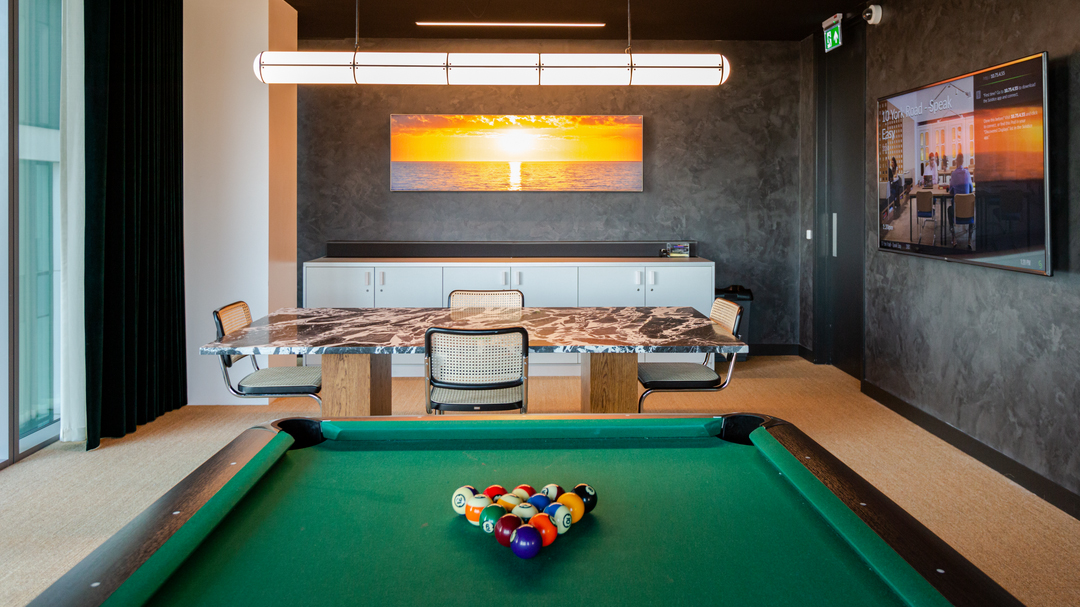 Everything is intentional, including materiality, or the physical materials used in a building. The majority of lounge and office spaces are finished with light wood flooring to create a residential feel, rather than a sterile office vibe. Walls are often painted white to reflect more light, creating an airy feel. Darker, more textured wall finishes are employed in restrooms, super nooks and event environments to help distinguish the shifting mood between workspace and areas used for alternative purposes.
Building community through art
Art can be used to help give identity to a workspace, especially when we commission and design custom pieces.
Each custom piece of artwork at WeWork – from wall murals to large sculptures – is selected by taking into account what its visual context and location would be. Members and visitors bring their own unique perspective and experience when they interact with the artwork, which triggers different emotions in each observer. It's this emotional connection that drives us as designers. We want our members to feel transported from their day-to-day lives and to feel recharged by the stimulating art that surrounds them. 
To create the artwork that adorns WeWork spaces, we start by looking at three key themes within the neighbourhood of a project: local culture, historical elements and local architecture. In this way, we can pay homage to the historical and regional cultures. In addition, the team works exclusively with local artists to bring one-of-a-kind artwork to life. 
In order to maintain the essence of locality, we work exclusively with artists who are native to the area of the project. Once our art and graphics and creative studio teams have outlined a detailed brief and scope of work within the location, we will work directly with a local artist, using their creative style, knowledge and ability to see those pieces come to fruition.
Creating work that has authenticity and relevance to the area where it is being designed is extremely important. Examples of this can be seen in all our projects. A mural painted at Belmont Court in Brussels is a good example of design inspired by local architecture and the Triumphal Arch. A community desk can also be used to highlight local themes and to create an almost cabinet of curiosity.
Art can also help facilitate building community, one of WeWork's key focuses. By highlighting themes that bring people together, such as wellness, nature, fun and whimsy, the art strives to create a sense of unity and collective consciousness.   
Our design team wants to develop experiences that bring our members and communities together. During a pandemic, creating connections with others is so important, and art in the workplace can help facilitate that. It gives others a sense of togetherness and belonging. If we reach even just a small group of people, we have achieved our goal.
Let there be light
Lighting is never an afterthought or autopilot decision at WeWork. In fact, it's one of the most influential forces influencing how people perceive and connect with their environment. Lighting has a significant impact on an individual's performance, health and well-being, and it plays an important role in creating key emotional connections with a brand. Whether our team is harnessing natural light or applying artificial light, the focus is on providing considered lighting designs that encourage productivity, concentration and satisfaction. 
When highlighting points of interest within a large open space, for example, symmetries – often achieved through lighting – help bind various design elements into a unified formal design. See how this plays out at WeWork Aviation House in London. Linear-shaped wall lights are placed vertically on columns to convey a sense of order. Mint green goalposts frame fixed banquettes with suspended globe lights that serve as visual punctuations above the tables. Wall-mounted, neon light art creates a centralised focal point on the axis line that separates the mirrored lighting, architecture forms and furniture within the space. This use of mirroring creates a sense of calm logic and visual order.
Lighting also serves as navigation. At WeWork welcome desks, an integrated lighting design helps direct visitors to these immediate entry points for communication. For example, at the welcome desk at WeWork Via Vittor Pisani, 15 in Milan, vertical illuminated bands of light are layered with contrasting dark Italian marble. The desk is further highlighted with a backdrop of symmetrically positioned glass wall lights framing the vista through to the interlinking pantry and lounge area.
Our design teams also layer light sources to create interesting, appealing spaces. They combine different fixture aesthetics, light source qualities, distributions and intensities to create an encouraged mood. Layering light not only helps bring a space to life, it also brings versatility and flexibility. Mixing and matching multiple light sources means that the space one uses for work in the daytime can be transformed into an elegant space for entertaining, or into a cosy nook for reading or for quiet conversations in the evening.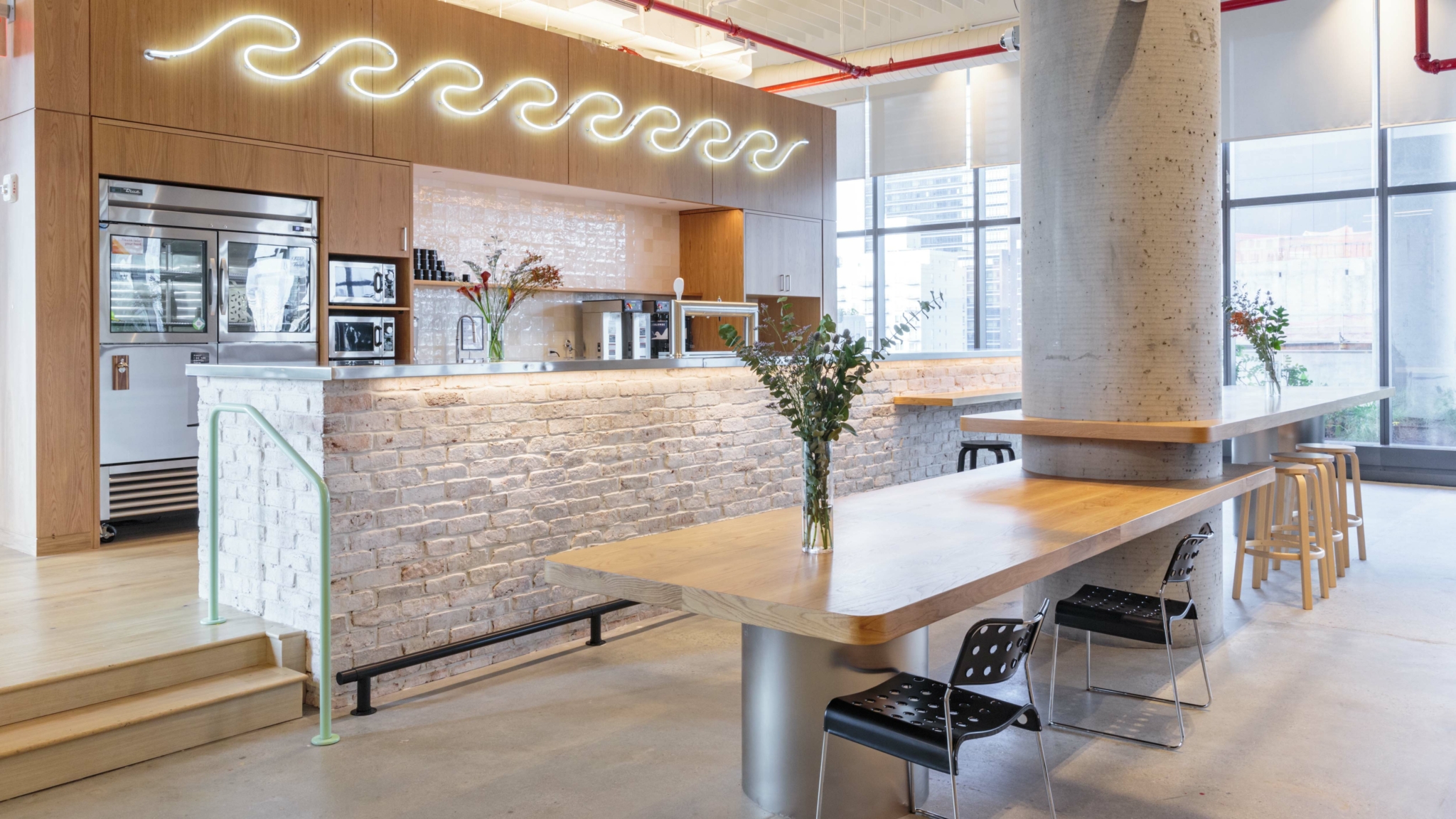 In every location and with every project, WeWork's design teams treat members to a unique visual storytelling experience by using design, art and lighting. It's a key part of what sets WeWork spaces apart from typical workplace environments. 
For the artists and designers who create these stimulating visuals, it's meaningful to see our contributions impact members. For us as a company, it's an important way to push boundaries and create work to elevate a space, making it one that's inclusive and that evolves with the times.  
Claire Hamill is senior lighting manager at WeWork. She focuses on innovations, design and standards, elevates member experience through lighting, and ensures that spaces look and feel great. She has a background in interior architecture, art and lighting design. 
Loren Stuart is art and graphics manager at WeWork. She curates specialist artworks, collaborates with local artists and oversees the art direction for individual buildings. Her background is in the art industry, from galleries to art fairs, and she specialises in photography.  
Scott Rominger is the creative director for International Studio, where he oversees interior design direction. His background is in high-end residential and retail design.
Rethinking your workspace?