Every WeWork space is intentionally designed to promote inspiration and collaboration. Designed to Inspire delves into the architectural and artistic elements of these spectacular buildings.
When WeWork set about redesigning the space at WeWork 9830 Wilshire Blvd in Beverly Hills, CA, the team felt an enormous architectural and design responsibility. After all, the over-30-year-old building was designed by iconic architect I.M. Pei and was the longtime headquarters of the famed talent agency Creative Artists Agency.
The goal was both simple and ambitious: To bring this post-modern classic up to date and adapt it to two ever-changing industries—entertainment technology and workplace design. WeWork's plan was to sensibly renovate and restore this Los Angeles gem.
The history of an icon for the city
I.M. Pei designed the building, which opened in 1989, after much persuasion, according to Powerhouse: The Untold Story of Hollywood's Creative Artists Agency, by James Andrew Miller. Miller's book recounts the story about how the founder of Creative Artists Agency, Michael Ovitz, wanted the CAA building to be a "cultural destination," an "icon for the city." And he wanted Pei to design it.
Pei—who was in the middle of his work at the Louvre and the Bank of China building in Hong Kong—said no. So Ovitz reportedly called Pei every week for about a year, flew him first-class out to L.A., put him in one of the best hotels, and took him to some of the finest restaurants, before Pei finally relented.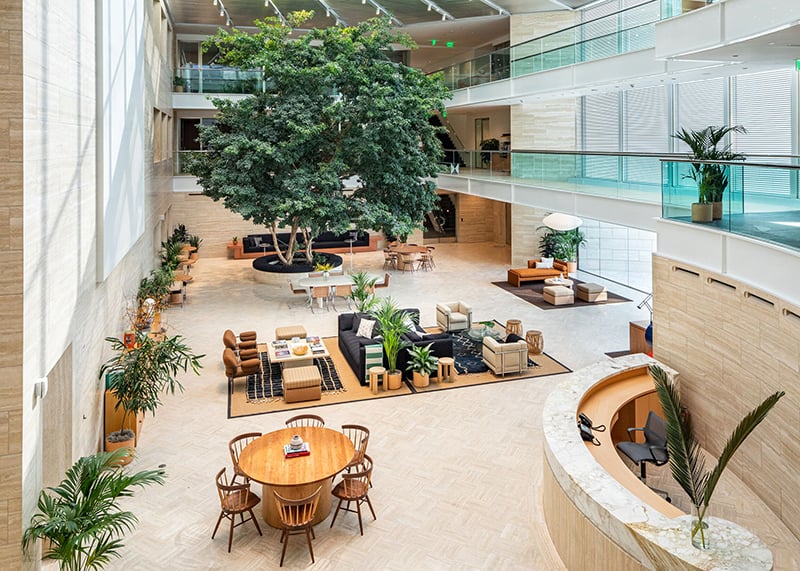 Ultimately, the three-story, 73,000-square-foot building was constructed near the heart of the world's entertainment media industry, at the intersection of Beverly Hills and Century City, known as the "Golden Triangle" of Beverly Hills. The space consists of two curved wings set around a 57-foot-high central atrium designed as an art-filled formal reception hall with a 100-seat screening room and gourmet kitchen. The building's central art element was a huge 27-foot-by-18-foot mural by Roy Lichtenstein. The mural was relocated in the redesign and a new one will be commissioned by Ovitz.
Pei's intent was to showcase existing rich materials while extending a new natural language throughout. According to the Los Angeles Conservancy, "Pei envisioned the atrium as a place where artists and agents alike could meet and interact." They did—as did staff and visitors of Sony, another tenant—until CAA outgrew the space in the early 2000s.
Restoration with an eye toward function
Four decades after it was built, the building has been reimagined and reborn. WeWork harmonized new designs with Pei's original vision, using thoughtful and considered strategies respectful of the building's provenance.
In keeping with the building's legacy, forms and finishes are inspired by the building, its location, and Pei's catalog of work. The palette of architectural finishes—composed of flat volumes of cherry wood, natural slate, chrome, and stainless steel—is pulled directly from Pei's catalog.
The project focused on open space for workers and guests, preserving the original architecture while opening and lightening the space. In designing the interiors, WeWork relied heavily on existing cues of monumentality and rich, understated materials. For instance, the team kept the original travertine in the three-story atrium, while refreshing the space with warm and light wood tones. Warm woods, rich fabrics, and purposefully situated skylights permeate.
The marble reception desk has been restored to its former glory and left largely as is. Seating around a tree installed when the building originally opened was reupholstered to encourage relaxation and informal conversations. Openings along the main travertine wall have been transformed into millwork banquettes for smaller groups to sit. Beyond the banquettes, a large auditorium was refurbished to evoke a black-box theater, emphasizing the multipurpose function of the building.
In the center of the space lie the workspaces and entries to other floors, either by elevators or a quarter-circular staircase. On the basement level, stepping out of a neon-soaked vestibule, there are dressing rooms with vanities reminiscent of old Hollywood that flank the editing suites. These suites are paneled in warm woods from floor to ceiling for sound attenuation. The basement lounges are designed around the existing skylight and overscale concrete columns.
The basement floor was designed with unique amenities to suit the building's television and film community, such as a screening lounge, a master suite, a post-production editing room, a space for hair, makeup, and wardrobe, a film production studio, and a director's lounge.
As one moves up the floors, looking out toward the Hollywood Hills, daylight floods in from the windows and skylights to allow for moments of relaxation and visual interest throughout the offices and conference spaces. Small pantry kitchens are typically inset and accompany open lounge spaces; the millwork details tie in with those found in the atrium. The material palettes remain largely neutral-toned throughout.
By integrating modern materials and technologies that both connect to and update Pei's original design, WeWork was able to create a streamlined, functional, and connected building that will inspire and inform the future of the media workplace.
Discover the space yourself. Book a tour of WeWork 9830 Wilshire Blvd here.
For leasing interest, please contact:
Scott Hahn
Leasing Director, Southern California
M: +1 (949) 293-8928
scott.hahn@wework.com
Haris Totakhail
Portfolio Director, Southern California
M: 303-489-7862
haris.totakhail@wework.com
Ruben E Hernández-Correa is global director of interior design at WeWork, working with a team of designers, artists, and architects to create and curate interior spaces. The global interior design team is dedicated to an original, forward-thinking, and innovative design language. Hernández-Correa has a background in architecture, with 12 years of experience at New York City design firms.
Rethinking your workspace?