Space is a powerful tool to foster engagement, inspire innovation and drive productivity. But what exactly does an optimal space look like? In the Science of Space, we explore how the science of intentional design can turn any work environment into a holistic experience.
Walk into a WeWork location anywhere in the world and you'll find splashes of brilliant colour adorning the walls. Look a little closer and you might wonder: Is that painting of a coffee cup from the bodega around the corner?
It very likely is. The artwork in WeWork spaces, from murals to paintings to neon signs, is all distinctly made for a specific space and inspired by its location. The pieces pay homage to everything from the original function of the building, the neighbourhood or the natural elements of the region surrounding the office.
That's because localisation, or the process of connecting with a local community, is one of WeWork's key values. Before we open a space, our on-the-ground teams conduct deep-dive research on the culture of each location. They take notes if there is, for example, a neighbourhood restaurant that people frequent, or an inside joke about the underground or whatever mode of transport people take to get to the office.
'We look for things that are so local that you have to be from the local area to understand it,' says Jeremiah Britton, global art director at WeWork. 'When we go into a new neighbourhood, we want it to feel like we're authentically a part of a community as opposed to feeling like we're forcing our ideas onto it.'
Art is integral to that localisation. WeWork's in-house art team will often utilise traditional imagery or patterns but with a slight twist to make a piece of art feel fresh, modern and playful. That, in turn, sparks creativity and fosters innovation in addition to making a space feel more uplifting.
Since the vast majority of a person's waking hours are spent at work, it's important that the art they see when they look up from their desks makes them feel happy rather than stressed. Everything from the form of the work to the colour helps do this. Here are some examples of how art in WeWork locations around the world reflect the local culture.
Flora and fauna in Mexico City, Mexico
A mural in WeWork Reforma 26 overlooks a common area. It features local plants, including cacti and Mexican water lilies. The piece offers a colourful twist on traditional depictions of the plants, rendering the usually yellow flower in a pastel pink and green cacti in hot pink and blue.
Neon is a staple in WeWork workspaces. A neon creature with elongated ears overlooks a common space in WeWork Reforma Latino. It's a lighted interpretation of a Mexican alebrije, or a small, colourful, mystical animal. Popular in Mexican folk art, alebrijes are made up of a mix of parts from other animals.
A local commission in Miami, FL, USA
One important way WeWork connects with local communities is by collaborating with local artists. This tiger painting, for example, in WeWork 2222 Ponce De Leon Blvd, was created by local painter and muralist Boy Kong, who is inspired by animal folklore.
A whimsical bonsai in Tokyo, Japan
Bonsai is the Japanese art of growing small plants in shallow pots. In WeWork Tokyo Square Garden, a traditional bonsai tree is depicted in larger-than-life terms. Rendered in calming tones rather than its natural green, this giant bonsai tree is hung over an open workspace.
A scenic mountain range in Warsaw, Poland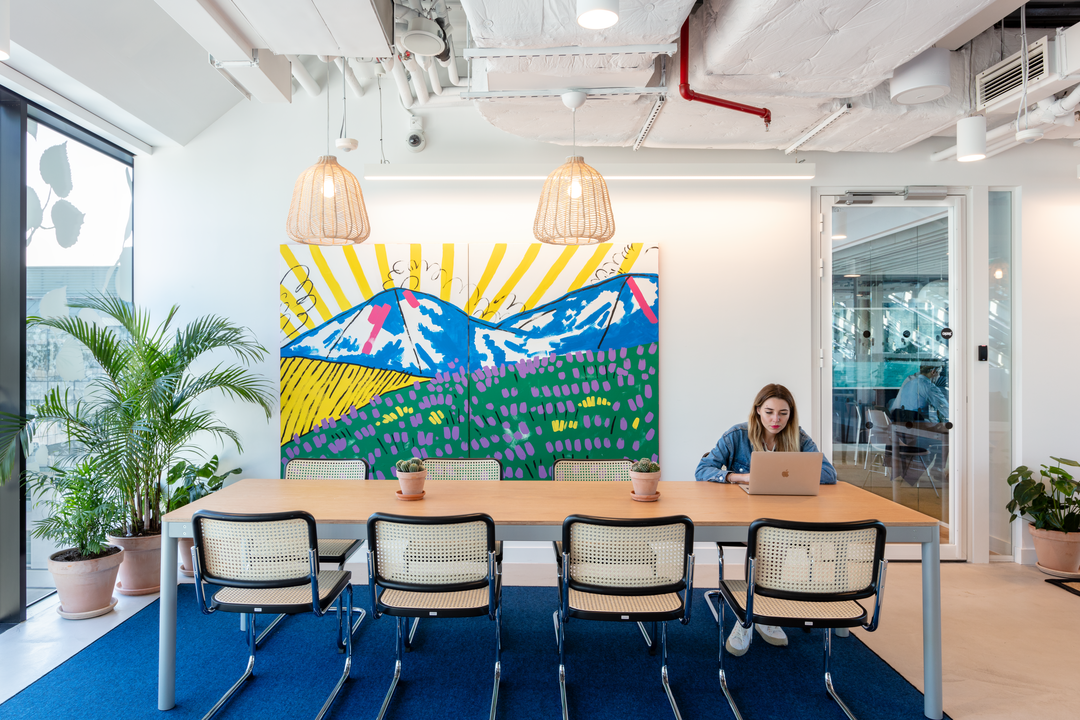 This colourful painting brightens up a communal workspace in WeWork Hotel Europejski. Inspired by traditional folk art, this large piece depicts the Tatra Mountains in the south of Poland.
Redwood trees in Mill Valley, CA, USA
Inside a conference room in WeWork 1 Belvedere Dr, a large painting pays homage to the towering redwood trees native to the Bay Area.
A tech explosion in San Francisco, CA, USA
In WeWork's offices in the Salesforce Tower, a vibrant painting depicting a volcano is a reference to the explosion of the tech scene in the city. Like many works of art in WeWork locations, it uses colour in a playful way to enliven the space.
Migratory birds in Bengaluru, India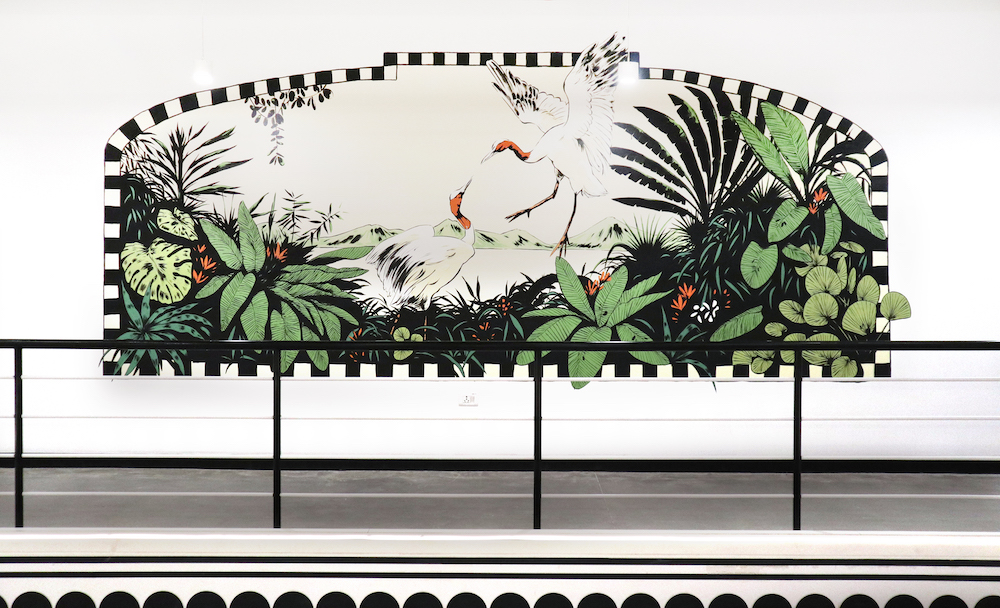 A mural in WeWork Prestige Central in Bengaluru pays homage to the rich flora and fauna of the city, which sees many migratory birds around its numerous lakes. The topiary garden is a nod to ancient gardens in India. The shape of the mural, with its rounded arches and decorative motif, is inspired by traditional Indian schools of painting.
A traditional lion in Shanghai, China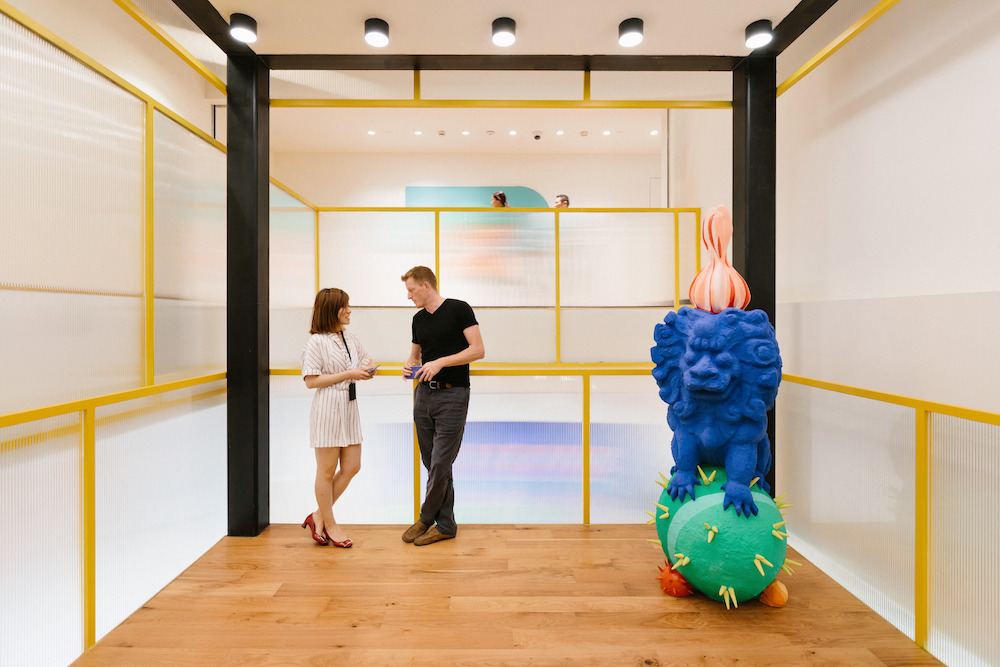 In WeWork 819 Nanjing Xi Lu, a guardian lion occupies a corner. Lions are traditionally employed in Chinese architecture in front of doorways to guard buildings from evil spirits; male lions are usually shown with their paw on a ball. This sculpture gives a colourful update to that tradition.
Art has the power to elevate a space as well as ground it. Always playful, bright and colourful, art in WeWork spaces serves many purposes. It acts to connect the workspace to the larger city outside the office by bringing pieces of the environment into the space in unexpected and quirky ways.
Ultimately, art is utilised to help employees feel calm and inspired. With purpose-built environments, employees can feel comfortable in a beautiful workspace, which in turn makes it easier for them to do their best work.
WeWork offers companies of all sizes space solutions that help solve their biggest business challenges.
No Fields Found.