WeWork has always showcased art in our spaces—not only to serve as a visually engaging design element but also to stimulate and inspire visitors and members alike. From murals and framed pieces to trademark neon signs, there's always a visual delight around the next corner in a WeWork building. If you're lucky, you may stumble upon one of WeWork's unique immersive light and art installations.
These site-specific installations use illumination and sculptural material to transport the observer beyond the "real world" to an alternative reality. Each individual installation treats members to a unique visual storytelling experience. They also evoke thoughts and emotional connections with a brand and space, communicating in an unspoken language. Creating engagement is key to making an experience memorable for the viewer, and light art has an incredibly powerful magic that captivates viewers' imaginations.
Research from the Graduate School of Education at Harvard University shows that art promotes social interactions, elicits emotional responses, facilitates making connections with others, and generally enhances the workplace environment and fosters learning. Architectural light installation and light art provokes, reflects, energizes, and engages people and spaces, setting the tone for a person's journey throughout the workday.
At WeWork, we want to create experiences that bring our members and communities together. In the wake of the pandemic, creating those connections with others is so important, and art in the workplace can help facilitate a sense of unity and belonging.
Connection, reflection, and immersion come together for maximum impact in each of these eight light pieces on display in WeWork locations around the world.
Transitional light and motion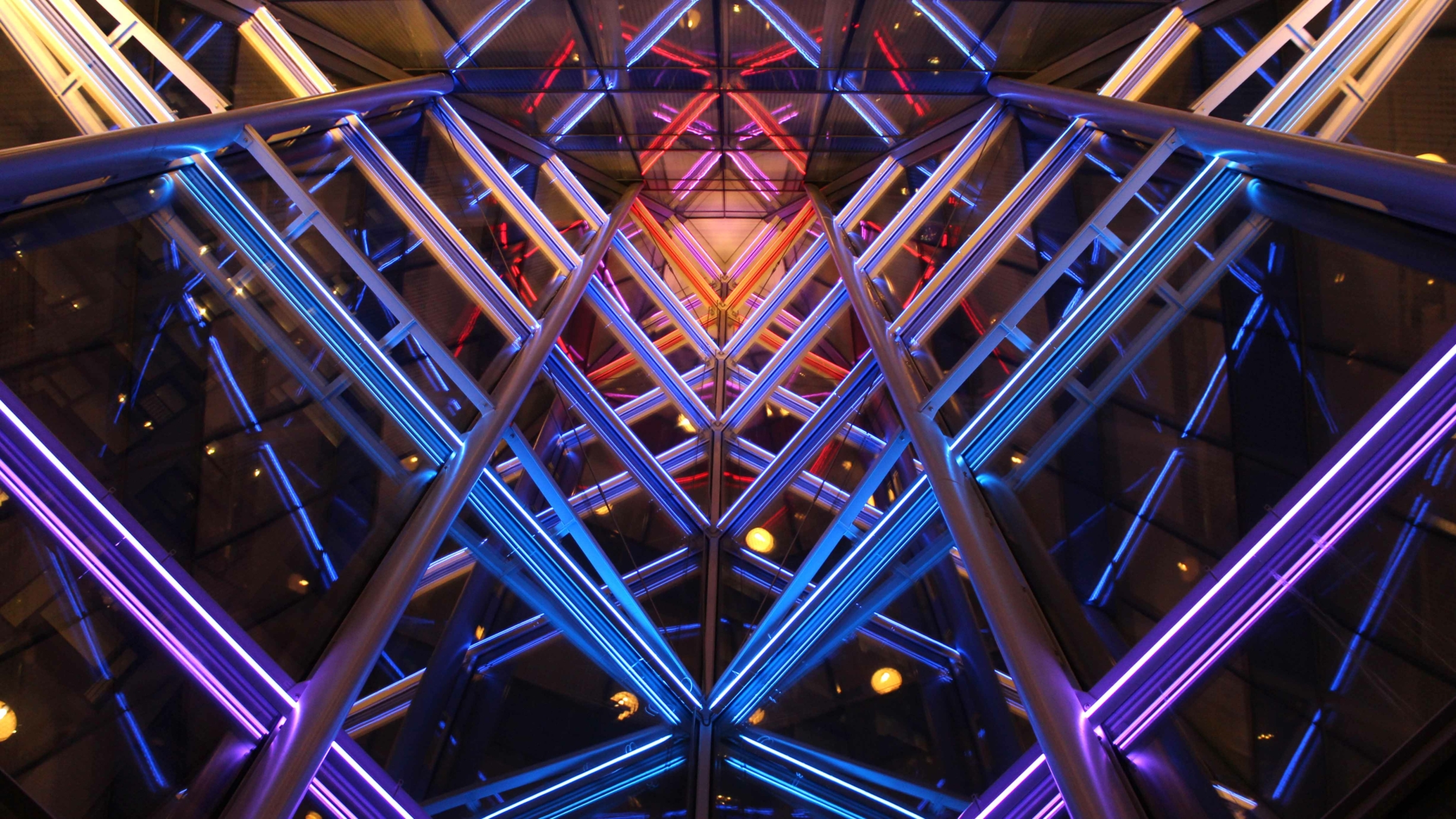 Every month, tens of thousands of people cross over Waterloo Bridge and along York Road, and those who look up will see a light installation housed in the eight-story lobby atrium of WeWork 10 York Road. The piece, called Rising, features a multitude of vivid colors, to help celebrate global density and community. The colors transition throughout the day and night, creating a flow of movement and the sense of being constantly in flux, much like the busy area itself.
Neon chandelier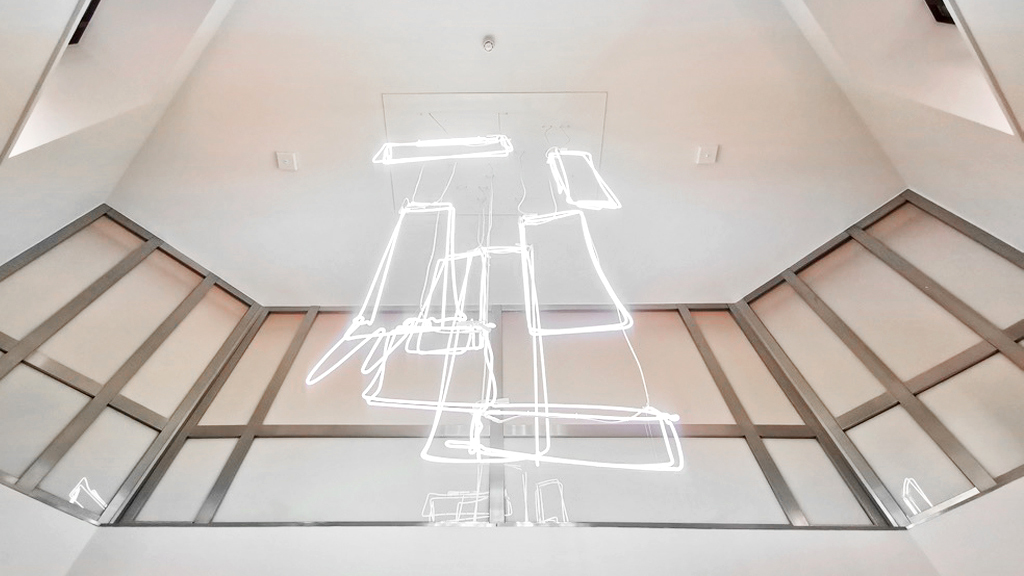 High above the entrance at WeWork 12 Moorgate in London, this striking abstract neon chandelier dangles for all to see—inside the space as well as through a large square window from the street. Designed by former WeWork art and graphics designer Ben Field, the chandelier is made up of eight individual parts. It evokes a sense of movement and playfulness that changes the viewer's perspective, whether the viewer is seeing it from the street outside or from directly beneath it. This piece mimics and mirrors the architectural surroundings of the mezzanine above, inviting the viewer to look at form and shape and reflect on their environment.
Tricolor light bays
A tricolor light experience greets observers outside the elevators at WeWork 1150 S Olive Street in Los Angeles. The three architectural bays, each with an individual zone of a square configuration, have continuous RGBW indirect coves, designed by former WeWork designers Tamara Yurovsky and Nayive Kalkach. The three saturated colors—orange, pink, and blue—visually overlap as an individual walks through each interlinked space, creating gradients of mixed color.
String motif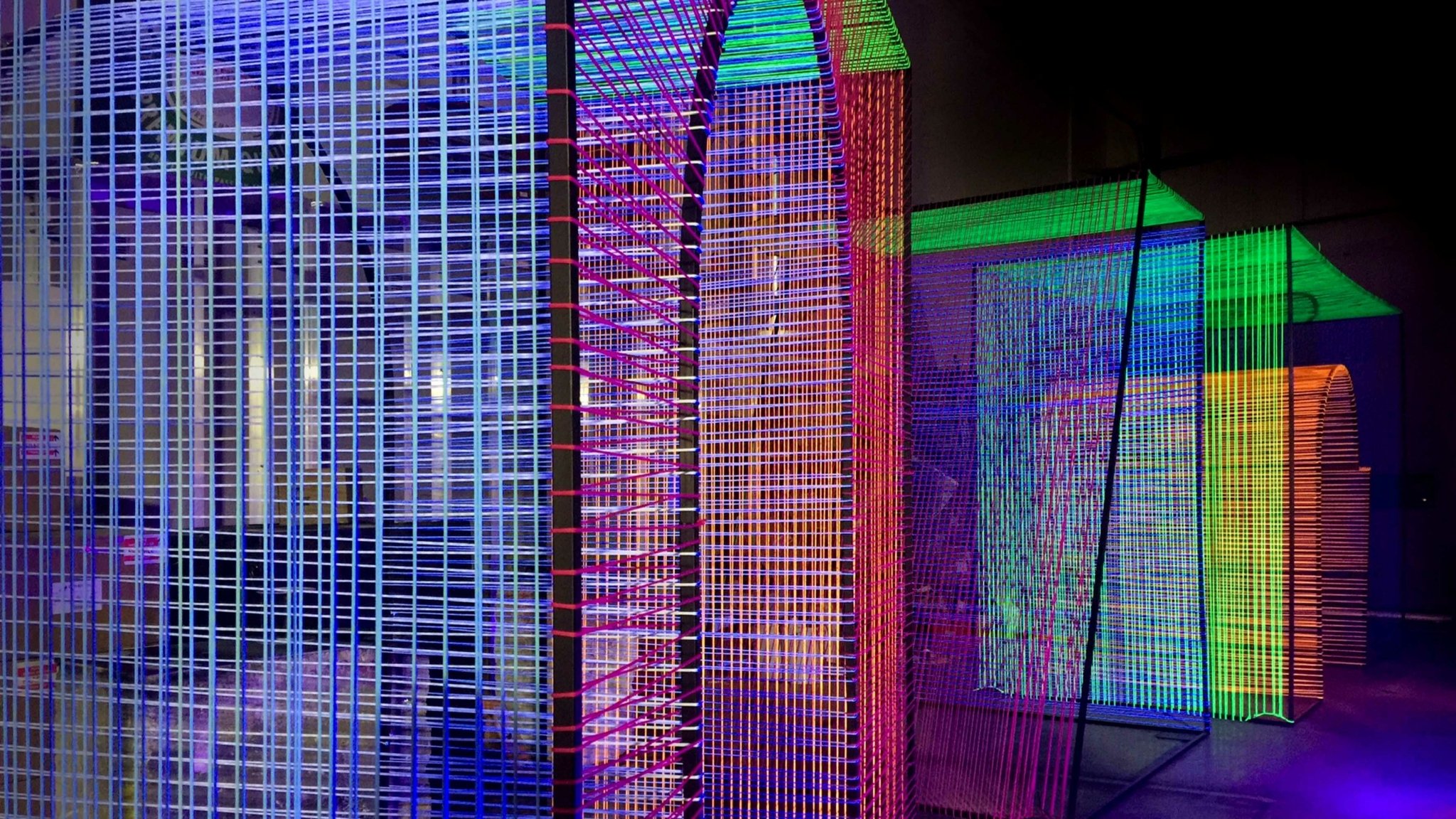 The installation in the main courtyard at WeWork 8 Devonshire Square in London uses 6 kilometers of string, neon lines, and geometry as a visual metaphor of connection with space. Taking simple block shapes and motifs of arches, window reveals, and building details extracted from Devonshire architecture, the series of structures are illuminated with ultraviolet light. The concept uses string as a metaphor to connect people and build community within a place.
Infinity neon table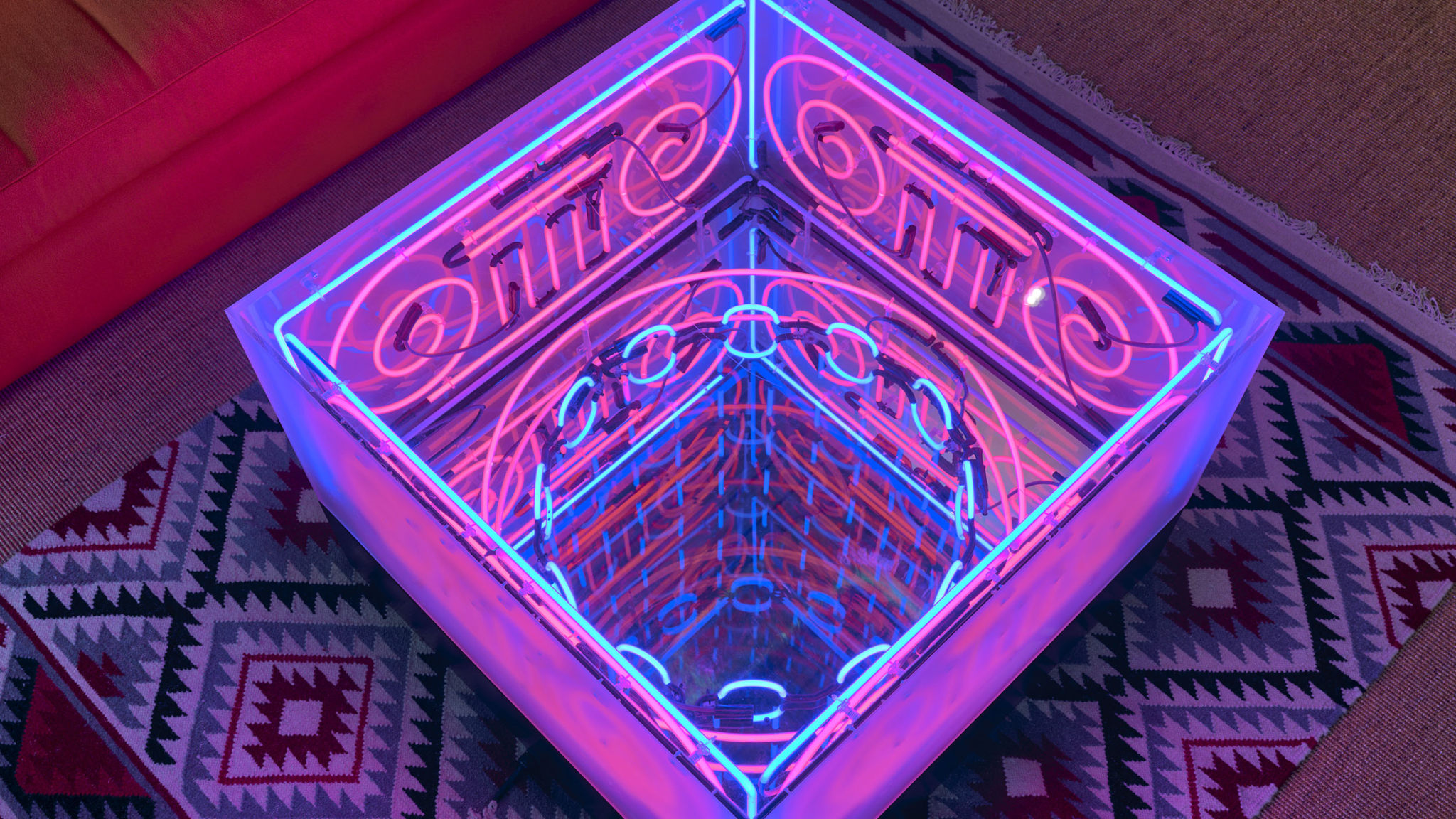 When artists and designers blur the line between art and furniture, magic happens. Taking inspiration from the building and the large columns that make up the entrance to WeWork 123 Buckingham Palace Road in London, former WeWork designers Gareth Dunt and Patrick Schmidt created a mirrored table that has a visually infinite effect when one views it from above. The piece, which serves as a functioning piece of furniture and a key focal point in the large communal area, is a striking reminder of the beauty of collaboration between disciplines.
Interactive digital installation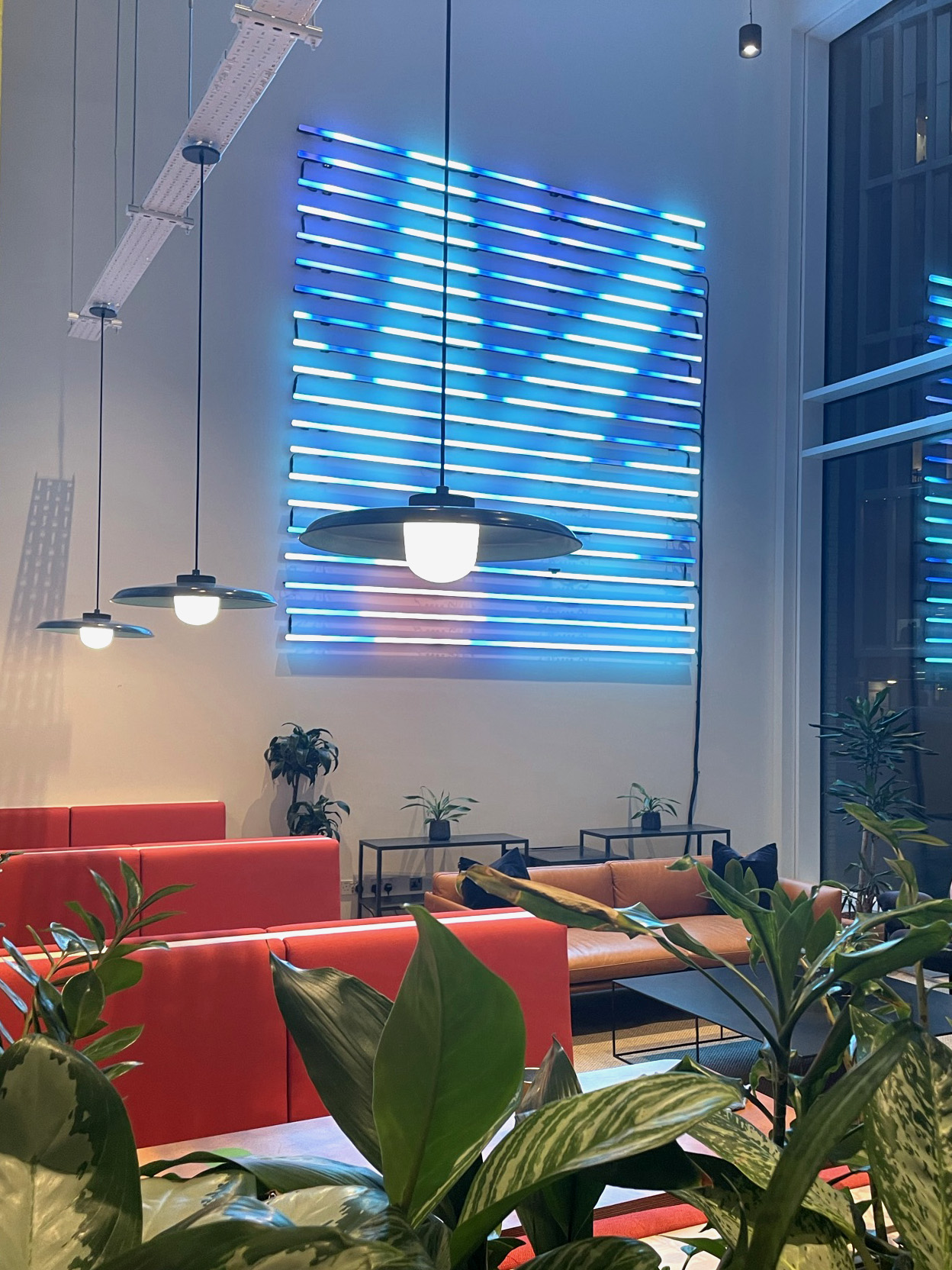 An interactive wall at WeWork 145 City Road in London displays an animated abstraction made up of 30 digital pixel linear bars. It's a piece that responds to physical movement. It attempts to efface boundaries between art and the viewer by creating visual and emotional engagement, thereby playing with the viewer's sense of perception. As day turns to night, the saturation and light expand further into the space, which intensifies the immersive experience.
Meditative art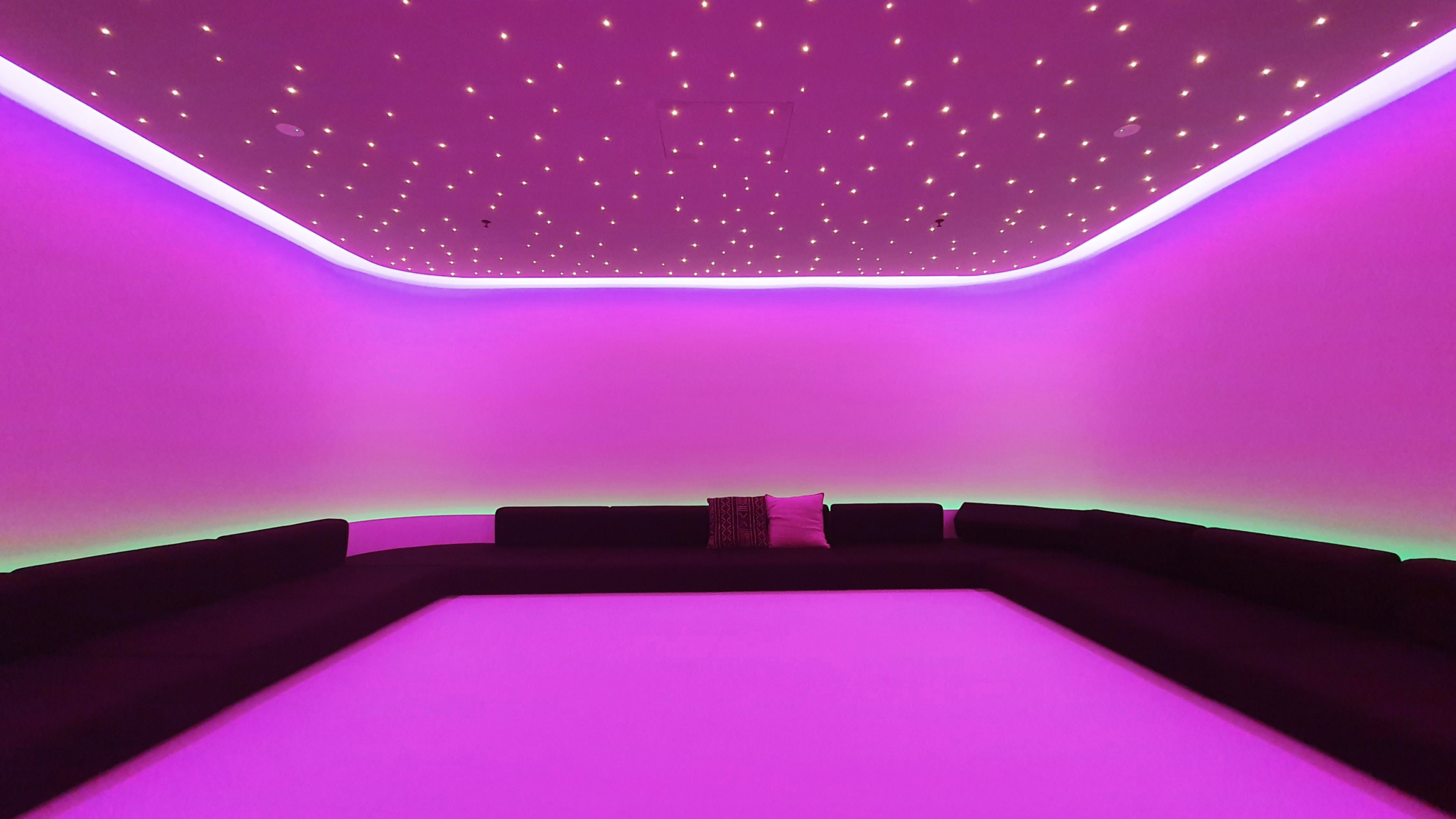 The meditation room at WeWork 10 York Road in London's Waterloo neighborhood has layers of chromic lighting intended to enhance and evoke different emotions. The effect is further enriched with mind-stimulating sound and music for an overall sense of tranquility and wellness.
Staircase light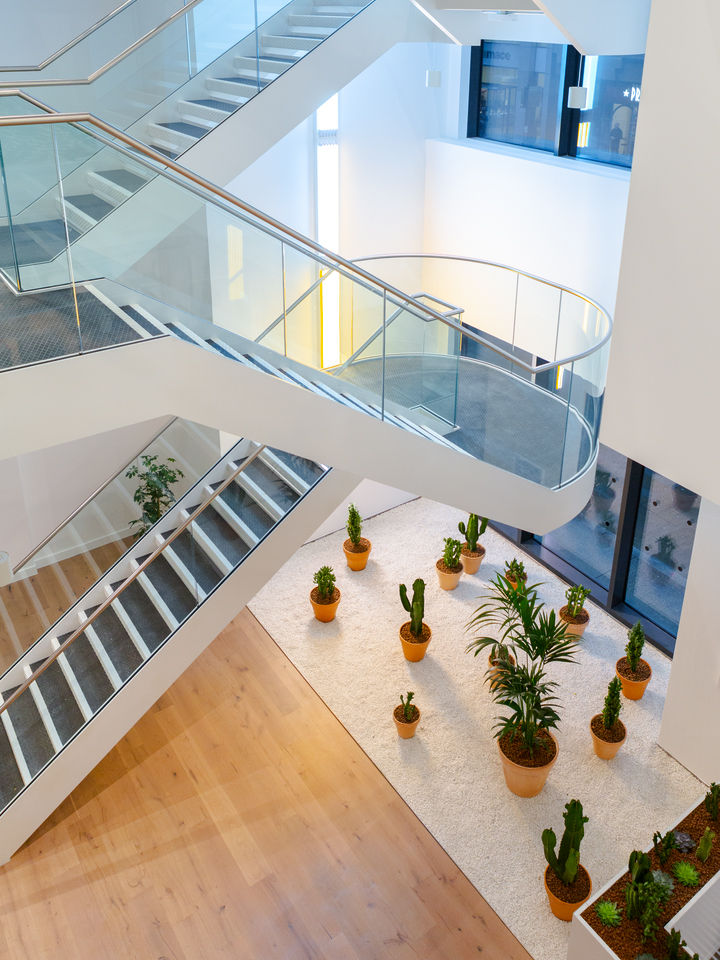 Walking past the large glass facade that makes up the entrance of WeWork 120 Moorgate in London, one can see the double-flight staircase to the second floor. That makes it a key location for a striking light moment that could be seen by the thousands of commuters that pass the building each day. The six-and-a-half-meter-long art piece, designed by former WeWork art and graphics designer Gareth Dunt, is made up of 30 encapsulite LED light sticks in blue, orange, and yellow along the edges of the staircase. The fun, impactful piece was designed with the context of this architectural open space in mind.
At WeWork, the lighting and art and graphics teams collaborate to push boundaries, using visual installations of light art to create conceptual connections between light and space. These immersive installations are yet another way to connect with those who enter WeWork spaces around the globe.
Claire Hamill and Loren Stuart oversee the international portfolio for projects across EMEA and the Pacific, where they collaborate on envisioning, designing, and realizing light art pieces.
Stuart is art and graphics manager. She curates specialist artworks, collaborates with local artists, and oversees the art direction for individual buildings. Her background is in the art industry, from galleries to art fairs, and she specializes in photography.
Hamill is lighting manager. She focuses on innovations, design, and global standards, elevates member experience through lighting, and ensures spaces look and feel great. She has a background in interior architecture, art, and lighting design.
Rethinking your workspace?