In 2019, WeWork opened hundreds of new spaces to make up a portfolio of 625 locations across 33 countries. These blank canvases are transformed by our team of architects, interior designers, art and graphics specialists, and creative directors into inviting places to work.
The team's goal is to make each space feel not just functional and aesthetically pleasing but designed with comfort at its core. This aspect of WeWork's design ethos is a radical shift in office design. Instead of having rows of desks or worse, cubicles, WeWork spaces feel warm and human.
"We're motivated by the opportunity to push the boundaries of how design can change the way people work," says Hayley Slavitt, former head of creative strategy on the design team. "We design for our members first and foremost, and aim to design spaces that inspire creativity and productivity."
The team picked some of their favorite designs from projects that debuted in 2019.
The ultimate lounge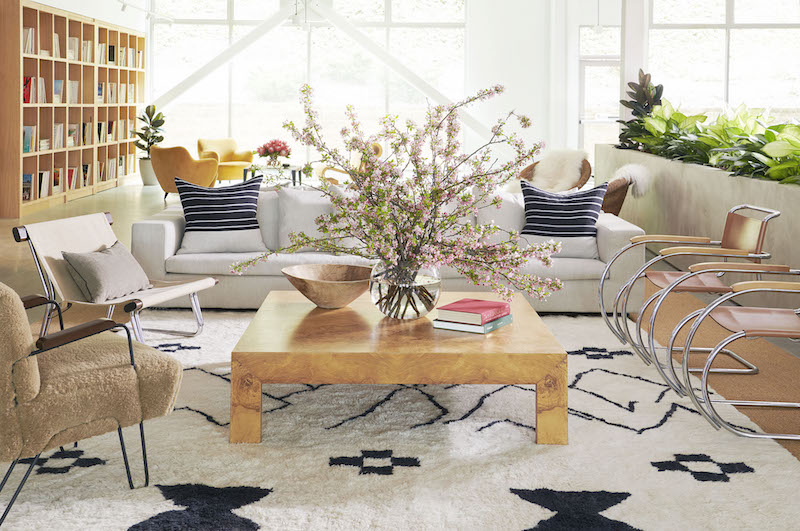 This lounge in WeWork 1 Belvedere Dr in California is what Slavitt calls "the lounge of all lounges." It's the perfect mix of comfort and classic, with a burl wood coffee table and Moroccan Beni rug pulling the space together. A long sofa flanks the table on one side. On the other sides is a mix of seating that makes the space feel timeless: a pair of vintage MR chairs by German-American architect Ludwig Mies van der Rohe, a Scandinavian canvas and chrome sling chair, and a mid-century hairpin chair.
A room with a view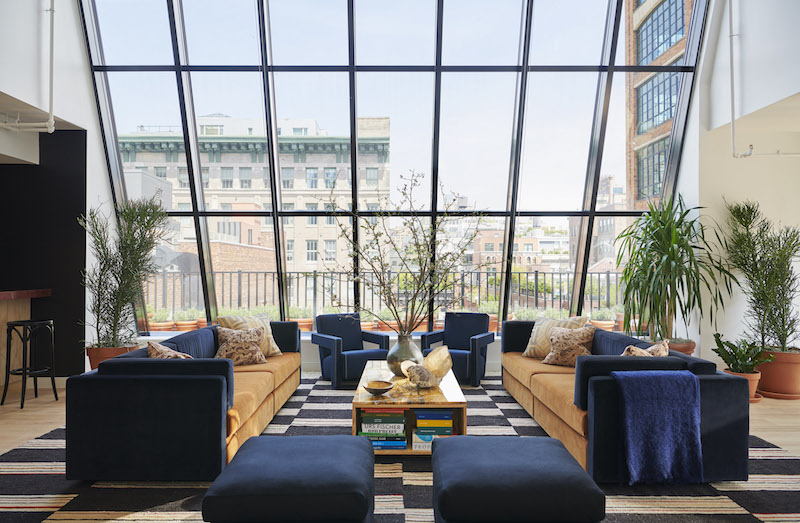 Having lots of light is a treat for any office. Studies show that exposure to natural light can improve employees' mood, energy, alertness, and productivity. The top floor of WeWork 53 Beach Street in New York City's Tribeca neighborhood features dramatic floor-to-ceiling windows, allowing light to spill into the open lounge area. Lots of greenery brings the outdoors in. Mirroring the sheets of glass is an expansive checkered kilim rug that's made from the recycled wool of vintage rugs. The rug is by Double Knot in New York City, one of the team's favorite local vendors. A foundational goal of the team is to bring in local touches into each individual space, including working with vendors based in each city.
A secret getaway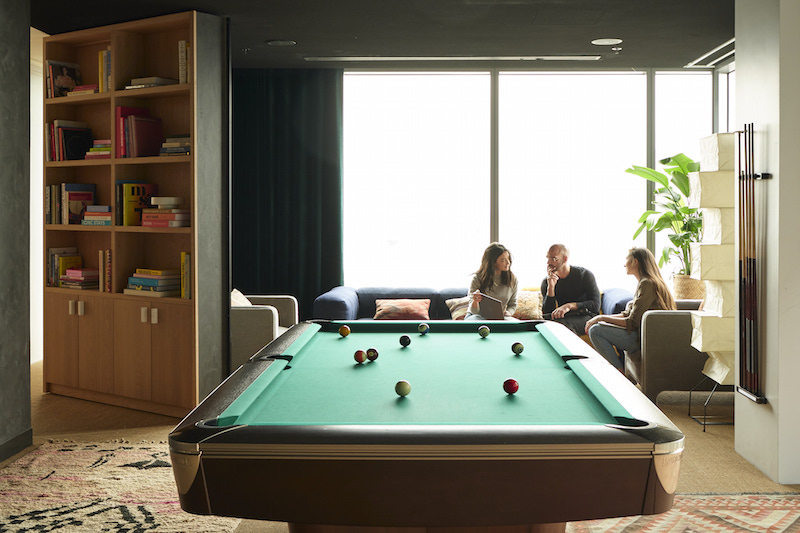 This pool room is hidden behind a bookcase in a library at WeWork 10 York Road, WeWork's new headquarters in London. The tucked-away space sports dark plaster on the wall, a stainless steel bar, a custom marble table, and a classic pool table. The setup is moody and intimate, in contrast to the bright, open space of the office outside. It functions as a quiet meeting space or as just a place to unwind.
A multisensory experience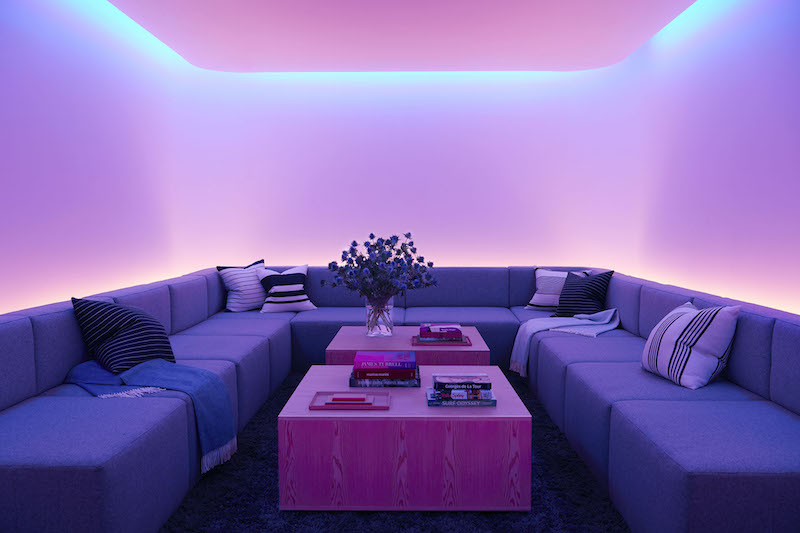 Off to the side of a busy row of desks at WeWork 85 Broad in New York City is this unexpected sanctuary, which serves as both a silent meditation room and a nontraditional meeting space. It's lined with sofas, cushions, and throw blankets. Soft purple light gives it an otherworldly glow.
"When designing this space, we challenged ourselves to create an environment that honors the individual's need for a quiet moment in the middle of a busy day," Slavitt says. The result is a "symbiotic relationship between sound and multicolored lighting, to give the member a rich multisensory experience," she says.
Incorporating existing architecture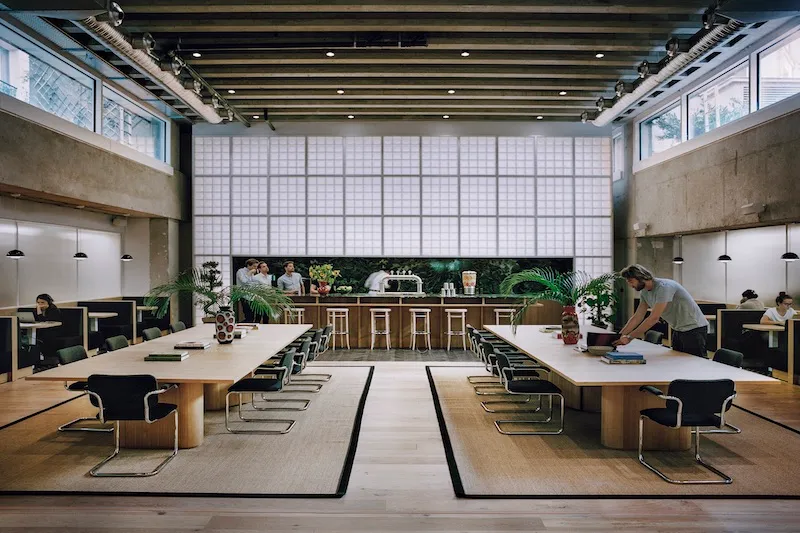 WeWork takes up the entire five-story building at 255 Boulevard Pereire in Paris, a unique building that features a concrete structure and high ceilings. The team works to accentuate the existing architecture of a building. "This beautiful base building was one of the most complex spaces we went into in 2019," says Joseph Alayón Ormaza, the design team's head of global creative direction. "The integrity and honesty of the architecture bring magic to the overall experience. No two buildings are alike." The designers complemented the concrete with warm materials like oak wood, green marble, and dark tones for the upholstery. Grand glass blocks lining the back of the kitchen were inspired by Pierre Chareau's Maison de Verre, which is located just across the Seine River.
Airy and private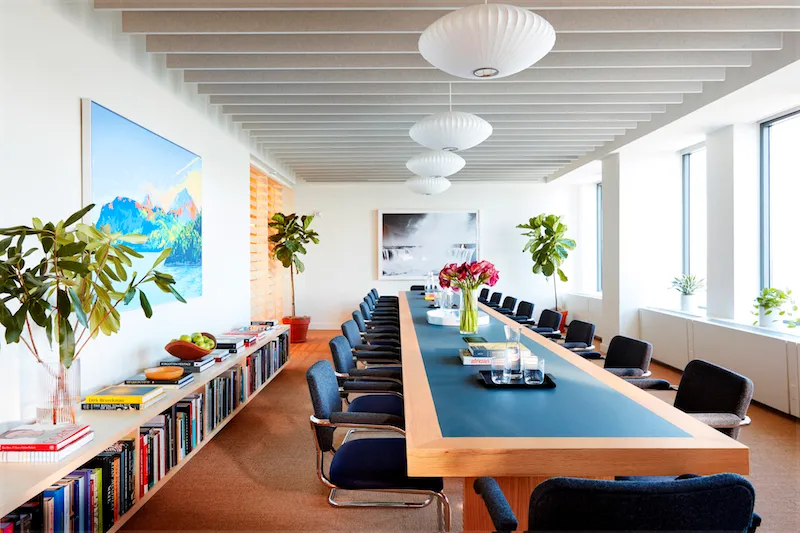 This meeting room at WeWork 199 Water Street in New York City seats as many as 20 people around a long table. Cesca chairs originally designed in the 1920s by Marcel Breur are upholstered in custom two-tone wool. Both the large windows and the white classic George Nelson pendant lamps in the room make the space feel bright and airy. For more privacy, wooden louvers that separate the room from the outside office can be snapped open or shut. Lest boardroom talk be overheard, the room also features acoustic ceiling baffles that buffer sound.
Nature brought indoors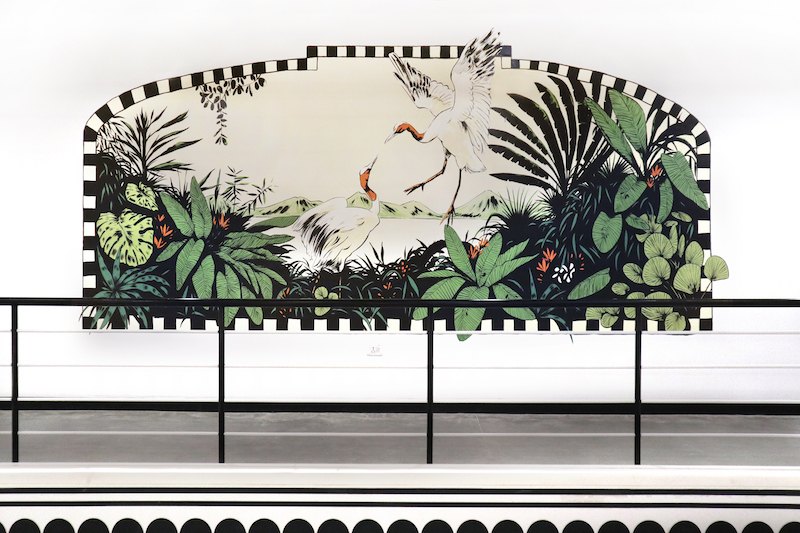 Cranes from one of the many lakes in Bengaluru are at the center of this mural in WeWork Prestige Central in the Indian metropolis. The arch shape of the mural pays homage to traditional Indian architectural details. Nearby, a custom bench is topped with a black-and-white checkered cushion that mirrors the checkered border of this mural. David Silverstein, art director of special projects at WeWork, designed both the mural and bench.
"This mural, along with numerous details throughout the space, is a prime example of how the WeWork design team strives to create spaces that live in harmony with their surroundings by paying homage to local culture through the lens of contemporary design," Silverstein says.
One-of-a-kind furniture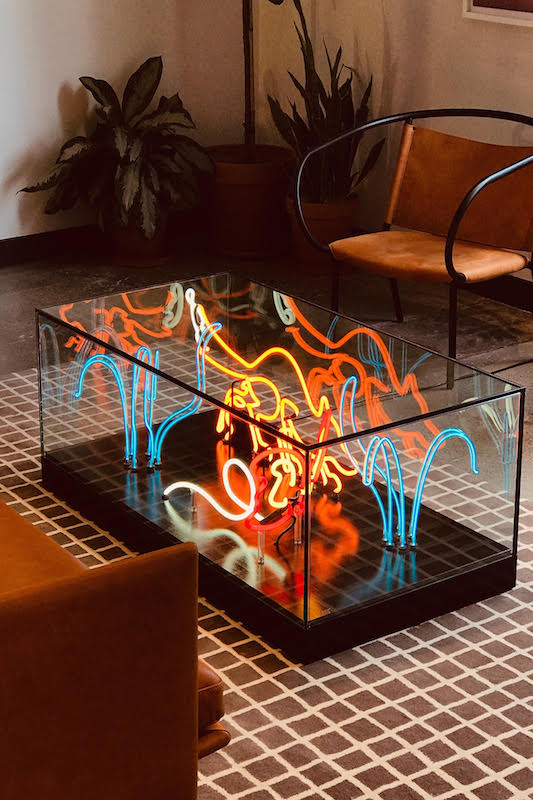 Creating a unique experience for members is integral to WeWork's design philosophy. WeWork occupies two floors at 501 Boylston St, a building that used to be home to the Boston Society of Natural History. This 3-D neon coffee table—which depicts a wildlife scene similar to a diorama one could imagine seeing in the museum—was created with that history in mind. By reinterpreting the scene in neon, this distinct table offers a contemporary take on the building's past. This, along with other pieces of custom furniture, is an element that keep WeWork spaces feeling fresh and unlike anything else in the market.
This article was originally published on December 31, 2019, and has been updated throughout by the editors.
Anjie Zheng is the managing editor of WeWork. Previously, she was a reporter for the Wall Street Journal. Her work has also appeared in Fast Company, Quartz, and LitHub.