The pandemic transformed the way people work, and organisations are still scrambling to execute thoughtful and scalable return-to-office (RTO) plans. When I joined LivePerson in April, my goal was to evolve our culture to create more caring and empathetic experiences for our workforce. The first step was to transition employees out of the COVID-19 lockdown and reintroduce them to shared physical workspaces that prioritise health and safety. 
Just after I joined, a leader on my team, Marlene Kassens, manager of modern workplace at LivePerson, came to me with an idea: 'Let our employees work from wherever they'd like – at home or from any one of the hundreds of WeWork locations around the world', she said. We had already executed a successful pivot to remote work when the pandemic started. Marlene's idea kick-started the return to safe, in-person workspaces on a global scale.
Our company has high growth on the forecast, and while we considered traditional property options, we ultimately decided that flexible property with WeWork would best serve our employees in regards to location flexibility, amenities and overall workplace environment. I realised that we could expand our footprint across the globe by partnering with WeWork. Thanks to WeWork All Access paired with WeWork dedicated offices, Marlene's idea allowed us to offer employees the option to work from fully fitted out and inspiring spaces while providing the flexibility to scale up where needed to accommodate our growth.
Making it official: the RTO playbook
As we explored these new ways of working, we created our RTO playbook. It makes use of our combined leased offices in Seattle, London and Herzliya (coming soon), our New York City headquarters, which is in a dedicated space at WeWork 125 W 25th St, and global WeWork All Access passes for our over 1,300 employees. Not only are we offering our employees flexibility, we're also able to scale to meet our aggressive recruitment goals.
Here are the components of our playbook:
1. Plan and research with a people-first mentality 
As the chief people officer, it's extremely important to me that we are leading with compassion. After conducting an internal survey to better understand employees' needs during the pandemic, we found that many of them appreciated and performed well in remote setups. Yet the survey also showed that after months of isolation, many employees wanted those serendipitous chats in the corridor, collaboration sessions, coffee runs, office lunches and happy hours with colleagues. In short – they missed one another and sometimes wanted to be in the office.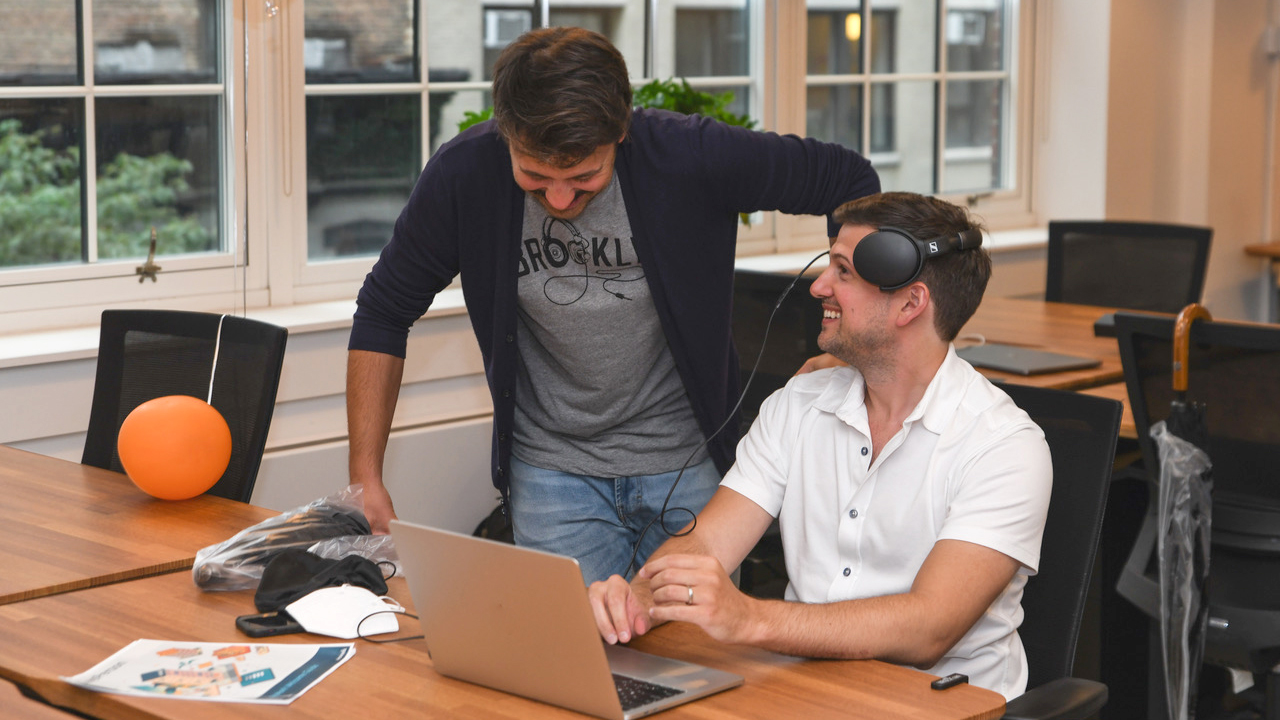 Thirty-nine per cent of those surveyed said they prefer being at the office two or three times a week, and 34 per cent preferred coming in two or three times per month. When we launched our flexible workplace solutions globally, we encouraged employees to come together to collaborate and build community in the locations most convenient for them, according to their own schedules. We wanted the mental model to be 'I get to come into the office' instead of 'I have to come into the office'. Incentivising versus mandating employees to come together challenged us to be creative, for sure.
Today, employees can come into our dedicated offices and connect with colleagues, talk with senior leaders, or work directly with our company coach, Tim Storey.
2. Prepare for growth through flexibility
We reviewed our recruitment projections and brainstormed how to scale. We needed the ability to offer new employees more physical spaces in 2022. We're currently recruiting for over 700 roles and we recognise that attracting top talent requires us to offer flexibility. Candidates can come from anywhere, and to compete in the global workforce, we need to offer new opportunities to foster and grow talent, to further our company culture.
3. Add safety and care
With safety as the foundation of our RTO strategy, we provide self-testing tools to help employees keep themselves, their colleagues and their families safe. Our proprietary BELLA Health™ app uses conversational AI to guide employees through self-administered, FDA-authorised tests, with the ability to message live support if needed. The combination of an easy-to-use app with an easy-to-use test makes BELLA Health a perfect tool for us to help return employees to the office safely.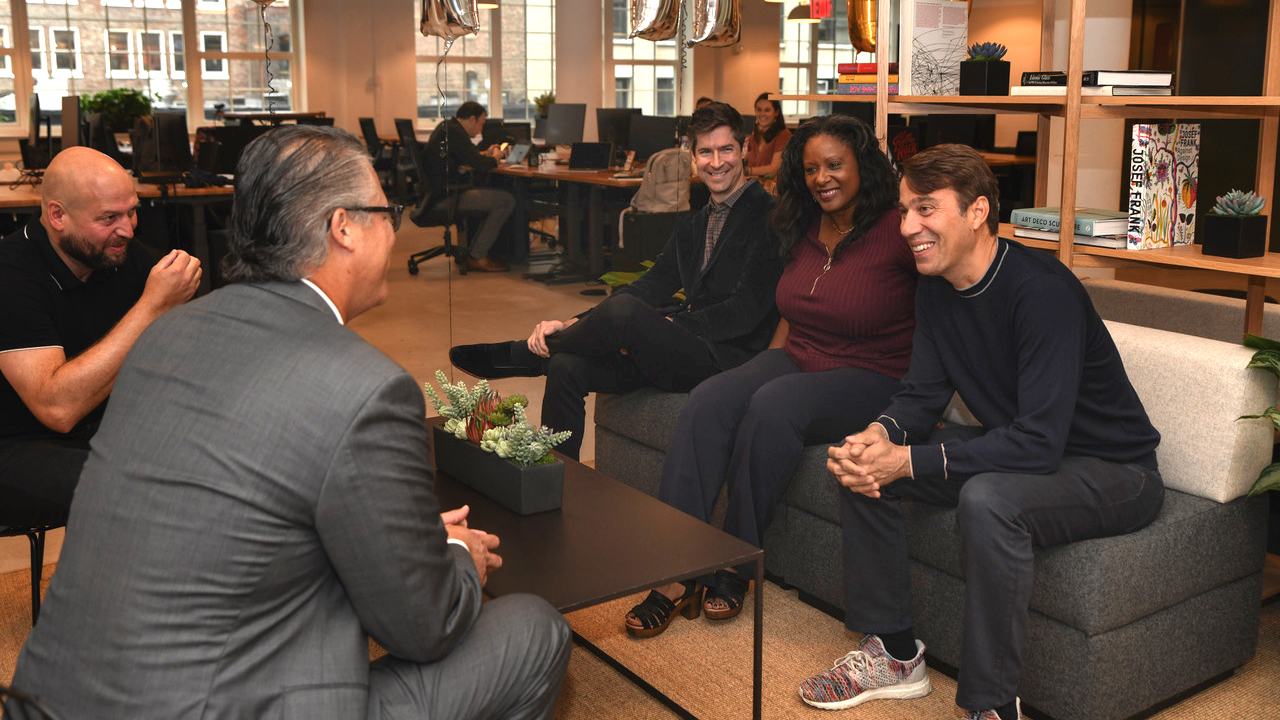 With all this in place, we were able to hold a Welcome Day in our New York, Seattle and London WeWork offices to celebrate being together in person again. It was a day of emotional reunions that included speeches, cake and champagne toasts.
Tips for those formulating a RTO plan
The best solution for safely returning to the office may look different depending on your business. But here are a few steps that I think will benefit any company, in any industry. 
Survey employees to accurately gauge their unique workplace needs.
Based on their feedback, formulate a plan that addresses the preferences expressed along with the needs of the business. If that includes coming back together physically, assess a physical workplace option that works best based on your location, flexibility needs and recruitment projections. 
Anchor your RTO strategy on employee safety and broadly communicate your plans.
Lastly, address common trends or preferences your teams have, as that will help you be the most successful in building your own RTO playbook.
By leading with care and compassion, we're committed to creating an environment where employees can do their best work. Listening to them and learning from them has led us to this new approach. Partnering with WeWork to provide employees flexible work options innovates on the more traditional office approach, giving everyone the unique ability to test different ways of working. Whatever your workforce strategy may be, I'm convinced that these times of unusual uncertainty call for extraordinary compassion.
Monica Pool Knox leads LivePerson's global human resources strategy – including leadership development, organisational effectiveness, talent management, learning, total rewards, talent acquisition, people operations, DEI and modern workplace. She focuses on continuing to align compassionate and ethical AI as a foundation of LivePerson's culture. Knox has extensive experience leading HR organisations and strategies to attract, develop and retain world-class talent within high-performance companies.
Rethinking your workspace?