Naomi Mankrado was struggling to find her place in the world of work. She had recently moved out of her parents' home and couldn't find jobs that matched her neuroscience degree. Living in a hostel and unemployed, Mankrado took a barista position for some income while continuing to explore her options.  
That's when she applied to Generation's cloud support practitioner programme so she could have help working out her next step.
The global employment non-profit Generation supports people who face barriers to employment by offering them a range of training programmes and job placements in various fields ranging from tech to hospitality to nursing. For Mankrado, who is not only a Black woman in a STEM field but was also in an unstable living situation, the programme was a lifeline. She was retrained as a computer engineer, which set her up for a career in cloud technology. 
'Thanks to Generation, I got a job at River Island working as a site reliability engineer,' she says. 'My life has been significantly better since having a job – it has empowered me. I could do anything now!'
Training the workforce of the future
Generation's mission to train and place unemployed individuals in new career roles is well aligned with WeWork's unwavering commitment to supporting tomorrow's world at work. Generation has partnered with WeWork since 2019, operating training programmes in over 1.850 square metres of offices in London, Birmingham, Manchester, Dublin, Paris, Barcelona and Madrid. These programmes include training in IT support, data engineering, cloud practitioner, customer care and more. Through its collaboration with WeWork, Generation has supported over 1,400 learners across Europe.
In Paris, Generation programmes are carried out following a blended learning approach, where the group of around 20 students receive two days of in-person training at WeWork 198 Avenue de France and three days of online training, taught by experts in their field. In the UK, Generation has switched to online training during the pandemic. Some students across London, Birmingham, Manchester and Dublin have been offered WeWork All Access memberships so that they are always near a safe and stable space to work from. 
'Generation was really kind to provide me with a WeWork space,' says Mankrado, who was given a WeWork All Access membership. 'Having that place to study really helped me follow the cloud practitioner programme, because my home wasn't very stable and it didn't have a good WiFi connection.' 
Speeding the pandemic recovery
The pandemic has led to an unprecedented surge in unemployment. Even before the crisis, one-fifth of young people globally had NEET status, which means they are not currently gaining work experience, receiving an income from work or improving their education and skills. The training and support that Generation provides has never felt more crucial.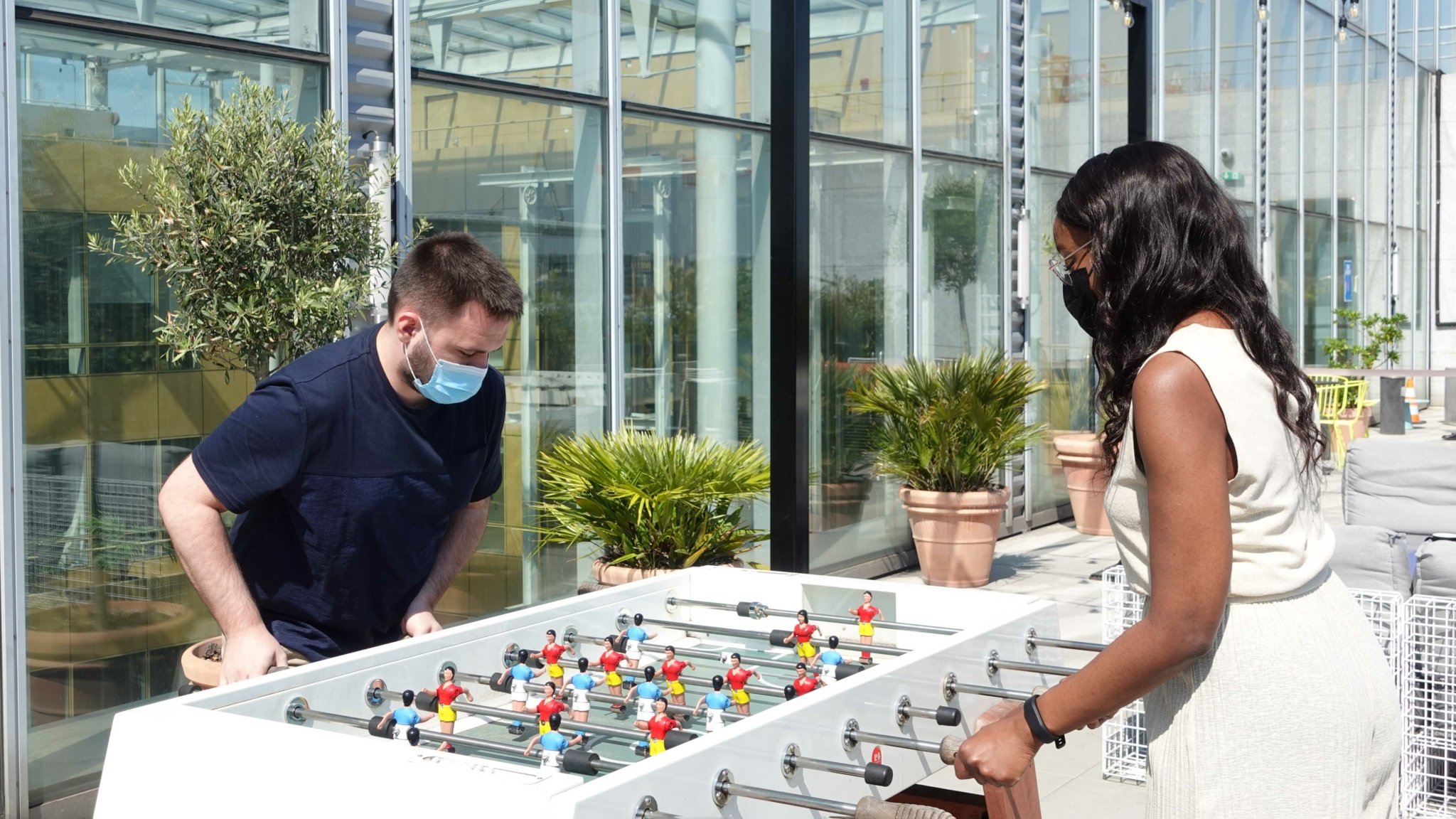 'Together [with WeWork] we're building an inclusive recovery, with special attention on access to jobs in high-growth industries, like technology and healthcare,' says Micheal Houlihan, CEO of Generation UK. 'WeWork offices have been inspiring venues for our own teams. Our learners – many of whom had never stepped foot in an office before – have also been energised by the opportunity to train with us in such fantastic locations.'
Thomas Courtheoux first heard about the Generation customer care programme from Pôle Emploi, the French governmental agency that registers and supports job seekers. 'It sparked my curiosity, and I contacted Generation to follow the training,' says Courtheoux, who'd had early success as a summer camp counsellor, but then had a difficult time transitioning into customer care and was unemployed until taking the Generation training. 'What I liked most about it was the solidarity – we were a group that was very tight-knit.' 
I can now envisage my future: I see what I'm going to do, I see my goals, and it's something that has completely changed my life!

Thomas Courtheoux, Generation Volunteer and Alumni Project Manager
Courtheoux credits the learning environment for his success as well. 'WeWork gave me a feeling of community,' says Courtheoux. 'It provided a safe space, which made it possible to build relationships.'
At the end of his customer care training, Courtheoux applied to a volunteer and alumni project manager position at Generation itself and received an offer. He is now fulfilled and happy in his new role. 'I had a long period of unemployment and this job completely opened my eyes,' he says happily. 'I can now envisage my future: I see what I'm going to do, I see my goals, and it's something that has completely changed my life!' 
Naomi Mankrado may not be employed by Generation like Courtheoux is, but she's already thinking of ways to help others like Generation helped her. 'A few years from now, I see myself giving back to the community, perhaps through one-on-one mentoring or teaching youth,' she says. 'Having a female instructor at Generation has been incredibly motivating and inspiring, so I would also like to play my part in supporting women coding and destigmatising women in tech.' 
Rosalie Klein is a social impact lead for EMEA and APAC at WeWork. Her day to day is driven by working closely with impactful non-profits, charities and social enterprises that empower underserved communities with economic opportunities.
Rethinking your workspace?