It's 2018 and nine friends from London – Manny, Tim, Vish, Gbengz, Pedro, Dej, Fabbz, Eman and Sheikh – enjoyed regular catch-ups at each other's houses, watching football and chatting about life, love, and the universe. One day, Dej had a lightbulb moment. He wondered if they could channel their conversations and banter into a script format, record it and then turn it into an animated podcast. In 2019 they started to draft scripts, record some content and work with animators and video editors to bring it to life… and the rest is history.
Fast forward to 2022 and 'Pass the Meerkat' has three seasons under its belt with the fourth season about to be released later this summer. We have it on good authority that they will be getting even more 'up close and personal' on topics they feel passionate about, as well as some guest appearances, so watch this space.
Why is it called 'Pass the Meerkat?' It seems that this is a well-guarded secret, never to be revealed. However, they do bring a statue of a meerkat to every recording session just to get them in the creative zone!
With a growing fan base reaching an audience of over 30K followers across TikTok and YouTube, the series sends out a strong message that it's good for men to talk openly about their feelings and share whatever is on their minds.
There is nothing like seeing people's body language in real-time, especially to gauge their reactions to an idea.

9ine Degrees team
Having recently been awarded the 'YouTube Black Creator Class of 2022', which comes with funding and marketing support, the 9ine Degrees team have even more reason to be happy about the recognition the show is receiving.
Developing the show in the right environment
Since March 2022, 9ine Degrees has been using WeWork All Access, the company's monthly membership product, giving them access to 750+ WeWork workspaces across the world. Often choosing to work at WeWork 1 Mark Square in Shoreditch, the team has been going into the office twice a week to script the show and book a meeting room to record. "We get nine mics, sit in a circle and record our conversations, before we take the best parts and mold them into an episode. We then send the recording to our editors and animators who use their talent to turn it into something really slick and stylish."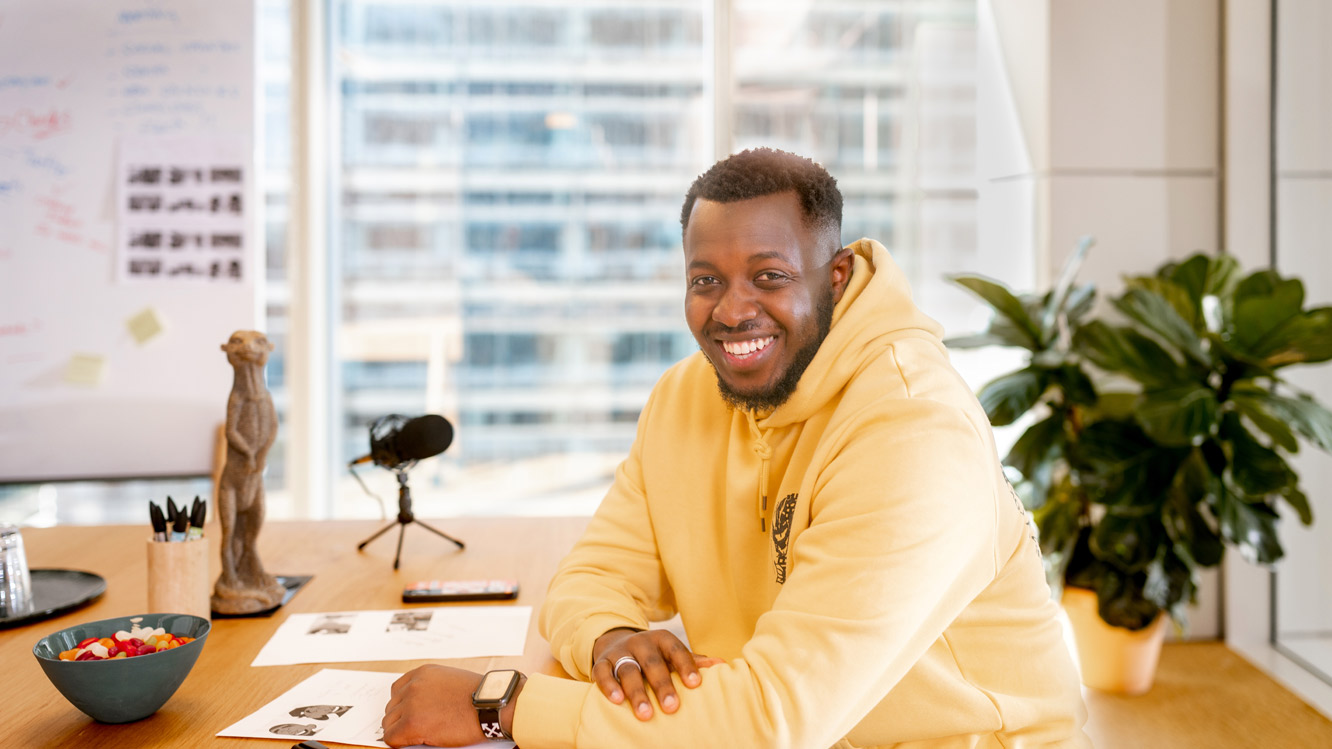 Each show is no more than 15 minutes and the characters have ad-hoc conversations on anything from dating, music, football, parents – no subject matter is off limits. Peter explains: "We all met at different stages of life – the longest friendships go back about 17 years from secondary school, though some of us met at college, some at university. When we took a holiday to Croatia back in 2018, we pretty much knew that each of us had their own unique take on life."
They like to use WeWork meeting rooms to record because they can book a large enough space through the app with ease, and they feel comfortable and creative in the environment. The group finds that WeWork locations are friendly and welcoming, making the most of the amenities and the convenience of the facilities. Playing pool and table tennis helps them build up a team rapport and meeting random people in the building sometimes gives them ideas to put in their show.
The first time they started working at WeWork they got an unexpected surprise. "One of the guys went to get a cup of tea, and came back to tell us it was free. The next minute all of us legged it off our chairs to go and get our free tea! It was a really funny example of us all having the same thought at the same moment!"
The challenges of recording the show during lockdowns
During the pandemic they were forced into a virtual way of working which they found especially hard. Pulling together their marketing plan, audio editing and nailing the creative direction were much harder on Zoom, they tell us. "There is nothing like seeing people's body language in real-time, especially to gauge their reactions to an idea. When we are together in person, you don't have to worry about connection issues or time lags." However, feeding creativity is essential before they start scripting the show, as it sometimes takes up to 5 hours. "Tim is our designated snack provider, fuelling the group with popcorn, chocolate and sweets to get our energy going!"
They agree that meeting together in-person in a WeWork workspace has a friendly, family feeling yet at the same time is an inspiring and productive space to get things done on a deadline. Manny adds, "When we need to get a chunk of work done well, WeWork is our go-to. It reminds us how to maximise creativity and efficiency, especially now we're adjusting to a new hybrid world."
WeWork All Access has also supported their plans for International growth. Tim explains "it gives us the flexibility to work with brands abroad and one day we could even record our show in another city.". They hope to use their membership to host private screenings and launch new seasons within WeWork locations across the world too.
Check out the trailer for their new season.