As the world tries to find ways to carry on amid the COVID-19 crisis, many employees are eager to leave their homes and get back to an office setting, at least some of the time. While remote work proved to be a great solution during the height of the pandemic, workers are beginning to realise that some aspects of being in a workspace can't be fully replicated at home.
That's why many people are making the transition back into in-person workspaces. To help accommodate a return to work that is flexible enough to fit every person's unique needs, WeWork has launched WeWork All Access. It's a programme that allows you access to hundreds of locations across 150 cities worldwide for one monthly fee.
Being able to access different office locations, including those closer to your home, addresses some of the pain points for working professionals that recent studies reveal. According to a survey by WeWork and brightspot strategy, the vast majority (90 per cent) of people said they want to return to the office at least one day a week to recapture some of the work dynamics they've been missing. Gensler's US Work from Home Survey found only 12 per cent of workers want to work from home full-time. And in PwC's US Remote Work Survey, 39 per cent said that difficulty collaborating negatively affected productivity as they sheltered in place.
With WeWork All Access, the process of reserving a workspace is simple. Once you become a member, all you have to do is choose a location, book a workspace, turn up and swipe in with your keycard. Members can use areas including the common areas, desk space, pantries, private phone boxes, conference rooms and more. All of these spaces are designed with people's health and safety as a top priority.
An All Access membership carries multiple benefits for a variety of people. Let's say you're a business owner with six employees, all of whom are still nervous to use the underground. With All Access, they can choose to work at a location closer to their homes to cut down their commuting times or allow them to drive or cycle in.
Or perhaps you're someone who enjoys working remotely or are a solo practitioner, but with children doing remote learning at home, things can feel chaotic. Knowing that you can head to a professional setting with dependable Wi-Fi and stringent safety protocols can help alleviate some stress. All Access can also offer an alternative for university students who have been displaced from their dorms and no longer have a campus library to rely on for quiet study time.
The ability to go into any WeWork building offers you and your team maximum flexibility so that going into the office can fit your specific needs. Take a tour of some of the unique workspaces you'll be able to enjoy as a member.
Meet in style
As people have had to make do with video meetings, there's something nice about being able to sit across from someone without hearing background noise or staring at piles of laundry. This meeting room in WeWork Derech Ha'atzmaut 45 in Haifa, Israel, is a bright example of a cosy conversation space that allows for in-person communication.
Technology at the ready
Although digital presentations have become commonplace, sometimes having a crisp, colourful printout is useful and warranted. For those who need access to business-quality printing or other equipment that's not typically available at home, visit an equipped office like WeWork Botanic in Brussels.
Refuel with refreshments and a chat
At WeWork Edison in Calgary, Canada, and at other All Access locations, workers enjoy pantry spaces where they can have coffee and a quick chat with others to help boost energy throughout the working day. That definitely beats having to fight your family for the last mug of coffee.
Do not disturb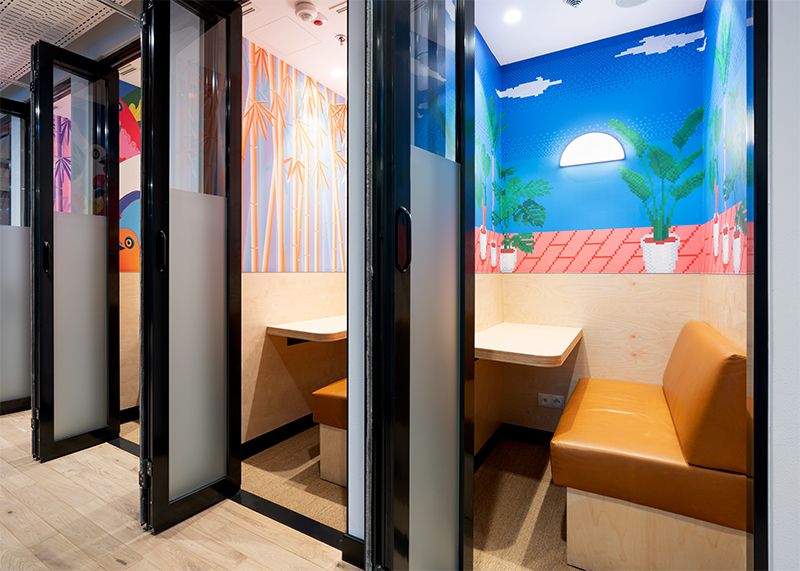 Privacy booths, like these in WeWork Krucza 50 in Warsaw, Poland, are a staple of WeWork properties. They're designed for those moments when workers need a quiet place to focus without interruption – a situation that can be nearly impossible to achieve when trying to get work done in a busy household.
Work with peace of mind
All WeWork locations across the world have been enhanced with the most up-to-date standards to guard against transmission of COVID-19. These include improved HVAC systems, signs that encourage social distancing and increased sanitisation as seen above in 725 Ponce in Atlanta. This ensures that every All Access member can be sure to know that their health and safety is being prioritised.
Relax and recharge
Sometimes people need a change of scenery that's comfortable but still keeps them in work mode (retreating to the bedroom or garden might prove too tempting!). The shared space in WeWork Victory Plaza in Dallas is a good example of a welcoming spot to settle in with your laptop and a cup of coffee.
Staying digitally connected
High-speed Wi-Fi is essential for the way most people work today, but it's not always dependable on the home front. Working in spaces like WeWork 101 Marietta Street NW in Atlanta means that your connection is reliable and speedy, so you can video conference and share files without a glitch.
A helping hand
Working from home can be challenging as you may find yourself tempted to complete household tasks. On the flip side, at WeWork sites like WeWork 25 King Street in Brisbane, Australia, there's on-site staff in a reception area who greet visitors, take messages and assist with your working day.
Studious and sophisticated
Students looking for a more normal university experience while their campuses are closed might find a workspace like WeWork Insurgentes Sur 945 in Mexico City to be ideal. It has a university-like feel that's hard to reproduce at home.
Warm greetings
One of the best aspects about securing a spot at a WeWork All Access location is that it's exclusive to members. Workers get a keycard to swipe in and are greeted by a community team member, as seen here at WeWork 131 Finsbury Pavement in London.
Dawn Papandrea is a freelance writer who covers work, personal finance and higher education. Her writing has appeared in numerous outlets, including Family Circle and monster.com. Follow her on Twitter.