Companies face a variety of challenges when it comes to creating and implementing a return-to-work strategy. First is ensuring the health and safety of employees. That may require rethinking the physical workspace or developing staggered schedules to facilitate social distancing. Companies that let their leases expire during the pandemic face the daunting task of starting from scratch to find and prepare new offices, which involves considerable time, money, and human resources.
At the same time, firms that are considering a hybrid workplace must decide how that will work for them. They need to take into consideration the company's, employees', and teams' needs and preferences, the minimum square footage needed, the ideal office location, and more. Some companies are looking to reduce their real estate portfolio, while others want to expand their office spaces.
Even for the most experienced real estate buying team, all of these variables and considerations make developing a return-to-office strategy highly complex. In addition, a return-to-work strategy looks different on paper than in real life, and many are wary of signing new leases or investing in spaces that might end up being too big or too small.
Partnering with WeWork makes the return to the office easier. Our flexible leases provide organizations with the agility they need to adapt their operations on a dime and confidently meet the "new normal" head-on. From decentralizing a company's headquarters to helping an organization reinvent its workplace from the ground up, WeWork has a solution for any workspace challenge. We draw on our large, global real estate portfolio to provide companies of all sizes with comfortable, convenient workspaces that prioritize safety to meet your needs.
Here's how four companies have used WeWork to implement their own return-to-work strategies for a successful return to the office.
A large retailer's employees can work closer to home
The challenge: Before the pandemic, a large retailer in Seattle had sold and moved out of its suburban headquarters. In late 2020 and early 2021, as the company began to plan its return to the office in spring 2021, it wanted a hybrid solution that would enable its local employees to be able to choose where they work.
The solution: The company returned to the office in June 2021. WeWork leveraged a location analysis to help the company choose the most convenient location for its dedicated office in Seattle's central business district. Additionally, the company opted for WeWork All Access passes for all employees, which gives them access to on-demand workspace at WeWork locations in the city and beyond.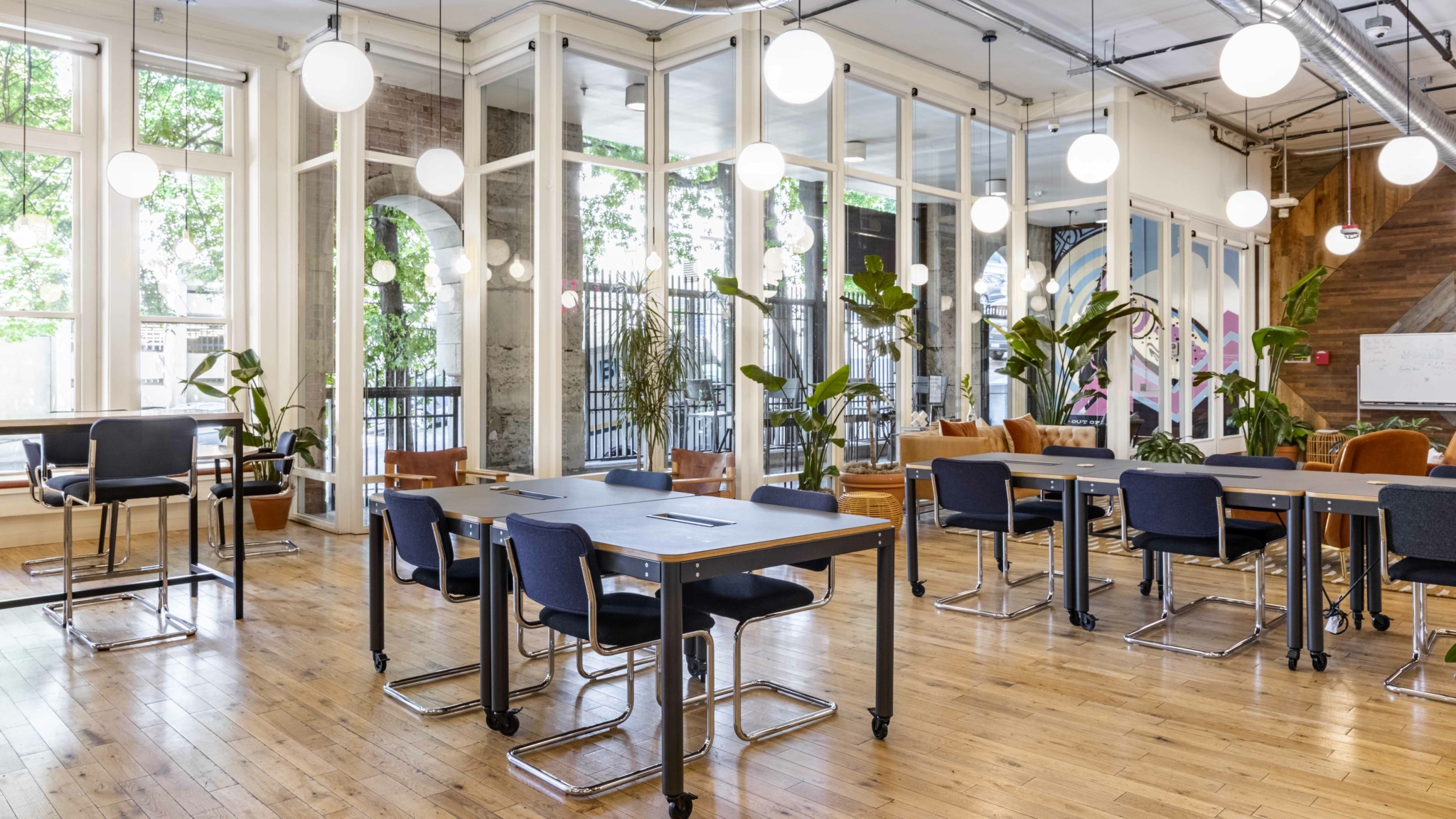 The result: The dedicated space accommodates 130 desks—enough for all employees. WeWork All Access helps de-densify the space by allowing employees to work from another location that's closer to their home, or wherever they need to be. A flexible, 12-month lease makes it easy for the company to reevaluate its space needs based on usage data collected by WeWork and to adjust as needed.
A logistics company needs new, socially distanced workspace—fast
The challenge: A growing parking logistics company had plans to revamp its Miami headquarters as part of its return-to-work strategy. But it soon realized that its existing space wasn't big enough to facilitate social distancing—or accommodate growth projections. The company needed new workspace, and it needed to move fast—but uncertainty about future headcounts presented a challenge.
The solution: WeWork leveraged its Miami portfolio to provide the company with over 28,000 square feet of dedicated, configurable office space spanning two full floors of a new building in the heart of the financial district. The new workspace provides all 500-plus employees with socially distanced desks. To ease the transition back to the office, the company also distributed 50 WeWork All Access passes so that employees can work at another WeWork location of their choosing.
To cover the expansion the company anticipates, a 36-month lease agreement includes expansion rights on three additional full floors in the same building, plus a right of first offer (ROFO) on a nearby asset in case the firm needs additional space.
The result: The company's new offices were ready by its ambitious deadline, with health and safety measures implemented. Employees were thrilled to return to work in a modern tower with chic, innovative interiors filled with collaborative spaces that invite social interaction, large-scale artwork for a creative, energetic vibe, and inspiring views of the city.
A tech firm embracing the future of work seeks flexible office solutions
The challenge: As the pandemic gained hold in early 2020, a global tech firm divested most of its traditional office portfolio. While its employees worked from home, the company began to plan for what the future of the workplace might look like after the pandemic. Flexible office space was at the top of its wish list. It sought a real estate partner to help it find the most suitable workspace solution across multiple markets.
The solution: WeWork provided the firm with a range of options for each location it desired, and helped the company develop a hybrid workplace solution built on utilization data. The company opted for 100 WeWork All Access passes to provide employees with more choices about where they work. WeWork also set up the firm with enough dedicated office space to accommodate a total of 190 desks. Flexible, short-term leases enable the company to easily adjust its space portfolio across buildings and markets, based on usage data and the COVID-19 status in each location.
The result: The company is able to make smarter office space decisions based on WeWork's usage data and expertise in real estate strategy, which has reduced its capital expenditure output and saved it time. WeWork All Access enables employees to choose from any of hundreds of WeWork locations around the world, giving them the flexibility to decide where they work. More importantly, the firm and its employees feel confident that the workspaces prioritize health and safety, without the firm's leadership having to keep up with swiftly changing information.
An enterprise member takes more space to de-densify its office
The challenge: As part of its return-to-work strategy, an enterprise payment processing company and current WeWork member implemented staggered work schedules and wanted to de-densify its existing office to further promote social distancing.
The solution: WeWork swiftly reconfigured the current workspace, reducing the number of desks from 135 to 60 and adding an additional office space to the company's portfolio, bringing the total desk count back up to the original number. A flexible, month-to-month lease enables the company to reassess its needs in real time and adjust accordingly.
The result: The company successfully brought its employees back to the office in spring 2021. Between flexible scheduling and the extra space, the company is able to provide a socially distanced office environment where employees can work, meet, and collaborate with confidence. The flexibility and scalability WeWork offers in terms of both physical space and lease agreements enable the company to leave its office space challenges to WeWork—so it can focus on growing its business.
In less than two years, the traditional office landscape of cubicles ringed by offices and conference rooms has evolved into more dynamic spaces that work the way people do. WeWork has been at the forefront of innovative workspace since long before the pandemic, creating collaborative work environments designed to spur creativity and promote productivity. WeWork is proud to play a part in helping companies of all sizes develop a return-to-office strategy—and provide them with the flexible leases and real estate solutions they need to make it work.
Kristen Bailey is a veteran writer and editor based in beautiful Lincoln, Nebraska. She has a penchant for helping large and small brands create stories that tell the why.
Rethinking your workspace?