While at the start of the COVID-19 pandemic, some headlines read "the office is dead," more recently it has become evident that a permanent work from home (WFH) model is not sustainable for businesses large and small. Both qualitative and quantitative research studies have demonstrated negative consequences of the single-option WFH solution. Globally, employees are struggling to connect, collaborate, and innovate—some are even breaking company safety protocols to meet in person when they feel virtual meetings aren't sufficient. Across industries, employees want options and flexibility of choice. Business leaders are trying to find solutions to satisfy their teams' unique needs while keeping health and safety a top priority.
The future of workspace must be flexible, and real estate strategy will be shaped by companies using combinations of the below four trends:
Work from near home (WFNH): Providing employees professional working spaces that are within walking or biking distance from their homes, in an effort to prioritize safety while supplying an environment optimized for individual productivity if the employee does not have one at home
Decentralized offices: A "hub-and-spoke" model that provides employees with satellite offices closer to their homes to avoid long commutes while also providing space to safely collaborate in small groups
Intentional collaboration hubs: A strategy that shifts the purpose of a central office to primarily host intentional collaborative activities while maintaining WFH policies for individual tasks
De-densified workspaces: A model that reconfigures a company's original office space to accommodate social distancing in the same physical footprint
WeWork's three space products WeWork On Demand (desks and conference rooms that can be booked as needed), WeWork All Access (a subscription that provides anytime access to 800-plus locations), and WeWork Dedicated Spaces (private offices ranging in size from 1p–1,000p–plus buildings) provide the variety and flexibility that businesses need no matter which of the emerging real estate strategies they choose to pursue. What's more, these products can be bundled and scaled up or down rapidly as a company's needs change in the evolving economic landscape of a world managing a global pandemic and its aftermath.
The world's largest multinational businesses are planning for the future right now with WeWork. As the largest global space provider with 800-plus locations in 150-plus cities, business leaders know they can rely on us to support their needs. Even as the timeline for the end of the COVID-19 threat remains unclear, these leaders know they must act now to change the way we work. Taking this moment to redefine the role of the office and the use of workspace can have a significant impact on the mental and physical well-being of employees and the bottom line of a company's balance sheet.
Enterprise companies have begun adjusting their real estate strategy with us in the wake of the pandemic. They're using our three primary products to WFNH, decentralize, create collaboration hubs, and de-densify. Here are six examples of how:
1. Work from near home (WFNH)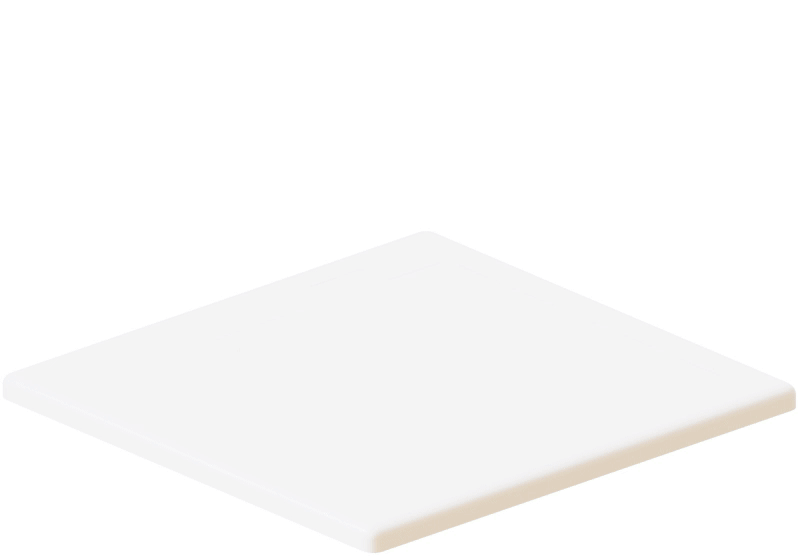 In New York City, our scale means that most employees live within a 15-minute walk or bike ride from a WeWork location.
The problem: With thousands of employees in the outer boroughs of New York City, this Fortune 100 company wanted new space to support their employees' desire to avoid a long commute on public transit to the central HQ.
The solution: Its leadership turned to WeWork for help in designing a solution for a WFNH option. So it decided to offer passes to nearly 2,000 employees in Brooklyn and Queens so they could utilize a new satellite office that is closer to their homes.
The result: The company has been able to empower employees with a choice of which office space to visit. This has allowed the company to prioritize geographical convenience and safety while facilitating space for productive, focused work.
2. Decentralized offices
The problem: When COVID-19 hit, an essential APAC global insurance provider needed to continue normal operations, but it was not equipped to provide workspace options to its employees that prioritized safety and collaboration.
The solution: With WeWork, it was able to determine that a decentralization strategy would best serve its teams, so it opted for a hub-and-spoke model, quickly moving from one central HQ to several temporary satellite offices across the company's primary city. This gave employees reduced commute times, more space for social distancing, and room to continue collaborative in-person work as needed.
The result: Teams were able to move to new locations within four days, and business continued without skipping a beat.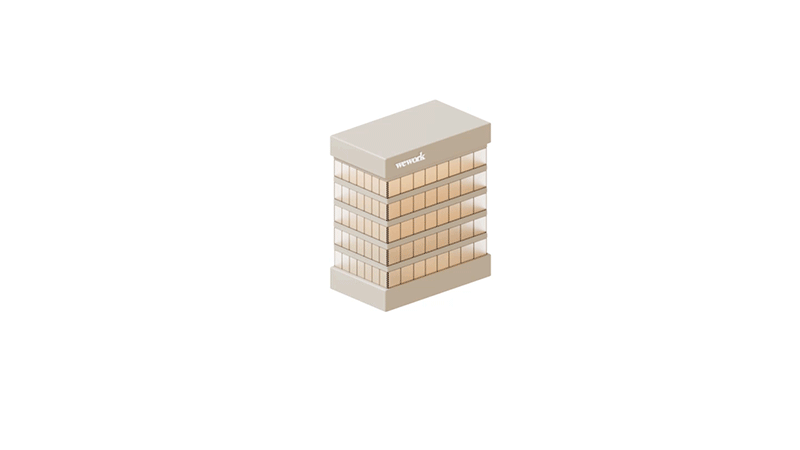 The problem: A Fortune 500 global pharmaceuticals company had plans to launch a new company in 2020. When the pandemic struck, it needed to find a way to plan and execute the new venture, even amid global economic challenges.
The solution: WeWork became a partner to the company, advising and strategizing with it on a system of decentralized global satellite offices that range in size dependent on local needs.
The result: The company is now on track to open nearly 40 locations for global employees within the next calendar year. So no matter where they work in the new company, it will feel like home.
3. Intentional collaboration hubs
The problem: As a result of the pandemic and observing their employees' productivity and preferences, this multinational investment bank decided it was time to reinvent the role of the office. It wanted to use its physical space for intentional, socially distanced collaboration among employees.
The solution: The company partnered with WeWork to provide employees a hybrid solution. It reconfigured its old office space into a new design, with a mix of "active" and "focus" areas, and created physical spaces for different workstyles and project needs.
The result: Employees now have the freedom of choice to continue WFH for individualized tasks or returning to a newly designed supplemental space for productive meetings and group activities that foster innovation and teamwork.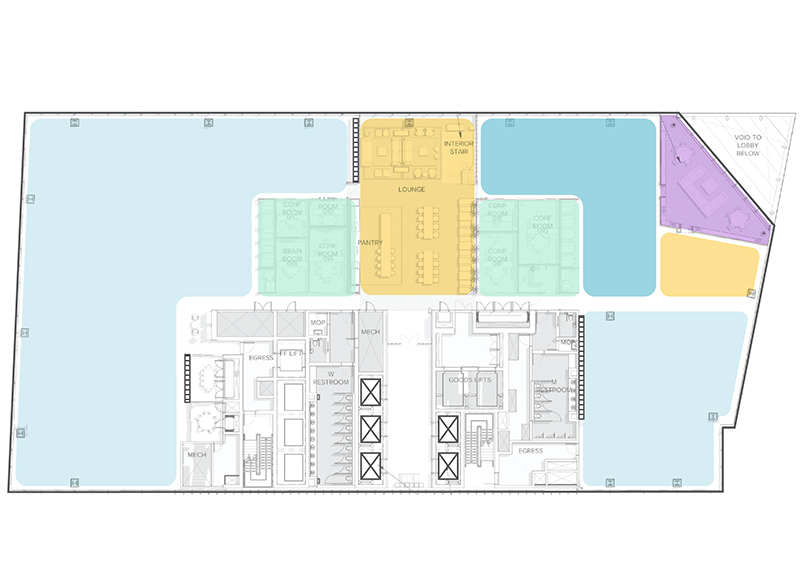 The problem: As part of a CSR initiative, this Fortune 100 company sought to provide underserved communities in one LATAM country innovative programming to develop tech skills and support social impact startups, but had no local presence to house the initiative.
The solution: It partnered with WeWork to design, build, and operate a new space that went far beyond a standard office layout. The company chose a full-floor dedicated space and configured it to facilitate classrooms and collaborative workspaces.
The result: The space opened to a warm reception from the local community and now serves 10,000 people per year.
4. De-densified workspaces

The problem: An enterprise payment processing company wanted to plan ahead for its employees' return to the office after the threat of the pandemic subsided. Its original workspace was not suitable for safe social distancing.
The solution: With WeWork, the company determined that de-densifying was the most suitable strategy for its team's future plans. Within one week, it was able to reconfigure the original space from housing 135 professionally distanced desks to 60, and add an additional office for extra space. With a flexible month-to-month commitment, the company is continuing to reevaluate its team's needs over time.
The result: The company has found that its decision has provided a scalable solution to pair with its initial plan for a staggered/rotating return to the office.
No matter what new real estate strategy a company is looking to employ, WeWork has space products that can easily scale up or down as the needs of individual businesses change. The time to plan for the future of work is now. These companies know they can rely on WeWork to make their plans a reality.