The hybrid work model
What does hybrid work actually mean?
There have been seismic changes to the modern workspace throughout the past century—from the first open-plan offices to the emergence of cubicle culture. But perhaps none are quite as important as what's happening right now. The emergence of the hybrid office design represents not only a change in the physical layout of the office, but a deeper shift in attitudes about where and how we work.
Whereas previous changes to office layouts sought to squeeze more value out of less floor space—often at the expense of worker satisfaction—the move toward hybrid workspaces is driven by a change in employee needs. As we emerge from the COVID-19 pandemic, people want the freedom to work when and where they feel they're at their most productive. Workers recognize the shortcomings of open-plan design and the disadvantages of cubicle office layouts. Younger employees demand flexibility and access to reimagined workspaces with a greater focus on collaboration, learning, and teamwork.
The changes over the past year have proven that we have the tools and skills to work almost anywhere there's an internet connection. As restrictions ease and offices reopen, the modern workspace should reflect the lessons learned during this period; businesses should equip employees with the workspaces they need to remain flexible, productive, and happy.
The transformation to a hybrid workplace is cultural as well as physical—no interior designer can turn your office into a hybrid workplace overnight, even though some might promise to. But by making gradual changes to your work processes and taking advantage of new technology and services, many companies can see at least some of these hybrid office layout benefits.
How different types of hybrid workspaces meet remote workforce needs
There are ways to quickly introduce pockets of hybrid space within your existing office layout, as well as solutions for unlocking shared office space for your remote workers around the world. Your company's ideal office space layout depends on the size and shape of your business, and the needs of your workers.
Modern office space rental on demand
One of the biggest obstacles in transitioning to a hybrid workplace is maintaining a level playing field between remote workers and office workers. Ideally, everybody should have access to the tools and workspaces they need to do their best work, no matter where in the world they happen to be.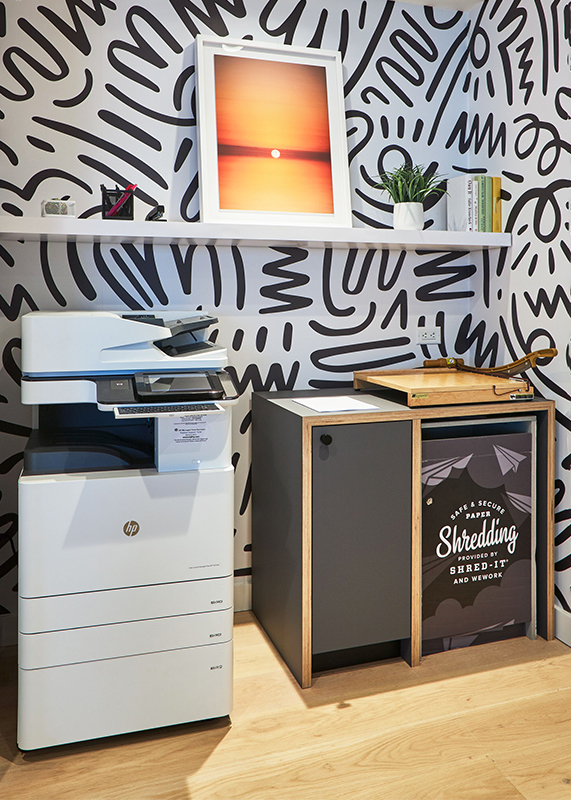 Keep your teams synchronized by offering remote workers the option to rent shared office space when they need it, whether it's access to amenities such as printers and meeting rooms, or simply to get some time out of the house. A flexible office rental solution like WeWork On Demand allows you to access workspace and conference rooms on a per-day basis, when you need it, and on short notice.
Dedicated workspaces around the world
The ultimate goal of the hybrid workplace is to use remote working tools to decouple a company from its central premises, to enable employees to work when and where they want, and to reimagine the traditional office as a place that changes shape to accommodate the type of work that needs to be done at any given time.
Remote workers shouldn't find themselves at a disadvantage if they can't always access that hybrid office space. By arranging a shared office or desk space in the city where they live, remote workers can stay closely involved and continue collaborating, supported by the resources and space they need to be productive. WeWork All Access unlocks hundreds of WeWork locations globally, ensuring your remote workers are never far from a quiet office when they need one.
Space that promotes face-to-face conversation
For remote workers, the ability to meet colleagues and clients in a professional and safe environment is one of the most important hybrid office benefits. You can use modular furniture or seats in quiet corners to create spaces for one-on-one conversations. For more laid-back meetings, make use of any outdoor spaces you might have access to. In the hybrid workplace, the central office becomes an important venue for in-person conversation, as well as a place for different types of remote teams to come together and collaborate.
Space that encourages new ways of working
Unlike a traditional office, with banks of desks or cubicles, an effective hybrid workplace doesn't impose a single style of working on employees. Instead, a hybrid office should anticipate what an individual worker might need throughout their day. Provide a variety of spaces to accommodate different modes of working, like relaxed social areas with comfortable seating, quiet corners for meetings, and conference rooms set up for video calls with remote colleagues. Use enclosed areas to create isolated spaces where workers can focus on individual tasks, and be prepared to adapt the layout as people figure out what works and what doesn't.
Space that prioritizes safety and well-being
Since the beginning of the pandemic, the safety of everybody in the office has become a bigger priority than ever. Moving some of your team to remote working enables you to more easily implement social distancing measures, de-densify the workplace by removing fixed desks, increase sanitization processes, and create additional personal space around workstations. Naturally, many of us feel worried about returning to the old office layout. In a hybrid workplace, individuals should feel empowered to work autonomously, to move around different workspaces safely, and arrive and leave at times that help them avoid crowded public transportation.
Types of remote teams in a hybrid workplace model
A successful hybrid workplace continuously responds to the needs of those who use it. For employers, that means understanding how and where your teams do their best work, identifying what features of the space matter most to them, and then using that information to create a new work environment that keeps employees safe, happy, and productive. The first step is figuring out which type of remote setup you're aiming for. Here are a few of the most common arrangements of a hybrid workplace model.
Hybrid
A hybrid team blends remote working and office working. That could mean a small core staff working in a fixed location while the rest of the employees work remotely. Or it might be a company where most of the employees work on-site, and just a handful work wherever they please. A hybrid team might operate on rotation, swapping in and out of the office every couple of weeks, or they might only visit the office for occasional meetings. However it's arranged, with a hybrid team there's always a central office for a worker to access.
As things return to normal and we begin to reenter the workplace, hybrid teams are gaining popularity with both workers and business owners. The hybrid workplace model offers employees the flexibility to continue working remotely, but also gives workers a physical location to return to if they wish, and a dedicated space where they can be productive and mix with their colleagues.
Split
A split team is just what it sounds like: one team divided into two or more offices. These offices are interdependent and could be thousands of miles apart or right across the street from each other. No matter the distance involved, a split team typically operates just like a hybrid team, with each half effectively working remotely from the other.
While most workers on a split team will be working from an office on any given day, they'll still need to use remote working tools and hybrid workplace processes to properly collaborate with their colleagues working at other locations. This enables split teams to more easily shift to a fully remote model if needed, or to change locations or working arrangements quickly.
Fully remote
A fully remote team has no physical office space. Instead, workers at a fully remote company carry out their duties from wherever they happen to be that day, whether that's their living room, a shared coworking space near their home, or on top of a mountain on the other side of the world (so long as they've got a decent Wi-Fi signal).
The life of a digital nomad may sound appealing, but it can present several challenges for employers and their teams. Workers may be split across different countries and time zones, making it difficult to solve problems, come up with new ideas, and collaborate on complex projects. Employees can feel isolated from one another, and a company's culture can suffer if there are too few opportunities for teams to get together and socialize.
But with careful planning—and for the right kind of company—abandoning the permanent office can be transformative. GitLab is one of the largest fully remote companies in the world. The tech firm has more than a thousand staff members working in 60 countries, and encourages its members to travel the world to visit colleagues and make use of local coworking spaces in their city to help keep their work and home lives separate.
How WeWork uses modern workspace amenities to enable hybrid work
The basic ideas behind hybrid office design all strive toward one goal: creating a variety of spaces within a workplace where employees are empowered to do their best work, whether they're in the office, at home, or working remotely. WeWork uses modern workplace amenities to equip your team with the tools and environment they need in order to be an effective part of your hybrid workplace plans.
Access to a dedicated workspace is key to keeping remote workers plugged into your company's culture and connected to their colleagues around the world. A distraction-free setting, professional meeting rooms, high-speed Wi-Fi, and business-class facilities give teams the resources they need to stay productive, engaged, and collaborative, no matter their distance. Try the spaces using WeWork All Access or WeWork On Demand.
All of WeWork's offices are designed with the future of hybrid working in mind. So whether you're launching a remote team in a new city, or want a modern workspace that meets the evolving demands of your workforce, WeWork provides beautiful offices to help you achieve your business goals.
Find out more about how WeWork has reimagined the future of flexible working and begin to transform your company's work culture today.
Steve Hogarty is a writer and journalist based in London. He is the travel editor of City AM newspaper and the deputy editor of City AM Magazine, where his work focuses on technology, travel, and entertainment.
Rethinking your workspace?