Before the pandemic, flexible workspace was a concept still gaining momentum. Most companies had traditional offices, and that's where employees went every day to do their work—full stop. When the status quo changed quickly and dramatically last March, many companies scrambled to provide their remote employees with the support they needed to maintain productivity, feel connected to their colleagues, and succeed in their work.
For some companies, the ideal solution was found in partnership with WeWork. WeWork All Access launched in 2020 to provide some or all of a company's workforce with access to workspace in hundreds of WeWork locations across the globe. Employees can choose a location that's convenient for them—close to home, childcare, or errands they have to run—to work from.
WeWork All Access helped solve myriad challenges employees had while working in cramped spaces at home. WeWork's short-term leases, flexible terms, and transferability gave companies peace of mind that they could change their workplace strategies whenever circumstances changed.
But now that vaccinations are increasingly available, companies across all industries are taking a step back and rethinking what returning to the office can look like. As it turns out, the pre-pandemic workplace status quo isn't necessarily the best way to engage employees and boost productivity. A majority of workers want continued flexibility—one study found that 60 percent of employees say they would quit their job if forced to return to the office full-time. And companies are finding that they can save considerably on real estate expenses by going hybrid.
Here are four enterprise companies that use WeWork All Access to provide employees with the flexibility they want and the space they need.
A communications platform needs flexible space for a global workforce
The challenge: A communications platform was in the middle of an acquisition while still managing the lingering uncertainties of COVID-19. The company was interested in fostering a hybrid workplace model—especially for its engineering team, which was based primarily in a borough outside its Manhattan headquarters—and was in search of a flexible space solution.
The solution: The platform provided all of its 2,500 employees with WeWork All Access passes, which enables employees to access workspace whenever they like at hundreds of WeWork's locations worldwide.
The result: The company's employees, spread across 12 countries, have easy access to desk space at a WeWork close to them. The company uses the data WeWork collects to inform portfolio planning, including identifying locations where they need dedicated office space. Having a short-term lease to start, plus a flexible payment model with utilization-based billing, makes it easy for the company to manage its global office space expenditures during uncertain times.
A school sees value in a hybrid model for engagement
The challenge: During the pandemic, a small science school with a global footprint closed its campuses worldwide and shifted to a fully remote program. The administration quickly realized that they needed to pivot away from traditional classrooms and other in-person student resources—perhaps permanently.
The solution: The school used WeWork All Access to provide students around the world with unlimited access to WeWork locations in their cities and anywhere they travel. WeWork All Access gives students access to materials (including reliable Wi-Fi and a printer) as well as quiet spaces—things they need to succeed, no matter where in the world they are.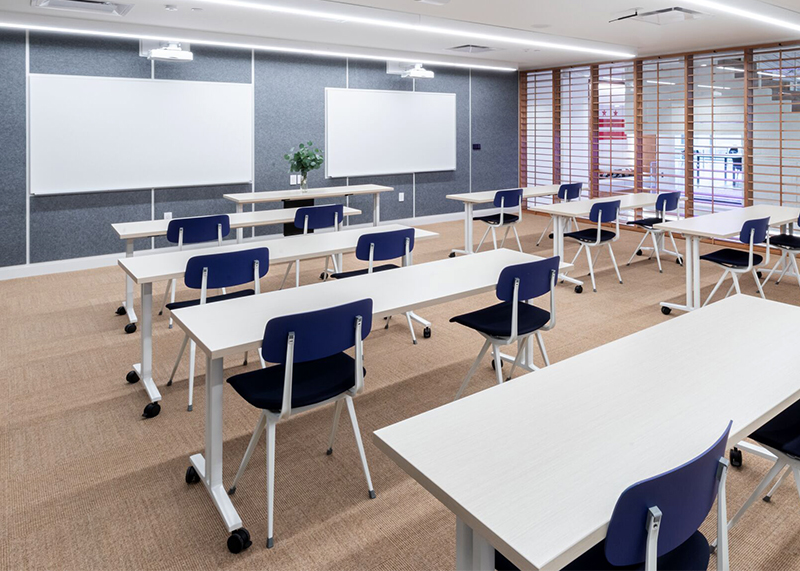 The result: Students across the U.S., Europe, and Latin America now have a place where they can go to study, meet peers for in-person collaboration and socializing, and to feel more connected to the school and engaged in their learning. Flexible terms follow the school year, so the school doesn't have to pay for more space than it needs. Once vaccinations are widespread, the school can reevaluate its strategy and continue using WeWork All Access or create full-floor dedicated spaces with areas for classrooms, collaboration, socialization, and study.
A communications company lets leases expire and turns to WeWork
The challenge: A communications company based in the Bay Area let two of its office space leases expire during the pandemic when its employees were fully remote. While designing a return-to-work strategy, the firm decided it wanted to maintain a visible presence in the area and reestablish a dedicated headquarters. But it also wanted to provide more flexibility for employees by offering additional dedicated work locations closer to where they live.
The solution: The company partnered with WeWork to create a custom solution using several products. First, the firm created a central collaboration hub for its headquarters. Then it identified its employees' geographic locations and determined the specific needs of its team. The company used this information to choose the ideal locations for two additional dedicated offices in the Bay Area. Finally, the firm provided its workforce with WeWork All Access, enabling employees to check into any of the company's three locations.
The result: Employees enjoy a hybrid model that enables them to work from home when it makes sense but travel to the office for in-person meetings and team collaboration. Employees who want a quiet place to go for uninterrupted, heads-down work time can head to any location to find a workspace designed with productivity in mind. Flexible leasing and transferability keep all options on the table for the company, enabling them to pivot their workplace strategy based on changing employee headcounts and other metrics.
A software provider opens new headquarters and has WeWork All Access for even more flexibility
The challenge: Early in the pandemic, a Bay Area software company provided its employees with WeWork All Access passes so they could have quiet workspaces closer to home. But after a recent merger—and with the pandemic winding down and their existing office lease set to expire—the firm was ready to invest in a dedicated, client-facing headquarters with full branding that reflects their identity.
The solution: WeWork provided the firm with a dedicated building for its headquarters. It is fully branded and customized with data-driven design to bring the brand to life, foster the company's culture, and enhance employee productivity. The company continued to provide employees with WeWork All Access passes, empowering them to make informed choices about where to work.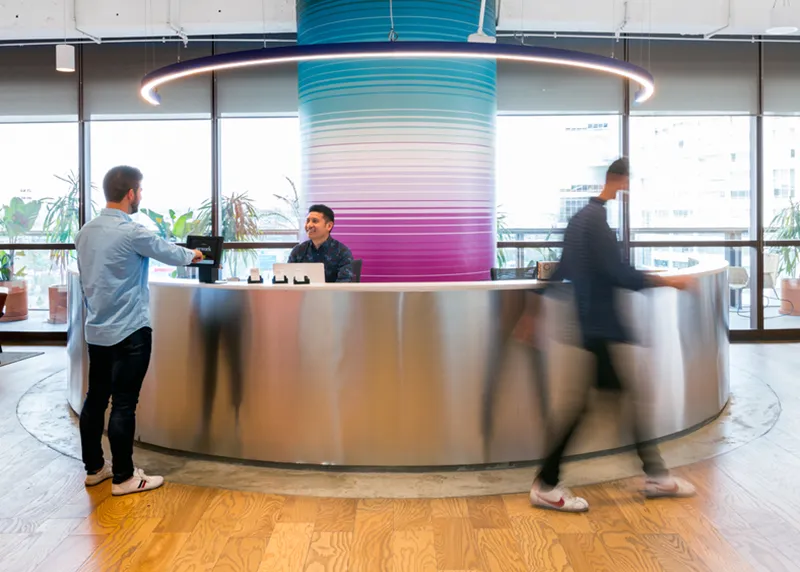 The result: Employees and customers have access to a physical headquarters that reflects the company's energy and identity. Employees who don't need to make the commute to the central headquarters use WeWork All Access to secure workspace at any of the other WeWork locations in the Bay Area. Employees love the flexibility; the company loves the flexible terms, the single point of contact for all of their Bay Area assets, and the full transparency they get with WeWork.
WeWork All Access makes a hybrid workplace model easy to implement and gives employees control over choosing where to work. Usage data collected by WeWork helps guide a company's decisions about where to scale and where to implement dedicated workspaces later on. WeWork's flexible terms and large global footprint enable startups and enterprises alike to scale up or down quickly when their needs change. Whether you're a four-employee startup, a massive enterprise, or a real estate broker helping clients find flexible workspace, WeWork All Access is an ideal office space solution on its own or in combination with other WeWork products.
Kristen Bailey is a veteran writer and editor based in beautiful Lincoln, Nebraska. She has a penchant for helping large and small brands create stories that tell the why.
Rethinking your workspace?