Decentralization has long been a real estate strategy to expand a company's global footprint and to scale with ease. Johnson & Johnson, for example, is famous for its decentralized business model, which involves more than 200 units that function independently but frequently collaborate with other autonomous teams.
Before the pandemic, though, decentralization wasn't a term used often—and it wasn't a model that many organizations seriously considered adopting. But when companies in all industries across the globe needed to quickly de-densify their workspaces to protect employees from the threat of COVID-19, decentralization became a go-to strategy. In many cases, this meant sending a large number of employees home to work, which, as it turns out, isn't ideal—at least not for the long term.
Concerned about lost productivity and employees' feelings of isolation, many companies looked to decentralize their offices. They no longer required employees to commute to company headquarters. Decentralizing allows employees to work from work in convenient locations closer to where employees live. WeWork helped businesses decentralize based on each business's individual needs. Here's how three companies decentralized with WeWork.
A financial company brings teams together with temporary workspace
The challenge: As companies began to return to the office last fall, a Fortune 500 financial services firm created a distanced workplace by de-densifying its New York City headquarters. But that left the company's large back-of-the-house teams separated from the bankers and traders at HQ, which is less than desirable in a business that relies on speedy problem-solving and lightning-fast data processing and information delivery.
The solution: WeWork provided the firm with a full floor of temporary workspace close to headquarters. The two-year, flexible membership agreement allowed the company to decentralize its offices without having to make a long-term commitment or invest in new infrastructure.
The result: The company's support and tech teams are happily housed in their own professionally distanced workspace with easy access to headquarters. Employees enjoy the WeWork amenities and like working in an environment that promotes personal well-being and productivity. The solution is working so well that the firm is considering extending its terms beyond the pandemic to maintain an optimal level of employee flexibility and collaboration.
An insurance firm tries out the hub-and-spoke model
The challenge: A global insurance company in Tokyo was deemed essential and needed to continue operating as usual during the pandemic. To minimize risk for their employees, it wanted to de-densify the central office as well as reduce commute time for employees—but it wanted to do both without increasing capital expenditures or signing a long-term lease. Moving quickly was imperative to prevent a protracted transition period that would create more stress in an already-uncertain time.
The solution: WeWork set up dedicated, professionally distanced office suites for the firm in multiple locations across the city—a decentralization strategy known as the hub-and-spoke model. Since WeWork has the capacity, infrastructure, and know-how to move quickly, employees were able to relocate to the new offices in just four days.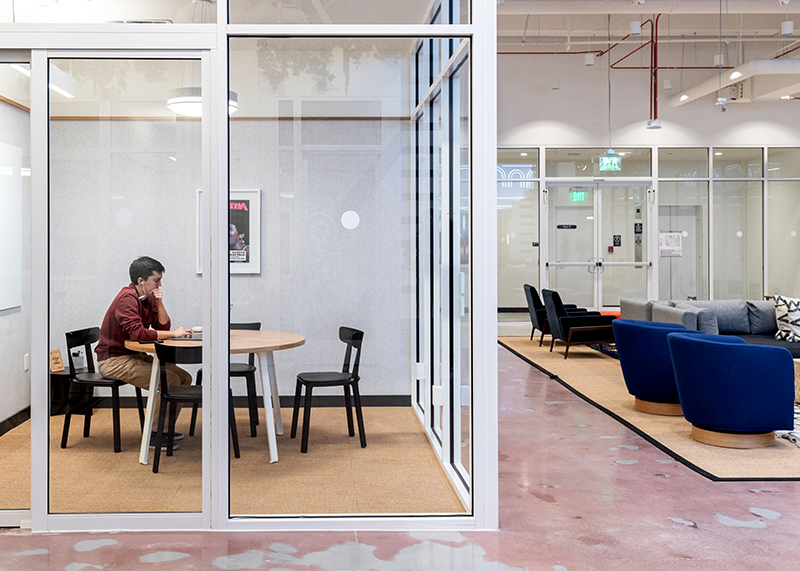 The result: Flexible terms enabled the company to set up multiple temporary workspaces with the ability to extend the lease if necessary. Employees reduced or eliminated time spent on public transportation, because they could choose to work at a location closer to home. Decentralizing enabled the company to continue their essential services while prioritizing the safety of their employees. WeWork's on-site staff and comfortable environment made employees feel at home in their new offices.
An e-commerce firm scales globally with ease
The challenge: A Fortune 100 e-commerce technology company operates globally, but setting up separate corporate headquarters in some locations doesn't make financial sense—especially since the firm needs a specialized infrastructure that prioritizes security.
The solution: With hundreds of locations in 150 cities around the world, WeWork has workspaces in nearly every major metropolis, giving members the ability to scale up quickly in new markets. The e-commerce firm now uses WeWork locations worldwide to provide its employees with workspace that's designed for productivity, offers great amenities, and has on-site community managers who promote a safe, collaborative workplace culture. Whether it's a dedicated half-floor space, a multifloor operation, or an entire building, each of the company's locations is set up with a custom-built infrastructure to ensure the highest level of security.
The result: WeWork's flexible terms and global locations means the company can enter markets of all sizes, anywhere, and test them out without a large investment of time and money—or a long-term commitment. As a result, the company is more agile, without the need to have large capital expenditures while it decentralizes globally. At the same time, employees have a workspace designed for comfort and productivity, along with the amenities and opportunities for professional development offered in each WeWork community.
With the growing hope that the days of the pandemic are numbered, companies across the country are gearing up for a full-scale return to work sometime in 2021. Decentralization strategies can help businesses do just that.
Companies of all sizes are embracing workplace flexibility—many don't want to return to the centralized way things were, once the all-clear is given. Some embrace the idea of the 15-minute city and want to continue providing employees with products like WeWork All Access to reduce their commute time. Companies that created collaboration hubs, which allow employees to come in for teamwork and meetings in person, have found this to be a positive arrangement for employee morale and productivity—and for the company's bottom line.
WeWork has the flexible terms, the capacity to scale, and the customizable products that make it possible for companies big and small to reinvent what the future of the workplace will look like for them.
Brokers can learn more about our solutions at www.wework.com/brokers.
Kristen Bailey is a veteran writer and editor based in beautiful Lincoln, Nebraska. She has a penchant for helping large and small brands create stories that tell the why.
Rethinking your workspace?