As businesses bring employees back to the office following the lockdowns and closures of the past year and a half, leaders everywhere are thinking about how (and whether or not) we want to transition back to in-office work.
As the co-founder of Service Direct, a technology company that offers local lead generation solutions for service businesses, it's certainly top of mind for me. Before the pandemic, if you had asked me if we would ever be a fully remote workforce, I would have said no way. We had always offered a flexible work schedule as a perk of the job, with unlimited PTO and alternative hours, but being in our physical office in the Austin area was part of the job. It also figured into how we hired, limiting our talent pool to the area where our headquarters is located.
When the pandemic hit, we were forced to figure out how to make it work as a fully remote workforce. While I initially thought employees would take advantage of the work-from-home time, our experience was quite the opposite. In many ways, I feel that as a company we're working more closely than ever before. After just a few bumps in the road in the beginning, everyone pulled together to figure out how to put systems in place that not only helped us survive but thrive. That's why, going forward, Service Direct is launching a full hybrid model of work.
Moving forward, with increased flexibility
We recently conducted a feedback survey of our 30 employees, and about 92 percent of them stated that having a flexible work schedule is extremely important to their overall job satisfaction.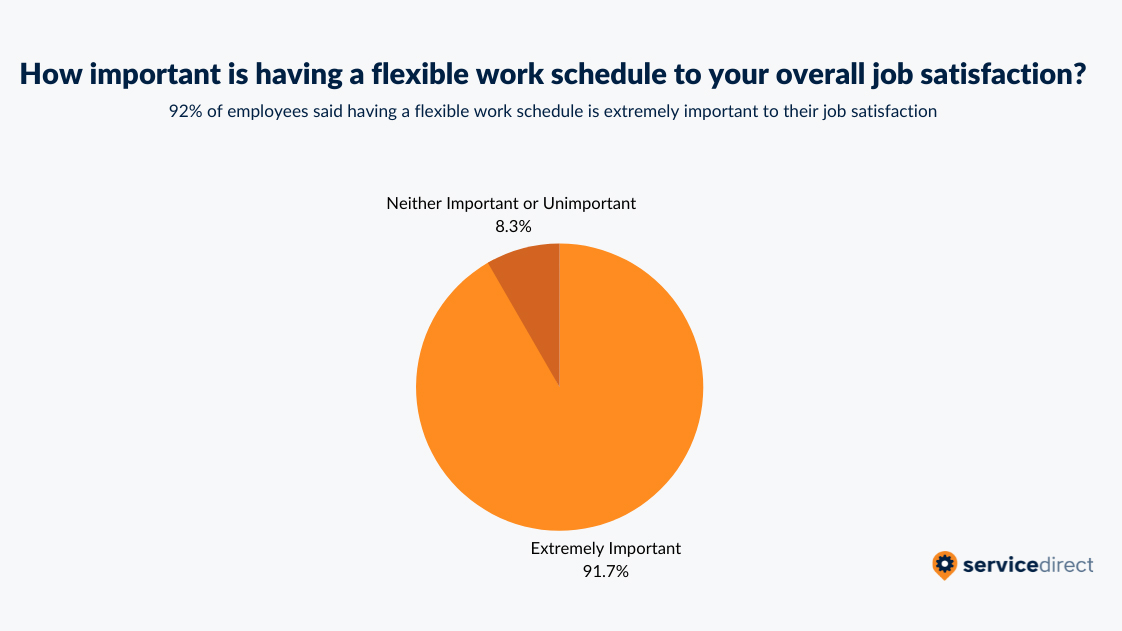 At the end of the day, as long as our team gets the work done, they are free to determine how and when they get that work done. As such, we now offer three primary perks for all full-time employees:
1. An alternating four-day workweek
All employees get every other Friday off, with no increase to hours worked during that week. When we surveyed the team after piloting this perk in July, 100 percent said they wanted us to continue offering this benefit, 85 percent of employees said they feel more rested and happier at work because of it, and 93 percent of employees said their productivity has improved compared to when working five days every week. This has quickly become one of our employees' most valued benefits.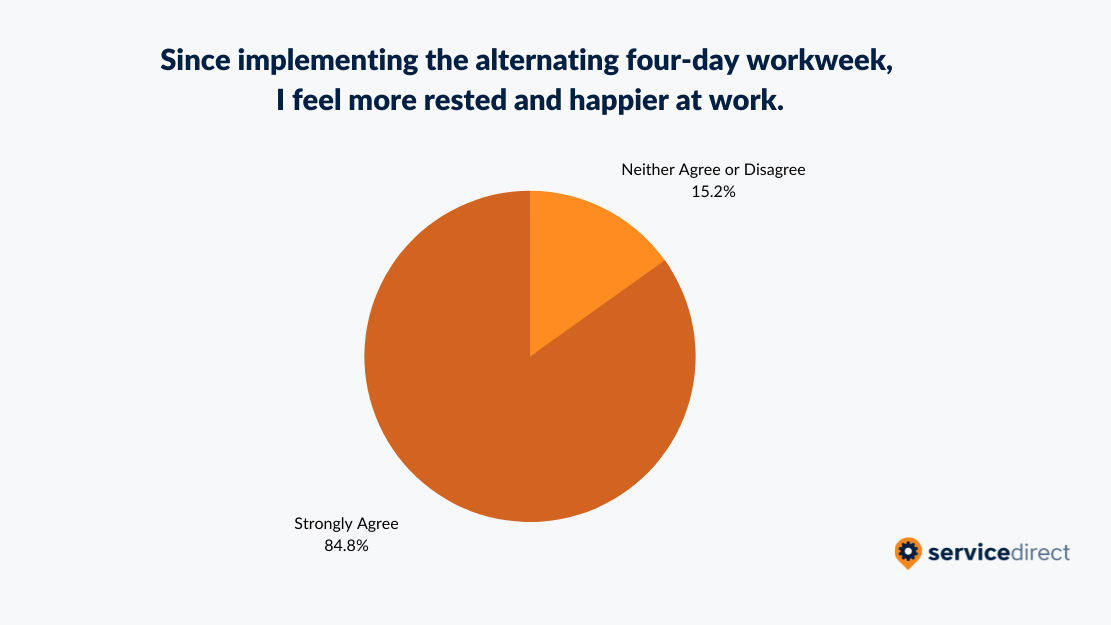 2. A hybrid workplace
A hybrid workplace policy gives employees the freedom to come into the office at their convenience and work from home on days that are best for them. Employees can choose to come back into the office full-time, work from home full-time, or split their time between the office and their home. They also have the flexibility to reserve a desk in the office for the short term or long term.
What's more, all company culture activities have an in-person or remote option so that people can keep that social connection strong. For example, during our second annual Wellness Challenge, if someone isn't available for, or comfortable with, the group activities we have planned, like hikes, they can go on their own hike and still participate in the challenge. For local team members, we have our quarterly All-Hands in the office, and teams can reserve conference rooms for deep work sessions.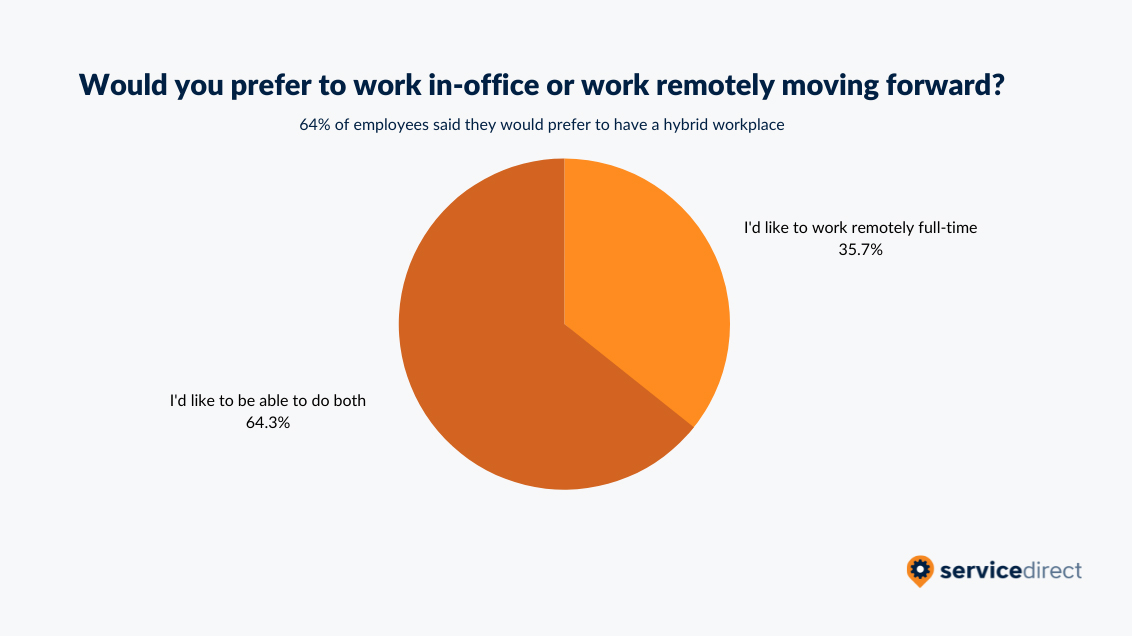 3. Unlimited paid time off (PTO)
Unlimited paid time off allows employees the freedom of taking time off when needed instead of following a strict number of paid time off days per year. Unlimited PTO establishes trust, allows employees time to wind down and rejuvenate without pressure, and increases employee satisfaction.
Benefits of implementing a flexible work schedule
A company's core values, perks, and pay range are what really set the foundation of the company's culture and the ability to hire and retain great talent. As a small business owner, when you are competing against the likes of companies like Facebook and Google for the same talent pool, you really have to get creative and embrace the perks you are capable of offering that bigger businesses don't have the luxury to provide.
Embracing a level of flexibility not only attracts candidates, but looking past geographical headquarters opens the talent pool significantly, which leads to more and better candidates. It forces you to standardize processes and set up the project management systems that you probably should have already set up in the first place. We had to reprioritize some of the core criteria that we hire around in order to ensure we hired new people that would thrive in a semi-remote environment, like being highly responsive with good communication and being more tech-savvy.
Tips for adopting a more flexible work schedule
When it comes to offering or piloting a flexible work schedule, here are some tips based on what we at Service Direct have learned along the way.
Company leaders must follow the policy themselves—and keep a keen eye on potential burnout. If the policy is alternating four-day workweeks, staff at every level must abide by it. It can start to feel like it's not an authentic perk if your team is taking every other Friday off but you're still updating tasks in Asana every Friday because you just have too much work. We learned that you need to really look out for your employees in order to gauge satisfaction and burnout levels when remote, because you don't necessarily hear the small things you may have when everyone was working in the office full-time.
Consider the industry you work in. Offering certain perks may not be suitable for all companies. Our perks are great for small businesses that can be lean and agile. But if you are in an industry with strict operating hours (e.g., manufacturing), the four-day workweek may not be best for your business. We are in digital advertising, which means we can work and build our product from anywhere in the world. We took that under consideration as we revised our policies.
Schedule time in advance to ensure departmental coverage. This was especially important when we decided to try the alternating four-day workweek. It was important that we still had team coverage on Fridays to ensure we didn't prevent other team members from achieving their objectives, and to ensure we were still able to give our clients the level of support they had come to expect from us. So each quarter we schedule everyone's Friday off, time in the office, and PTO in advance, and make that calendar public to the entire team. This way we guarantee coverage and also let our team members know exactly what to expect.
Matt Buchanan is the co-founder and chief growth officer at Service Direct. He has 15-plus years of expertise in local lead generation, sales, search engine marketing, and building and executing growth strategies. He is a graduate of Vanderbilt University.
Rethinking your workspace?