The hybrid work model
What does hybrid work actually mean?
Around the world, businesses are rethinking the way we work. The pandemic has upended established routines, abruptly enrolling us in a global experiment in remote working. The results were unexpected. Many employees have said that working from home has made them happier and more productive, and that when we return to the workplace, things can't be the same as they were before.
What many companies are converging on is a mixture of remote working and traditional office working, known as the hybrid workplace. A hybrid workplace exists when a business allows their employees to work either remotely or from the office. In a typical hybrid workplace, employees have the choice of working in a central office, working from home, or splitting their time between the two.
A hybrid workplace can also have some of the physical characteristics of a flexible office space. Workers in a hybrid office can choose the area of the office that best suits the type of work they need to do at that moment, whether it's focusing on a task in a quiet zone or getting up to speed with colleagues over a coffee.
More importantly, the hybrid office gives workers the complete freedom to choose where and when they do their best work. Let's take a look at how this trend took off and consider some of its advantages and disadvantages.
The hybrid workplace trend
In October 2020, Reddit announced a major change in how the company operates. Months into the COVID-19 pandemic, and with most of the social media giant's workforce already forced to work from home, Reddit decided to permanently shift to a hybrid workplace model. The company's employees now have the flexibility to work wherever they want—they can choose to do their job at the office, from home, or a mix of the two.
Reddit wasn't the first high-profile company to switch to a hybrid model. Earlier that year, Twitter was one of the first big tech firms to bake remote working into its company values. It announced it was indefinitely extending the option to work from home or remotely, with employees visiting the office as often as they wanted to. Shortly afterward, cryptocurrency trading firm Coinbase followed suit, introducing a "remote-first" workplace model designed to remain fully operational with or without a central office.
What began as a mass experiment in alternative working arrangements is now turning into something more permanent. Microsoft now offers its employees the option to work remotely for at least half of their workweek. Salesforce declared that the "9-to-5 workday is dead." Facebook will allow half of its workers to work from home permanently. Shopify, PayPal, Zillow, and Viacom are all introducing some form of flexible working into their workplace culture.
The list goes on, and while each company has its own reasons for transitioning to this new way of working, there's one thing that they all agree on: The hybrid workplace prioritizes the employee experience. In the short term, hybrid working offers vital reassurance as the pandemic subsides and businesses begin to reopen. But in the long term, the hybrid workplace offers flexibility for those who want it. It attracts a new generation of workers who demand it. The hybrid workplace boosts employee happiness and cuts down on costs. This change isn't on the horizon; it's already happening.
This doesn't mean the office is being left behind. The reimagined hybrid office is now more useful and necessary than it's ever been, evolving to serve a wider role for the company as a collaborative, learning, and social space. When Dropbox adopted a "virtual-first" workplace in 2020, it converted its existing offices into what it calls Dropbox Studios—shared coworking spaces designed around collaboration and community-building. In cities where it didn't already have office space, Dropbox delivers its hybrid workplace model using on-demand workspaces.
Hybrid working is not only changing where and when we work—it's changing the physical layout of the office to meet a new set of demands. Employees want flexible workspaces that cater to their needs. They want less formal environments, and they want to work in the area of the office that best suits the task they're working on. They also want to be able to work effectively no matter where in the world they are.
Advantages of the hybrid workplace model
Increased productivity
Historically, some managers viewed hybrid working with a degree of suspicion, believing that if employees could pick and choose the hours they worked, they would simply choose to do less work. This turns out to be unfounded. In fact, the opposite seems to be true. In a research paper by Microsoft on the impact of the pandemic on the performance of companies across Europe, 82 percent of leaders said their companies were at least as productive as they were before the pandemic.
This makes sense. In a hybrid workplace, flexible workers can utilize their time better. They can choose to avoid commuting at busy times. They can fully focus on tasks without the noises and interruptions of the traditional office environment. They can choose to work when they're feeling most productive, whether that's in the middle of the night or first thing in the morning. When employees are happier, better rested, and less stressed, they do better work.
Employee happiness
Being free to work when and where they please has a significant positive impact on employee satisfaction. In a 2020 SurveyMonkey study, employees who worked remotely reported feeling happier than their colleagues who remained working in the office. There are lots of reasons for this, from the psychological benefits of taking full control of their schedules to simply having a dog by their side as they work. Being able to dress casually, cook more, and spend time with loved ones all contribute to this boost in mood.
But for many, working from home can be isolating or distracting. A hybrid workplace mitigates many of the downsides of pure remote working, creating a professional space outside the home for employees to collaborate and socialize with colleagues.
Lowered costs
In a hybrid office, there's no need for row after row of assigned desks. Instead, a successful hybrid office incorporates a mixture of versatile spaces designed to support employees across different tasks, such as standing desks where people can log in with their own laptops, relaxed lounges for catching up on emails, soundproofed booths for phone meetings, and coffee areas for informal team chats.
Once a company knows how many employees will be in the office at any given time, employers can plan around new occupancy levels to cut down on the cost of rent, office supplies, and other business expenses.
Safety during the pandemic
Even as vaccinations take effect and we begin to emerge from the pandemic, health experts warn that social distancing measures will remain in place for some time. Until then, the way we work and travel around our cities will continue to reflect the level of risk the virus poses.
A hybrid workplace helps keep employees safe during the pandemic, reducing the number of people in the office at any given time, creating ample personal space, and making it easier to stay distanced. Flexible workers can commute during off-peak times, or work from home if they or their family are at particular risk.
Disadvantages of the hybrid workplace model
Potential burnout
Left unchecked, a culture of overworking can creep into a hybrid workplace model. Remote workers may work longer hours and take shorter breaks than their in-office counterparts. They worry that because they are out of sight, their in-office colleagues may perceive them to be slacking off, so they have a tendency to overcompensate by staying late or making themselves available outside traditional work hours.
When a flexible worker takes time for themselves in the afternoon—say, to exercise or play with their kids—it can trigger feelings of guilt, which leads to more work, more stress, and ultimately, burnout. It's up to managers to carefully cultivate a company culture that de-emphasizes simply being logged into Slack but rather focuses on the work itself.
Increased reliance on technology
Decoupling a business from its physical premises is a huge and complex challenge, but a hybrid workplace must be able to operate in a location-agnostic way. The same cloud-based productivity suites that enable remote working, such as Google Workspace and Microsoft 365, also enable a hybrid office to get work done from anywhere on the planet.
This means everyone needs to be given the adequate hardware and resources—including laptops and phones, for example—to do their job no matter how far from the office they are. The IT department of a hybrid office needs to be able to manage a whole mess of different personal devices connecting from unpredictable locations, to not only ensure a level playing field for all employees but to keep the company's data secure.
Redesigning the office layout
To complete the transition to a hybrid workplace, employers must invest in reshaping their existing office space to meet the needs of flexible workers. That means providing a variety of different areas for employees to do their best work, such as common areas for breakout sessions, quiet zones for concentrating, and adaptable meeting rooms that can be quickly repurposed for activity-based work.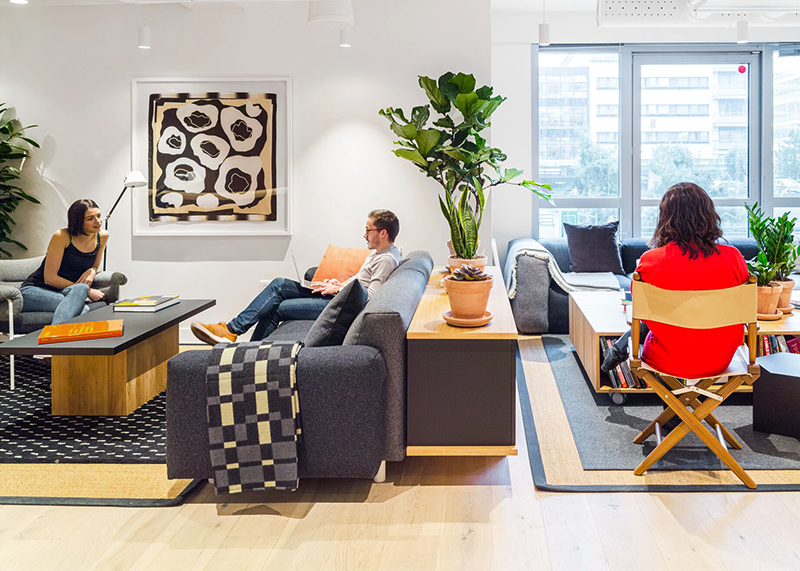 A hybrid office requires extended functionality, including power outlets by seats for charging, conferencing screens to seamlessly link up with remote colleagues, and strong Wi-Fi in any location where somebody might try to get some work done. For companies based in older buildings, this kind of redesign could pose a significant challenge.
Team-building when there's distance
In a hybrid workplace, it can be difficult to form or maintain relationships with colleagues. If you're not sharing the same physical space, you can't just stroll over to their desk for a casual chat or show them a funny YouTube video of a dog near the photocopier.
This gap in the employee experience becomes even more pronounced when some employees continue to work in the office, creating perceived in-groups that can leave remote workers feeling left out, less favored, and lonely. A good manager can alleviate this by adapting the company's team-building activities to ensure that they're inclusive for all employees, and by organizing regular social events that are accessible to everyone regardless of geography.
How WeWork can help your hybrid workforce
WeWork can help businesses more easily transition to a hybrid workforce. Whether you need a flexible office that responds to the evolving demands of your business, or a space for your remote workers to collaborate and share ideas, our beautifully designed, adaptable workspaces can meet your company's changing needs. WeWork's coworking spaces empower employees to do their best work, no matter where in the world they are.
WeWork All Access is a monthly membership that allows employees to work out of hundreds of WeWork locations around the world. For even more flexibility, WeWork On Demand lets you access workspaces and meeting rooms in hundreds of locations from $29 per day, so you can always find the space, community, and facilities you need to stay productive.
The pandemic has taught us a lot about how we work. It's proved that our usual routines are not set in stone, and that alternative ways of working are not just viable but can have a lasting impact on our happiness, productivity, and well-being. The future of work is flexible, and more businesses are turning to the hybrid model as a way to achieve the flexibility their employees need.
Steve Hogarty is a writer and journalist based in London. He is the travel editor of City AM newspaper and the deputy editor of City AM Magazine, where his work focuses on technology, travel, and entertainment.
Rethinking your workspace?