Click here to read the full report.
COVID-19 has forced a large portion of the global workforce, including 42 percent of the U.S. workforce, to work from home. Many studies have concluded that employees are making it through this shift without losing productivity or collaboration. However, those studies are not assessing "collaboration" in detail. A deeper look at the nuances of collaboration—everything from informal watercooler chats to structured board meetings—highlights that employees are in fact struggling in many ways while working from home.
In a detailed study, WeWork, in partnership with brightspot strategy, a research and engagement firm, conducted a blind survey representative of professional office employees across the U.S., Canada, Mexico, and the UK. The survey defined 10 various employee working styles (or "workstyles") and assessed the impact of working from home on each type. Read more about the different workstyles. The workstyles varied based on how much one collaborates; with whom one collaborates; and how one socializes at work.
In a recent webinar, WeWork and brightspot strategy discussed the survey results and solutions businesses and leaders can use to enhance collaboration and productivity in the new world of work.
Survey methodology
The survey was launched and completed in July 2020. It asked professional office employees questions about their experiences working from the office (before the COVID-19 lockdown) as well as from home (during COVID-19). More than 600 responses were collected across six regions: the Eastern, Central, and Western U.S.; Toronto and Montreal, Canada; Mexico City, Mexico; and, London, England.
The survey identified collaboration in three ways: the ability to meet and brainstorm; the ability to maintain social relationships; and the ability to have unplanned interactions.
Respondents were asked to rate their ability to have different collaborative interactions, and their outcomes, on a scale from 1 to 5, both while in the office and while working from home. The difference between the ratings of working in the office and working from home was calculated to understand the percent drop in performance.
Key findings
The ability to meet and brainstorm has dropped an average of 11 percent for all workstyles since they began working from home. For employees whose roles rely on collaboration, the drop is even larger, ranging from 13–15 percent.
The ability to maintain social relationships has declined an average of 17 percent for all workstyles since working from home. For employees who have close ties to their colleagues as well as those who struggle to socialize in the office, the drop is even larger, ranging from 20–26 percent.
The ability to have unplanned interactions has dropped the most, at 25 percent on average, for all workstyles since working from home. For employees who collaborate in close-knit team environments, the decline is even larger, as high as 40 percent.
The vast majority (90 percent) of people want to return to the office at least one day a week. Twenty percent of that group wants to return five days a week.
Click here to read the full report with more details about the 10 workstyle profiles and results by workstyle, region, and industry.
In the workplace, innovation, creativity, and organizational health hinges on successful collaboration. A loss of these outcomes will hinder sustained business performance, employee engagement, and organizational health in the long run.
"The global work-from-home movement…could actually generate a worldwide productivity slump and threaten economic growth for many years," says Stanford economist Nicholas Bloom. He highlights the correlation between in-person collaboration and innovation, and is concerned how "the new ideas we are losing today could show up as fewer new products in 2021 and beyond, lowering long-run growth."
Remote work also hinders long-term organization culture. This is most clearly seen when looking at new employees. Remote tools can facilitate informational onboarding sessions but fail to support nuanced engagements in which new employees can apply their signature strengths or express their genuine selves. New employees may also feel removed from the company culture. Many employees—new and old—are experiencing social isolation. Without the ability to create or maintain social relationships, company culture and long-term organizational health suffer.
In addition, one of the biggest impacts of working from home has been the lack of unplanned interactions. This negatively impacts creativity, innovation, and the overall organizational social fabric. Spontaneous encounters spark ideation and strengthen organizations. These interactions are often held during break periods, before or after meetings, in the hallway, or at communal amenity points throughout the office. This type of collaboration during unplanned interaction stimulates creativity, which leads to innovation. Daily interactions that move between work-focused and social-focused conversations contribute to overall group cohesion. Without such spontaneous encounters, many of these benefits are lost.
Understanding the powerful long-term negative impacts of reduced innovation, organizational culture, and creativity, our survey was structured to assess the ways in which collaboration impacted these outcomes.
Which employees struggle the most working from home?
Among all 10 workstyles we defined, the ones who have had a hard time collaborating while working from home are: Collaboratives (people who spend more than 65 percent of their time working with others), Internals (those who spend more than 62 percent of their time working with other internal employees, as opposed to vendors or external clients), and Tribes (people who socialize with their team but are less likely to prioritize expanding those connections across an organization).
These three workstyles have struggled to maintain social relationships, build trust, collaborate, and remain connected with colleagues while working from home. What's more, these workstyles account for 14–46 percent of the professional office employee population. Internals make up 46 percent of the work-from-home workforce—approximately 25 million employees in the U.S., 5 million in Mexico City, 3.1 million in Canada, and 1.24 million employees in London—and are the group most impacted by working from home, among all workstyle types we surveyed.

Collaboratives are struggling to do the work
Collaboratives are able to maintain social relationships while working from home but are less able to effectively collaborate with colleagues on work projects. When interacting with colleagues, they struggle to make decisions quickly; solve problems creatively and generate new ideas; obtain training, provide mentorship, and build trust; and connect to company news and culture. In these areas, Collaboratives reported the biggest drop in performance (ranging from 12–18 percent) compared with those who work less with others.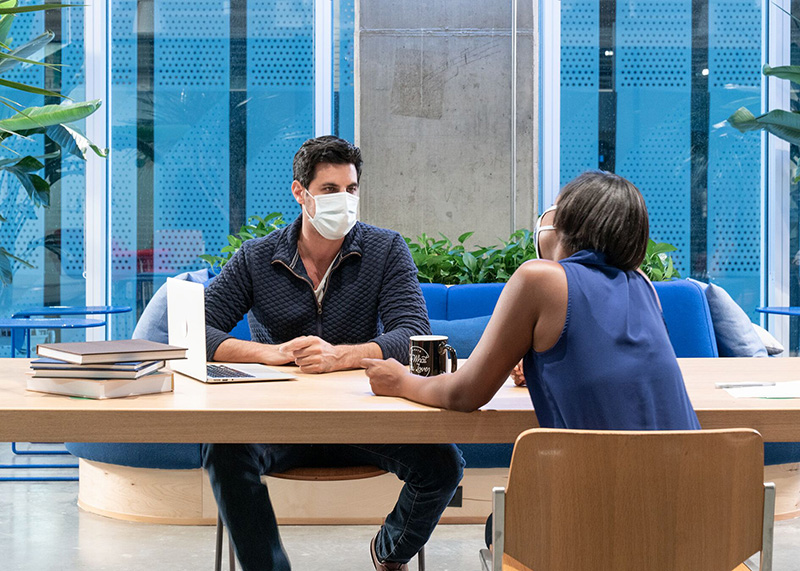 Working from home may further hinder meetings and interactions among Collaboratives, an essential factor in quality work performance. One respondent to our survey noted this struggle, saying that without being physically in the office, their team can no longer stay late together to finish a project on a deadline.
Internals have fewer and less high-quality interactions
Internals have had fewer interactions while working from home. Their ability to facilitate interactions dropped 28 percent, and the quality of those interactions dropped 15 percent. With a 34 percent drop in the ability to have interactions during breaks, one survey respondent noted that these "break period" interactions aren't possible while working from home as there is "no popping up at somebody's desk or informally socializing by the coffee machine."
Tribes suffer socially working from home
Tribes have seen big drops across many social factors since working from home, with their ability to facilitate interactions (planned or unplanned) declining 34 percent. In the interactions they do have, they are struggling to maintain social relationships, obtain mentorship, and build trust (dropping 23–26 percent). Tribes are closely connected to those with whom they work frequently, and this shift to working from home has impacted their ability to maintain these relationships. One survey respondent emphasized that their productivity and success is tied to their team's history and relationships, saying, "We have a team that's worked together for a long time… That is why all of our projects are successful."
Reigniting collaboration in the office setting
A large portion of the workforce has been working from home and missing out on the benefits of in-person collaboration. Innovation relies on the ability to meet and collaborate productively, organizational health relies on healthy social relationships, and creativity relies on unplanned interactions. Survey responses across all 10 workstyles, and most acutely for Collaboratives, Internals, and Tribes, demonstrates that in the long run, we will begin to see the impacts of working from home on innovation, organizational health, and creativity.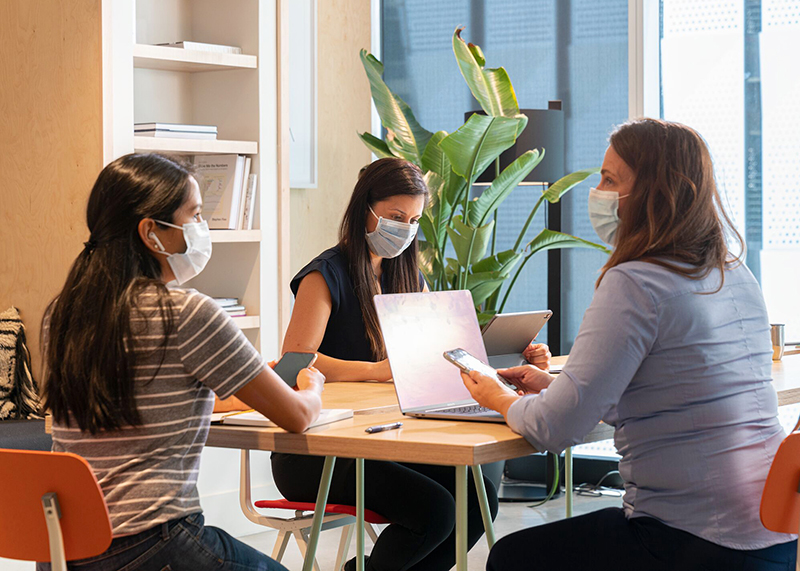 As the amount of planned and especially unplanned meetings decreases, interaction quality also decreases—with direct, negative consequences for team cohesion and work output. Performance and productivity loss can and have been measured in studies. Yet creativity loss is harder to identify. Creativity loss becomes apparent through the long-term impact in organizationally healthy behaviors such as innovation and development.
The ability to meet and collaborate, maintain social relationships, and have unplanned interactions may continue to suffer as employees continue working from home. This can lead to negative impacts on sustained business performance, employee engagement, and organizational health in the long run. A shared workspace provides the environment for quality interactions, access to the people and resources needed to be productive, and opportunities for chance encounters to build social ties.
Ninety percent of survey respondents want to return to the office at least one day a week; 20 percent of that group want to return five days a week. When asked what would keep them from returning to the office, one respondent said, "Nothing at all. I am eager to return to my office as soon as possible." A return to a shared workspace, designed with safety in mind, can support all workstyles in increasing the quantity and quality of their interactions and collaboration.
Click here to read the full report.