WeWork On Demand
Introducing the new flexible way of working
Find productive workspace and meeting rooms in 17 cities across the United States with the all-new WeWork On Demand app. WeWork On Demand gives you access to more than 190 locations where you can book workspace for only $29 per day or reserve meeting rooms starting at $10 per hour—no commitment required.
*These prices will change in early 2021, so take advantage of them while they're here.
Download WeWork On Demand
Your health is our priority
In response to COVID-19, all WeWork locations have implemented enhanced safety and sanitization measures that align with health guidelines—giving you more comfort and peace of mind at work. Learn about our response here➝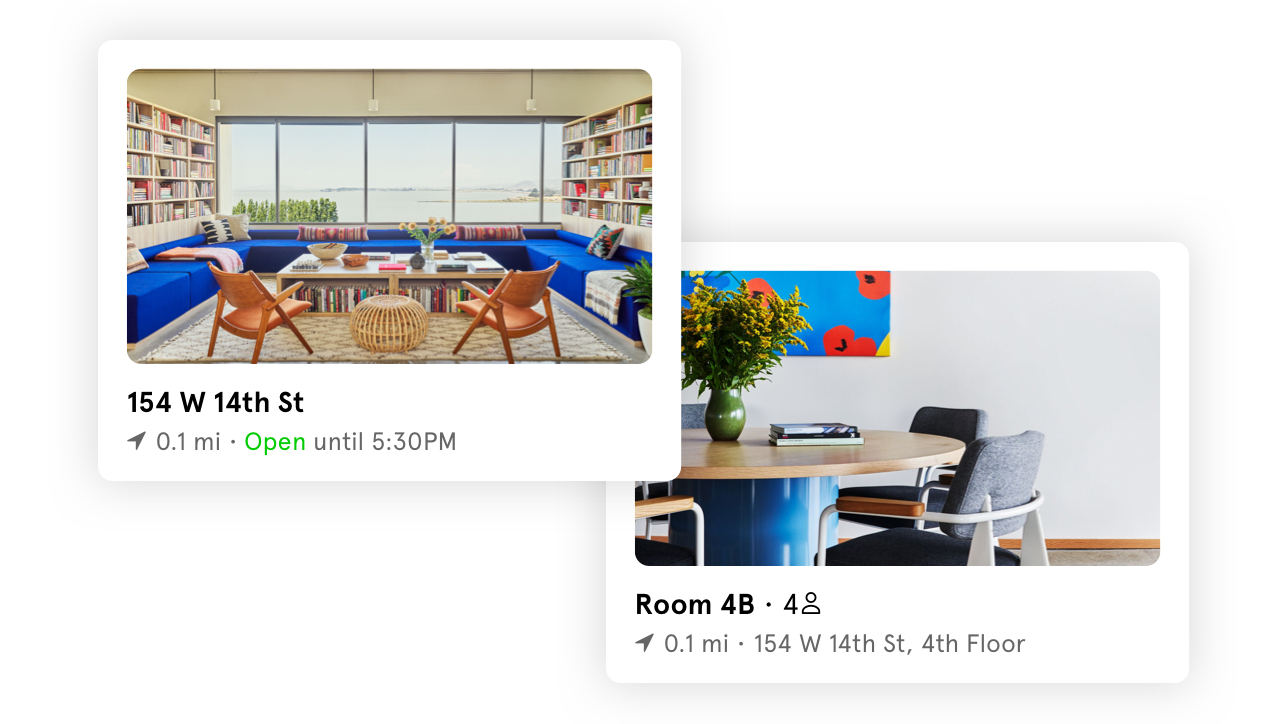 Select the perfect space or room
Book a day pass for a seat in our coworking spaces with access to amenities like unlimited coffee and fast Wi-Fi, or book a room by the hour for meeting clients and co-workers. Whatever your need, we've got you covered.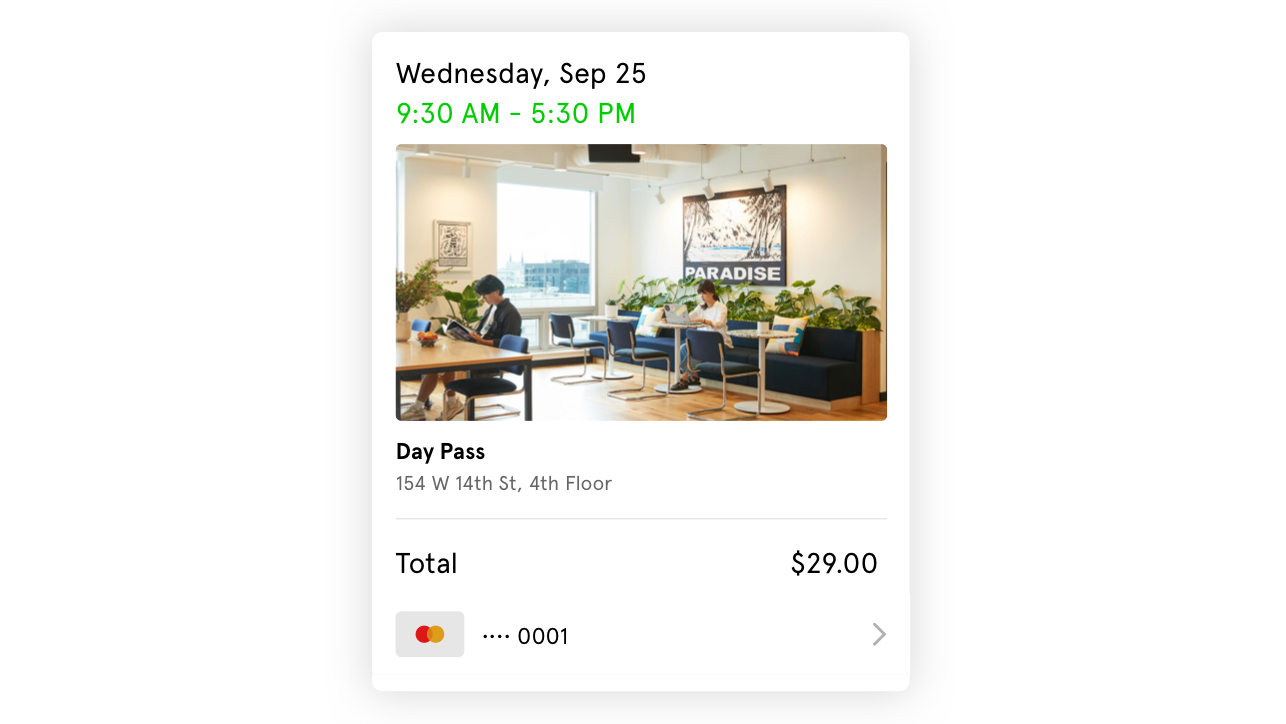 Book instantly and pay as you go
Forget monthly commitments—pay for workspace when and where you need it, directly on the app. Workspace is $29 per day and meeting room reservations start at $10 per hour.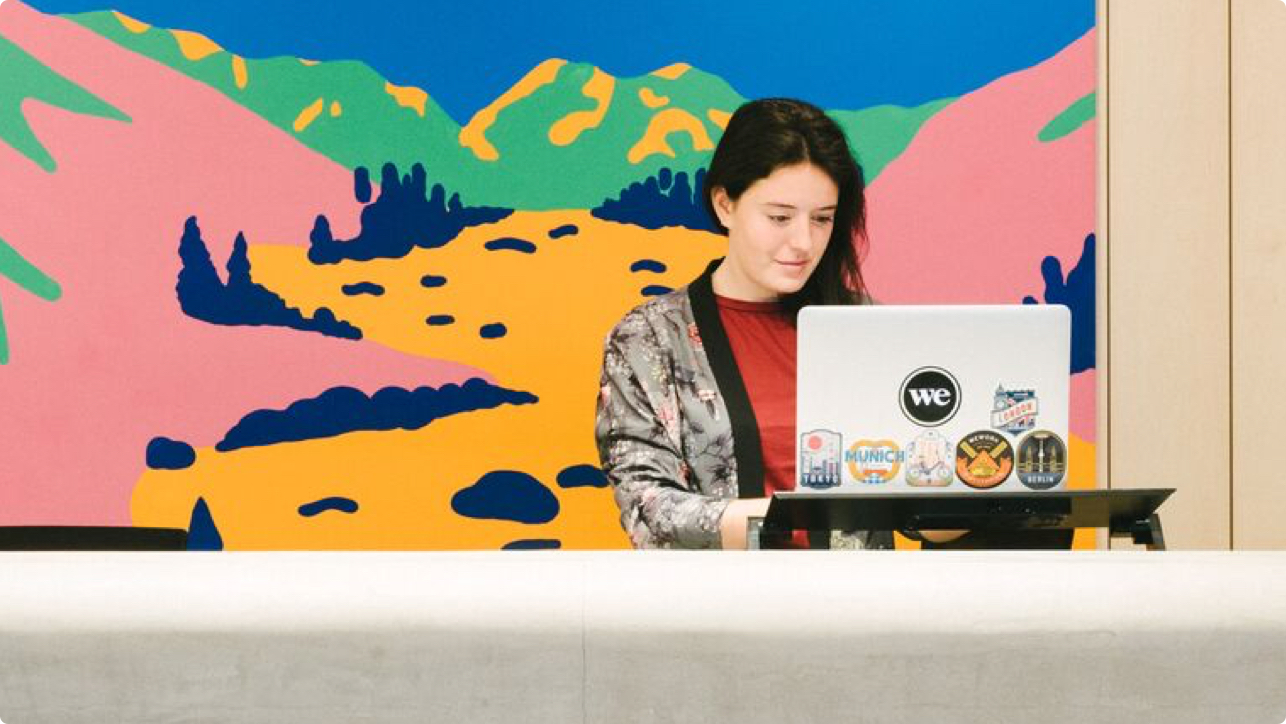 Check in and get to work
Upon arrival, say hi to our Community team at the front desk. Simply verify your photo ID to receive your keycard to access the space. After that, scan your keycard to get around and get to work.
Included amenities
High-speed Internet
Coffee Bar
Phone Booths
Onsite Staff
Have a question? We've got the answer.
How do I sign up for WeWork On Demand?
What can I access with WeWork On Demand?
How much does a WeWork On Demand cost?
How do I access WeWork On Demand locations?
How do I book and pay for meeting rooms?
How do I modify or cancel a booking?
Can I book spaces or rooms outside of the WeWork On Demand locations listed on the app?
Can I keep using the WeWork App that I used with my old WeWork Membership?
Contact Us
Anything else? Contact our support team at help@wework.com.
Apple and the Apple Logo are trademarks of Apple Inc., registered in the U.S. and other countries.
Google Play and the Google Play logo are trademarks of Google LLC.