The winners of the WeWork Changemakers: Sustainability Series pitch competition are so passionate about protecting our planet that they've launched businesses dedicated to the cause. They've created shelf-stable plant-based cheese (The Farmer Foodie), an accessible smart home battery (blip energy), and an electricity-saving power extender (ReVert Technologies, Inc). They're using lampposts to charge e-vehicles (​​Voltpost) and algae to reduce agricultural methane emissions (Alga Biosciences), and they're making it easy to find eco-friendly clothing (United By Zero).
To help these companies and the runners-up in each of the Earth Month initiative competitions in New York City, San Francisco, Chicago, Boston, and Washington, D.C., to succeed in their eco goals, WeWork has dedicated over $1 million in its flexible space offerings. That includes private office space and WeWork All Access memberships for the grand-prize winners, who will also receive business mentorship programming and a series of collaborative work sessions from WeWork member Oatly.
We spoke with some of the winners, who shared why sustainability is so important, how their business will positively impact their communities and others, and how each one of us can develop a small daily habit to help take care of our environment.
Why sustainability matters to everyone
While the founders of these eco-conscious startups are personally and professionally committed to preserving Earth's resources and climate, they emphasize that for it to work, we all need to get involved. And they want to make it easier.
"Sustainable stewardship of resources isn't a favor we are doing for some distant, future generation. The fumes, fires, and floods are impacting our lives, here and now," says Ryan Li, cofounder and CEO of New York City–based ReVert Technologies, Inc. "Our work is to leverage frontier technologies of today to make it easy, fun, and with measurable impact for everyone to choose the eco-friendly option."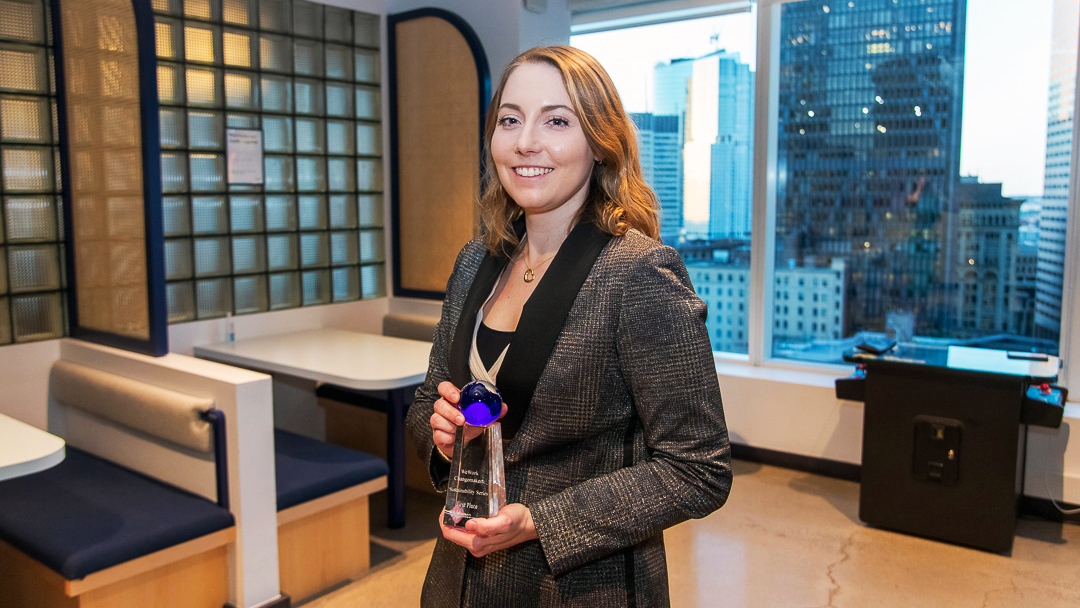 Alison Elliott, Boston-based founder and CEO of The Farmer Foodie, got her undergraduate and graduate degrees in sustainability and social impact. For years, her lifestyle has reflected her commitment to these practices—using reusable napkins and dish towels, driving a hybrid car, composting. But now, with the Farmer Foodie's first product, Everything Cheeze, she's hoping to inspire others to make change. Everything Cheeze is a raw, vegan, gluten-free, and soy-free cashew Parmesan alternative.
There is no better space than a WeWork workspace to bring people together.

Ryan Li, cofounder and CEO of ReVert Technologies, Inc.
"It's inherently sustainable because of its plant-based organic ingredients and long shelf life," Elliott explains. "My goal is to be an industry leader, setting the standard for transparent, sustainable, healthy food products that benefit all parties—including Mother Earth."
The New York–based Voltpost team, made up of 10 employees, knows that to fulfill their mission of decarbonizing mobility, there must also be democratized charging access across all communities. To that end, Voltpost is targeting lampposts—a staple in different communities nationwide—to bring e-vehicle charging to everyone.
"The largest barrier to electric vehicle adoption is the lack of scalable, convenient charging. By bringing charging access to every community, Voltpost can mitigate the emissions and pollution that are crippling our planet," says Jeff Prosserman, founder and CEO of Voltpost.
The winners shared some advice with anyone looking to improve the health of the planet by preserving the environment for ourselves as well as future generations.
Bring a homemade lunch to the office in a reusable container with reusable cutlery and napkins. "A homemade lunch is more sustainable than a delivered lunch because 1) it cuts out waste associated from disposable to-go containers, 2) reduces transportation emissions from delivery, and 3) gives you more control over sourcing sustainable ingredients," Elliott says. "Choosing ingredients grown locally, seasonally, organically, or regeneratively has a lower footprint that also benefits your health."
Unplug once in a while. "Both physically, so you can stop devices from leeching electricity when they are not in use, and also mentally, so you can take a break from work and not burn out," Li explains.
Charge your car. Making the switch to an e-vehicle, or even a hybrid, can reduce the strain on the environment, says Prosserman.
The business of making a difference
These companies are about more than the bottom line—they're working to ensure that their products and services actively improve the environment.
"While the goal for Voltpost is to fuel zero-emissions transportation in New York City and beyond, we view ourselves as more than a charging company," says Prosserman. "Our product is a subset of our purpose to advance climate action in a just, transformative manner."
Elliott is banking on the success of Everything Cheeze leading to broader change. "Livestock farming has a huge environmental footprint. Refrigeration throughout the entire life cycle of traditional and plant-based dairy products releases immense amounts of greenhouse emissions, which perpetuate the climate crisis," she explains. "Many consumers are shifting away from these food products because of ethical, nutritional, and environmental concerns. They are looking for alternatives."
ReVert Technologies measures impact by one metric, says Li: "The total amount of CO₂ emissions that we help users cut down during their journey with us." The business wants to remove one million tons of CO₂ in three years by making gadgets that matter, conserving energy with AI, recycling e-waste, and facilitating carbon offsets, he says.
Using recognition to fuel change
Each of the six grand-prize winners is looking forward to using their WeWork membership to bring their business to the next level.
"Having a dedicated WeWork workspace will allow our growing team to collaborate in person," says Prosserman. "We're excited to use the space for team meetings and potential client meetings."
Elliott agrees: "This is an early-stage startup, and this office space will truly guide the implementation and growth of my business," she says. "I plan on demoing my product at all Boston WeWork locations."
The ReVert Technologies team is looking forward to being able to work in the same place. "My cofounder and I are super excited to co-locate after two years of social distancing," Li says. "There is no better space than a WeWork workspace to bring people together."
Melanie Mannarino is a writer, editor, digital strategist, and author of several books, including The (Almost) Zero Waste Guide.
Rethinking your workspace?