Over the past few years, there has been a surge in focus on corporate sustainability. Consumers are now demanding that companies improve both their social impact and green credentials, and companies are increasingly asking how they can reduce their carbon footprint.
WeWork has prioritized sustainability from the beginning, for the good of the environment, people, and communities. "Around the world, our team works to integrate sustainability into WeWork's everyday operations to reflect the company's purpose statement to harness the power of community to make a positive impact on people and the environment," says Megan Krause, senior lead, data and analytics in New York.
From fielding member requests for data and reporting to finding innovative ways to conserve energy, the global sustainability team at WeWork, based in New York, London, and Singapore, has a clear vision for a better future for all. Here is a peek at what they're doing.
Managing and monitoring energy use
Real estate contributes to greenhouse gas emissions around the world. These emissions come from a variety of sources: from the manufacturing of building materials like steel and cement, to the buildings themselves and the energy that powers them.
"Building services contribute to most of the energy usage in buildings, so my team has a massive impact on energy reduction," says Gareth Steele Draw, international technical services director on WeWork's global sustainability team in London. "Our approach is to ensure buildings run as optimally as possible."
Around the world, our team works to integrate sustainability into WeWork's everyday operations.

Megan Krause, senior lead, data and analytics in New York
This includes turning equipment off during no-occupancy periods, adjusting temperature set points, understanding equipment life cycle, and maintaining—and replacing—equipment for maximum efficiency.
"One of our standards as a company is LED lighting and smart lighting controls," explains New York–based Tyler Schultz, energy manager for the Americas at WeWork. At almost every location, lighting is based on office schedules, occupancy, and the amount of daylight that enters the space, he says. These smart lighting controls—which offer dimmer lights when daylight is strong, and brighter lights when it isn't—help conserve electricity across WeWork locations.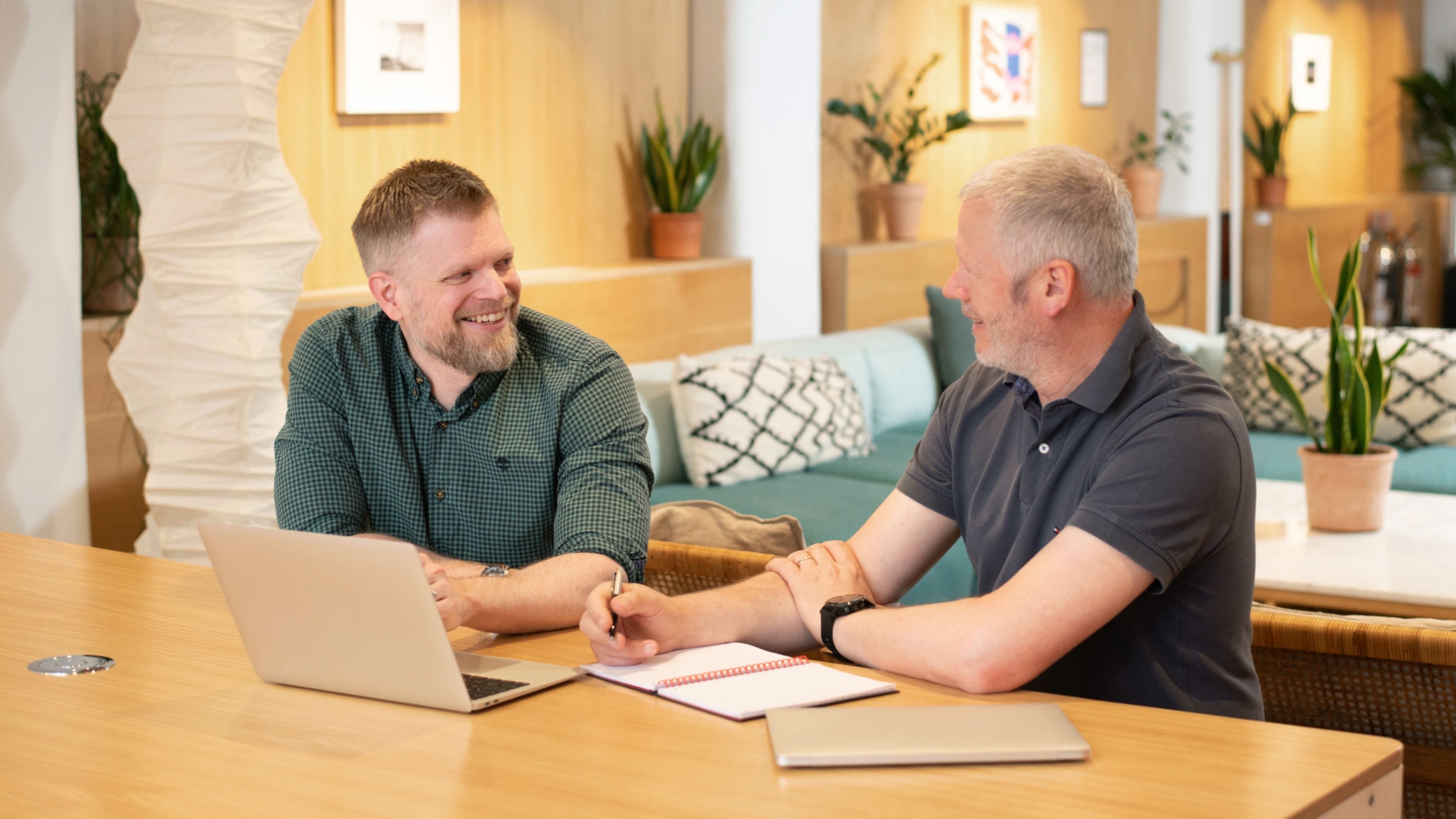 One large-scale initiative with a huge sustainability impact was the rollout of carbon dioxide sensors across 32 sites internationally, says Ameet Amar Ankaikar, WeWork's regional energy, sustainability, and technical director in Singapore. That data is used to address problems in buildings experiencing high carbon dioxide levels. The team installed indoor air quality (IAQ) sensors to measure volatile organic compounds (VOC), carbon dioxide levels, and other IAQ parameters.
"Globally, we are working on a centralized platform that can monitor multiple buildings and IAQ sensors that can then be issued to members and used for compliance purposes," Ankaikar says. This type of reporting is beneficial to both WeWork and to members.
Member support and reporting
Just as important as raising the sustainability bar globally is keeping members happy. Members are now requesting specific data on their energy, water, and waste use. This year, the team anticipates more than 1,000 such data requests. "As more small businesses journey to build sustainable businesses, they need the data from us to manage their own carbon footprint," says Andrew Broderick, international director of energy and sustainability in London.
Krause, who's part of the team, focuses on managing the energy and sustainability data gathering, integration, management, and analysis.
"We want to find a synergy between reducing energy consumption and member comfort," says Ankaikar. One way to do that is for WeWork to share data on energy reduction campaigns and environmental management controls.
Gathering data establishes a baseline for WeWork's environmental impact—and sets the stage for meaningful improvement. "We need to understand how much impact we're having in order to set meaningful goals and strategies that will mitigate WeWork's impact on our surrounding communities," says Monye Pitt, lead sustainability specialist in New York.
Studies have shown that businesses with higher ESG scores also have stronger financial performance. For WeWork, embedding sustainability into everyday business operations is not only commercially sensible but also amplifies the company's value of "doing the right thing."
Delesia Watson is a New York City–based writer. Her work has appeared in The Guardian, Business Insider, Fodor's Travel, and more. Away from her laptop, Watson enjoys DIY home projects, vintage shopping, and watching cheesy movies. Say hello@deleesh.com.
Rethinking your workspace?