The ways we work have fundamentally changed. People no longer seek just work-life balance. They want the power to choose when, where and how they work. They want the freedom to create their own schedules, to do work they find meaningful, and to be in a space that suits their unique needs. Gone are the days of a one-size-fits-all nine to five. In All the Ways You Work, WeWork members share how they're reimagining their professional lives and thriving in this new world of work.​
After a year of remote work, many companies have just started experimenting with how to transition back to the office, often in some kind of hybrid mode to make employees as comfortable as possible. As the pandemic waxes and wanes, there are no clear answers about what that should look like, and everyone seems to be adjusting to new information as the months go on.
Employees at Slack, the digital collaboration tool, are trying to carve out their own paths to maintaining healthy collaboration and flexibility using WeWork All Access passes and a Slack channel dedicated to working together in person.
It all began when the leases for Slack's WeWork offices in New York expired earlier this year. It was still unclear whether anyone would be going into the office anytime soon. The company ultimately decided not to renew their leases straight away, and also not to require anyone to come into any office. But they wanted to give their team members options, especially after a year of being cooped up, often in small flats.
So Slack offered employees WeWork All Access passes as a benefit, which allow them to visit hundreds of WeWork locations across the world, including dozens in New York. That way, workers could choose whether they wanted to be in an office and where they wanted to work, but weren't mandated to do anything they felt uncomfortable with.
It was a great perk, and soon employees were hungry to gather, to collaborate in person. One employee soon started an internal Slack channel where people could connect and plan to meet at a specific WeWork.
It was Jess LaTorre, a senior customer success manager at Slack, who has become a regular at WeWork 154 W 14th St. She helped moderate this channel and organised different groups for different WeWork locations. No one asked her to do this. She just felt like it was the right way to help her fellow employees thrive.
'This is my side passion project at Slack right now,' LaTorre says. 'I first latched on to this benefit because I get energy from being around people, and I really wanted to get to know my colleagues in a more personal way.'
Currently, there are 108 team members in New York using the #nyc-wework-matchmakers Slack channel to find out which WeWork buildings people are going to be in and when.
'Slack has such a strong culture, but there's only so much you can do to preserve a culture remotely,' says LaTorre, a self-proclaimed 'culture vulture'. 'It's my desire to help my colleagues make the shift from a remote-only environment to a hybrid work environment as we start transitioning back to the office.'
The #nyc-wework-matchmakers Slack channel was invaluable to Brit Ferguson, another senior customer success manager, who started at the company at the end of June. Going into her new job, she was incredibly nervous about starting at a new company at a time when everyone was remote.
What we have done with WeWork has made me feel much less isolated. It has been so much easier to embrace the culture and to humanise my co-workers when I meet them in person.

Brit Ferguson, Senior customer success manager at Slack
'I had heard mixed stories about the potential setbacks of onboarding remotely,' Ferguson says. 'But what we have done with WeWork has made me feel much less isolated. It has been so much easier to embrace the culture and to humanise my co-workers when I meet them in person.'
A couple of weeks ago, Jess Cohen, another senior customer success manager, was struggling with a customer and needed to speak to one of Slack's technical architects to figure out how to solve their problem. 'They happened to be in the same WeWork I was in,' Cohen says. 'It was wonderful to get together. Just the fact that we could sit across a table from one another, socially distanced, and plan our response. It was just so much easier to work it out when we were face to face.'
Managers have the flexibility to shift how their teams work together, depending on how everyone feels at any given moment. Some may decide to get their team together for a day or for an hour. Others may decide to meet once a week with those who want to come in.
'Being able to have a space to exercise that flexibility has been invaluable to our team building,' LaTorre says.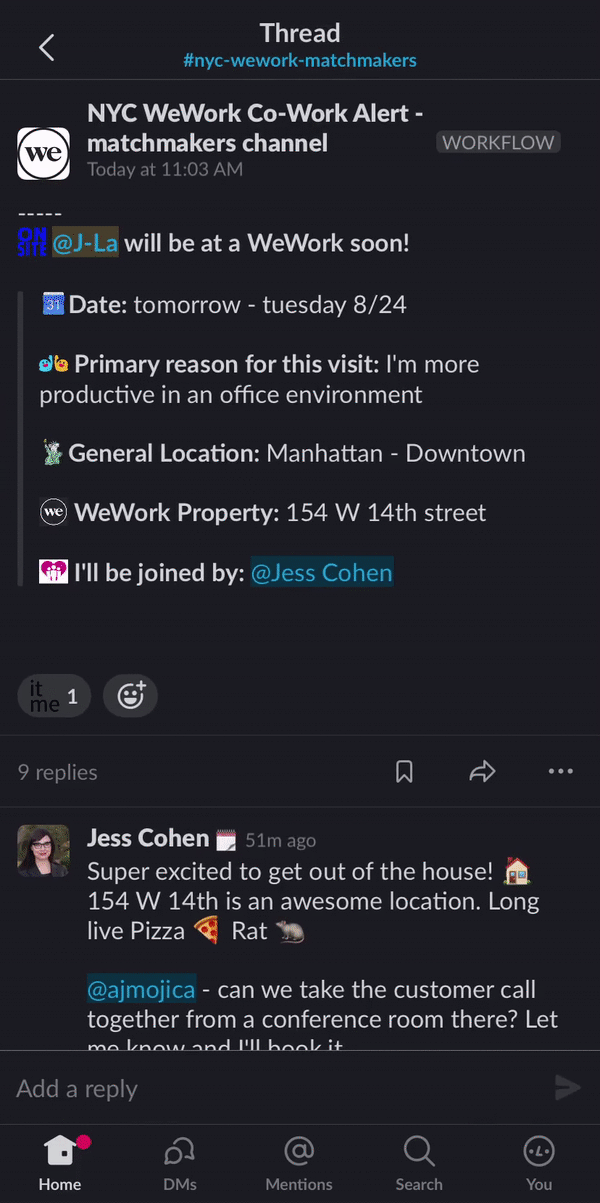 The Slack members say they feel very comfortable with the health and safety protocols they (and WeWork) have put in place to keep themselves and one another safe from COVID-19.
One weekend, Cohen was coughing a little, so she made sure she had a negative COVID-19 test before coming into the office. 'I think the people we work with are like-minded and would all do the same thing if they had any potential symptoms,' she says.
The option of having so many different WeWork locations in the New York area also gives people the flexibility to manage their personal lives more easily than they could if they were tied to a single office. If they have a doctor's appointment in a certain area, they can work at the nearby WeWork. They can do the same thing if they need to drop a child off at school or visit a sick parent.
The other day, Cohen needed to attend a mental health event at WeWork 1460 Broadway after work. So she booked a spot [to work] at that location. 'Throughout the day, I was able to attend my virtual meetings, chat with my colleagues in person, and not worry about what time I had to leave my home to get to the event on time,' she says.
LaTorre always plans in advance which WeWork she'll work from, to make her day more efficient. She also appreciates having the ability to visit other WeWork locations across the country using WeWork All Access whenever she's visiting close friends and family in other cities.
'The ability to work from any geographical location while always having an office to go to has ensured that I don't miss a beat of productivity—no matter what city I'm in,' she says.
Jo Piazza is an award-winning journalist, bestselling author, digital strategist and podcast host.
Rethinking your workspace?