As a playwright and teacher, I discovered WeWork during the pandemic after I realized working out of my apartment in midtown Manhattan wasn't cutting it. A coffee shop wasn't the answer either, so I signed up for WeWork All Access and have had fun exploring all the WeWork locations across Manhattan, Brooklyn, and Queens ever since.
While many amenities and features are standard across all WeWork locations, I've found that each building offers its own unique benefits. Below is a list of my favorite WeWork spaces in New York City, with details on why I love working at each one.
Located at South Street Seaport, this location is ideal for when I want to take a walk for some fresh air. It's a great place to go when you don't really want to work and just want to enjoy the spectacular views of the water.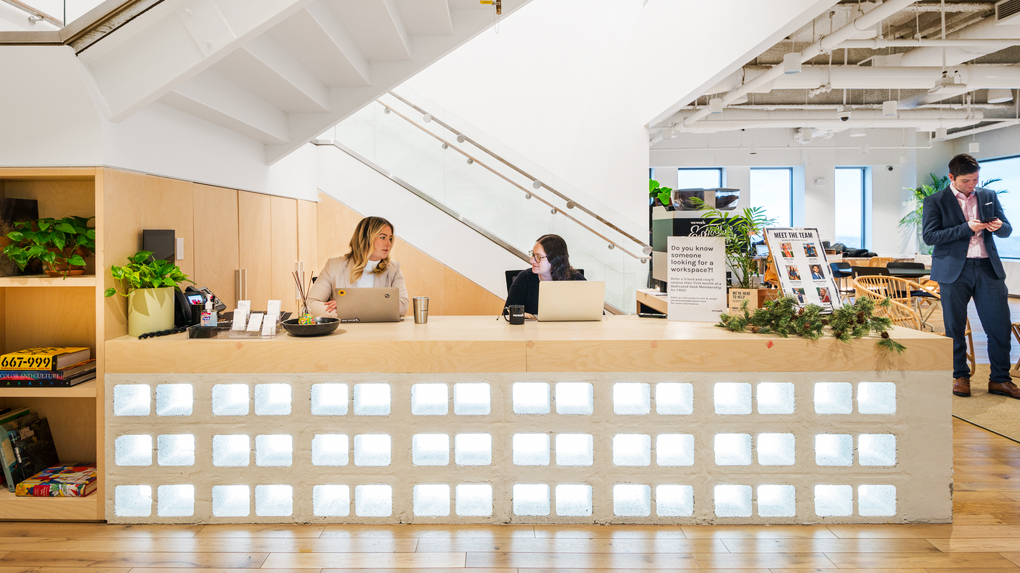 This location, at 16th Street near Union Square, is bright and inspiring—and if you go in on a weekend, it's blissfully quiet. Plus, the windows open, so I can get fresh air while I work and look out on the charming Irving Place neighborhood.
This location is very convenient for me—it's close to my apartment. But it also has an amazing booth on the 21st floor with a large window that looks out over Rockefeller Center. When the lights come on at night, it's incredibly soothing. Another great perk: There's a battery recycling box on the community floor.
I would come here for the fabulous open-space balcony alone—it's airy and bright and has lots of seating. Throw in all the other reasons I love WeWork—private spaces when I'm teaching, a community aspect when I'm feeling social—and this location easily makes my top 10 list.
From the work tables, I can watch the traffic up Third Avenue, which is oddly soothing when I need a mental break from whatever I'm working on. This location is the one I go to most often, and the community team there is so lovely. It's always nice to come back to a place where people have gotten to know you.
In the early evenings, the light coming through the windows of this space facing Canal Street is just beautiful. Plus, each of the three floors has the same amount of space for hot desks, so there are lots of good options.
This space is on 5th Avenue and 14th Street, so it's easy to get to and it's near so much. There's a lot of desk space, and most are the new adjustable tables that convert to standing desks. It also has lockers, which can be helpful if you need to leave for a while and want to safely store your belongings.
I particularly like it here on weekends, when it's so quiet and peaceful and there are several really lovely, sun-drenched spaces to sit and read or work.
This Hudson Yards area space is near Penn Station, making it especially convenient if I'm traveling that day. But I love this space mostly because the lobby is so stunning: It has a fireplace, chic furnishings, and beautiful light hardwood floors.
When I come to this location—which dates back to 1902—I feel like I'm working in an old mansion with dark nooks and lighter, more open spaces connected by a gorgeous old winding staircase. It even has what I imagine was once an old-fashioned ballroom on the second floor. It's a good place when I'm working on writing stylized characters from the 1800s.
Honorable mentions
WeWork Dock 72 at the Brooklyn Navy Yard and WeWork Gotham Center in Long Island City, Queens. The ferry ride to Dock 72 is so relaxing, and Gotham Center's outdoor space is really lovely.
Debra Register is a playwright and arts educator who nurtures creative expression through dramatic writing workshops. She fosters in her students a greater appreciation of the role art plays in living a more creative, balanced, happier life.
Rethinking your workspace?