Health and safety at work
Precautions to take in the office during the pandemic
Finding a quiet place to study is difficult in the best of times, but during the COVID-19 pandemic many of the study spots we usually rely on are now off-limits. With universities switching to remote or hybrid learning, campus libraries and shared study lounges haven't been an option for many students.
So where do you go when you need to escape the distractions of television, family, roommates, and noise? With cities and states in varying degrees of lockdown, knowing where to study during COVID-19 can make all the difference. With finals season around the corner, we've put together a shortlist of some of the best study spots to help you stay focused, safe, and productive.
Libraries
The classic solution, your local public library is typically a convenient spot to catch up on studying and get some writing done. While libraries are known to be quiet places, many modern ones are fairly active and also serve as community centers and event spaces.
Check before you visit to see if your local library offers designated quiet areas, study hours, and desk facilities for students. Because they are free to access, public libraries can be a popular place for students to meet and work on group projects, so they are often crowded. In campus libraries, private space can usually be booked in advance.
Coffee shops
If your body runs on caffeine and tiny cakes, studying at your local coffee shop is an enticing proposition. Not only are most independent cafés designed to be comfortable places to get short bursts of work done, but a ready supply of drinks and snacks ensures you've got the energy you need to keep going.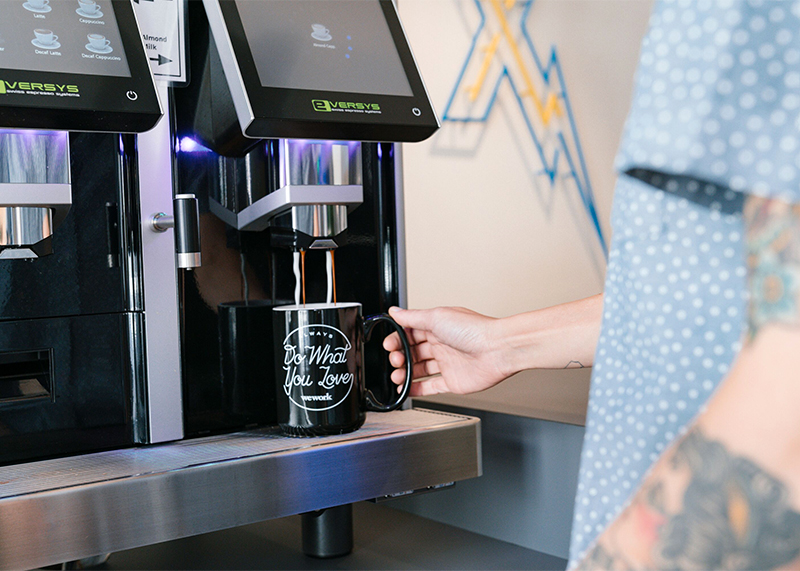 That is, as long as your laptop has energy, too. Electrical outlets are a limited resource in coffee shops, and they're usually pounced on as soon as they become available. If you need somewhere to plug in, you'll need to pack a charger or visit at a less busy time. Depending on where you are, cafés might also be noisy or only serving takeout to avoid indoor crowding.
A friend's house or apartment
Your own place might be cramped or teeming with distractions, so a friend's house or apartment could make a great study solution for both of you. A home environment is comfortable and peaceful, and usually has a reliable internet connection. As long as your friend isn't a distracting presence, having another person in the room can actually help boost your concentration and serve as a reminder to stay on task.
Even better, ask a friend if you can study at their apartment when they're out of town or not around. They might not appreciate this being a permanent arrangement—unless you want to start paying rent—but as an occasional solution to your search for places to study, sharing space with a friend can make a lot of sense.
A local park
With endless skies, fresh air, and glorious sunshine, the great outdoors can feel like the perfect antidote to stuffy libraries and noisy coffee shops—provided the sun is actually shining, of course. Depending on the kind of work you need to do, your local park can either be a great place to study during COVID-19, or totally impractical. There's no WiFi connection, for one, so you'll have to come up with a creative way to access the internet, like turning your phone into a hotspot.
Chilling out with a book is fine, but don't try sitting on the grass with a laptop perched on your knees for more than half an hour. Not only does the glare make it tricky to see what you're doing, but you'll likely need a couple of yoga sessions before you can stand up straight again.
Museums
Like libraries, museums are generally peaceful places free from noise and other distractions. But even though the idea of sitting with your MacBook in front of a Rothko for a few hours of inspired study sounds romantic, unless you've been given permission to work there, you might be asked to move along to allow other visitors to use the space.
The museum's café is a better bet, and usually provides a laid-back environment that's more conducive to getting work done. Some larger museums partner with academic institutions to offer students a place to study and do research, so it's worth asking if they can accommodate you.
Cabin or a rental
Turn your study session into a getaway by renting a cabin for the weekend. For students studying in big cities or busy areas, a change of scenery can be a great way to put some physical distance between yourself and the sources of your distraction—whether it's noise, procrastination, family, or friends.
This solution requires planning ahead, but if you know when you'll be at your busiest, escaping to somewhere remote can offer the perfect place to study, refocus, and stay productive.
WeWork All Access or WeWork On Demand
Flexible workspaces are designed to be distraction-free destinations where you can comfortably work for long periods of time. Because they're built with productivity in mind, a dedicated coworking space has everything you need to study effectively, from electrical outlets, endless coffee refills, and spaces to relax to facilities for printing and reliably fast WiFi.
WeWork On Demand gives you access to workspaces and meeting rooms in hundreds of locations in dozens of cities. You can book a day pass for a seat in a workspace near you, or reserve a meeting room by the hour for hosting group projects in a setting conducive to collaboration. With WeWork All Access, you can unlock dedicated workspace and focus-enhancing study spots in over 30 countries.
You can search, book, and pay for available office space from $29 per day with the WeWork On Demand app. To get started, download the app and create an account to begin exploring WeWork On Demand locations near you. To unlock hundreds of WeWork locations globally, visit WeWork All Access and try out one month for free.
Steve Hogarty is a writer and journalist based in London. He is the travel editor of City AM newspaper and the deputy editor of City AM Magazine, where his work focuses on technology, travel, and entertainment.
Rethinking your workspace?