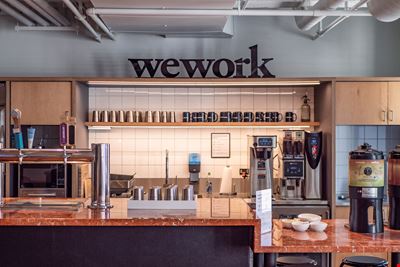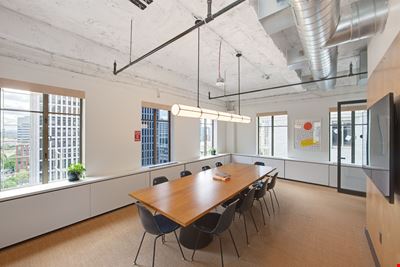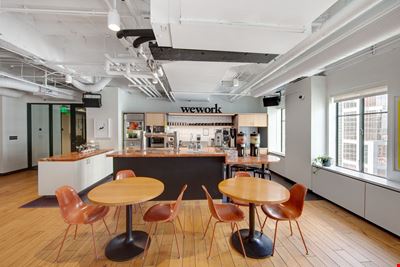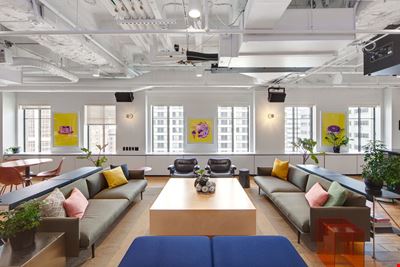 Interested in this location?
Complete the form below to book a tour or connect with one of our team members to learn more.
Available spaces and solutions
Recommended for you
Private Office
Move-in ready private workspace for teams of all sizes with your choice of shared or private amenities—plus Full Floor options available for added privacy and personalization.
Let's start a conversation
Workspace for the Day: WeWork On Demand
Book access to coworking space or a private office for the day. Learn more
Meeting Rooms: WeWork On Demand
Book conference rooms by the hour for groups of all sizes. Learn more
Dedicated Desk
Your own desk in a shared office. Flexible commitment terms.
Private Office
Select your move-in date and capacity to view inventory.
Full Floor Office
With private amenities and options for personal branding.
Professional amenities
Cleaning services Mother's room Dog-friendly Parking Bike storage Showers Event space Fitness center
Learn more
Amenities
Cleaning services
Mother's room
Dog-friendly
Parking
Bike storage
Showers
Event space
Fitness center
View all amenities
Location
920 SW 6th Ave Portland OR 97204
Nearby transit
Max Lines (two blocks)

Metropolitan Garage - Lot #47 (in-building) | Jackson Tower - Lot #59 (one block away)

Sunset Highway & I-405 (0.5 miles)

15 and 51 lines at SW Salmon & Park (one block) | Downtown Express at Hilton Hotel (one block) | 4, 30, 99, 105, 134, 199 lines at SW 6th & Taylor (one block)

BIKETOWN at SW 3rd Ave & SW Morrison St (4 blocks)
Coworking Space in Portland
Located in the heart of Downtown Portland, our Power + Light Building office space lets you blend the line between work and play like never before. Ideal for teams of all sizes, enjoy three floors of beautiful private offices, collaborative workspaces, and modern conference rooms—plus a pet-friendly policy, onsite showers, and an inviting outdoor space that truly set the space apart. This central location is also ideal for commuters, with convenient access to onsite bike storage, parking, and a variety of bus lines all nearby. After work, Pioneer Square Mall provides an endless array of restaurants, retail shops, and entertainment options to explore. To give your business the home it deserves, schedule your visit to WeWork's Plaza Blocks coworking space.
What people are saying
Wendy
October 10, 2023
Really cool space. I have never been in a WeWork space before. There's lot of security and everyone has to badge in. Very clean. Very well stocked.
Yosief Berhane
June 11, 2023
Big shout out to Alyxandria at Power + Light and Holladay – you are awesome. Always helpful, resourceful and thoughtful. Always welcoming to members and guests. I saw you take an impromptu walk-through last week on Friday at 4:30 and the wh ...

Read more
Scott Bauer
June 21, 2021
Great space, people and location
Thomas McElligott
March 09, 2020
[Enter positive review here]
Ben Kilfoil
February 28, 2019
Wonderful place to work, we started here about 3 weeks ago and the staff and facilities have been impeccable!