As an upcoming sophomore at IE University, my biggest priority is my studies—it's essential for me to make the most out of my education. During the school year, I spend a significant amount of my time studying, completing assignments, and working on projects with classmates. It's no secret that keeping up with schoolwork can become overwhelming, exhausting, and even tedious at times. In my experience, these negative feelings often produce stress and anxiety, leaving me more susceptible to lower academic performance. 
In an effort to keep schoolwork interesting, rather than becoming a dreaded task, I decided to try a new approach to studying this school year. I've spent the summer working out of WeWork locations, and it's been the perfect place to help brighten up my study sessions.
WeWork has inspiring, beautiful, and comfortable spaces where I can study. There are so many WeWork locations to choose from that it allows me to step away from campus and be exposed to environments that contain more than just students and professors. Depending on my mood or the specific task I'm working on, I can choose from a variety of spots to settle into—from a hot desk to a comfy couch or fun outdoor seating.
With WeWork On Demand and WeWork All Access, it's easy to try out a location even just for a day. If you're a student, I strongly suggest you try WeWork for these reasons:
It's a space that's designed to make you want to work
WeWork spaces are thoughtfully designed to maximize productivity. Details like lighting, decor, spacing, and temperature are carefully considered to create the ideal work environment. These beautiful and comfortable spaces make it easy for me to attain unhampered concentration and get in the zone.
It offers the flexibility to get work done wherever, whenever
WeWork opens a door to a whole new world of study spots. Discovering WeWork allows me to explore new areas so I won't be tied down to my campus library to get work done. The liberty of being able to comfortably study wherever I please is exciting, and I believe it can help me to develop a healthy relationship with my studies.
WeWork will also be a lifesaver when I go back home to Miami to visit my family. With a big and loud family, my house is too hectic to get in a proper study sesh. In these instances, WeWork will be my go-to study location.
It suits all student needs
Every WeWork location provides a variety of spaces you can use for different tasks. For instance, you can book a conference room and use it to work on a group project, or even host a club meeting.
The kitchen is a great spot to grab some coffee and relax a bit while completing a reading assignment. The common areas have a coffee shop feel, with soothing music in the background and the option of light socializing. It's a bright and pleasant area to knock out some assignments. And whenever you're in need of a quiet, isolated study spot that's free of distractions, the phone booth is the place to be. I like to describe it as a noise-cancelling booth that allows me to focus on anything.
There are so many perks
Besides the things you would expect, including free WiFi and printing, there are tons of other perks that come with being part of the WeWork community. In many spaces, you can find fun things like game machines, a variety of free drinks, and some pretty special amenities. You never know when you will find a location with a cool rooftop, a yoga studio, wellness room, napping beds, or even a pool or a basketball court. These settings help me clear my brain a bit and revitalize. The dullness of a library doesn't compare with a space like this.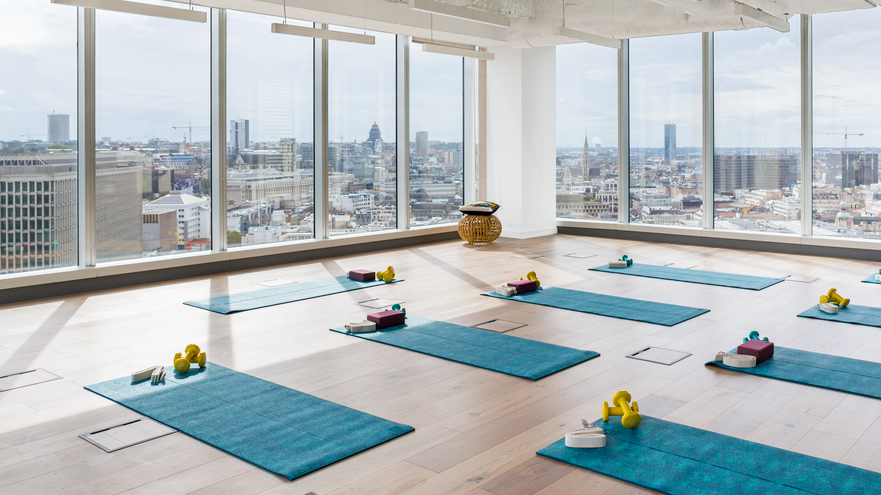 In addition, there's a community desk in every WeWork location. The friendly community managers are there to serve as concierges, attentive and responsive to your needs and always ready with a recommendation for a lunch spot.
It's a great place to meet people
WeWork is home to people from all walks of life, from entrepreneurs to artists, influencers to programmers. Who knows—you might even be working next to your future employer! These spaces are designed to make collaboration easier and, in my experience, being around a variety of people has helped me open my mind, learn something new from each individual, and push me to grow as a person.
Cristina Claure is a marketing intern at WeWork during summer 2021. She is currently completing her studies at IE University in Madrid.
Rethinking your workspace?