Walk into a typical office, and you'll find that many of them are generic, with the same basic look and feel—neutral color schemes applied to cubicles, a couple of private offices, a conference room, and maybe a break room. It can sometimes be difficult to distinguish one place of work from another.
Forward-thinking organizations that create an inviting and inspiring workspace, however, know that it's the details that can make a big difference. With a few tweaks, thoughtful enhancements, and creative uses of space, designers can turn an uninspired office into a dynamic workplace that people enjoy coming to each day.
For starters, looks count when it comes to making an impression on prospective talent or clients who tour an office. As for the employees themselves, workers tend to thrive in workspaces that incorporate features designed to keep them comfortable; offer places to collaborate, concentrate, and refresh; and are aesthetically appealing to boot.
Companies that partner with WeWork can count on offering their workforces key design details that will set their workspaces apart from those of competitors. Take a tour and zoom in on some of the thoughtful elements featured in various WeWork locations.
A window into your work soul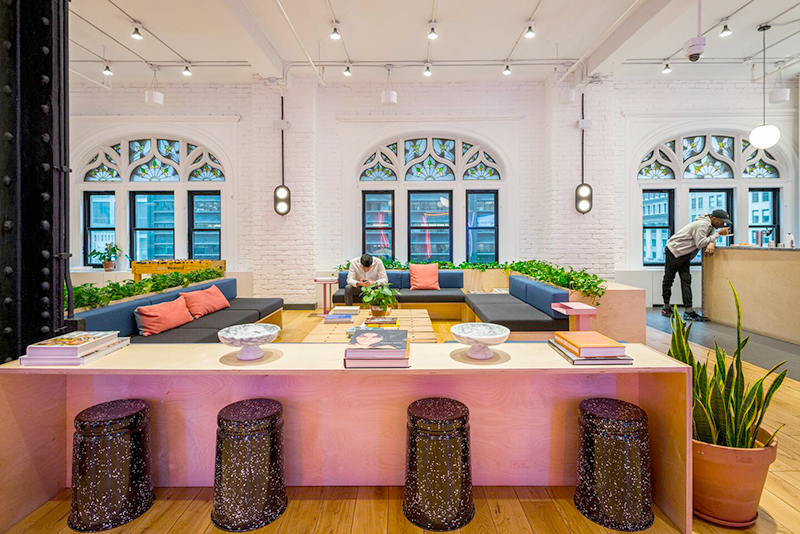 The presence of plenty of windows and natural light isn't necessarily a given for some offices. WeWork 115 Broadway in New York City has them in spades—and the windows here are gorgeous. In fact, the ornate stained glass arches are part of the original framework of the building. Maintaining that classic architectural element juxtaposed with high ceilings makes for a unique look.
Brightened-up commons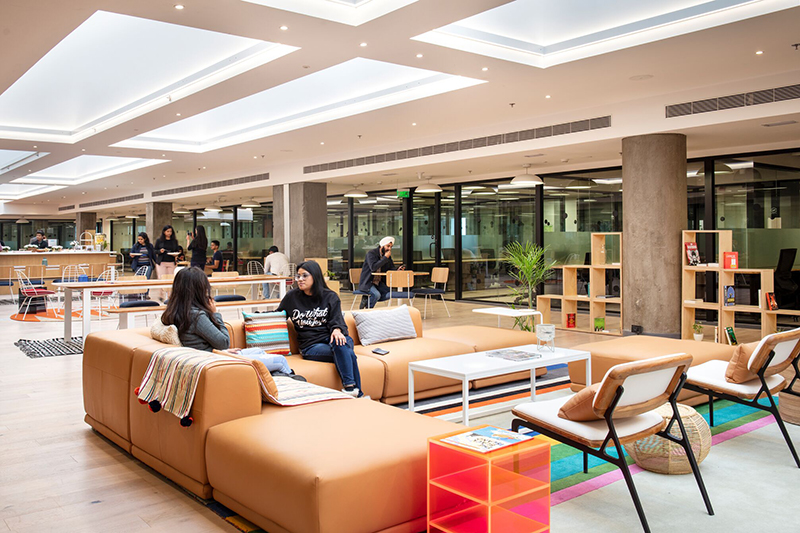 If areas of an office don't have windows, it can be challenging to add natural lighting. WeWork 32nd Milestone in Gurugram, India, found a way—by looking up. The entire ceiling is comprised of skylights, allowing lots of natural light to flood into the common area. It almost has a rooftop café vibe.
Circle time collaboration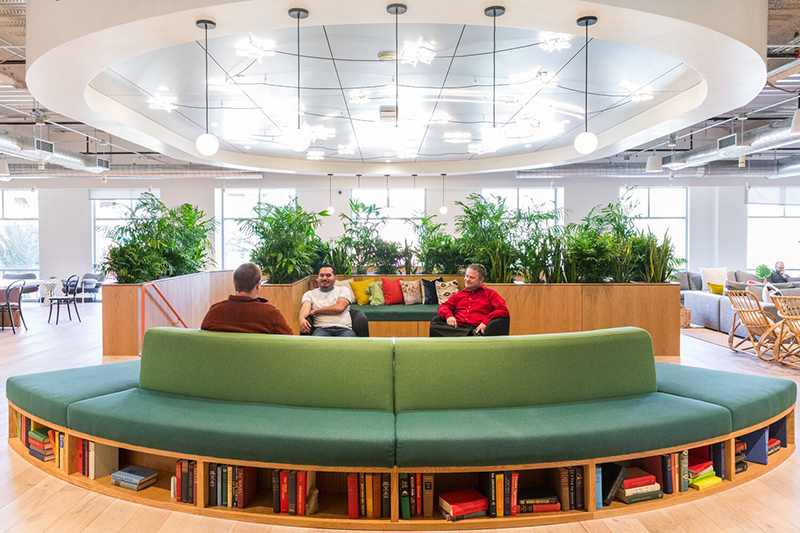 A central place to gather with coworkers is important, as it allows for brainstorming sessions and bonding. It helps if that space is inviting and cozy, and this circular section of WeWork Two Summerlin in Las Vegas is perfection. Notice how the half-moon-shaped couch matches the circular ceiling. The bright lighting element above adds artistic flair.
Sophisticated solo seating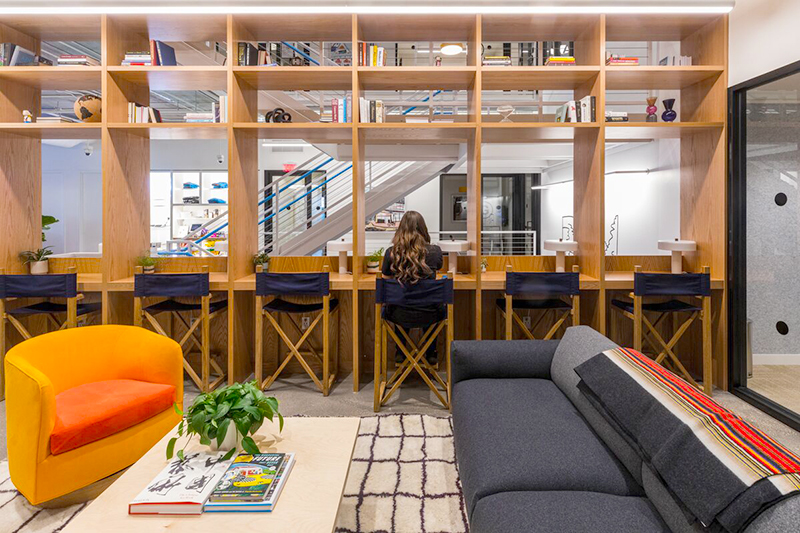 Sometimes you just need a place to hunker down and concentrate, but that's not always easy to come by, especially if a workspace lacks places to do focused work. The design of these single-seater nooks at WeWork 729 N Washington Ave in Minneapolis has the feel of library carrels, offering a bit of privacy and an implied "do not disturb" sign.
A mantra-filled meeting place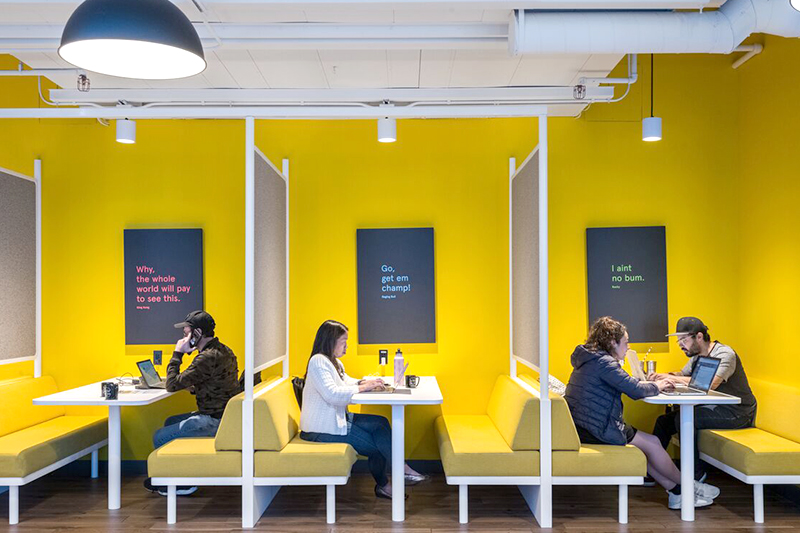 A change of seating can sometimes be just the thing to creatively boost your thinking. These diner-style booths at WeWork One Culver in Los Angeles are perfect for informal meetings, or for when you need to come up with a new idea. What makes them even more effective: the vibrant yellow color scheme and the motivational word art hanging in each booth to get workers energized when they need it most.
A splash of green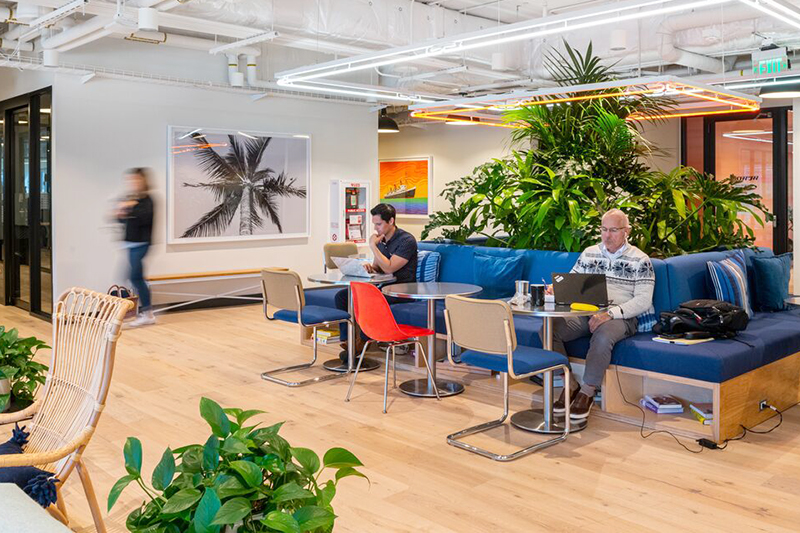 Greenery in the workplace doesn't just look beautiful; it can help workers be 15 percent more productive and promote health, thanks to the boost of carbon dioxide. The plants strategically placed all around WeWork The Hubb in Long Beach, California, bring a touch of nature indoors. They also blend in well with the light wood flooring and bamboo chairs.
Functional furnishings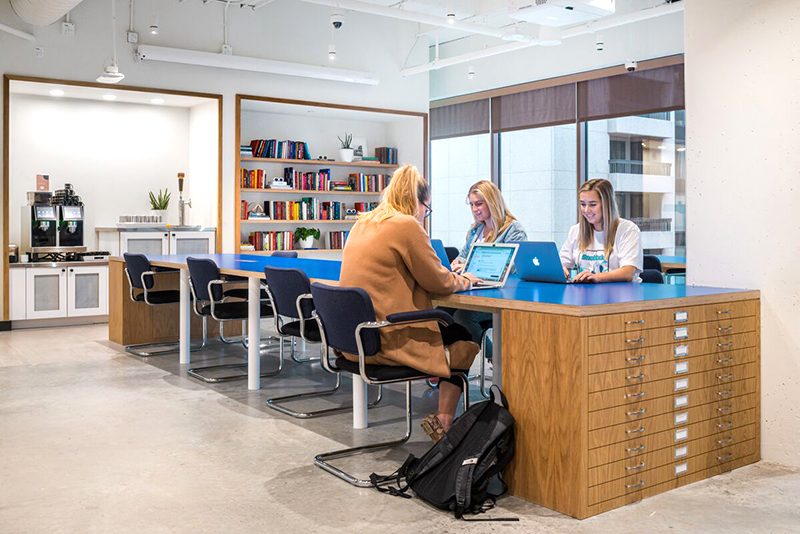 Maximizing every foot of space without creating clutter can be a challenge for some organizations, which is why the details in furnishings matter, too. This workspace at WeWork Preston Center in Dallas accommodates eight employees and adds plenty of storage and organization in the end drawers. Bonus points for that stunning bright blue tabletop.
Laid-back lounge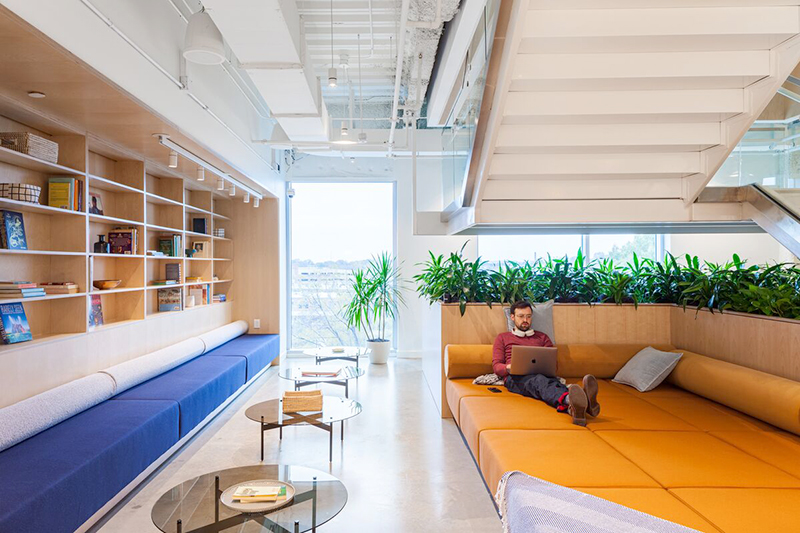 Knowing that there's a tranquil place in the office to recharge and refresh can help staffers power through tough projects. This soft seating at WeWork Durham.ID in Durham, North Carolina, is perfect for solo or group meetings—or even a catnap—as it encourages workers to take a load off and put their feet up.
This article was originally published on December 11, 2019, and has been updated throughout by the editors.
Dawn Papandrea is a freelance writer who covers work, personal finance, and higher education. Her writing has appeared in numerous publications, including Family Circle and Monster.com. Follow her on Twitter.