If your team were tasked with planning a major project, in which setting do you think they'd excel: a windowless conference room with generic furniture? Or a bright, airy space with natural light, a city view, and vibrant green plants?
It's hard to overstate the importance of designing a collaborative workspace. Since an integral part of business is collaborating with colleagues, having spaces that make it easier for teams to meet both formally and informally is essential. Businesses could gain $900 billion to $1.3 trillion in annual value from helping employees improve their teamwork, according to a McKinsey study.
And the benefits are not just financial: Collaboration leads to happier, more satisfied employees. In a virtuous cycle, employees who are more comfortable in their environments are better poised to do their best work, raising overall productivity.
It's a good thing, then, that creating the optimal environments for collaboration is possible—for companies of all sizes in every industry.
At WeWork, we employ design principles to help people connect and collaborate better. For example, architectural elements such as internal staircases and hallways facilitate spontaneous interaction and have been proven to promote collaboration. Neutral lighting is also particularly effective for groups working together. Here are some other ideas that WeWork uses to get the most out of collaborative spaces.
Thoughtful conference room design
Conference rooms are the go-to collaboration spaces in most offices. From large boardrooms to small three-person ones, these rooms ensure teams can meet in relative quiet and privacy to connect, brainstorm, and plan. Incorporating a few strategic features can transform standard conference rooms from being merely functional spaces to ones where teams can achieve their next big breakthrough.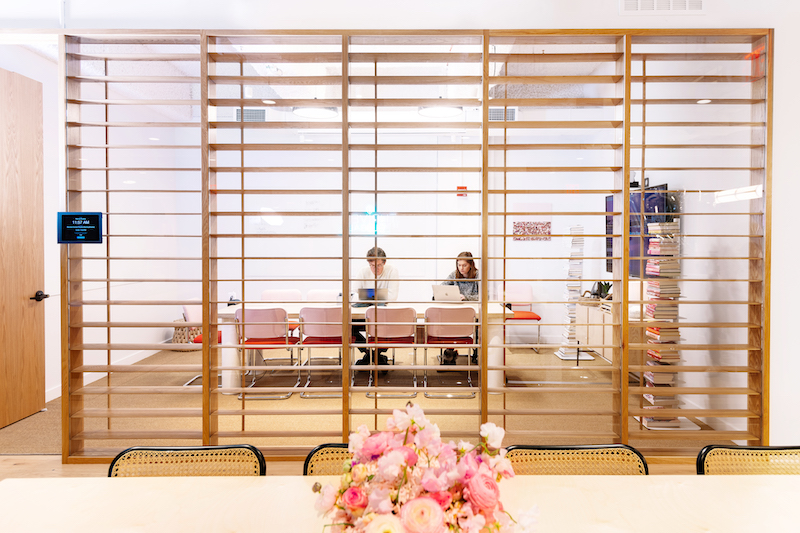 At Thrive Global, Ariana Huffington's health and wellness company, blinds add a welcoming element to a conference room, making the space feel more like a living room. They're also functional, and offer more privacy to a meeting if needed.
When financial giant Standard Chartered sought to build a new innovation hub in Hong Kong, they prioritized spaces for teamwork. They incorporated a variety of collaboration areas, ranging from traditional conference rooms encased in glass to long tables in open spaces.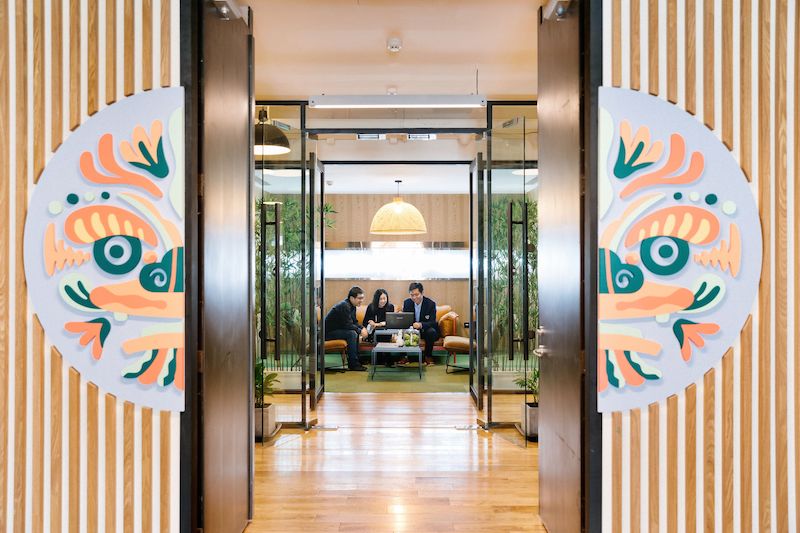 Conference rooms don't have to be centered around a table. Using colorful art and thoughtful materials, a conference room can inspire and pay homage to the traditional designs of the city where it's based. This is the case at WeWork Ciyunsi in Beijing, China, which has a dragon design in muted pastel colors and bamboo flanking a meeting space.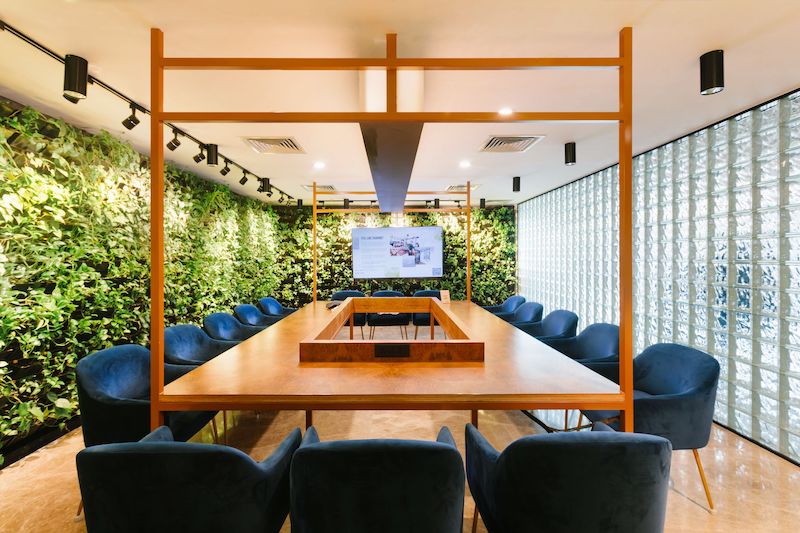 Plants have been proven to decrease eyestrain and lower feelings of anxiety. That's one reason they're found in every WeWork space. This conference room in WeWork BKC in Mumbai, India, has an entire wall of greenery surrounding a large conference room table.
Collaborative space ideas that drive connections and creativity
Collaboration spaces don't just have to be about work—they can also be places for creativity and fun. Research shows that adding elements of play into the workday can stimulate innovation and creative thinking. These spaces exemplify the fact that work and play don't necessarily need to be separate in a workspace.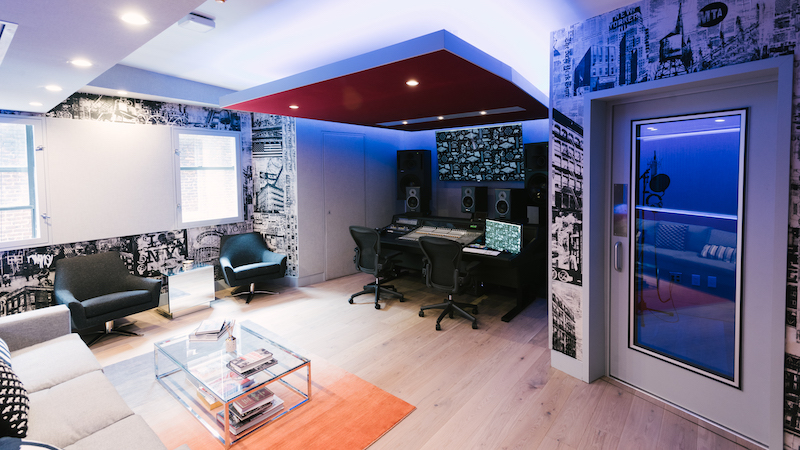 When Mass Appeal, a media and entertainment company, looked to expand in New York City, they partnered with WeWork to design and build their new space. One of their meeting rooms has a state-of-the-art recording studio in the back that the company uses to cut and make records.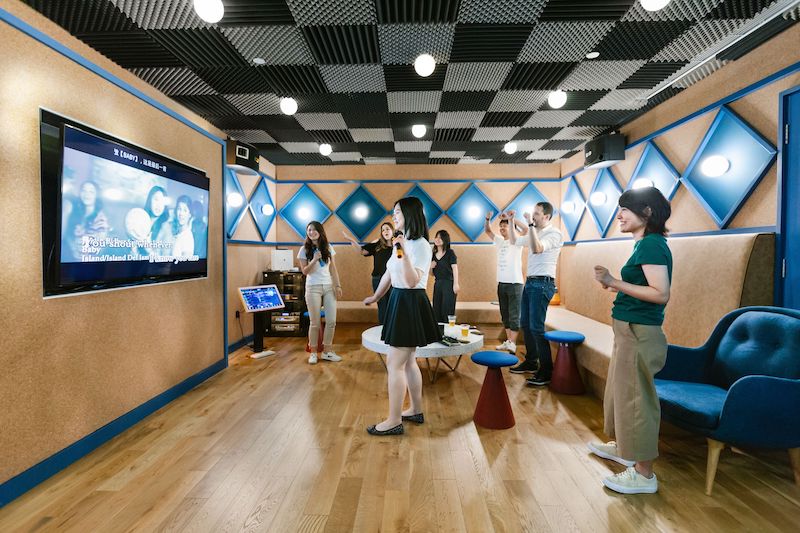 In China, where karaoke is as much a business networking activity as it is one for pure entertainment, WeWork Shanghai's One ITC location includes a room that has a karaoke machine. When the space isn't being used during work hours, it's a perfect place to unwind to a tune. 
This meeting room in WeWork Namba Sky O in Osaka, Japan, also doubles as a game room where your team can play a game of darts after a collaboration session. The wood paneling, long couches, and built-in bookshelves make the room feel like a welcoming den or living room rather than an office.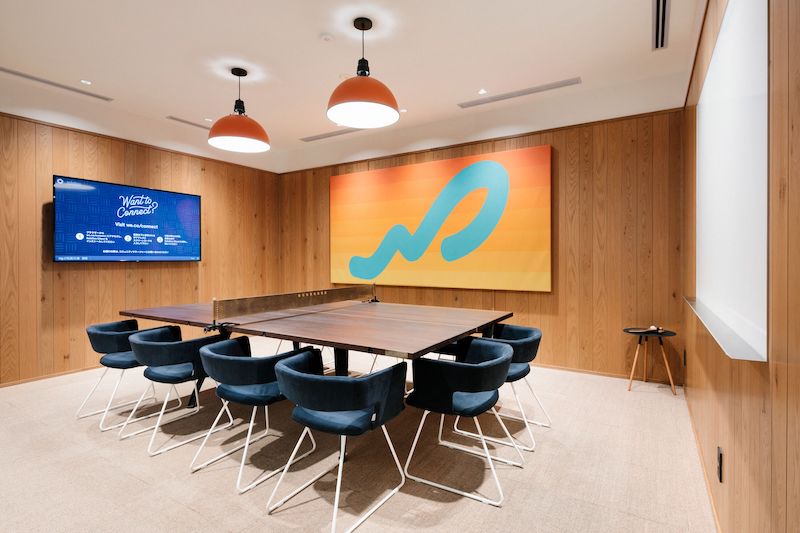 The WeWork location in Tokyo Square Garden in Tokyo, Japan, includes its own arcade room. But if that's too far, the table in this meeting room there also doubles as a Ping-Pong table.
As people have different needs throughout the day, spaces around the office should be designed to cater to those needs. WeWork spaces are built so that your workers get the most out of their day—whether that means meeting colleagues either in person or virtually, doing focused work in quiet places, or brainstorming and having a bit of fun together.
Having the space to learn from each other, generate new ideas, and execute them is essential to driving your business forward. Inspiring, collaborative workspaces can help.
This article was originally published on July 26, 2019, and has been updated throughout by the editors.