The ways we work have fundamentally changed. People no longer seek just work-life balance. They want the power to choose when, where, and how they work. They want the freedom to create their own schedules, to do work they find meaningful, and to be in a space that suits their unique needs. Gone are the days of a one-size-fits-all nine-to-five. In All the Ways You Work, WeWork members share how they're reimagining their professional lives and thriving in this new world of work.
For the past 15 years, Daniel Rootenberg has been dealing in art and antiques from around the world alongside his wife, Dori. They've always run their business, Jacaranda Tribal, out of their New York City home, crafting beautiful online catalogs of treasures from Africa, Oceania, and the Americas for sale to museums and private collectors worldwide. Their home also doubles as a gallery, with visits by appointment.
Partly due to the ongoing pandemic, which saw people pursuing new interests to keep them occupied, Jacaranda's business has experienced rapid growth. First-time buyers and seasoned collectors alike are looking for beautiful and unique artworks to enjoy and display in their homes. Daniel also attributes the company's success to a resurgent interest in cultural heritage and a deeper appreciation for where each of us come from.
Thanks to Jacaranda's growing success, Daniel and his wife were spending nearly all of their time working side-by-side in their home without interacting with other people. That's when they decided they could no longer run Jacaranda Tribal exclusively from their home.
"I definitely didn't want to be home 24 hours a day, seven days a week. I needed to be around more people," says Daniel. So while Dori kept her base of operations in their apartment, he branched out. "I started trying out WeWork and the energy was just great. There are so many young companies at WeWork, and it feels so entrepreneurial. It's exactly the kind of work environment I need to feel inspired and motivated," Daniel says.
Daniel signed up for WeWork On Demand so that he could work nearly anywhere in New York City. Lately he's been visiting the Chelsea neighborhood. "There is always somewhere for me to work, and there are huge windows with incredible light," Daniel says. "It's also right off my subway line, and the staff is always super helpful and pleasant." But just last week, after finishing a business dinner next door, Daniel hopped into WeWork 110 Wall Street so that he could finish a time-sensitive project.
In-person interactions and communications are essential to keeping me active and growing.

Daniel Rootenberg, art dealer
Over the years, while helping to run Jacaranda, Daniel has worked full-time in various financial roles for technology companies. He also does financial consulting for a few technology startups. In addition, he is a trustee of Education Africa, a nonprofit helping disadvantaged South Africans find a quality, relevant education. Having grown up in South Africa, Daniel still keeps close ties to his country of birth. Even when he's far away from South Africa, the nation and its people remain close to his heart.
Now that business travel has resumed, Daniel is again meeting with clients in person—and when he's on the road, he regularly depends on WeWork. Wherever he is in the world, WeWork is the common denominator. He recently spent a month in South Africa working on an important art collection and used WeWork The Link in Johannesburg as his base.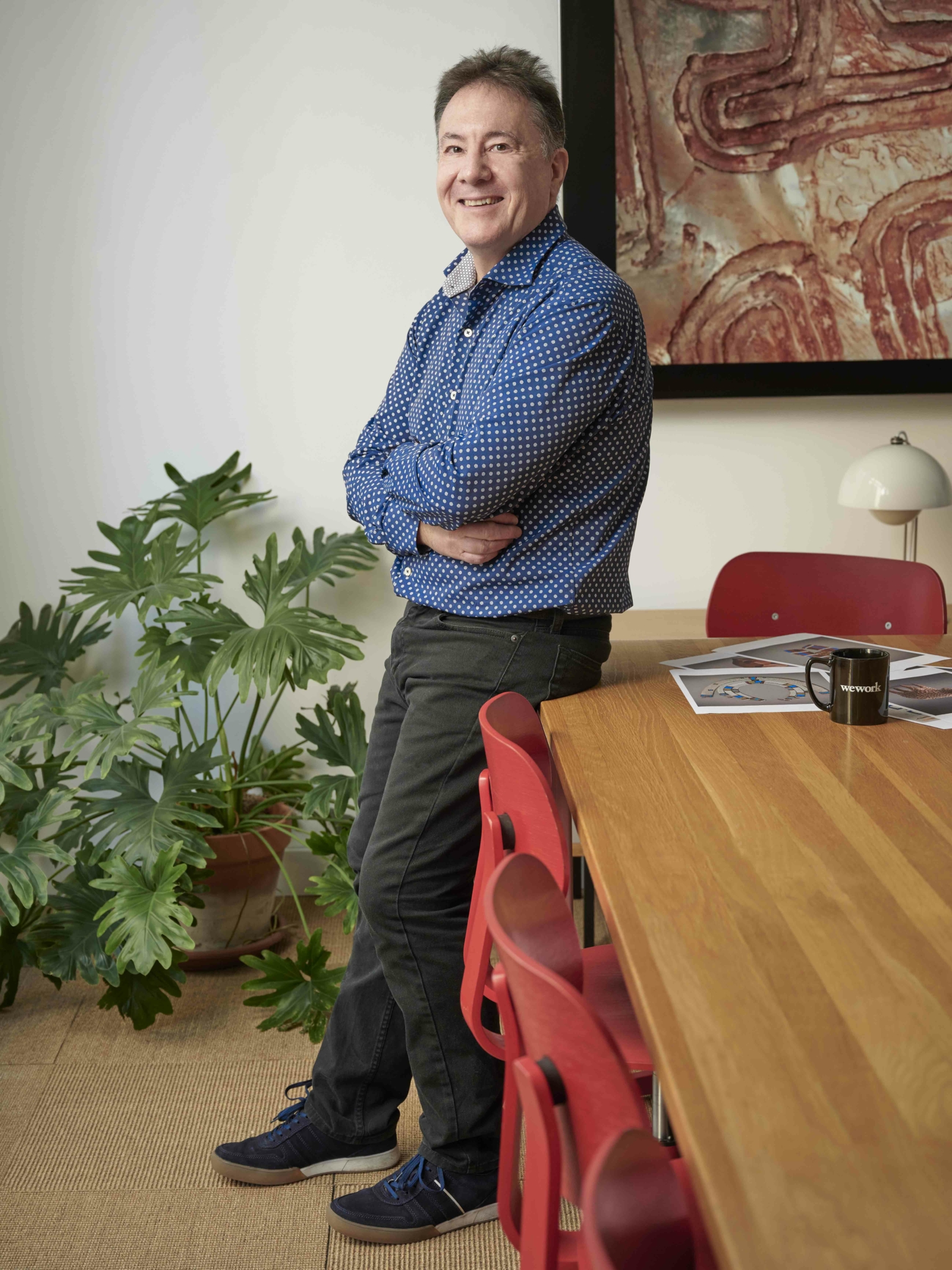 On most days, Daniel makes calls, and said he never has trouble getting a private phone booth whenever he requires one. He ends up spending most of his time working in the open areas of the office where he can interact with others, one of his favorite aspects of being in a WeWork.
Serendipitous interactions are now a regular occurrence. Daniel recently met a young expat South African starting a healthcare company. He felt an immediate connection because they had so much in common right off the bat. "I just love getting into those conversations. Everyone is so open to them and to the networking opportunities that come with them," Daniel says. "I have a lot of experience and expertise that I can share, and I won't find these kindred spirits at a home office."
Being out and about and around people boosts his spirits. "At the end of the day, while it may be more convenient, I don't think it is mentally a good thing being home all the time," Daniel says. "Humans are social beings and, for me, in-person interactions and communications are essential to keeping me active and growing."
Jo Piazza is an award-winning journalist, best-selling author, digital strategist, and podcast host.
Rethinking your workspace?