Mastering flexible work
How to thrive no matter where you work
The pandemic has blended our once-separate work lives and home lives into one homogenous work-life smoothie. When you work from home, the office is inescapable. Bedrooms are transformed into home offices. Our dining tables and kitchen countertops are now cluttered desks. The line between business time and personal time becomes blurred until you inevitably find yourself answering emails in bed and taking meetings over bowls of cereal. Our work-life balance is, well, pretty unbalanced lately.
There are upsides to working remotely, of course. People who work from home cite the lack of a daily commute and a flexible schedule as an enormous benefit to their mental health, a vital time-saver that allows them to have better sleep and more time with family. But there are downsides, too. Depending on your personality type, you might find it difficult to draw a line between work mode and home mode, especially if both take place in the same physical space. Remote workers take fewer and shorter breaks and—perhaps counterintuitively—end up working longer hours than their office-based counterparts.
Our attitudes toward how we work and the post-pandemic rise of remote working have some reconciling to do. This is why it's increasingly important to be proactive about keeping your work life and your home life separate. Not only does maintaining a distinction between the two sides improve your personal life, but by clearly outlining the boundaries of your working day, you'll find yourself more productive and better able to achieve your goals in a shorter space of time.
Before we take a look at how to separate home and work life, let's discuss why it's important to begin with.
Why it's important to keep home and work life separate
When we talk about separating our personal and professional lives, we don't just mean splitting your time between two physical locations. For one thing, working from home can make this kind of separation difficult—especially for anyone working in a small or busy home. But even when the office is a 30-minute commute from the bedroom, your work life and home life can still impact each other.
It's useful to think about work-life balance as two complementary states of mind. In one state, you can easily cut out distractions and enter a comfortable and productive flow. In the other, you can fully switch off to focus on family, friends, and personal projects, without the potential stresses and responsibilities of your job still rattling around inside your brain.
For some of us, separating our personal and professional lives is easier said than done. In her study of the mental frameworks we use to relate the ideas of "home" and "work," Christena Nippert-Eng, a sociologist and professor at Indiana University, Bloomington, categorized workers as either "integrators" or "segmenters." These two types of employees manage their time in different ways, resulting in two very different work-life balances.
The integrator tends to:
Bring their work home with them
Send work emails during their downtime
Discuss work-related topics with their partners
Leave their inbox open in a browser tab
Work from a single device
The segmenter is more likely to:
Set clear boundaries between the office and home
Avoid looking at their inbox after a certain time of day
Turn off notifications on work devices in the evening
Set aside one part of the day for meetings and calls
Use a separate work phone or laptop
There are benefits and drawbacks to both ways of working, and certain industries and organizations naturally lean one way or the other. In recent years, however, the effects of an unhealthy work-life balance on our stress levels have become more readily apparent.
The unexpected rise of remote working, accelerated by the COVID-19 pandemic, has only made it more difficult to know how to separate our home life from our work life. We set up office space in bedrooms in an attempt to fit our professional lives inside our personal ones. Under these conditions, finding ways to manage our time effectively and achieve a satisfying work-life balance is challenging but important to our overall health.
Benefits of keeping work and home separate
Increased productivity
Work-life balance helps you get things done. Although we don't like to admit it, some tasks have a habit of expanding to fill the time given to complete them. Without a commute to mark the end of your workday, deadlines and projects can too easily slip into the evening. On top of this, add various household chores, family obligations, and doorbells, and your home begins to resemble a veritable minefield of distractions. Unless you make a conscious effort to achieve work-life balance, your productivity drops and jobs take longer to complete.
A separate office and a clearly defined clocking-out time gives you the hard target you need to get things done. Whether it's a desk behind a door in a quiet corner of the house or a dedicated coworking space near home, having a physical location that you associate with doing work helps you focus more easily.
With a monthly membership to WeWork All Access, you can unlock workspaces at WeWork locations all around the world. There, you'll find phone booths to take private meetings and specialized workstations designed to maximize productivity.
Lower stress
Stress and burnout are two of the most common health problems in the modern workplace, and they can lead to physical symptoms such as nausea, aches, fatigue, and high blood pressure. An environment that prioritizes a healthy work-life balance reduces stress by having set working hours and creating a boundary between your responsibilities at the office and the rest of your day.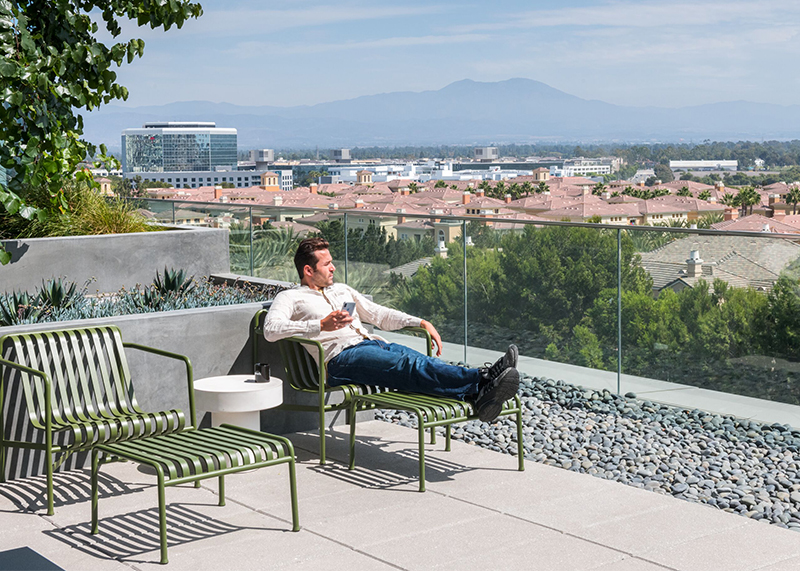 By separating your personal and professional lives, you can work smarter, not longer. Choose a time to shut down and stick to it. Close your laptop and step away from the desk. The more you're able to disconnect from the work mindset, the more relaxing and enjoyable you'll find your spare time, and the happier and more productive you'll feel the next day.
Improved health and well-being
A decent work-life balance gives you greater control over your schedule, freeing up parts of your day to spend on exercise, meditation, and meal planning. With less time spent working late, more energy, and fewer work-related distractions in the evenings, you can cook at home more often rather than relying on last-minute takeout meals.
Remembering to set aside time in your schedule for a gym session or a couple of laps around the park—and having the discipline to plan your daily tasks around your personal life—can bring exponential benefits to your health, happiness, and well-being.
Improved home life
By untangling your work and home lives, you can give both sides the attention they deserve. Time spent with friends and family is improved when you're less stressed and more energized. By keeping regular hours and observing a mental boundary between your office and the rest of the world, you can create time and space to spend with loved ones, work on personal projects, and tackle chores around the house.
How you can separate home and work
The benefits of a healthy work-life balance are clear enough, but how you achieve and maintain this balance is less straightforward. It can depend on the kind of work you do. Freelancers and those who work in small teams can more easily agree on rules around when and how work gets done. Employees in larger teams with a culture of working late or always being available can find it harder to move the needle.
Striking a good balance can also depend on your personality type—that is, whether you're an integrator or a segmenter. Regardless of which label best describes you, there are some steps you can take toward a healthy work-life balance that benefits you and those around you.
Communicate your working hours to your colleagues. Create an expectation with your coworkers around your availability, and avoid sending or replying to non-urgent emails outside of work hours. These can almost always wait.
Track how you're spending your time. For a week or two, make a note of how you're spending every hour of the day, whether that's working, relaxing, socializing, or sleeping. Knowing the shape of your existing work-life balance is the first step toward adjusting it.
Reduce the length and frequency of meetings. If you're Zoomed out, chances are your colleagues are too. Too many unproductive meetings delay the completion of other tasks and extend your workday. Discuss the number of meetings you're having and find ways to reduce them.
Create separate personal and professional user accounts on your devices. Your phone and laptop should have a separate login for work-related activities. This not only prevents notifications and calendar reminders from interrupting you during personal time, but a dedicated login helps reduce distractions and keep you more focused during the day.
Find a quiet desk away from home. Renting a dedicated workspace by the day is an excellent way to stay productive and properly manage your time. WeWork On Demand is a day pass that grants you access to stunning office spaces and meeting rooms in 160 WeWork locations across the United States, with no monthly commitment to worry about. For those who want to dip in and out of different spaces, WeWork All Access is a monthly membership that offers access to hundreds of WeWork locations around the world.
Putting some physical distance between where you live and where you work is the smartest step you can take toward achieving a healthier work-life balance. Free from the distractions of working from home, you can focus on what you do best, on a timeline and a budget that suits you. You can search, book, and pay for available office space from $29 per day with the WeWork On Demand app, or try out WeWork All Access for one month free.
Rethinking your workspace?
To get started, download the WeWork On Demand app and create an account to begin exploring WeWork On Demand locations near you. And visit WeWork All Access to try out one month of All Access for free.
Steve Hogarty is a writer and journalist based in London. He is the travel editor of City AM newspaper and the deputy editor of City AM Magazine, where his work focuses on technology, travel, and entertainment.