New workplace solutions
Strategies and designs for the future of work
Office decentralization is the process of setting up satellite offices closer to where employees live. This strategy reduces the reliance on a single central headquarters, provides teams with accessible, flexible, and convenient places to work, and cuts down on employees' commute times.
The pandemic accelerated a shift toward a decentralized way of working. As restrictions lift and workers return to the office, companies are increasingly looking toward flexible workplace solutions as a way to de-densify their existing office space. Having employees meet in person brings back face-to-face collaboration; doing it in a decentralized way helps keep employees safe.
Decentralization has a broader meaning in business. It describes a way of structuring a company, so that day-to-day operations and the responsibilities of decision-making are delegated by a central office to trusted managers further down the chain.
The opposite of this is centralization, where a company headquarters retains control over every detail. Decisions are made by a handful of core managers, and employees closer to the bottom of the organization have little to no say in how things are run.
Related to both of these management structures is the hub-and-spoke model. Like so many business terms, hub-and-spoke is contextual, and can mean something entirely different depending on whether you're talking to a logistics manager or a software engineer. In terms of office usage, the hub-and-spoke model refers to having a central headquarters as well as smaller, satellite offices across a city or even country. In this model, the main headquarters becomes less crowded, as many employees utilize satellite offices.
In this article we'll cover the physical decentralization of office space and the benefits and challenges that come along with it. In this context, the hub-and-spoke model refers to a company structured around a flexible working environment, with smaller headquarters and satellite offices closer to where employees live.
Advantages of office decentralization
Quicker decision-making
In a decentralized company, managers are trusted to make decisions without needing explicit approval by somebody further up the ladder. This allows for a more agile approach to tackling unexpected problems and, as local managers have a much better understanding of their own environment and team, better solutions too.
More focus on strategy and projection
By delegating day-to-day operations to satellite offices, those at the top of the organization can focus less on managing small things and more on the wider business horizon. Decentralization allows top management to concentrate on strategy, growth, and executive-level work.
Better handling of emergencies
A centralized company is slow to react to unanticipated events. Top management can try to account for emergencies by implementing processes and training, but it's impossible to predict every situation a satellite office might face. A decentralized office with decision-makers on-site can react quickly to an emergency. When the truly unexpected occurs in a centralized company, things grind to a halt.
Individual managers' development
Autonomy and flexibility in the workplace are key to sharpening management skills. A decentralized office delegates responsibility to trusted employees but also allows them the freedom to tackle problems proactively, and perhaps reach solutions upper management might not have considered.
Fluid internal communication
A decentralized office has a flatter organizational structure, which means communications can move more freely through the company without needing to be escalated and delegated repeatedly to reach the right person.
More socially distanced workplaces
By distributing workers across several flexible offices nearer to where they live, you can cut commute times and reduce the number of employees who need to be in the workplace at any given moment. Social distancing will be a necessary precaution for some time, and a de-densified office environment allows workers to stay safer.
Disadvantages of office decentralization
Overpressured managers
Shuffling responsibilities around can potentially leave managers of satellite offices with more accountability than they'd hoped for, or performing tasks they didn't come on board to do. A decentralized office needs to be sensitive and responsive to the workloads of autonomous teams.
Less control over the organization
As a company grows, there comes a point where its founders can't oversee everything, so they must give up a degree of control to business partners or employees. Like at any stage in a company's expansion, the transition to a hub-and-spoke model means handing over more control to those you trust.
Higher running costs
Centralizing some facilities and departments, such as IT networks and payroll, saves money. Placing high-level policy makers and self-organizing admin teams in satellite offices means hiring more experienced managers and staff, too, who may command higher salaries.
Conflict of interest between managers
When one office decides on one approach and another manager wants to go a different way, you'll need a process in place to bring everyone back on the same page. Managers in a decentralized company are there to advocate for their own office, so knowing how to resolve conflict is crucial.
FAQ about office decentralization
What is an example of a decentralized organization?
Johnson & Johnson is an example of a decentralized organization. At the highest level, the global pharmaceutical company is made up of several senior management groups, executive committees, and international subsidiaries that are each responsible for their own operations and strategy planning, and managed by employees who are local to the area they operate in.
What are the characteristics of decentralization?
A decentralized office is characterized by a distributed workforce, a flexible working environment, and autonomous teams.
Why would a company decentralize?
Decentralization tends to happen as a company reaches a certain size threshold, past which everyday operations could be improved by delegating responsibilities out to satellite offices. A company might also decentralize in response to external factors beyond its control, such as a changing market or a global pandemic.
How WeWork can help you decentralize your office
Whether your goal is to launch a satellite office in a convenient location closer to where your employees live, or to minimize the risk to your workers by de-densifying your existing office space, WeWork's flexible workspaces can help you decentralize your company quickly and without locking yourself into restrictive long-term leases.
No matter how large your team, WeWork offers customizable office space that can scale to meet the changing needs of your business. With WeWork All Access, you can unlock dedicated workspace in hundreds of WeWork locations around the world.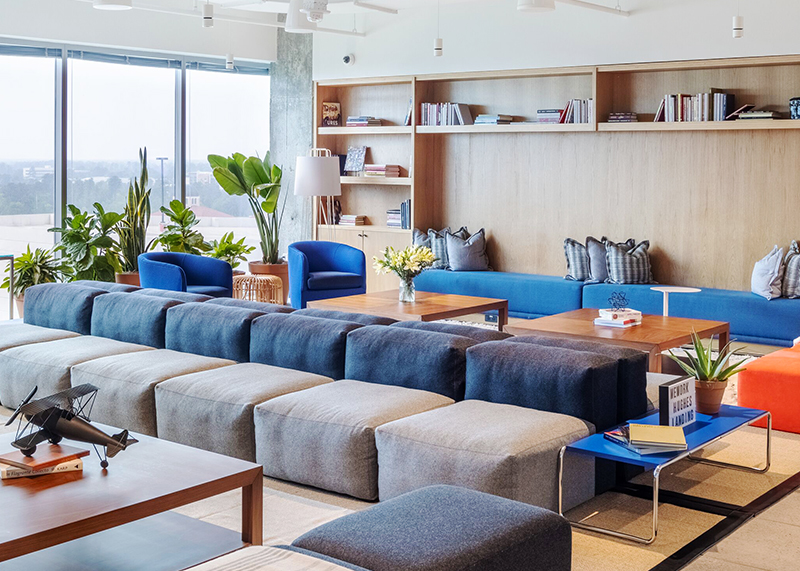 For last-minute flexibility, WeWork On Demand gives you access to stylishly designed workspaces and meeting rooms in dozens of cities across the United States, with no monthly commitment to worry about.
You can search, book, and pay for available office space from $29 per day with the WeWork On Demand app. To get started, download the app and create an account to begin exploring WeWork On Demand locations near you. To unlock hundreds of WeWork locations globally, visit WeWork All Access and try out one month for free.
Steve Hogarty is a writer and journalist based in London. He is the travel editor of City AM newspaper and the deputy editor of City AM Magazine, where his work focuses on technology, travel, and entertainment.
Rethinking your workspace?