New workplace solutions
Strategies and designs for the future of work
The definition of "agile" in business has become harder to pin down in recent years. Originally, the term had a very specific meaning, referring to a radical set of software development practices devised in the mid-'90s to meet project objectives faster and more efficiently.
Since then, the concept of agile working has expanded to include more general ideas of flexibility around how we approach all kinds of work. The term is also now used to describe new and dynamic office layouts that support this style of working. An agile work environment replaces the traditional office with a number of multipurpose shared spaces that give employees the freedom to work where and when they choose.
Agile workplace definition
An agile workplace is a type of work environment designed around complete flexibility. Unlike a traditional office—where employees are permanently assigned to desks—an agile workplace encourages workers to move freely around the office, making use of whichever space suits their objectives at that time.
There's a physical aspect to the agile workplace. Agile office design is about providing workers with a variety of useful spaces where they can feel at their most productive. But agile is also a way of getting work done. As a concept, agile working is about choosing where and when you do your best work. An agile workplace supports this idea, boosting collaboration, unlocking creativity by removing physical barriers between teams, and ultimately improving employee happiness.
Agile workplaces tend to go hand-in-hand with hybrid workplaces. The terms are often used interchangeably, but the difference comes down to what they're setting out to achieve. The goal of a hybrid workplace is to support employees working remotely some or all of the time, regardless of the office layout. The goal of an agile workplace is to use flexible office design to give employees the autonomy to choose where in the office they want to work.
Types of agile workspaces
There's no single form or shape that an agile workplace must take, but for a workplace to consider itself agile, it needs to include a variety of different shared spaces that workers can freely move between to suit their preferences and comfort levels.
While agile spaces are generally geared toward use for collaboration, they also need to be there for employees to work in by themselves, in spaces that encourage and support solo activity. Here are some of the essential elements of an agile work environment.
Open plan spaces
An open plan area is at the heart of the agile workplace and encourages collaboration between employees. This kind of environment is essential for creative teams working on projects that require lots of communication or the sharing of ideas and advice. Of course, this isn't always the best way to work. The disadvantages of open plan spaces can be mitigated by other areas of the agile workplace—quiet zones and breakout spaces—so that individuals have the option to move to another part of the office to focus and get work done.
Quiet zones
A quiet zone is an area of the agile workplace designed to promote privacy and concentration. This part of the office might include sound-isolating phone booths where workers can plug in a laptop and focus on an important task. It could also be a meditative space where someone can collect their thoughts and relieve stress. Or it might simply be a corner of the office where phones and conversation are left outside. However it looks, a quiet zone is a space where an employee can reliably disconnect from the noise and distraction of the office.
Breakout spaces
A breakout space is the most informal part of an agile workspace, and should be somewhere employees can visit to grab a bite to eat, relax with colleagues, or get away from their screen for a while. These are highly flexible areas, and while they're primarily designed to be a comfortable spot to lounge, they can also serve as a functional space for everything from laid-back meetings with clients to full brainstorming sessions with teams.
Resource areas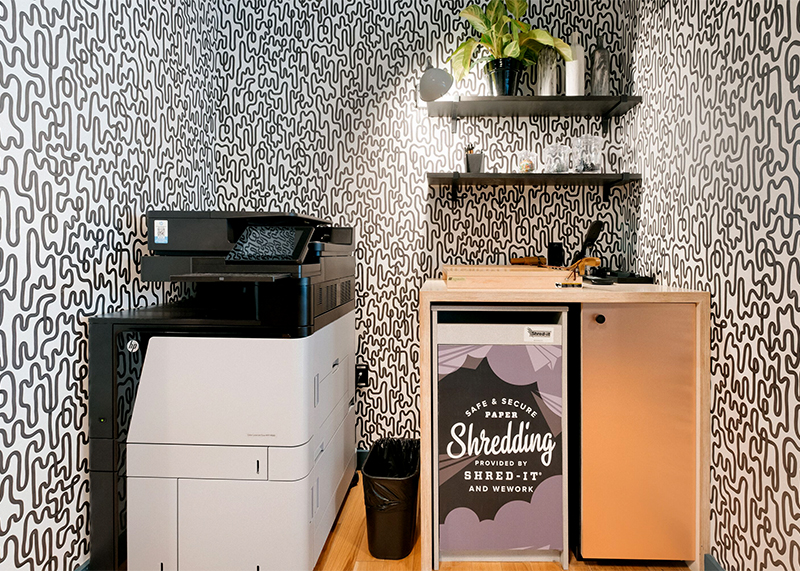 A resource area is a section of the office dedicated to the various tools and facilities employees need throughout the day—those bulky essentials like printers, scanners, recycling bins, and office supplies. Naturally, this part of the office tends to be pretty noisy. Resources should be within easy reach, but not so close to work areas that they cause a disturbance.
Touchdown spaces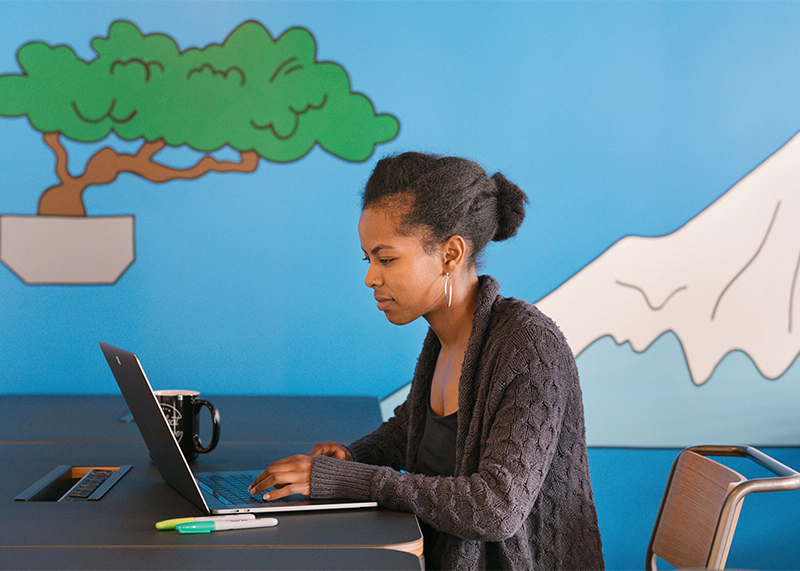 A touchdown space is an informal part of the office designed for short bouts of productivity. They come in many shapes and sizes, and typically allow individual employees to quickly set up a laptop to fire off an email or tackle a less important task. Touchdown spaces can be a simple workstation, a standing desk in the lobby area, or a focus-enhancing phone booth offering isolation from the rest of the office.
Why are agile workplaces becoming popular?
The COVID-19 pandemic accelerated a trend that was already well underway: Traditional offices are evolving to become more flexible and to meet the changing needs of employers and workers.
For business owners, an agile space is an opportunity to make more efficient use of existing office space. With more of us than ever working remotely, transitioning to an agile office layout allows companies to reduce costs by repurposing or cutting down on unused floor space.
Employees who have been working remotely for the past year feel differently about the office too. They don't want to return to their old desks five days a week. They want access to a flexible space that's responsive to their new way of working, that's available when they need it, and that's designed around communication, creativity, and interaction.
The benefits of an agile workplace
Improved collaboration. The freedom to move around the office creates pockets of teamwork, experimentation, and creativity. Work isn't restricted to a fixed location or a bank of desks, and ideas can be shared more easily between otherwise isolated departments.
Higher employee retention. For nine out of 10 millennials, the flexibility to choose where and when they work is more important than salary. Offering an agile space that meets this need helps to attract and retain top talent.
Better space efficiency. Even before the pandemic, businesses collectively wasted billions on unused desk space. A transition to an agile workplace is an opportunity to fully optimize an office layout, reclaiming dusty old meeting rooms or shedding space that's no longer needed.
Higher employee satisfaction. Workplace flexibility is one of the main drivers of job satisfaction. An agile workplace supports this, encouraging workers to approach tasks on their own terms, and trusting them to manage their own time and workload effectively.
Increased productivity. As anyone with a pair of noise-cancelling headphones will tell you, the ability to remove yourself from a distracting environment has an enormous effect on productivity. An agile workplace provides space for workers to collaborate when the job requires it, and a space to get things done when it doesn't.
What types of companies can make use of agile workplaces?
Implementing an agile workspace may not be appropriate for every type of company, most notably for any company that requires workers to be physically on-site or reliably at one location during traditional office hours. But if there's one thing the pandemic taught us, it's that many of the world's businesses can be flexible when they need to be.
Agile workspaces are ideal for companies driven by clear objectives and adaptable processes, especially those in highly collaborative and sociable industries. Creative designers, product developers, software companies, and corporate teams can all benefit from the flexibility and autonomy offered by agile office space design.
Challenges of adapting to an agile workplace
Switching to an agile way of working isn't something that can happen overnight, or by making a few quick design alterations around the office. It's a process that will fundamentally change how your company operates. Here are a few tips for successfully adapting to an agile work environment.
Involve your teams. For an agile workplace to be a success, you need the input of the people who will be using it. Involve employees in the process as early as possible, and ensure their concerns and needs are met and understood. Be clear as to why the change is happening and what to expect.
Explain the new setup. Change is confusing. Make sure every employee has the tools they need to be productive and that they understand the new processes, including how to reserve space, use meeting rooms, reach resources, book services, and contact colleagues.
Don't try to do everything at once. Transitioning to an agile workplace can be achieved in incremental steps. Make small changes to your workflow and introduce new spaces to the office layout in phases, checking at each stage that you're aligned with your objective.
How WeWork can help
The goal of an agile workplace is to empower teams to do their best work by providing them with the spaces they need, when they need them. WeWork's offices are designed with the future of working in mind. So whether you're searching for a new workspace that responds to the evolving demands of your employees, or a space for your teams to collaborate and share ideas, WeWork provides beautifully designed, adaptable workplaces. To unlock hundreds of locations globally, WeWork All Access gives you access to dedicated workspace in over 30 countries.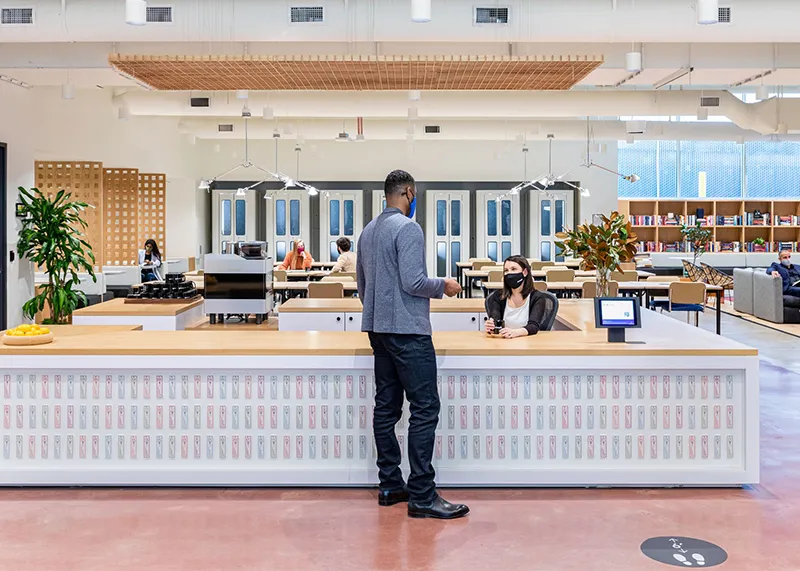 For even more flexibility, WeWork On Demand lets you access workspaces and meeting rooms in hundreds of locations across numerous cities, without the hassle of a monthly commitment. You can search and pay for available office space from $29 per day, so you can always find the space, community, and facilities you need to work agile.
Find out more about how WeWork has reimagined the future of flexible working and begin to transform your company's work culture today.
Steve Hogarty is a writer and journalist based in London. He is the travel editor of City AM newspaper and the deputy editor of City AM Magazine, where his work focuses on technology, travel, and entertainment.
Rethinking your workspace?