The ways we work have fundamentally changed. People no longer seek just work-life balance. They want the power to choose when, where, and how they work. They want the freedom to create their own schedules, to do work they find meaningful, and to be in a space that suits their unique needs. Gone are the days of a one-size-fits-all nine to five. In All the Ways You Work, WeWork members share how they're reimagining their professional lives and thriving in this new world of work.
The idea for Beyondish has been on Ken Carlton's mind for most of his adult life. But up until two years ago, he worked at doing just about everything except launching the company he kept dreaming about. For decades, Carlton worked as a novelist, a filmmaker, a speechwriter, and a magazine editor.
"I haven't had a normal job since Bill Clinton was in office," Carlton says.
He has also spent the majority of his life on the road. Carlton has always traveled for work, often to small cities and even smaller towns across America. He has had a commuter marriage for 17 years, with his wife in Chicago while he lived in Brooklyn. They raised four children this way. His main hobby is traveling the back roads of the country. It was on these journeys that the idea for Beyondish was born.
The concept is simple. Beyondish strives to be the "anti-Yelp" by curating high-end and well-edited local food reviews from local people. Each review contains a single great photograph and a paragraph about a dish. The reviewer's name and bio accompanies most reviews. Another distinguishing feature: Carlton plans to focus on cities that don't often get the same level of reviews as larger ones like New York and Los Angeles.
"I want to be a big fish in a little pond," Carlton explains.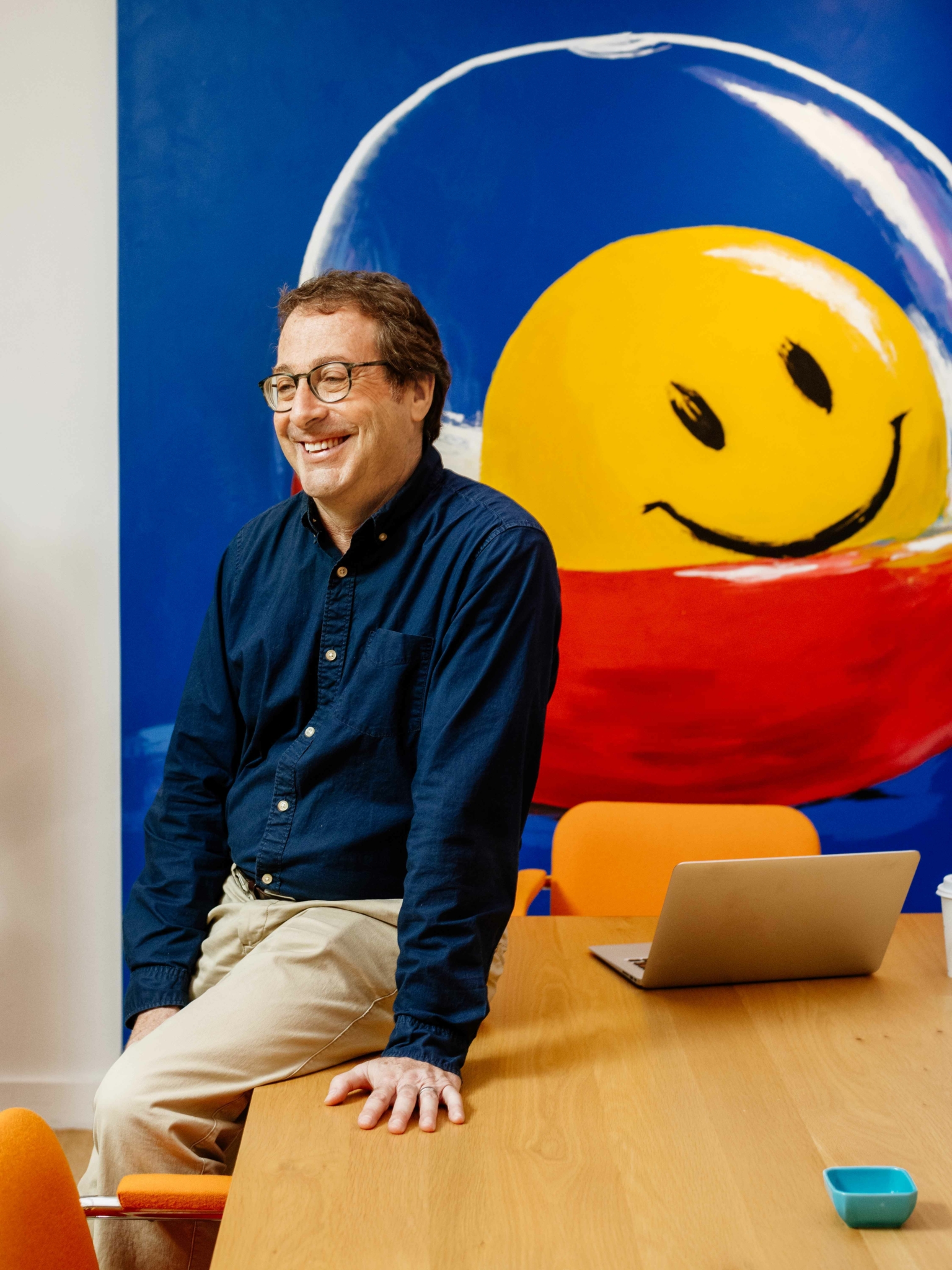 Two years ago, Carlton raised some capital to finally work on the idea he had been incubating in his brain for decades. Carlton and his team spent about five months building their website before the pandemic hit. Then he had four months of trying to weather the uncertainty. Would people go back to restaurants? Could his reviewers go to restaurants? Would he ever be able to work in an office again? But he put his fears aside, buckled down, and took the time to make the website as good as possible.
Carlton needed somewhere to work that could eventually handle a small team. (The business employed a small team of employees, all of whom had other day jobs.) He knew about WeWork but was originally apprehensive about it.
"I'm not 22, I'm not running an IT startup, and I'm not a coder," Carlton says. "So I thought it probably wasn't for me. But when I walked into the Chelsea [New York City] location, I was blown away and I took the space."
There is a fabulous entrepreneurial spirit. It's electrifying. The staff feel like friends. We laugh about the Yankees in the morning. It makes you feel like you are working at a big company when you are running a small company.

Ken Carlton, founder of Beyondish
Carlton and a few employees would visit the WeWork 125 West 25th Street in Chelsea in the late afternoon and evenings to work on Beyondish. Carlton needed those meetings to keep the creativity flowing.
"I am very much an in-person person. I have not been happy about Zoom. It's very hard to create anything just by talking on a screen. You can accomplish a ton, but you can't create, and my business is all about ideas and creativity," Carlton says.
So as the world began to emerge from quarantine, Carlton began using WeWork All Access, a pass that gives him entry to hundreds of WeWork locations around the world. That flexibility is key for Carlton, who has so far launched Beyondish in 15 midsize cities, including Charleston, SC, San Diego, and Orlando, FL.
When Carlton is at home in New York, he is still very loyal to the Chelsea location that first caught his eye. He spends five days a week at that office and has staff meetings there in the evenings, often with a selection of cheeses and cured meats.
"There is a fabulous entrepreneurial spirit there," Carlton says. "It's electrifying. The staff feel like friends. We laugh about the Yankees in the morning. It makes you feel like you are working at a big company when you are running a small company. I also pay monthly, which makes my investors happy."
The community managers at the Chelsea office always offer up exactly what Carlton needs. One day they brought in a waffle iron and provided a spectacular breakfast. On another afternoon, Carlton misplaced a cable for his computer right before a major presentation. The staff dug through a drawer and found exactly what he needed.
WeWork All Access also lets him use a WeWork location when he travels to launch Beyondish in other cities. It's now easy to just roll out of bed and go into an office. A couple of weeks ago, Carlton went to San Francisco to meet the Beyondish publicist. "I went to WeWork in the Embarcadero, and I couldn't believe how lucky I was to be able to easily book this office with a gorgeous bay view," he says.
Now that he can really start traveling again, Carlton is planning trips to San Antonio, TX, Phoenix, and San Diego. He's a creature of habit on the road. He stays in Hampton Inns and rents cars from Avis—and now he has added WeWork All Access to his list of business travel essentials.
"I know when I walk into a WeWork, I'll find friendly people, interesting food, and good coffee," he says. "I know that wherever I go, the staff will be rooting for me."
Jo Piazza is an award-winning journalist, best-selling author, digital strategist, and podcast host.
Rethinking your workspace?