Phoenix is one of the largest cities in the United States, in addition to being the only state capital with a population of more than one million residents. For ambitious professionals searching for a bustling area that has a different feel than New York, Atlanta, or L.A., Phoenix is an excellent alternative.
The problem with any populous city is finding the space to thrive and not just survive. Shared workspaces are one of the best solutions to this problem, as they often provide a sense of community and desirable amenities. They're convenient and agile as well, but without the stress and obstacles of long-term leases and steep startup costs.
Check out three coworking spaces in Phoenix designed to help you be successful no matter what industry you're in.
Camelback East Village
2425 E Camelback Rd
WeWork All Access starting at: $299 per month
Workspace starting at: $29/day
Conference Room starting at: $10/hr
Nearby Transit: 70 bus at 24th St & Camelback Rd; Grid Bike sharing station
Cross Streets: E Camelback Rd & N 24th St
Professionals who thrive in busy areas will feel at home in one of these coworking spaces in Phoenix. The Camelback East Village neighborhood has a ton of entertainment options, from two shopping malls to a movie theater with 14 screens. There are also a number of dining options nearby, with midrange options for breakfast, burgers, and casual chains. You'll also find higher-end choices if you want to treat your team or a client. For those with an active lifestyle, a gym is under a five-minute walk away, so you won't have to worry about going out of your way to get in your daily workout.
This shared office space in Phoenix features bright and open spaces with natural light, cheery colors, and lovely greenery. Common areas are outfitted with cozy seating, as well as standard tables and chairs to ensure comfort no matter how you prefer to keep your productivity up.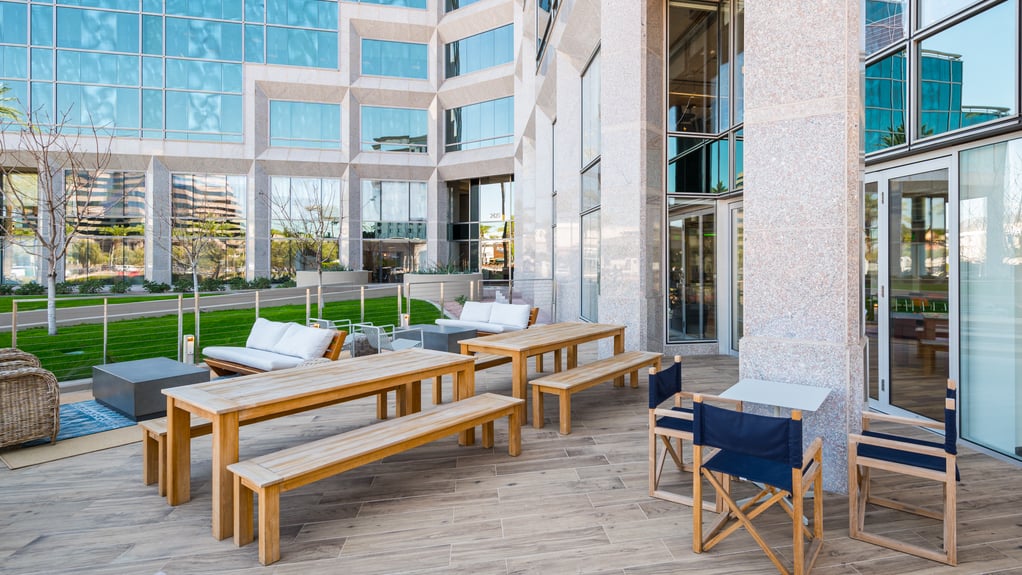 Private offices are available for those who work best on their own, or you can opt for a full-floor office to house your whole company. These are dedicated to your team and can be customized with your own branding so it truly feels like your very own. And if you only need space for a brainstorming session or to meet with clients or potential employees, conference rooms can be rented for as little as $10 per person per hour.
The outdoor space is a perfect area to take in a breath of fresh air, enjoy a picnic lunch, or even have a laid-back meeting. New moms will appreciate the privacy of the lockable mothers room, equipped with a sink and refrigerator for convenience, while anyone who needs a quiet moment can take advantage of the wellness room for a serene break during a hectic day. Recreational games on-site provide a way to take a break so you can return to work invigorated and refreshed.
Downtown Phoenix
101 N 1st Ave
WeWork All Access starting at: $299 per month
Workspace starting at: $29/day
Conference Room starting at: $10/hr
Nearby Transit: 8, 514, 520, 521, 522, 531, 533, 541, 542, 562, 563, 571, 573, 575 buses at Washington St & 3rd Ave; Grid Bike sharing station P110 at Van Buren St & 1st Ave
Cross Streets: N 1st Ave & E Monroe St
Professionals with active social lives will be drawn to a coworking space in downtown Phoenix. With lots of food options that go beyond the same old chains, there are plenty of places to dine with your team or clients. An English restaurant and a vegan eatery are on the same block as these coworking spaces, and across the street is a sushi and sake restaurant. There are two bars and a gastropub within a five-minute walk, providing the perfect locations for libations with your team during a post-work happy hour. Symphony Hall and The Van Buren are both a short walk away; both offer the chance to see live music shows if you need a boost of inspiration. With so much energy in the area, you'll easily tap into the drive you need to take your business to the next level.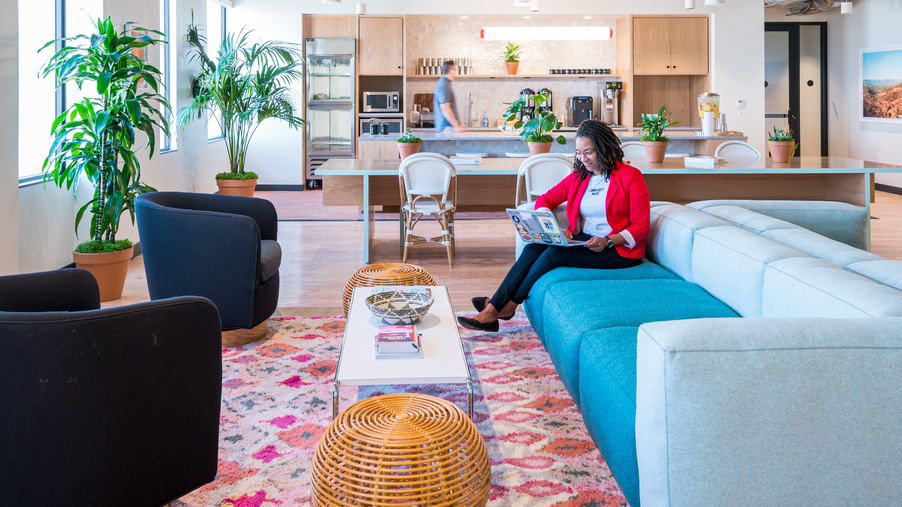 In this downtown building, you'll find airy spaces with comfortable furniture and modern design. A host of amenities offer perks that make the office feel like home. Private offices and full-floor offices are available for teams, while dedicated desks offer workers space to call their own in a shared, lockable office. And if you need space for a meeting, conference rooms are available to rent for as little as $10 per person per hour.
This building is also dog-friendly, so feel free to bring your furry best friend along! There are multiple areas in this building that offer privacy if you need it, including a mothers room and wellness room. The on-site outdoor space is a lovely terrace that's suitable for laid-back meetings, lunches, and afternoon breaks to take in fresh air and sunshine. There's also an event space where you can gather to network with peers, and recreational games if you need to clear your head with a little fun. Afterward, you'll be ready to jump back in and tackle your projects with a fresh perspective.
Tempe
The Watermark
WeWork All Access starting at: $299 per month
Workspace starting at: $29/day
Conference Room starting at: $10/hr
Nearby Transit: 72 bus at Rural Rd & Playa Del Norte; Grid Bike sharing station T29 at Tempe Town Lake Marina
Cross Streets: N Scottsdale Rd & Red Mountain Fwy
Looking for a coworking space in Tempe? Look no further than this flexible office space located mere steps from the Salt River. There are delicious chain options for lunch and dinner in the immediate area, including burgers, coffee, and a bakery—but you'll also find Mexican fare and a hot chicken restaurant as well. Take a walk to Tempe Town Lake when you need a breath of fresh air or a change of scenery; it's less than a 10-minute trek. Across the river is a fitness center as well as the Hayden Butte hiking area for nature lovers and those with active lifestyles. With so much nearby to provide inspiration, you'll easily find the motivation to take your career to new heights.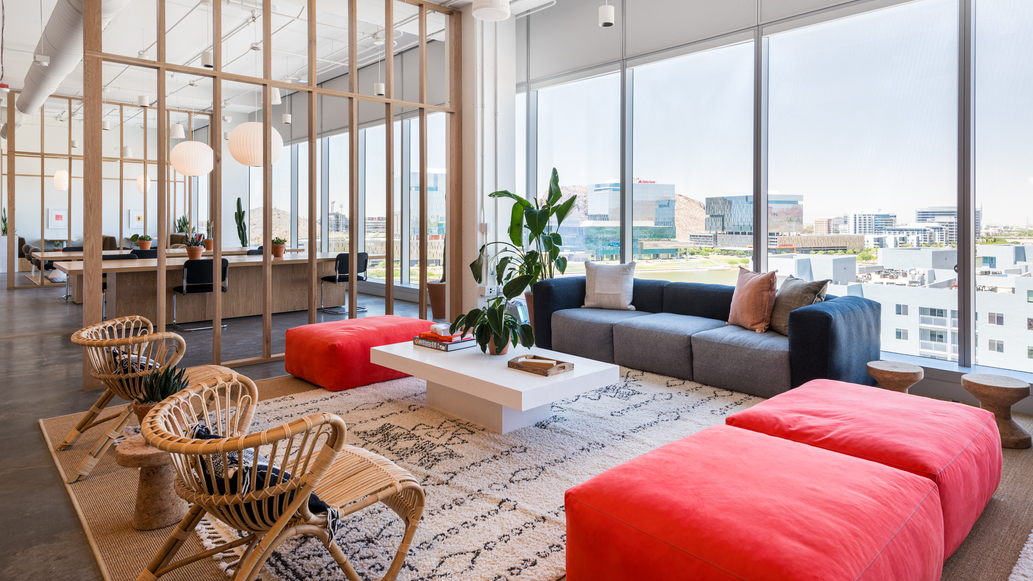 Those in the market for startup offices in Phoenix will find exactly what they need at The Watermark in Tempe. Full-floor offices provide dedicated space for your business with the option of customized branding, so it truly feels like your own but without the hassle of steep startup costs. And if you don't need that much space, private offices are also available. Need a bigger space for a short amount of time? Conference rooms are available to rent for as little as $10 per person per hour.
As The Watermark is close to I-202, commuters will appreciate the on-site parking as well as the electric vehicle charging stations. If you prefer to commute on two wheels, on-site bike storage gives you peace of mind while you work. This building is also dog-friendly and equipped with a mothers room, a wellness room, and on-site recreational games for getting reenergized between projects.
Whether you're a freelancer looking for an occasional desk, a startup looking for your first office space, or an established company expanding to a new location, there's a WeWork location in Phoenix to fit your needs. WeWork On Demand offers pay-as-you-go access to shared office spaces across Phoenix, while WeWork All Access unlocks WeWork locations in cities around the world.
Rethinking your workspace?