With the shift to virtual and hybrid working models having been accelerated due to COVID-19, companies across regions and industries are reflecting on the future of work and workspaces. They're exploring what has worked and what hasn't over the past 18 months, and are thinking about how to create hybrid strategies that are sustainable over time.
To uncover critical insights about this topic, Colliers launched a survey in early 2021 to gain a better understanding of employee and employer preferences around workstyles and how they fit into hybrid models. To date, Colliers has surveyed more than 9,400 business leaders and employees from across industries and geographies in the US.
Here are some key findings from this survey, along with advice on how organisations can move from a one-size-fits-all approach to embracing a hybrid strategy that fits their unique organisation and employees.
Hybrid trends: What employees and management think about the future of work
Based on Colliers's research, three key trends have emerged, reflecting changing perceptions about virtual and hybrid working from before the start of the pandemic to the present.
1. Employee desire to work virtually has increased.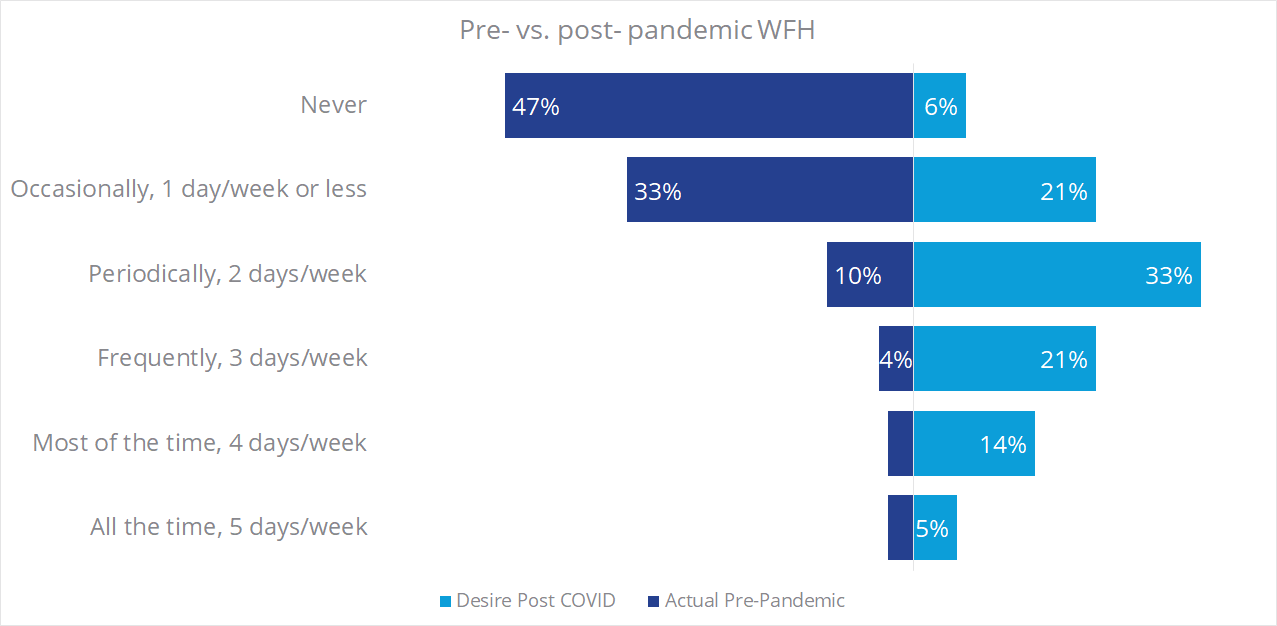 According to the survey, the percentage of people who said they would never work from home dropped from nearly half (47%) before the pandemic to just 6%.
2. More than half of employees and managers say worker productivity has increased or increased significantly since working virtually.


Colliers's research shows that most managers are in favour of their team members working virtually frequently or most of the time.
3. Many work activities can be taken care of equally as well, whether on-site or virtually.

Collaborating with colleagues stands out as an activity that nearly 40% of people surveyed feel could be performed either much better or somewhat better on-site compared to working virtually.
Which hybrid workplace model is right for you?
'Hybrid' is often thrown around as a catch-all term. But the concept of hybrid work varies greatly across organisations, and what hybrid means to an employer may mean something entirely different to their employees.
While there's no one-size-fits-all hybrid model, three styles of hybrid workplace model have emerged as distinct options that are being embraced by medium to large organisations right now. Here's what you need to know about each one.
#1: Most flexible: remote-first, individual choice
Employees make decisions in real time about where they want to work
There's no set pattern or schedule of when they need to be where
Individuals choose their schedule/location
Very flexible
#2: Core day model: office-first strategy
Everyone is expected to be in the office some amount of time, and the team coordinates when to have scheduled meetings
The rest of the week can be flexible
The team coordinates the schedule/location
Somewhat flexible
#3: Least flexible: top-down approach
Employees have to be in the office on set days
This strategy helps manage occupancy
The manager chooses the schedule/location
Not flexible
Colliers's head of flex workspace consulting, Will Burchfield, has advised occupiers in all facets of the differing hybrid solutions mentioned above. One key driver of success is the acceptance of iterating and pivoting when outcomes are not initially met. For any hybrid strategy to work effectively, employees and managers need to be clear on what's expected of one another. It's critical to take a step back and reflect on what's expected of employees and managers, and to ensure that there's no misalignment between what employees think and what managers think.
Nine tips to form a successful hybrid workplace strategy
As companies start experimenting with new hybrid models, adopting a spirit of testing—testing and testing again—and being OK with change is key.
Beyond that, companies need to pay attention to key data, such as fluctuations in employee engagement. At the end of the day, how employees feel is one of the most important determinants of success.
In addition to taking these steps, the experts at Colliers recommend leaning into these other approaches to make the shift to a hybrid workplace model a success:
Understand your organisation's needs using surveys and focus groups, and turn these insights into action.
Rethink and redefine the role of the office and ensure the space is designed to support high-value activities like innovation and co-creation while keeping equity in mind for those joining virtually.
Set up team norms. Think about the moments that matter, establish which meetings or events are important for the team to be together in-person, and prioritise who needs to be where, when.
Clearly establish and communicate what is expected of both employees and managers.
Offer manager training focused on how to help employees work effectively in hybrid working environments.
Invest in technology that accommodates different communication styles and set communication protocols that support a virtual working environment.
Define specific goals about how the space should be used so you can measure success.
Track employee engagement scores and other data points, such as show-up rate and space utilisation metrics (e.g. hours spent in conference rooms), to measure the impact of your efforts and make sure there's not a misalignment between what the organisation thought employees might need and actual employee behaviour and activity.
Adopt a test, learn, and evolve mindset to keep iterating as needed.
Adopting the effective approaches shared here—including checking in with your people on a frequent basis, regularly keeping track of employee KPIs like engagement, and clearly communicating changing expectations in a timely manner—will be all the more important as COVID-19 variants and outbreaks continue to lead to uncertainty in our work and other environments.
Ryne Raymond is vice president, workplace advisory at Colliers. Charlotte Timms is senior director at Colliers. Mary Kearl has a BA in journalism from NYU and an MBA in marketing from Baruch College Zicklin School of Business. She is a writer and marketing professional who has worked with dozens of the world's most admired brands and publications, including Adobe, Pinterest, Zillow, Target, HuffPost, Business Insider, and more.
Rethinking your workspace?