The ways we work have fundamentally changed. People no longer seek just a work-life balance. They want the power to choose when, where and how they work. They want the freedom to create their own schedules, to do work they find meaningful, and to be in a space that suits their unique needs. Gone are the days of a one-size-fits-all nine to five. In All the Ways You Work, WeWork members share how they're reimagining their professional lives and thriving in this new world of work.
Caroline Cotto's passion for the food industry started early. As a child growing up on Cape Cod, in Massachusetts, she spent time helping her parents at their ice cream shop, Sweet Caroline's. 
During university, she studied the intersection of food supply chains and nutrition and worked on former First Lady Michelle Obama's Let's Move initiative to reduce childhood obesity. After graduating, Cotto went overseas to study international development through a nutrition lens. She began to explore the connection between food waste and climate change and, after working on a permaculture farm in Italy, she attended a conference hosted by ReFED, a national non-profit working to end food loss and waste. 

'I started diving into the food waste issue and the larger environmental impact,' says Cotto. That interest led her in 2018 to Farm to Fork, a food and technology accelerator in Minnesota. There she met Claire Schlemme, and the two quickly discovered a shared passion for reducing food waste. Together, they are co-founders of Renewal Mill, which upcycles food by-products into new ingredients to fight climate change and food loss.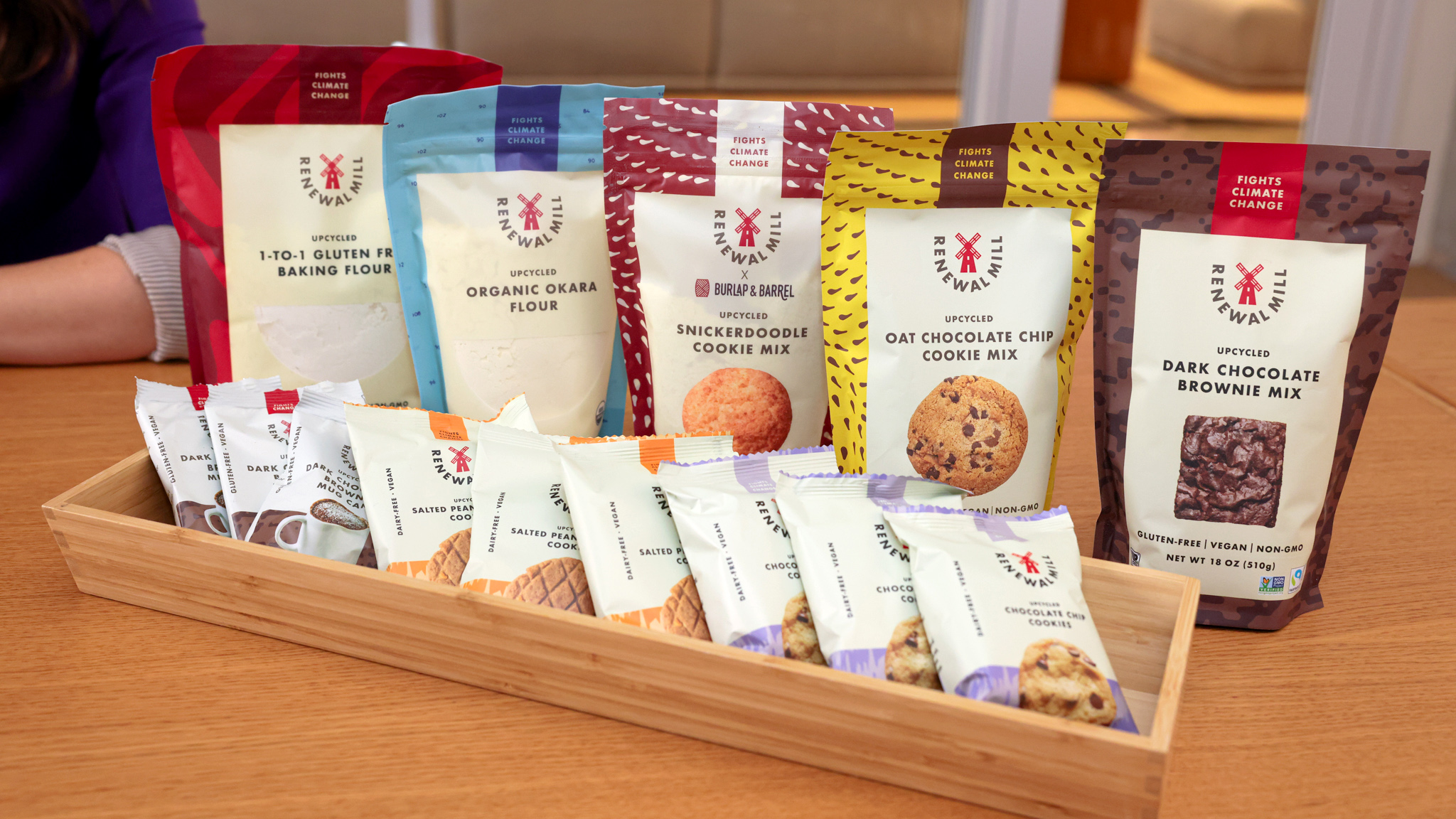 Schlemme, the CEO of Renewal Mill, is a former juice bar owner who saw firsthand how much fruit and vegetable pulp was wasted every day. Those types of discarded products, when tallied globally, account for 8–10 per cent of greenhouse gas emissions.

To combat both waste and climate change, Schlemme developed a way to process those discards and transform them into things like gluten-free baking flour, high-protein oat milk flour, and baking mixes for delectable treats like brownies and snickerdoodles. In 2016, she turned her experiments into Renewal Mill. And in 2018, not long after meeting Cotto, she invited her to join the company as a co-founder and help raise their first round of funding. 
For Cotto, Renewal Mill allowed her to combine her lifelong passion for food and nutrition with her background in tech. '[I had seen] how the system was setting people up for failure nutritionally, and also how the food system as a whole is such a large driver of climate change,' she says.
Innovating to reduce food waste
Since then, Cotto and Schlemme have been part of the food-waste vanguard, working on a number of fronts. The first is sourcing and producing their consumer-packaged upcycled ingredients and mixes. It's a tricky process, because potential by-products must first meet Renewal Mill's standards for nutritional value and supply chain ethos. 
'There are a lot of by-products out there that you could upcycle, but they don't have a load of benefits from a nutritional perspective,' says Cotto.
Renewal Mill also supplies other companies with ingredients. Their grain-free flours, for example, are currently used in packaged foods like Tia Lupita hot sauce, Pulp Pantry veggie chips, Square Baby meal delivery and Salt & Straw ice cream. Renewal Mill also partners on co-branded cookies and single-origin spices.  
It really is the flexibility and reliability in different cities that [continues to] draw me to WeWork.

Caroline Cotto, co-founder and COO at Renewal Mill
In addition to sales and partnerships, public education about food waste and upcycled food is a considerable part of Cotto's job. She and Schlemme routinely speak at schools and present to local organisations. They also helped found the Upcycled Food Association (UFA), which works to change the food system as a whole to help prevent waste. UFA began in 2019 with about eight members; it's since grown to nearly 200. 
In June 2021, the association launched an upcycled food certification programme, and Renewal Mill was one of the first to be certified. Cotto says UFA-certified brands are projected to prevent a combined 357-plus million kg of food from going to waste this year alone. For her, it's this type of collective change that inspires her to pursue Renewal Mill's mission. 
Finding the room to grow at WeWork
Throughout Cotto and Schlemme's journey, WeWork has helped them remain agile as they scale up. Their first WeWork experience was in 2020, as part of WeWork Food Labs, an accelerator for consumer packaged goods. In 2021, Cotto began using WeWork On Demand to be able to work from a dependable workspace in her home city of Oakland, CA, and whenever she travelled. 
'Whenever I walk into a WeWork, I know that it will have reliable WiFi, quiet places to talk, drinks and safety protocols,' says Cotto. 'These were huge factors for me during the pandemic, when most coffee shops were closed to guests, and now even as the pandemic starts to wane. It's hard to walk into a coffee shop and be guaranteed that there's an outlet to charge your computer and not a load of background noise.'

As Renewal Mill expands, Cotto frequently meets with consumer packaged goods partners and vendors that carry the company's products in New York, Los Angeles and beyond. Starting in June, the brand will have national distribution when it hits the shelves at Whole Foods markets across the US. Having access to WeWork wherever Cotto goes has been key to the business's growth.
'It really is the flexibility and reliability in different cities that [continues to] draw me to WeWork,' she says. Plus, Cotto adds, she's been enjoying the community that grew out of her Food Labs experience, which has since continued online. 
'It's one thing to change hearts and minds on an individual basis,' she says. 'But it's different to build a movement that actually has an impact.' The business claims it has prevented about 450,000 kg of carbon emissions from food waste this year. 
'That's our goal here at Renewal Mill: how do we think about helping to build the upcycled food movement to reinvigorate the food system to prioritise these things?" Cotto says. 'We do create indulgent desserts. But if people are going to be eating [a cookie anyway], they could be eating a better-for-you version. And that is a few steps in the right direction.'
Anna Dimond is a writer, editor and content producer based in Los Angeles and in Cape Cod, MA. She covers the outdoors, culture, business and politics for The Washington Post, ESPN and Red Bull, among others.
Rethinking your workspace?