Black business owners and workers too often face systemic biases: from underrepresentation in the boardroom to higher rates of unemployment. In Black-Owned and Proud, we profile innovative Black entrepreneurs building businesses and bringing much-needed change to the face of enterprise.
Denise Woodard, founder and CEO of Partake Foods, launched her company in 2016 after her infant daughter ate an innocent-looking snack that resulted in a trip to the emergency room. That's when Woodard discovered that her daughter was allergic to corn, tree nuts, eggs and bananas.
Inspired by her daughter's experience, Woodard—who spent a decade in consumer-packaged goods at various Fortune 100 companies—set out to make delicious snacks accessible to those with allergies. Partake's first product was allergy-friendly cookies. The brand can now be found in more than 8,000 retailers including Target, Trader Joe's, and Whole Foods Market, and the company has expanded its product line to include baking, pancake, and waffle mixes.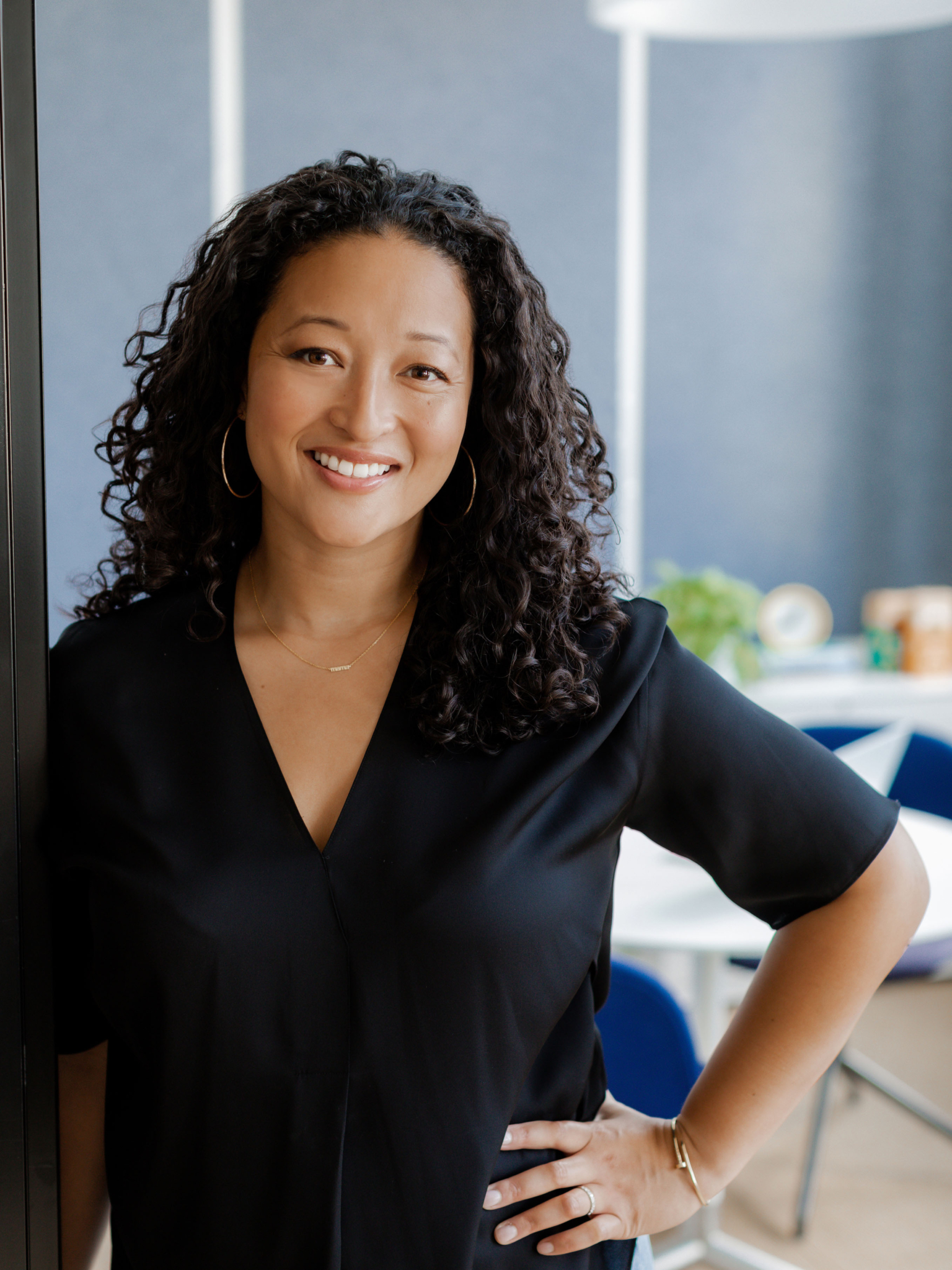 "Partake came from my frustration that existing allergy-friendly brands focused on what their products were free from," Woodard says. "I never wanted my daughter (or anyone else!) to feel as though she was relegated to the 'safe' foods. I saw a future where people enjoyed foods that were safer because they enjoyed them, not just because they were an 'allergy-friendly' option." Woodard's goal is to make Partake a brand that people can rely on for being inclusive, enjoyed by those with or without food allergies. 
According to the Asthma and Allergy Foundation of America, 32 million people in the U.S. have food allergies. The most common food allergies are milk, soy, eggs, wheat, peanuts, tree nuts, fish, and shellfish. Food allergies affect 1 in 13 children across the country, according to the Centers for Disease and Prevention. That's roughly 8 percent of children, or approximately two students in every classroom.
All of Partake's products are free from peanuts, eggs, dairy, soy, tree nuts, sesame, artificial flavors, GMOs, and artificial preservatives. They are also gluten-free and certified vegan. In fact, the entire manufacturing facility is free of these allergens and ingredients, and the finished products are tested for allergens.
A champion of food for all
But it's not just allergen-friendly snacks that Woodard is interested in. As the company has grown, Woodard says, she's quickly seen the importance—and the ability—of all of us lifting as we climb. The company is focusing on this in two ways: fighting food insecurity in the U.S., and opening doors for HBCU (Historically Black Colleges and Universities) students interested in careers in the consumer packaged goods and food and beverage industries. 
The company is passionate about getting safe food into the hands of food-insecure families, so a portion of its proceeds go to organizations that provide access to the food, education, and advocacy these families deserve, Woodard says. While it can be more difficult for children in Black families to get any type of food, especially allergy-friendly options, this need is more urgent than ever. According to Feeding America, the pandemic has taken a toll: 21 percent of Black families experienced food insecurity in 2021. Black kids were nearly three times more likely than white kids to live in a food-insecure household.
Having people come together in a physical space…is important as we work to cement our culture, get to know one another, and scale this business.

Denise Woodard, founder and CEO of Partake Foods
In 2022, Partake launched a partnership with No Kid Hungry—an organization dedicated to ending childhood hunger in the United States—to help provide up to one million healthy meals for children in need.
Woodard is also helping to encourage Black and brown students to consider careers in the consumer-packaged goods food and beverage industry, where they are historically underrepresented, she says. Partake's Black Futures in Food & Beverage (BFFB) program offers an annual fellowship to HBCU students (juniors and above) who are interested in exploring these opportunities. 
The seven-week program educates students through workshops, fireside chats, panels, and conversations with industry leaders. Each fellowship culminates in a virtual capstone project and virtual career day that will include executive leadership from household-name brands to consider fellows for internships and full-time roles.
Growing a business devoted to change
Being a business owner and a woman of color can present a particular set of challenges and opportunities. For Woodard, the experience has been wonderful yet exhausting. She thinks of the journey as a marathon, not a sprint. "[There are] lots of ups and downs," she says. "But [it's] overall rewarding because we are working toward a bigger mission to make a more inclusive food system." 
Woodard shares four key tenets that are nonnegotiable to her as a businesswoman, ones she believes are crucial to success in any area:
Treat everyone with respect—from the CEO to the janitor
Be honest. No matter how painful it is to tell the truth, tell the truth.
Don't get outworked. Do the hard stuff, don't cut corners, and be consistent in the work you do.
Dream big. You can do anything. Whether you've seen someone else do it, or whether or not other people believe you can do it, if you stick to these principles, anything is possible.
The company has grown from a team of one in January 2020 to a team of 15 in January 2022. Partake now has an office on the eighth floor of WeWork 511 W 25th St in New York City. Moving to WeWork has been instrumental in helping the company strategize, grow, and plan for the future, Woodard says. "Having people come together in a physical space…is important as we work to cement our culture, get to know one another, and scale this business," she says. "It provides an opportunity to share ideas from multiple cross-functional teams, which allows for more creativity and innovation." 
As Woodard reflects on the past and plans her next move, she has been pleasantly surprised by the positive impact a small business can have. "I started Partake to solve a problem for my family and other food allergy families," she says. "But I now realize Partake is also a vehicle to increase inclusivity and accessibility, and we can effect change now."
Terri Williams is a freelance journalist who writes for The Economist, American Bar Association Journal, Time, USA Today, Yahoo, Realtor.com, Investopedia, and several other companies you've probably heard of.
Rethinking your workspace?