NEW MEMBER OFFER
Try WeWork All Access at a special rate for the first 3 months
Learn more
SoHo is a trendy Manhattan neighborhood that ambitious professionals are drawn to no matter what stage they're at in their career. Known for its designer boutiques, high-end chain stores, and premium art galleries, the area is especially conducive to those in creative industries—inspiration is around every corner.
But an in-demand neighborhood can mean a lack of available office space, and what is there usually comes with astronomical prices. Coworking spaces are rapidly solving this dilemma. With best-in-class amenities and a sense of community within, these buildings with shared office spaces are appealing to professionals of all backgrounds. WeWork's coworking spaces are strategically situated in SoHo, providing affordability and convenience without the worries of long-term leases and steep startup costs.
Varick Street
160 Varick St
WeWork All Access starting at: $299 per month
Nearby Transit: 1 subway line at Houston St; A, C, E lines at Spring St; M55 bus line at Broadway/Grand; M1 bus line at Centre St/Broome St; Citi Bike at 6 Ave/Grand St
Cross Streets: Varick St & Vandam St
The area around WeWork Varick Street is alive with culture and entertainment. With a mix of eateries available, including Israeli, Mediterranean, and American fare, there's something for nearly every taste. There's also a brewery, a bar and grill, and ART SoHo—all of which make excellent post-work spots for drinks and team building.
If you're looking for entertainment options, the SoHo Playhouse and Color Factory are both within a short walk and offer out-of-the-box experiences. These choices will inspire your team to approach everyday tasks with innovative thinking and take your business to new levels of success.
Ambitious professionals looking for a coworking space for their startup will be drawn to this building, where full-floor offices provide the ideal setup for businesses of all sizes. These areas are devoted to individual companies and can be customized with your own branding so that it truly feels like your own.
If you don't need that much space, private offices are also available for those who prefer to work on their own or with their team. And if you just want your own space, consider a dedicated desk in shared, lockable offices, allowing you to stake out a spot but also mingle with others while you work.
Whatever coworking space you choose here, you can rest easy knowing that you'll have plenty of amenities to make your work life easier. Take advantage of IT services including support, schedule a brainstorming session in the conference rooms, take a break in the unique common areas with invigorating decor, and rely on on-site staff to help with your day-to-day needs. With all that taken off your plate, you can focus on what matters most—boosting your productivity.
Lafayette Street
148 Lafayette St
WeWork All Access starting at: $299 per month
Workspace starting at: $29/day
Conference Room starting at: $10/hr
Nearby Transit: 6 subway line at Canal St; N, Q, R, W lines at Canal St; M55 bus at Broadway/Grand St; M1 at Centre St/Broome St; Citi Bike at Lispenard St & Broadway
Cross Streets: Lafayette St & Howard St
The coworking space on Lafayette Street is nestled within a bustling neighborhood. The Canal Street Market is a two-minute walk away, and offbeat entertainment options like the Sloomoo Institute and Mmuseumm are also nearby, along with more traditional art galleries and museums. Dining options are varied, too, with fast-casual chains, vegan fare, and upscale French and Asian Fusion. Whether you're entertaining potential clients or treating the team, no one will go hungry.
Whatever your business needs, the shared office spaces at WeWork Lafayette Street have a solution that fits. Private offices provide plenty of space for smaller teams, while dedicated desks allow you to have your own space in a shared office. And if you just need a conference room for an intense brainstorming session with your team, those are available for as little as $10 per hour.
The best work environment ensures the comfort of its occupants, and these shared office spaces in Lafayette Street are no different. New moms will appreciate the solitude of the mother's room, and if you just need a moment to yourself, take advantage of the wellness room, a lockable area that offers serenity for meditation or a quiet break when you need one. With the day-to-day minutiae taken care of, you can focus on what's most important—building your brand.
Broadway
408 Broadway
WeWork All Access starting at: $299 per month
Workspace starting at: $29/day
Conference Room starting at: $10/hr
Nearby Transit: A, C, E, N, Q, R, W, 6 subway lines at Canal St; 1, 2 lines at Franklin St; BxM18, M55, X27, X28 buses at Broadway/Walker St; M1 at Centre St/Grand St; Citi Bike at Lispenard St & Broadway; Battery Park City/World Financial Center ferry at Vesey St
Cross Streets: Broadway & Canal St
With design studios and architects calling this area home, creative professionals will find inspiration daily when they pick a coworking space at 408 Broadway. Situated between Broadway and Canal, the coworking space reflects the energy of the neighborhood. Nearby yoga and ballet studios ensure that those with active lifestyles can keep up with their fitness routines. With two coffee shops less than five minutes away, you'll never have to worry about getting your caffeine fix.
And when it's time for lunch or dinner, choose from American cuisine or affordable pizza, as well as Italian, Mexican, and upscale Asian Fusion eateries. Find further inspiration in the local art scene at kaufmann repetto, the 1969 Gallery, the Barney Savage Gallery, and the Peter Tunney Experience—all within walking distance of this WeWork location.
Those seeking startup offices on Broadway should look no further than this building. Full-floor offices are designed to be perfect for startups of all types, offering an entire floor of coworking space dedicated to your business and customized with your branding.
Need less space? The shared office spaces in this Broadway building also offer private offices that are lockable areas for teams of all sizes, or dedicated desks if you just need a small space to call your own. Conference rooms are also available for rent from $10 per hour and are the ideal solution when you need to host a marathon brainstorming session with your team. Choose a coworking space here and put the day-to-day tasks in someone else's hands.
379 W Broadway
WeWork All Access starting at: $299 per month
Workspace starting at: $29/day
Conference Room starting at: $10/hr
Nearby Transit: A, C, E, J, N, Q, R subway lines at Canal St; N, R lines at Prince St; C, E lines at Spring St; Citi Bike at Prince St
Cross Streets: W Broadway & Broome St
Choosing a coworking space at 379 W Broadway will make it easy to segue from a productive workday to an evening of fun. Treat the team to Italian, tapas, or even burgers and beer right near the office, or bring in delicious goodies for the morning from Dominique Ansel or Laduree.
There are plenty of eateries nearby serving up sushi, pancakes, upscale French, and standard deli fare. With the menu taken care of, consider visiting the Leslie-Lohman Museum of Art for a hit of inspiration. Take a short walk to the Spring Street Park for a breath of fresh air. Or head to HERE, a performing arts theater, and take in an evening show. With so much to do in the area, maintaining work-life balance and finding new inspiration will be easy when you select a coworking space here.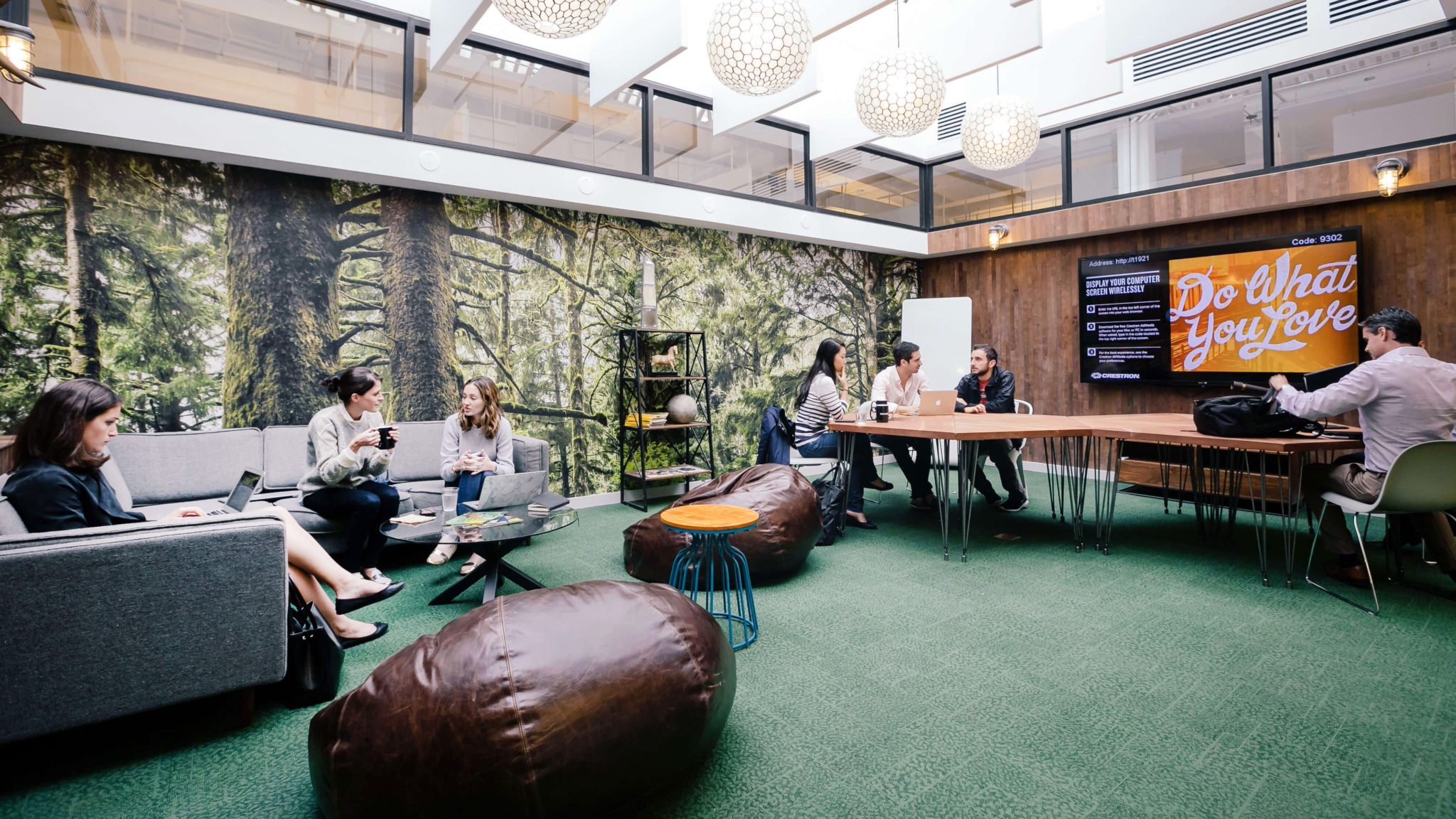 The shared office spaces at 379 W Broadway have a solution to fit your business needs, no matter what stage you're in. Choose from private offices suitable for working solo or with your team, or opt for a dedicated desk, which will provide a space to call your own within a shared office. And if you just need a quiet space to meet with potential clients, rent a conference room for as little as $10 per hour.
This building is also dog-friendly, and has a wellness room that allows for a quiet moment of peace. And if you want to be around your peers, consider attending the community-hosted gatherings in the on-site event space. With daily administration taken care of by the on-site staff, accessible tech services, and stocked kitchens, you can take advantage of the amenities but also spend your days focusing on achieving new levels of success in your career—and that's what really matters.
524 Broadway
WeWork All Access starting at: $299 per month
Nearby Transit: B, D, F, M, N, Q, R, 6 subway lines; M5, M15-SBS buses
Cross Streets: Broadway & Spring St
If your dream has always been to work in SoHo, look no further than a coworking space at 524 Broadway. The area is bustling, with nearby shopping that includes Bloomingdale's as well as fast-fashion stores. Fitness enthusiasts will be happy to know that multiple yoga studios, an OrangeTheory, and a SoulCycle are all a short walk from the coworking space at Broadway Street.
You'll also find a good number of dining options nearby, from national chain coffee shops to fast-casual restaurants, plus selections suitable for entertaining clients, including upscale French fare. Need a midday break? Petrosino Square is less than a five-minute walk away and provides a green escape in the middle of the neighborhood.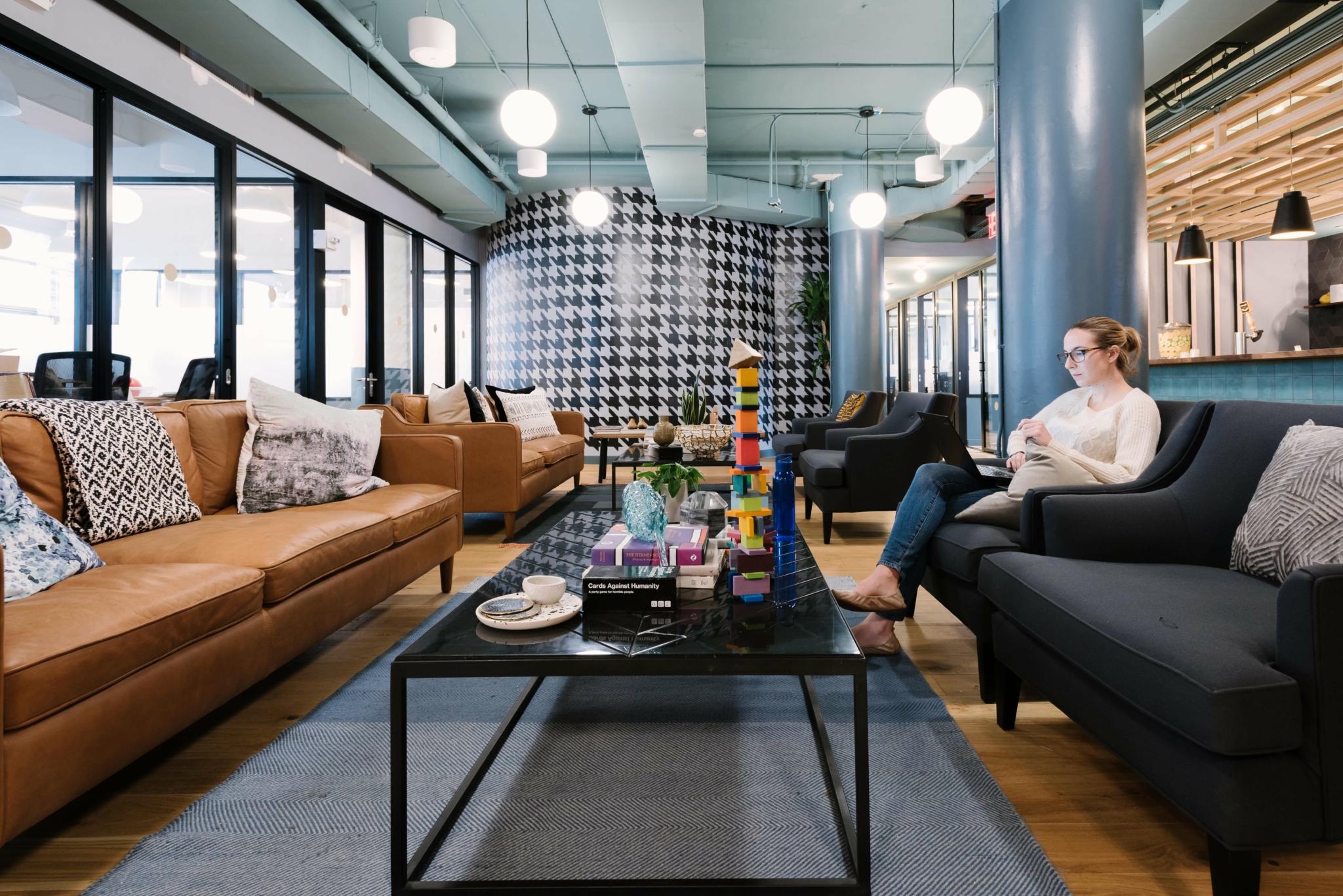 The shared office space at 524 Broadway has a solution for you, no matter how large your team is. From lockable, private offices to dedicated desks, you can opt for only the space you need, with room to grow. It's not all about work though—you'll also find an on-site event space here where you can attend educational and networking events. This building is also dog-friendly and has a wellness room on-site when you need a minute to breathe. With these amenities, as well as an in-house staff to take care of day-to-day office administration duties, you can focus on what's really important: growing your business.
Whether you're a freelancer or influencer looking for occasional meeting rooms, or a startup looking for a workspace to call home, there's a WeWork location in SoHo to fit your needs. To find your ideal coworking space, check out all of the WeWork locations in SoHo.
Rethinking your workspace?