Businesses need a lot to succeed: a team, resources, and a great idea. Made at WeWork showcases the innovative services and products built within WeWork buildings around the world.
For some business owners, having a viable business idea that turns out to be successful is not simply enough. Each of the women here, from a cybersecurity expert to a marketing executive, has built giving back and mentoring into their business model. For Women's History Month, we spotlight their companies, which aren't just making money but are also making an impact—and helping others to do the same.
Revolutionizing cybersecurity from the inside out
Cybersecurity software engineer Angela Dingle founded Ex Nihilo Management with a goal of upending the typical trajectory of information system development. Ex Nihilo's mission is straightforward: to deliver comprehensive solutions that give executives the visibility and control needed to make critical decisions in today's dynamic business environment.
"I realized that in many instances, the technology was driving the solution instead of the business needs," Dingle explains. "It was important for me to identify the business needs and develop solutions that drive results."
The company's code of ethics goes beyond revolutionizing cybersecurity products and serving as trusted advisers to clients—it also aims to change the way cybersecurity businesses operate and who they hire.
"We are focused on actions that are environmentally and socially responsible, and we practice sustainable consumption," Dingle says. "As a company that is led by a woman of color, we strive to create a culture of continuous improvement, where women lead and our employees and partners can earn a living wage." Dingle is also the sibling of two deaf women with successful careers in government and healthcare. She founded DEAFCYBERCON to create a pipeline of equitable opportunities for deaf women in cybersecurity, with a goal of increasing the overall number of full- and part-time jobs.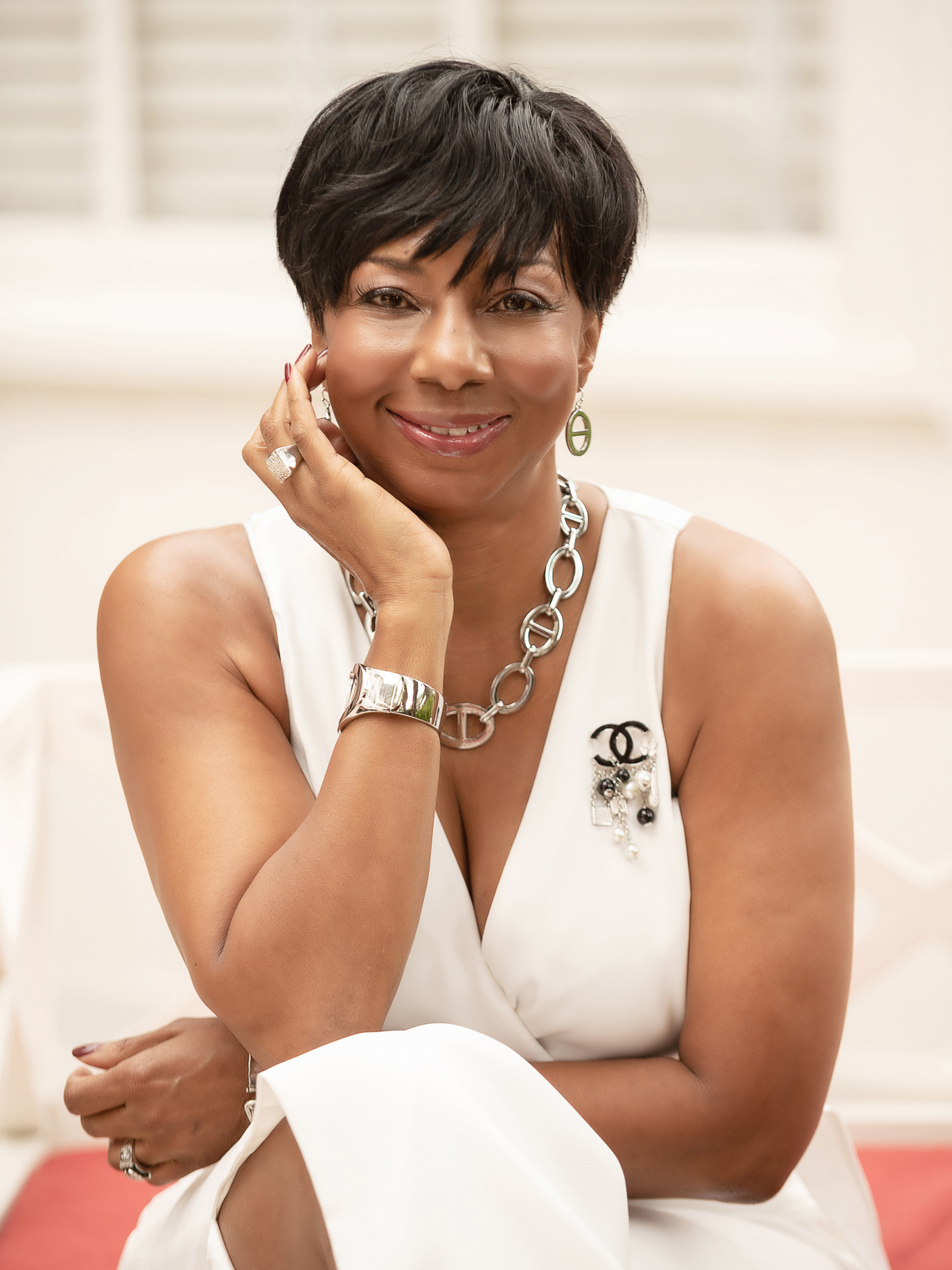 Ex Nihilo's relationship with WeWork helps the business live out its values every day—even throughout the pandemic. "The team is awesome," Dingle says of the community team at WeWork 80 M St SE, in Washington, D.C., where the company has an office. "And the space offers the amenities we need to conduct training and connect and collaborate with like-minded business owners." When Ex Nihilo received a $10,000 WeWork grant for Black-owned businesses, it built a program called the Power Pact to help professionals reach their personal and professional goals.
Recently, Dingle was recognized as one of "21 Women in Cybersecurity You Need to Know" by the Making Space Initiative. One of her goals is to make the competition even tougher in future years.
"It's widely known that there are more cybersecurity job openings in the U.S. than there are enough trained workers, and I know women represent an underutilized pool of resources that could be targeted to close this gap," she explains. "Having successfully navigated a career in cybersecurity, I know there are barriers to entry for women, such as gender bias, misperceptions, and a lack of female role models."
To that end, Ex Nihilo is partnering with corporations, government agencies, academia, and nonprofits to further its mission. WeWork is there every step of the way, giving her the room she needs to create change. "With WeWork, I am able to expand our space needs as the business grows," Dingle says.
Ex Nihilo Management is offering readers a 30 percent discount on its Power Pact 90-Day Challenge with code wework30. Follow Dingle on Instagram and Twitter for updates on her work.
Empowering young people to find their place in the world
Valérie Aguila believes strongly in the power of knowing who you are. "As a French-Asian woman, I didn't have a lot of representation around me when I was younger, and it was definitely something that prevented me from dreaming bigger, higher," she says. "How can you make professional choices that will determine your place in society if you don't know who you are?"
With Gen Club, her global nonprofit, she aims to help young women and gender minorities better know themselves and step into successful futures and empowered careers. It offers programs, events, and a platform to help young people ages 15 to 25 "identify their unique talents, believe in their power, and use their voice to build an inclusive society of rights and equity," Aguila says.
The two-year-old organization is powered by 40 volunteers, and operates out of WeWork 33 Rue la Fayette in Paris, France. "That has been a key part of our stability and development in 2021," Aguila says. "Scaling up a NGO is challenging in every way, and WeWork has been a blessing for us—being here enabled us to meet with our young members, organize face-to-face meetings with the teams, work better, and achieve our goals faster. It has also given us a great opportunity to meet amazing professionals who are interested in engaging themselves in gender equality by helping us."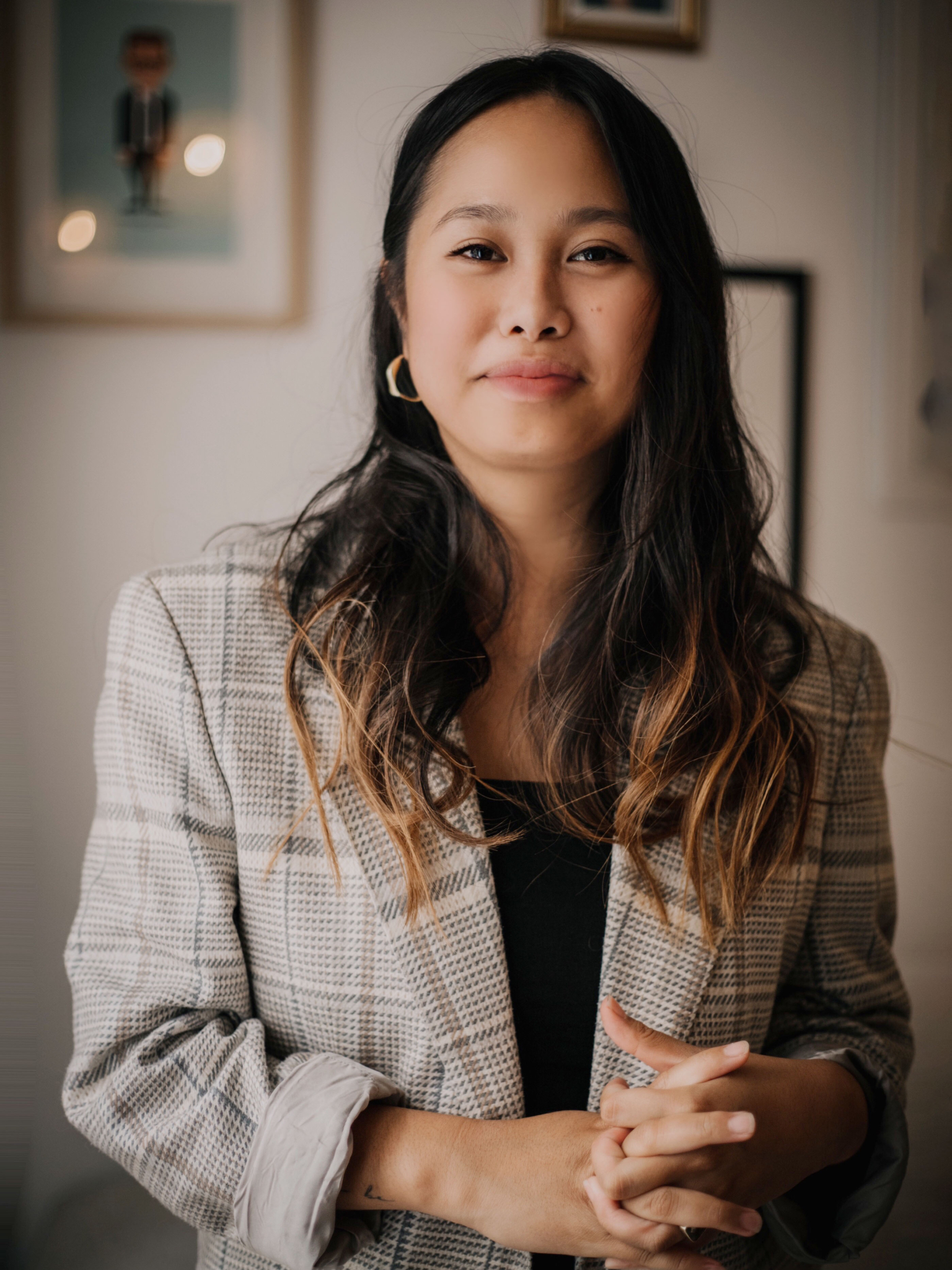 Gen Club currently serves about 200 young people, and Aguila says that when they come into the WeWork office, she can see the "sparks in their eyes" at the idea of being future professionals in a similar setting. "Being at WeWork helps them project themselves into being the CEO of tomorrow and have their businesses at WeWork one day," she says.
Over the next year, Aguila plans to keep scaling the NGO. "Our goal is to welcome around 500 youth through our programs and social projects," she says. "Gender equality is part of the solutions to some of the social, economical, environmental issues we are facing today. By including everyone, we make our world better and heritable for the next generations. I know I would have loved to have a platform like Gen Club when I was 15." Follow Gen Club and its push for empowerment and equality on Instagram.
Taking the "solo" out of solopreneur
The pandemic gave Vibeke Schmidt the push she needed to launch her own online marketing business. Right before the pandemic, she had been laid off, and once the pandemic hit, "it became impossible to find a new position," Schmidt says. "I had always dreamed of having my own business, and the timing seemed right."
But why start one business when you can start two? Not long after founding Vibeke Schmidt Consulting, Schmidt (who is Danish-American) came up with a second great idea. "As an expatriate in Germany, I found it really difficult to navigate the bureaucracy that comes with starting a business—that's how my second business, BizBabes, was founded," she says. "I knew that if I was struggling, others surely were too." Through her blog, newsletter, and free webinars, she educated fellow female expats on how to set up a business and pursue entrepreneurship.
My goal is to create a safe space where we can share our doubts and encourage one another to keep going.

Vibeke Schmidt, online marketing consultant
Joining WeWork Europa Passage in Hamburg, Germany, was one of the best decisions Schmidt made for both her businesses. "I was having bad imposter syndrome working from home, and I knew that if I wanted to scale my business, I needed to take myself seriously," she says. "WeWork provided me with space to focus, helped me gain confidence as a business owner, and allowed me to find the community I had been missing. I love how supportive the community team has been, and I've found some of my closest friends through WeWork."
With BizBabes, Schmidt is paying forward that sense of community support. "Many people, women especially, are too afraid of the unknown to pursue their entrepreneurial dreams," she says. "I hope to bridge the knowledge gap with BizBabes. By sharing my story and the mistakes I've made along the way, I hope to highlight that I am just like everyone else. I didn't have any special opportunities given to me, I just created them. Really, anything is possible. We just have to be brave enough to try," she says.
This year is starting strong for Schmidt, and she has big plans for the future. "Not only are my two biggest marketing clients requesting more work for the year, but I have also hosted two workshops for BizBabes with great turnout rates," she says. Next, she'll turn her eye toward scaling both businesses and hiring two virtual assistants to help broaden her scope of work. Also in the works: more online workshops and a monthly accountability call with other women interested in starting their own businesses.
"My goal is to create a safe space where we can share our doubts and encourage one another to keep going," she says. "This is something that I was missing when I started out, so I hope it can benefit someone else."
Ensuring that the new world of work sticks
The workplace revolution has arrived, and Audrey Barbier Litvak and her company, Offishall, are here for it.
"Offishall helps companies with the changes imposed by the challenge of workplace flexibility, with pragmatic and collaborative tools and tailored strategic support," Litvak explains. "I want to make sure that hybrid working is here to last. Without the right tools or the right offices, it's too easy to go back to where we were before the pandemic."
With that mission guiding her business, it's no wonder Litvak created a base of operations at WeWork 198 Avenue de France in Paris, France. "WeWork embodies the future of work," she says. "You'll never be alone—even if your teammates chose to be home the very same day you're coming to the office. Common areas, multiple meeting rooms, pantries, phone booths…everything has been thoroughly designed to make your day as efficient as possible."
Just two months in, Litvak already sees business opportunities from being at WeWork. "We already know that large-company members of WeWork will be our future clients," she says.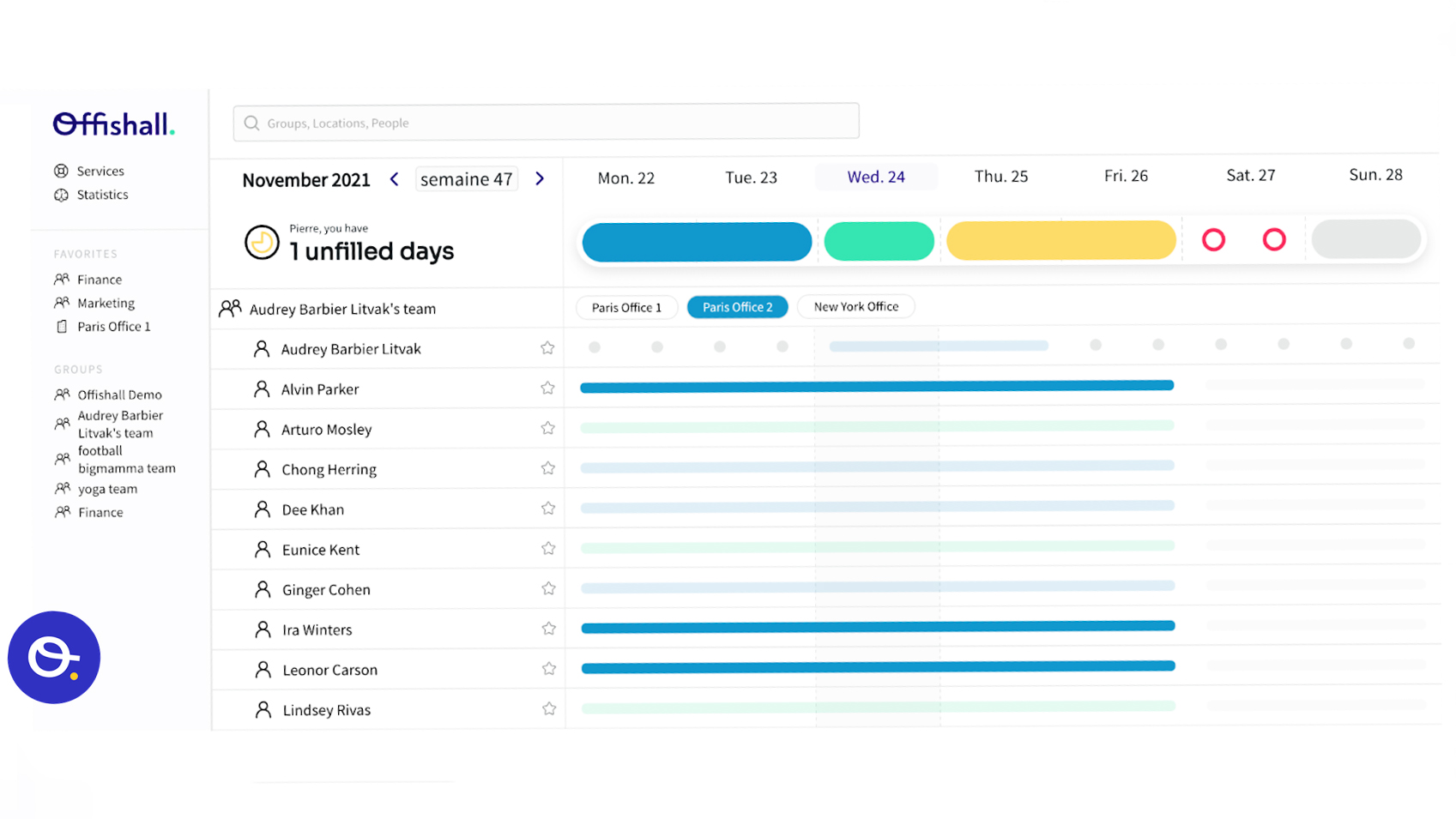 Offishall has a lot to be positive about right now: After seed fundraising last October, 60 percent of the company's investors are women. "I want to shout from the rooftops about how we overcame the odds in the dismally non-diverse world of tech!" Litvak says. "Only one percent of venture capital in Europe is managed by all-women teams, and there are still overwhelmingly more male angel investors than women. This is a first in the world. We checked," she adds
As companies continue to recalibrate their workplace policies in a post-pandemic world, Offishall has big plans. "We want the first one million out of 200 million in the workforce across the world to be able to choose where they want to work—and help companies and managers organize that freedom for their employees," Litvak says.
Small businesses with fewer than 30 people can use the company's services for free. Follow Offishall on Instagram.
Making housework less of a hassle
Despite the gains women have made in the workplace in the past few decades, they still spend the same amount of time doing housework today as they did 100 years ago, says Stephanie Cummings. Cummings is the cofounder and CEO of Please Assist Me, which provides home cleaning services to apartments within partner buildings.
The business was founded to help people find more balance in their lives, so they could spend less time cleaning and more time thriving. "Home is such a major cause of stress. By helping to solve the home problem, we allow our users to spend more time focusing on their families or career," she says. "I wanted to allow everyone to come home to everything [already] done."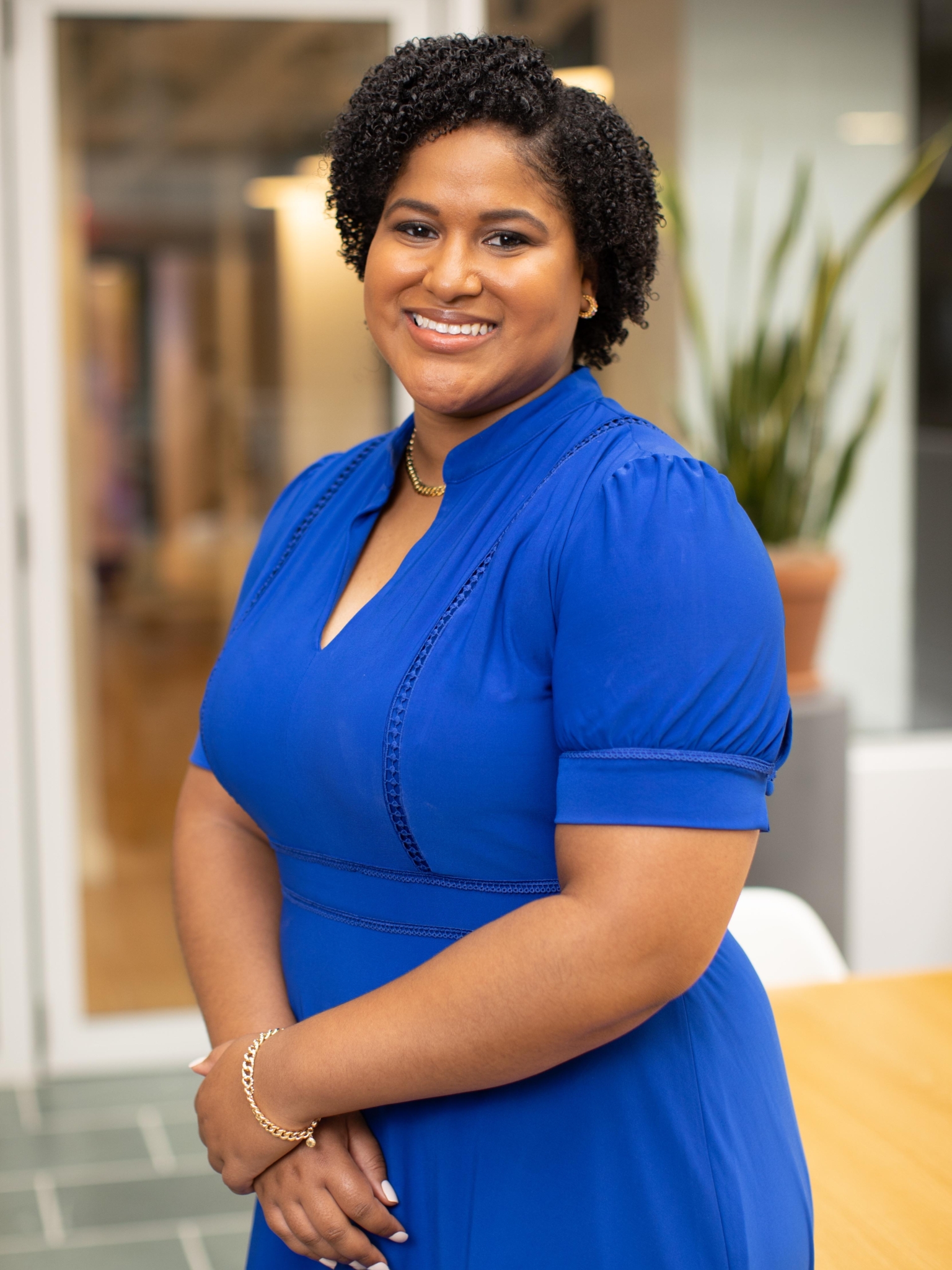 And because most housework is still done by women, fixing the "home problem," as Cummings calls it, is also a step toward gender equality. Besides cleaning services, the company also offers assistance for errands, including picking up groceries, dropping off laundry, and coordinating mail and package deliveries.
The company has an office at WeWork Metropolitan Square in Washington, D.C., which Cummings says is "essential to help our team get things done in an environment where we can thrive." Part of that thriving is raising capital to expand. Cummings says she is one of fewer than 150 Black women who has raised over $1 million in outside capital, including from Google for Startups' Black Founders Fund. "While we are honored to be a part of that group, it also highlights the need for more capital for female and minority founders," she says.
This year the company is focused on expanding the number of buildings it partners with. Follow Please Assist Me's journey on Instagram and Twitter.
Melanie Mannarino is a writer, editor, digital strategist, and author of several books, including The (Almost) Zero Waste Guide.
Rethinking your workspace?