Extraordinary businesses often start simply, with a great idea. Turning that idea into a successful company takes hard work, dedication, and a strong team. Made at WeWork showcases the innovative services and products built within WeWork buildings around the world.
Candles for calm and reconnection
Stephen Tracy founded Keap candles in 2015 with the mission to help people reconnect with themselves and nature. "We exist to help prioritize connection in our lives: to the natural world, our loved ones, and our own spirits," he says.
The company scents its candles by working in collaboration with a perfumer. It also has a zero-waste approach, using sustainable coconut wax and plastic-free packaging, and ensuring that jars are reusable. The core of the business—which works from WeWork 609 Greenwich St in New York through a WeWork All Access membership—is a subscription service, where users can choose to go on several "scent journeys" via candles delivered to them.
Having the business make it through 2021—another year of a pandemic, one with supply chain issues and price increases—"feels like no small feat," says Tracy. Even with the uncertainty of the past year, the team prioritized rest and was able to go on its first-ever summer sabbatical together. This year, Keap also decided to get off social media, as it seemed counter to its mission of prioritizing in-person connection. The year was capped off with a victory: The company was featured in the New York Times Gift Guide this year, which was "a moment of immense pride for our whole team," says Tracy.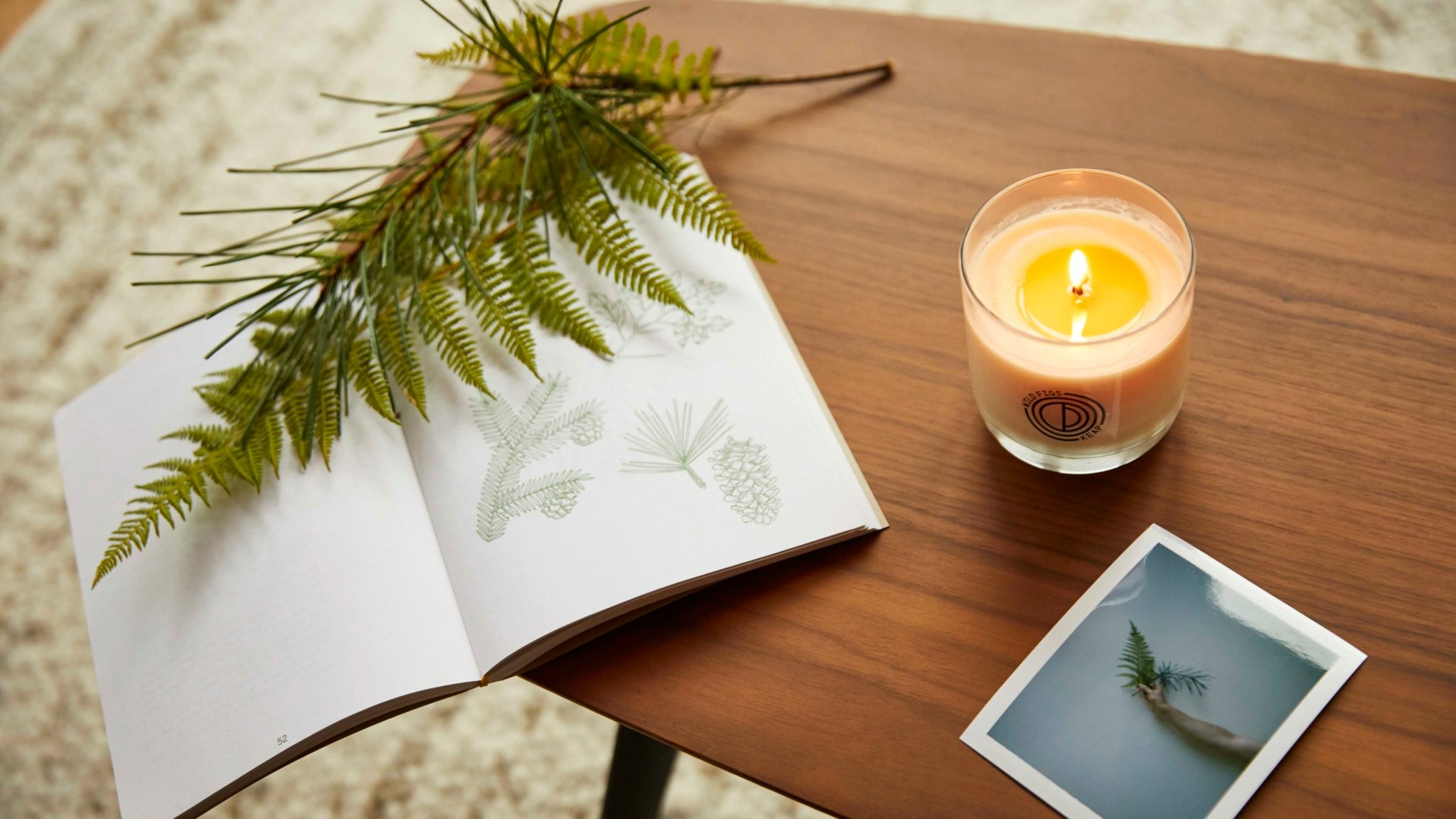 In 2022, the company plans to launch a new monthly zine that will be included with the candles people receive in their subscription. The zine will contain information on calming rituals and practices that help people find even more connection in their lives.
Subscribe at keapbk.com/subscribe to get free shipping and save $10 per candle.
Baby items made for a legacy
Mon Petit Coeur offers simple, elegant children's apparel and accessories. The company, founded by mother-of-two Norine Medas, operates out of WeWork Dock 72 in Brooklyn. The products, which include crocheted beanies, pants, jackets, and bodysuits for babies, are made of pure cotton sourced from North America. The vast majority (95 percent) of the products are created by women artisans in New York City who've been crocheting for decades; the other 5 percent are eco-friendly imports from the Netherlands.
Medas founded the company because she wanted to create beautiful, hand-made items that can be passed down through the generations. "We're creating art, not clothes," she says.
She also wanted to do something for herself. "Every woman has to find an outlet for their creative side," she says. Her mother, who is from the West Indies, used to sew and make all her children's clothes when Medas was growing up. (She moved to the U.S. from the West Indies at age 9.) This instilled in her a lifelong fascination with fabric. She learned to crochet at the age of 13, and found the hobby really relaxing. "I love it because you take something simple (yarn) and use a simple tool to create something out of a basic thing," she says.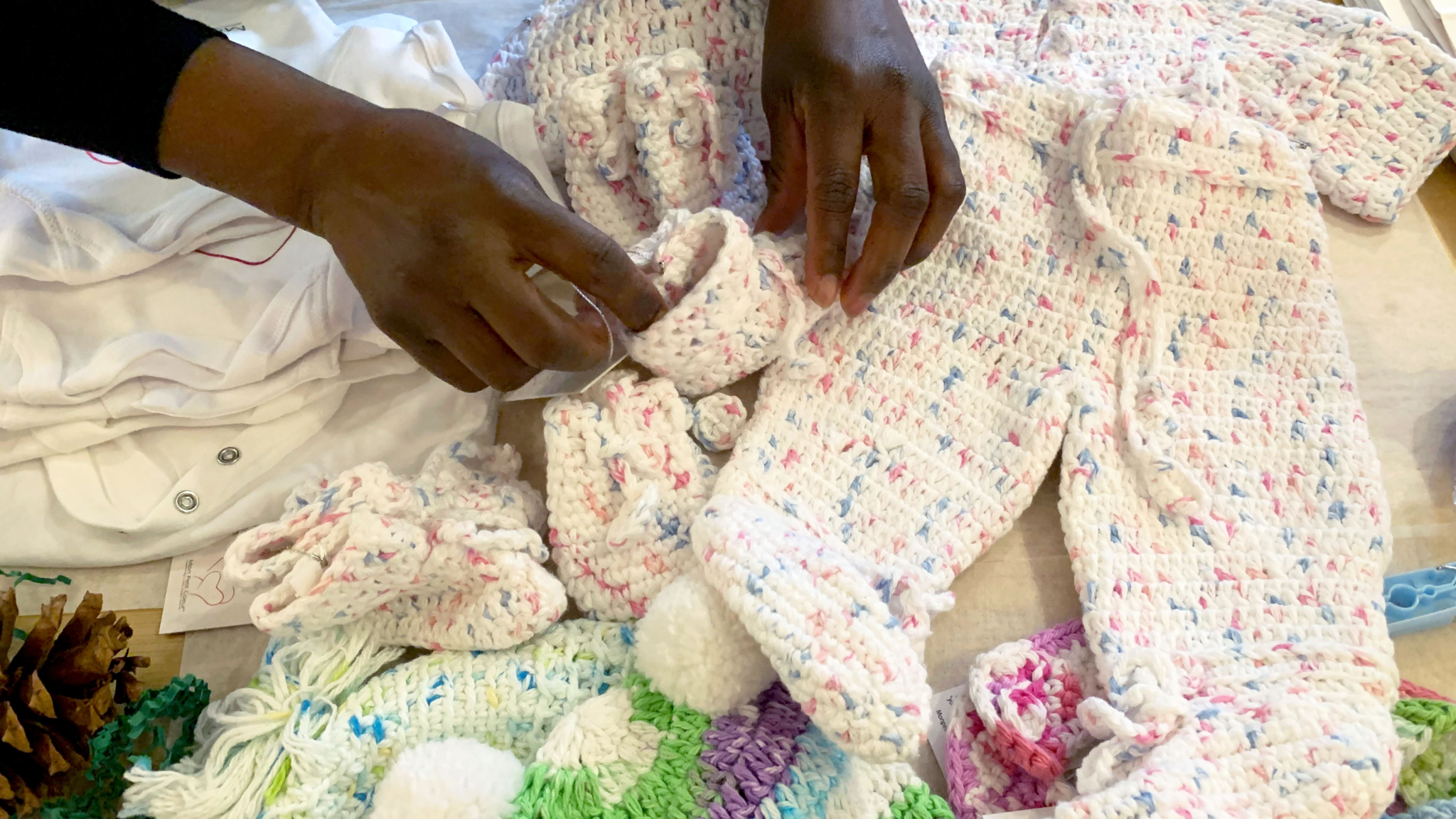 Product inspiration comes from Medas's West Indian heritage as well as her own experience as a mother. The business sells crocheted bunting rather than baby blankets, for example. The bunting wraps up babies in a way that mimics the feel of the womb, so they can be carried close to a parent's heart rather than placed in strollers. Babies are typically swaddled similarly in the West Indies, she says. Next year, she hopes to start outsourcing to West Indies artisans to create garments inspired by the uniforms she remembers wearing growing up.
Use code MPCBABY2021 at monpetit-coeur.com for 20 percent off.
Words of affirmation
PleaseNotes founder Cheryl Sutherland knows the power of affirmations. "I had been working for other people for so long, I forgot what made me happy and how capable and deserving I was," she says. That's when she started journaling, meditating, and practicing affirmations as part of her personal growth practice.
Practicing affirmations worked so well for Sutherland, she knew it could help others, too. "I decided I wanted to surround myself with affirmations, and my first product, the PleaseNotes Sticky Note, was born," she says. After that, she began adding similar goods, including the guided gratitude journals, clarity journals, affirmation cards, and more.
The mission of PleaseNotes, which works out of WeWork Gas Company Tower in Los Angeles and WeWork 240 Richmond St W in Toronto, is to help people achieve the things they want and to make that easy.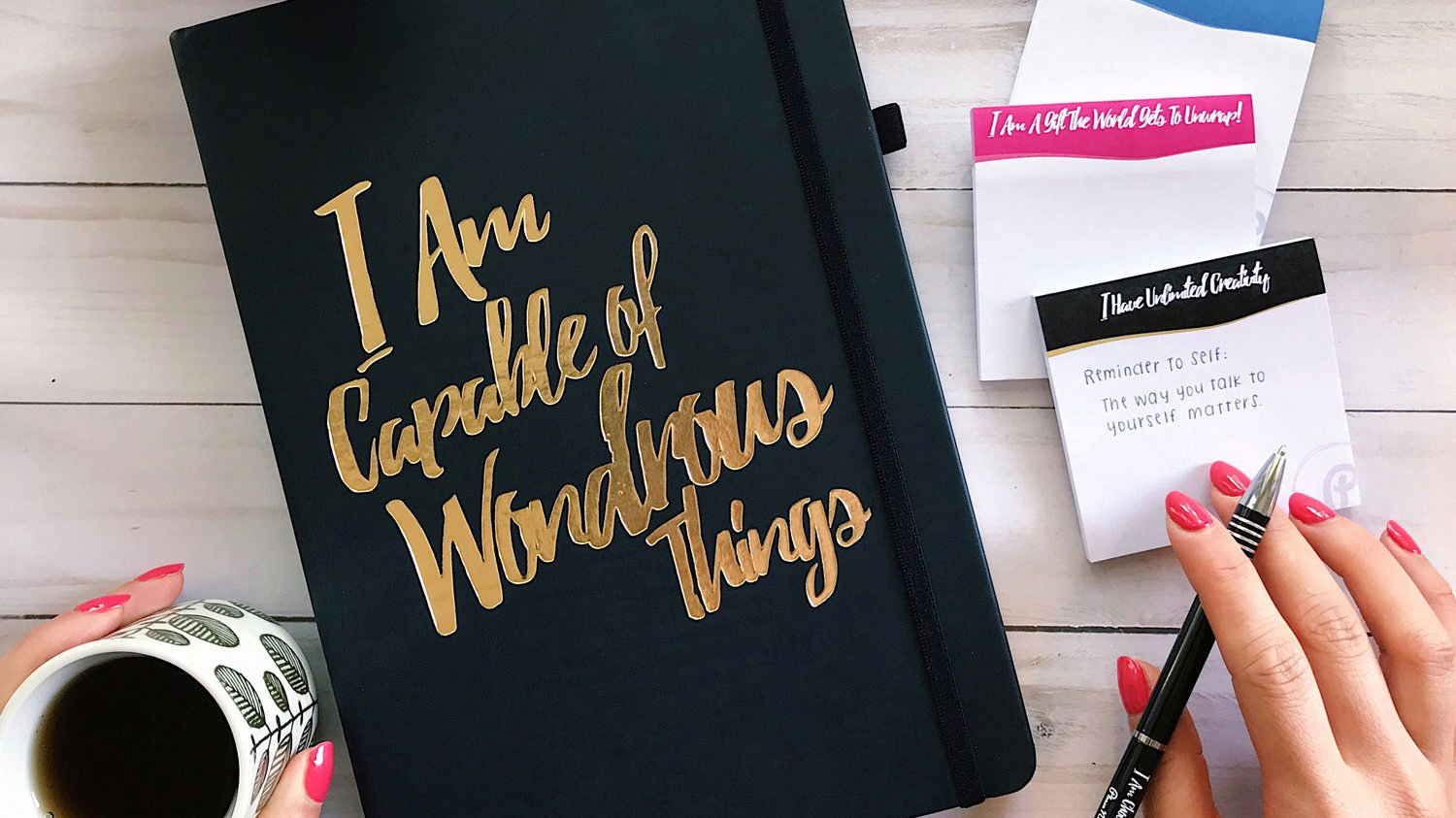 In 2021, the company launched an Inclusion Notebook to help people change their perception around equality and privilege in order to create lasting allyship. Sutherland also launched and completed a successful Kickstarter campaign to bring out a new guided Manifestation Planner. In addition, Sutherland has booked many speaking engagements and workshops to spread positivity, along with her physical products.
The goal for next year, she says, is to get into a retail chain like Barnes and Noble, Indigo/Chapters, Paper Mart, or TJX Group.
Use promo code WEWORK at pleasenotes.com for 15 percent off.
Accessible exotic snacks
Jungle Fruits was created with two goals in mind, says founder Sam Fajemilua. The first: "The dried fruit market has been very traditional and a bit boring with the same old snacks, so we are bringing loads of exotic flavors to a sleeping market," he says. To that end, the dried fruit snack brand sells a range of exotic fruits like lychees, dragon fruit, passion fruit, and more.
Goal #2: to spread the love of these natural snacks. "Our mission is to inspire healthier communities by making superfruits more affordable, accessible, and convenient for everyone," he says. "We dry these fruits and leave them be exactly as nature intended—with no added sugar or preservatives, just 100% fruit."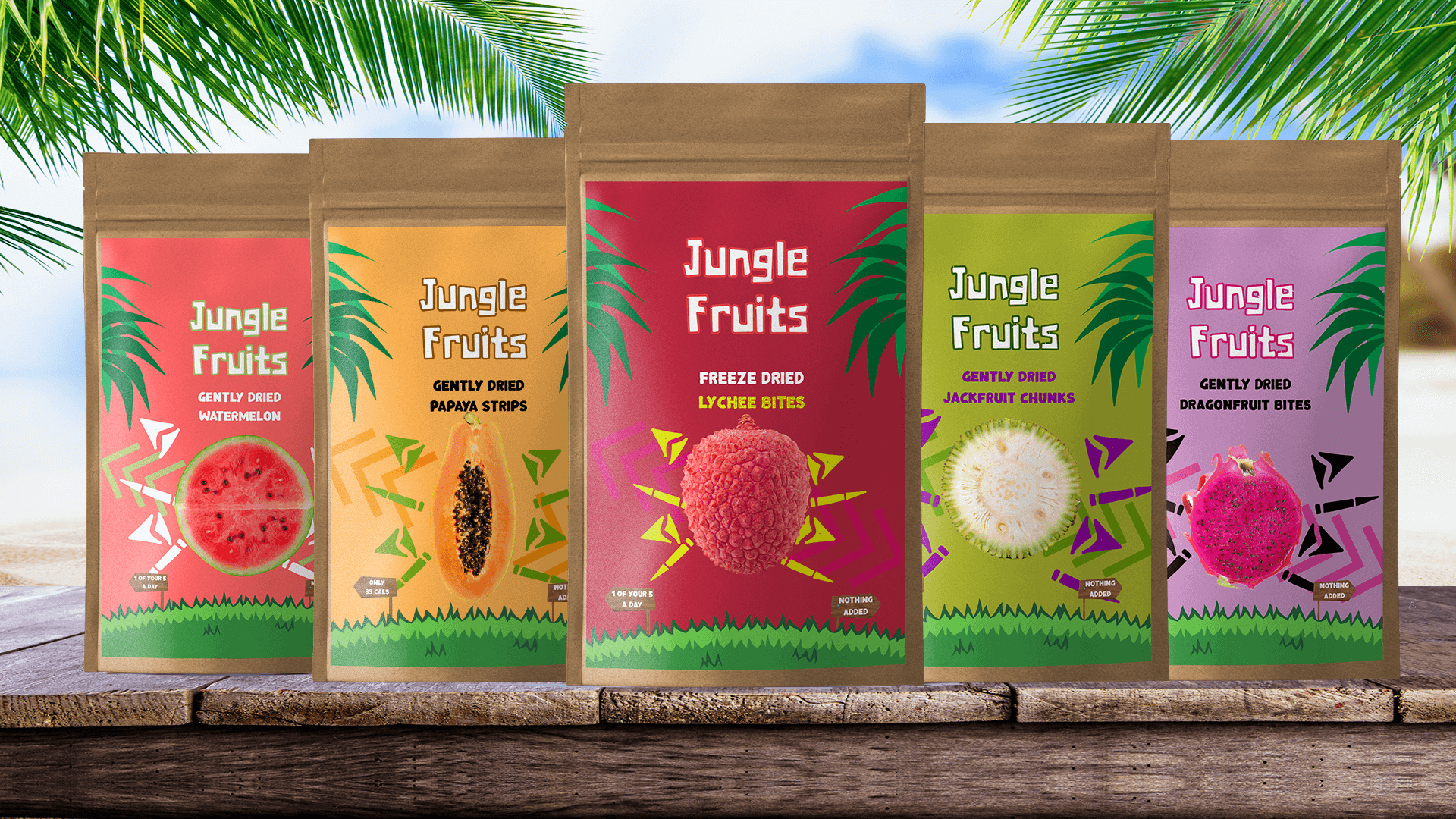 Fajemilua and his co-founder grew up in "the concrete jungles of South London"—and today they run their business out of WeWork Aldwych House. He says the two of them have always loved the flavor and nutrient profiles of exotic fruits—but they're not always convenient snacks.
"With our busy lives, trying to crack a coconut on the train can be a bit awkward," he jokes. "So we set about finding a way to get our exotic fruit, capturing all its goodness, in a handy pack we can take anywhere and—voilà!—Jungle Fruits was created."
The company ships their products within the UK and to the US, Canada, and some European countries. But for the founders, being available locally has been a special milestone. "Since we launched, we've been stocked in a few local shops in South London, and it has been really cool to see our products in store," Fajemilua says.
We're a small business, but that doesn't mean that we can't think about our impact on the world.

Sam Fajemilua, founder of Jungle Fruits
"Jungle Fruits are more than just good for you—they're doing good for the planet. We have always had our minds set on saving our rainforests," Fajemilua says. The company donates 1% of profits with every pack it sells. "We're a small business, but that doesn't mean that we can't think about our impact on the world," he says.
In 2020, the team is focused on broadening not only their reach but also their product line. "Whether by discovering new superfruits or looking at different drying methods, we will be trying to find the most healthy and sustainable options for our customers," Fajemilua says. "Get ready for the year two thousand and Jungle!"
Use code WEWORK21 at junglefruits.co.uk to get 15 percent off all products excluding taster boxes.
Luxury scents with good buzz
VUND is a sustainable company dedicated to making an impact on bee conservation and reforestation. Their products—luxurious candles, flame-free wax melts, and fragrance diffusers—are all ethically sourced and sustainably made with recyclable, renewable, and bio-compostable materials.
The company was founded on Dr. Vandana Arcot's personal mission: to help bee farmers build and grow their farms by matching them with chefs, organic farmers, sustainable businesses, and individual consumers. In fact, 10 percent of every purchase is pledged to support, educate, and encourage bee conservation.
"The ethos continues into the products," says Dr. Arcot, who runs VUND out of Brooklyn's WeWork Dumbo Heights location. "It gives our consumers a beautiful experience when they light their artisan beeswax candle." Luxury essential oils from Grasse, France, are mixed with earthy beeswax to make one-of-a-kind fragrance profiles.
In summer of 2021, VUND continued its program, Brooklyn Bee Corps, funded by the Robert F. Schumann Foundation and City Councilmember Stephen Levin. Through Brooklyn Bee Corps, local teenagers are trained to bee-keep and maintain native plant habitats for pollinators. Participants are paid minimum wage, giving an opportunity to young people who might not otherwise explore environmental careers. It's just one more move Dr. Arcot and VUND are making to protect bees.
Use promo code "shinebright" for 25 percent off orders more than $250, and promo code "giveright" for a free gift with your order at vund.shop.
Curated finds from Black-owned businesses
Founders Erika Ulmer and Taylor McCarty started Breedlove Market with one mission: to provide a curated selection of exclusively Black-owned small businesses. "After the events of 2020, we founded Breedlove Market to eliminate the intensive research that shopping Black-owned requires," Ulmer says. "We wanted to create a space where customers could shop knowing that all their purchases were from small Black-owned businesses."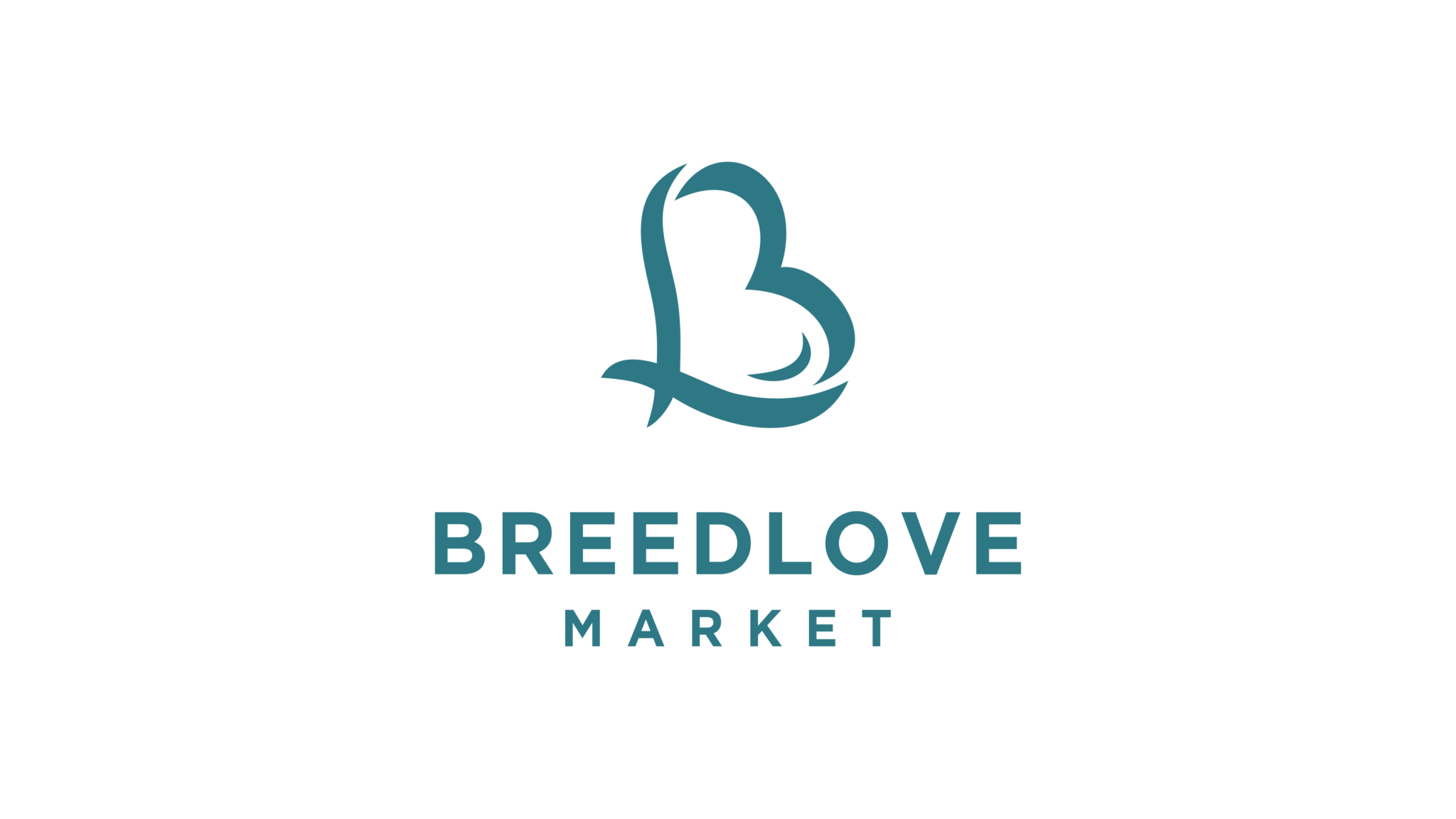 The duo, who run the company out of WeWork 1460 Mission St in San Francisco, have built a community of vendors, which helps customers discover wonderful items and also helps contribute to minority-owned businesses—and perhaps helps reduce the racial wealth divide. In fact, the company is named after Sarah Breedlove, better known as Madam CJ Walker, who is credited as being the first Black woman millionaire in the United States.
Use promo code WEWORK20 at breedlovemarket.com to receive 20 percent off.
Upcycled cookie and baking mixes
Renewal Mill—which upcycles by-products from food manufacturing into premium ingredients and products such as baking mixes—was born out of an overwhelming need, says founder Caroline Cotto. "My co-founder, Claire Schlemme, founded Boston's first organic juice company and was appalled at the amount of fresh fruit and vegetable pulp going to waste at the end of every day," Cotto says. "When we met the owner of one of the largest tofu companies in the country and found out that he, too, was having a similar pulp waste problem at his facility, we knew there had to be a better way to keep all of this valuable nutrition in the supply chain."
The duo founded Renewal Mill to fight climate change and global food loss. "We turn the millions of pounds of wasted sidestreams in the food industry into nutritious functional ingredients and delicious products like cookies and baking mixes," Cotto says.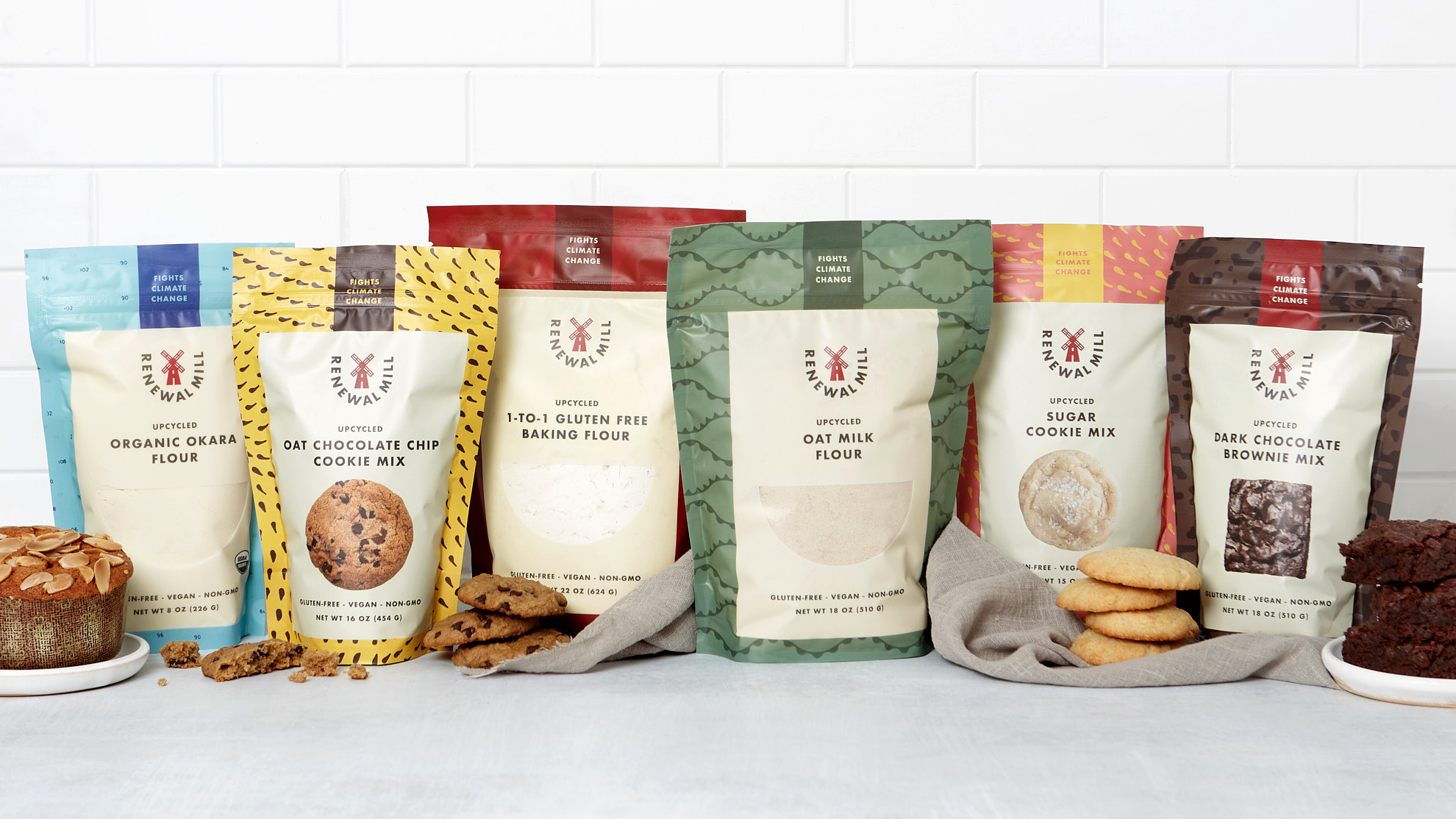 This year, Renewal Mill expanded its reach to over 500 doors for its CPG products and launched six new CPG SKUs, including three in partnership with other brands, says Cotto. She has found that WeWork On Demand is one of her best business tools; it enables her to work out of locations including San Diego, Santa Monica, Denver, Brooklyn, and Boston.
The company was named one of 10 included in the Kroger Innovation Fund, which invested $2.5 million in upcycled food companies this year, and was one of the first brands to achieve the new Upcycled Certification. But Renewal Mill isn't satisfied to rest on those successes—it's always on the lookout for new ingredients to bring into the company's upcycled ingredient portfolio, saving food from being wasted and bringing good food to everyone.
Use promo code WEWORKRM at renewalmill.com for 15 percent off your purchase (one per customer).
Tech that doesn't become landfill
Transparent is striving to become the first circular tech brand by making timeless, modular electronics that are forever upgradable. This planet-saving idea cuts against the current trend in tech that items become obsolete within months or years, ending up largely in landfills.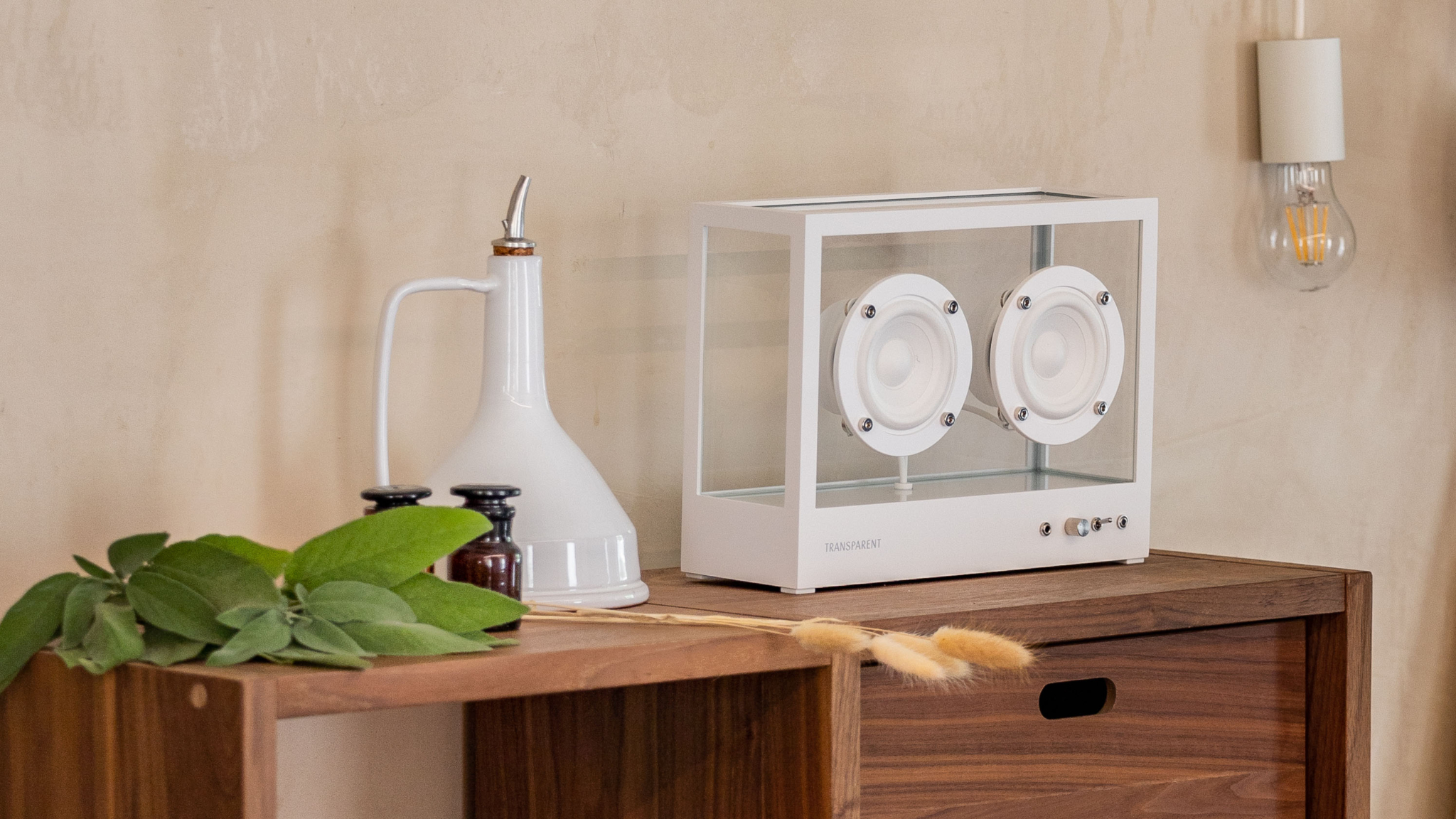 "We believe products should get better with age and that companies are responsible for removing electronic waste from the world," says content and social media lead Leah Pamela Eid, who works out of WeWork Urban Escape in Stockholm. "We wanted to create timeless electronics that could last a lifetime in your home."
The company sells wireless turntables and speakers of all types, including sculptural speakers and ones that serve as a portable lantern. Transparent doubled in size in 2021 despite very challenging circumstances, not only in terms of supply but also logistics and sales, Eid says. "It's a great testament to what a great team Transparent is," she adds.
Next year, the company plans to expand its circular services as well as launch new materials and forms.
Use promo code "WeWork10" at transpa.rent for 10 percent off.
Rethinking your workspace?