Every WeWork space is intentionally designed to promote inspiration and collaboration. Designed to Inspire delves into the architectural and artistic elements of these spectacular buildings.
Boston is a city of firsts. The City on a Hill has been a hub of innovation for nearly 400 years, giving birth to the nation's first public parks, schools and even mass-transportation system. And nowhere is the city's innovative spirit more palpable than in its vibrant downtown, where centuries of American history serve as the bedrock upon which great American landmarks – from the brutalist concrete Boston City Hall to the iconic Fenway Park stadium – have been built.
It's right here in the very nerve centre of downtown Boston, in the heart of the city's financial district, that WeWork has a location at 33 Arch Street. A bright and beautiful space filled with colourful lounges, sleek private offices, and light-filled meeting rooms designed for collaboration, WeWork 33 Arch Street is an urban oasis that draws inspiration from the dynamic city beyond its walls while also offering respite and quiet focus for those within.
In Boston, all roads lead to Arch Street: the 33-story granite and glass tower, with its distinctive wing-shaped design, sits just steps from dozens of train, bus and light rail lines, as well as minutes from I-93 and Rowes Wharf.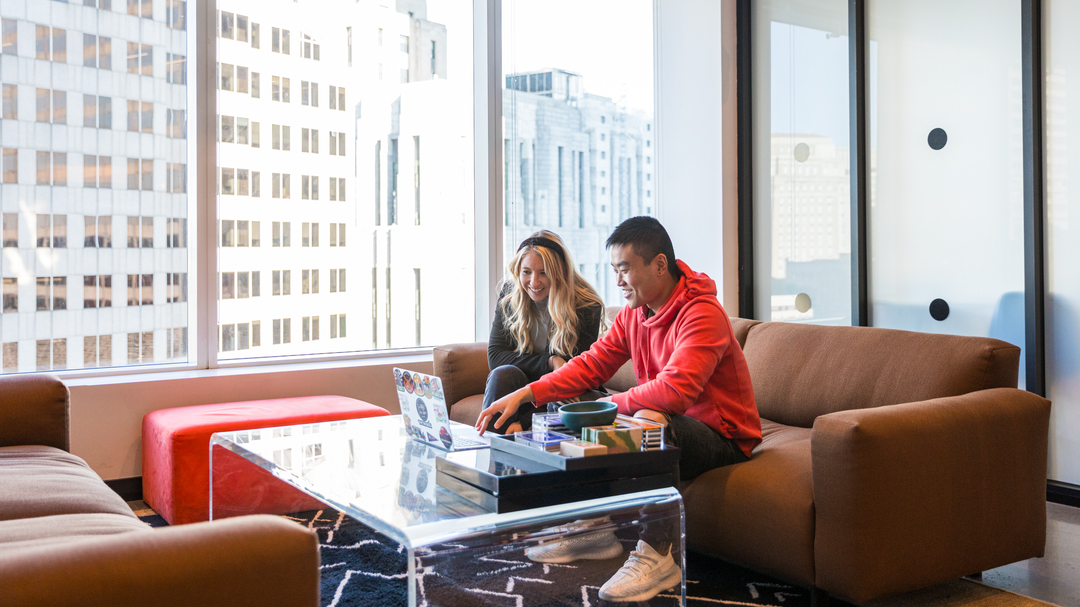 'What I love about 33 Arch Street is the location', says Julia Rigo, the building's community manager. 'It's in the heart of downtown Boston, with easy access to great shops, restaurants, parks and cafés. Tatte Bakery is my favourite spot in the area.'
WeWork's footprint sits in the centre of the tower, filling approximately 16,500 square metres across the 15th to 19th floors. The result is a workspace as boundless in opportunities as the metropolis in which it is located: full-floor offices, private workspaces and dedicated desks alike all come with stunning city views, wellness rooms and private conference rooms. It creates an ideal site in which to hunker down and get productive, and then exit to the playground of city life when it's time for a break.
A neighbourhood rich in culture
New England's banking and finance sectors were born in Boston's financial district, an area with a rich pecuniary history that dates back to the very beginning of American enterprise. The streets of the financial district may have brought fortune to those who walked them, but they were never actually paved in gold. Today, however, they are filled with another treasure: the best culinary and cultural offerings Boston has to offer, all clustered together.
What I love about 33 Arch Street is the location. It's in the heart of downtown Boston, with easy access to great shops, restaurants, parks and cafés.

Julia Rigo, community manager
Visitors to the district will find themselves all but stumbling over landmarks such as the legendary Orpheum Theater, one of the oldest performance spaces in the US; the vintage, French-inspired culinary gem Marliave; and the striking Art Deco tower of the John W. McCormack Post Office and Courthouse, a steadfast model of sustainability and endurance. Inside WeWork 33 Arch Street, the design pays homage to this urban bounty: lowbrow materials mix with highbrow, cutting-edge design, creating an interplay of colours, cultures and concepts that acts as a microcosm of the city itself.
An emphasis on sustainability
33 Arch Street was completed in 2004 and was registered with the US Green Building Council, a non-profit committed to developing healthier and more resilient communities by transforming the way we build. It was awarded LEED GOLD certification, thanks to its high energy and resource efficiencies. The building is also the beneficiary of the prestigious BOMA 360 Performance designation for mastering industry best practices across six distinct areas of building management and operations.
But while the structure is gentle on the environment, it's also wired for the future. Connectivity is the name of the game for all tenants of the building, and the skyscraper's fast WiFi has earned a Wired Certified Platinum Property designation for its best-in-class Internet infrastructure and superior Internet connectivity.
A place for everyone
WeWork 33 Arch Street was designed with inclusivity in mind. Wood and concrete floors create a clean canvas, and blue and red upholstered banquettes with integrated planters bring pops of bright primary colour. Public areas are vibrant and welcoming, and quieter focus areas are more softly illuminated. Custom artwork, hand-sourced from local artists and graphic designers, offer playful touches on an otherwise sleek, geometric-focused palette.
The most striking artwork of all, however, sits just outside the sweeping full-length windows along every floor: an unbeatable view of the beautiful Boston skyline. 'Members especially love the view from conference room 17A (on the 17th floor),' says Rigo. 'And the community bar on the 17th floor also has amazing views.'
Pantries are lined with warm, rust-coloured tile and finished with white oak and black-and-white terrazzo, and the bright red wireframe trellis of the community desk, as well as its mint base and grey solid surface, creates a visual break that encourages a physical and mental one as well.
Even though the property is spread across five floors, connection is key and is expressed through an interconnecting staircase with a catwalk of glass and oak, as well as glass blocks and rattan screens at every nook. This helps carve out private space for focus while never fully cloistering its occupants away. As with every WeWork, community is the heart of the workspace, in much the same way that WeWork 33 Arch Street has become the heart of its neighbourhood.
Debra Kamin is a writer in California. Her work has appeared in The New York Times, The Wall Street Journal, Newsweek, CNN and more.
Rethinking your workspace?