A lot has happened since WeWork opened its first location in lower Manhattan over a decade ago. It was then a small coworking company. But the company's explosive growth, concomitant struggles, and subsequent leadership transitions have led it to emerge as a leader in the world of flexible space.
One thing has stayed the same. WeWork has always been a company that provides the space and support for businesses to thrive. As WeWork gears up to go public, it's clear the company would not be where it is now without the tens of thousands of businesses that are housed in the buildings.
Many of these businesses started out as a seed of an idea, something somebody dreamed up at school or in an elevator. People come into WeWork buildings looking for desks to work at, but they get so much more: access to a suite of support services, networking events, community managers, and the camaraderie of like-minded entrepreneurs and employees. Over time, this administrative, social, and professional support allows them to hire more employees, expand into new markets, and earn even more revenue.
At this celebratory moment for WeWork, we're highlighting the people and businesses who've grown in these spaces and made us what we are: our members. Here are five of their stories.
A digital library weaves a physical one into its identity
In the past two years, Perlego has evolved from a 30-person startup to a 90-person "scale up," says Kim Lomba, design director at Perlego. When it was established in 2017, the company, a subscription service for academic and professional ebooks, operated out of a "tiny" office at WeWork 2 Eastbourne Terrace. In 2018, Perlego expanded into a larger office in WeWork 1 Waterhouse Square.
Lomba calls it a "perfect space for us to flourish," because it can easily house an ever-growing number of employees. Being in a WeWork space is also a huge draw for prospective candidates and has become a part of the business's identity.
"The space is truly unique, it looks like a beautiful, old university library with high ceilings and lots of open space," says Lomba. "People often think it's a fake Zoom background."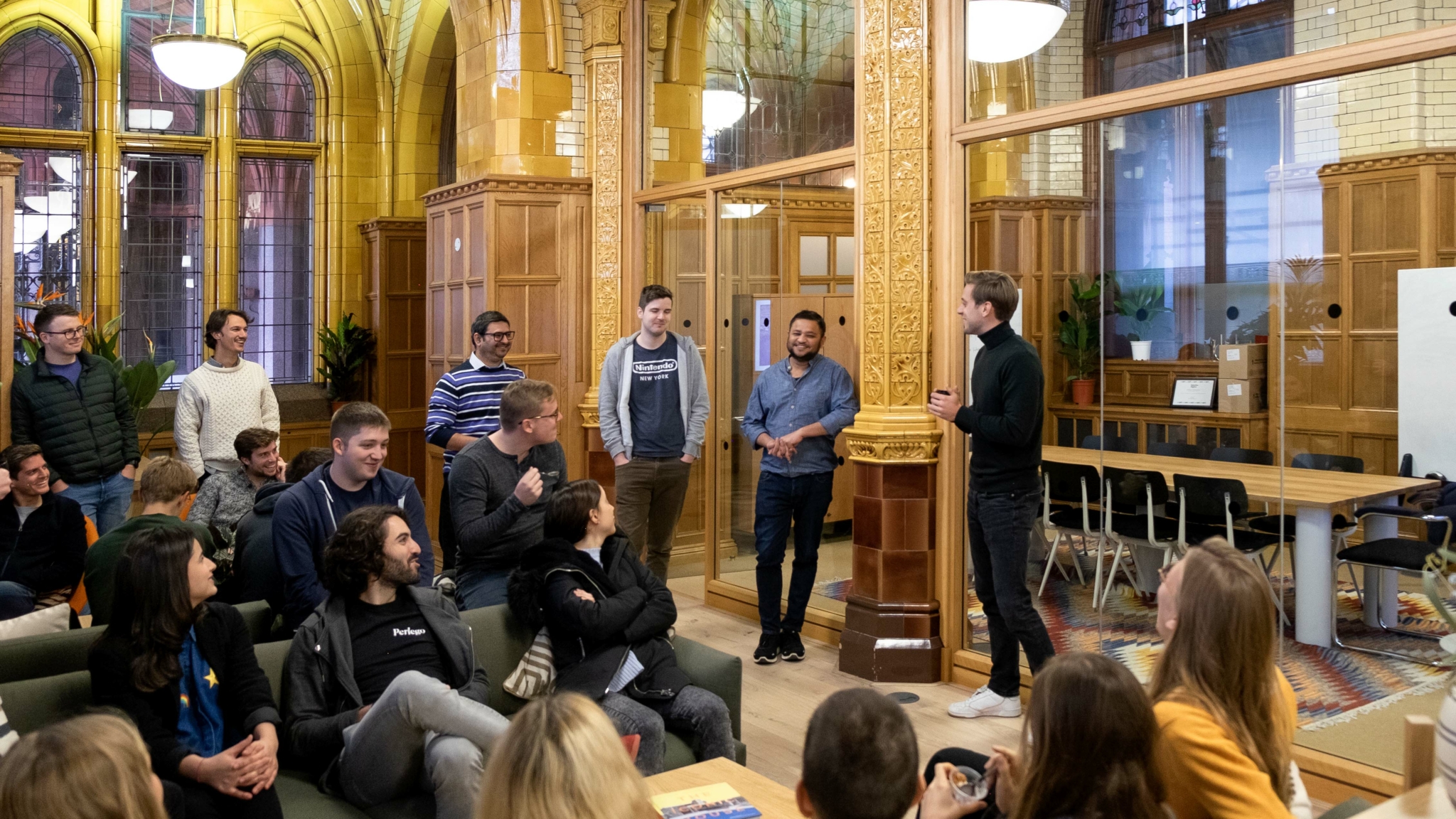 Perlego's mission is to make it less onerous for students to access textbooks, which are often prohibitively expensive. The business partners with publishers directly, and removes the costs of printing and physically distributing the books.
The company is currently expanding its international collection to include more titles in Spanish, German, Italian, and French. It recently achieved the mark of having 700,000 titles on the platform with over 3,000 publishers in its online library.
Employees now come into the office for collaborative sessions and team occasions rather than on a day-to-day basis. Because of this shift, the company has worked with the WeWork team to create just the right type of breakout spaces to accommodate this type of working.
Gaming the digital entertainment space
In early 2020, esports discovery platform eFuse was a few months old and had just eight employees. Like other digital entertainment companies, eFuse suddenly gained an influx of users during the pandemic when many people found themselves cooped up at home.
What followed was a period of rapid expansion. In the past year and a half, the company has hired dozens, including a new chief revenue officer and director of partnerships. With over 50 employees now, the company, which has become known as a "LinkedIn for gamers," secured $6 million in extended seed funding earlier this year.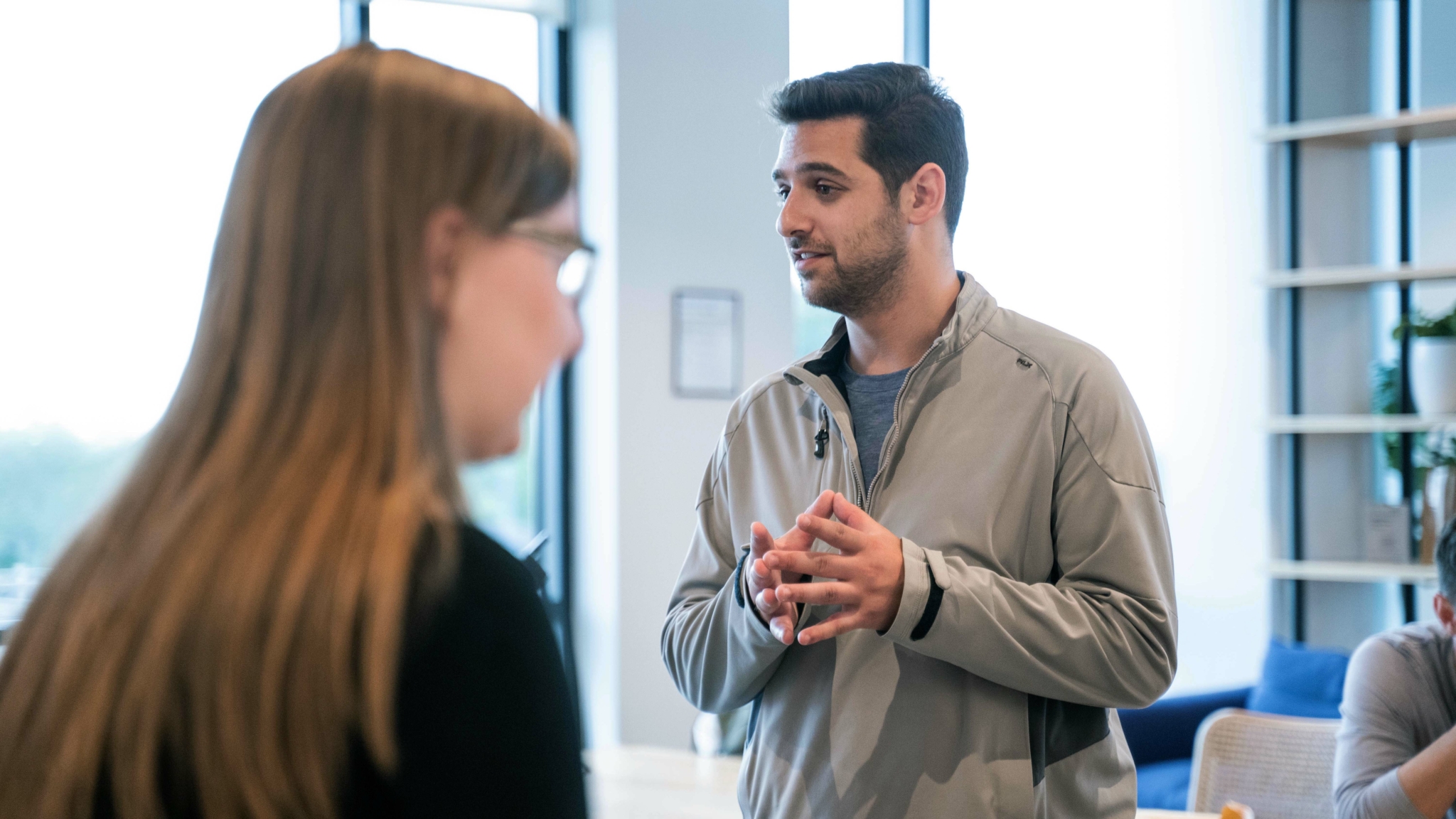 As a result, eFuse moved from a small office at WeWork 800 N High Street in Columbus, Ohio, into a bigger one in the same building. Currently the team has more than 20 people coming into the office on a regular basis.
Being at WeWork has given the company the flexibility to take whatever office space it needs quickly during an uncertain time. "The dynamic spaces have allowed us to adjust to new formats and bigger spaces as our team scaled, ensuring productivity and team building never missed a beat," says founder and CEO Matthew Benson. Plus, working in the space has also allowed executives and employees to meet many other companies in the process.
"The camaraderie we've built with other organizations has been insightful and comforting as we grow together," he says.
A drive to serve others
Boss Transport and Family Services provides non-emergency rides to medical appointments and has operated in the Washington, D.C., area since 2006. In the past year, it expanded from a two-person office in WeWork 901 North Glebe Rd to a six-person one, and also opened an outpost in Los Angeles, where it has an office at WeWork The Tower.
"Being a part of the WeWork family has allowed us to begin our transition to California very easily," says George Odoi, who currently heads the business his mother founded. Boss Transport is also expanding its services, and is discussing a partnership with one of its insurance providers.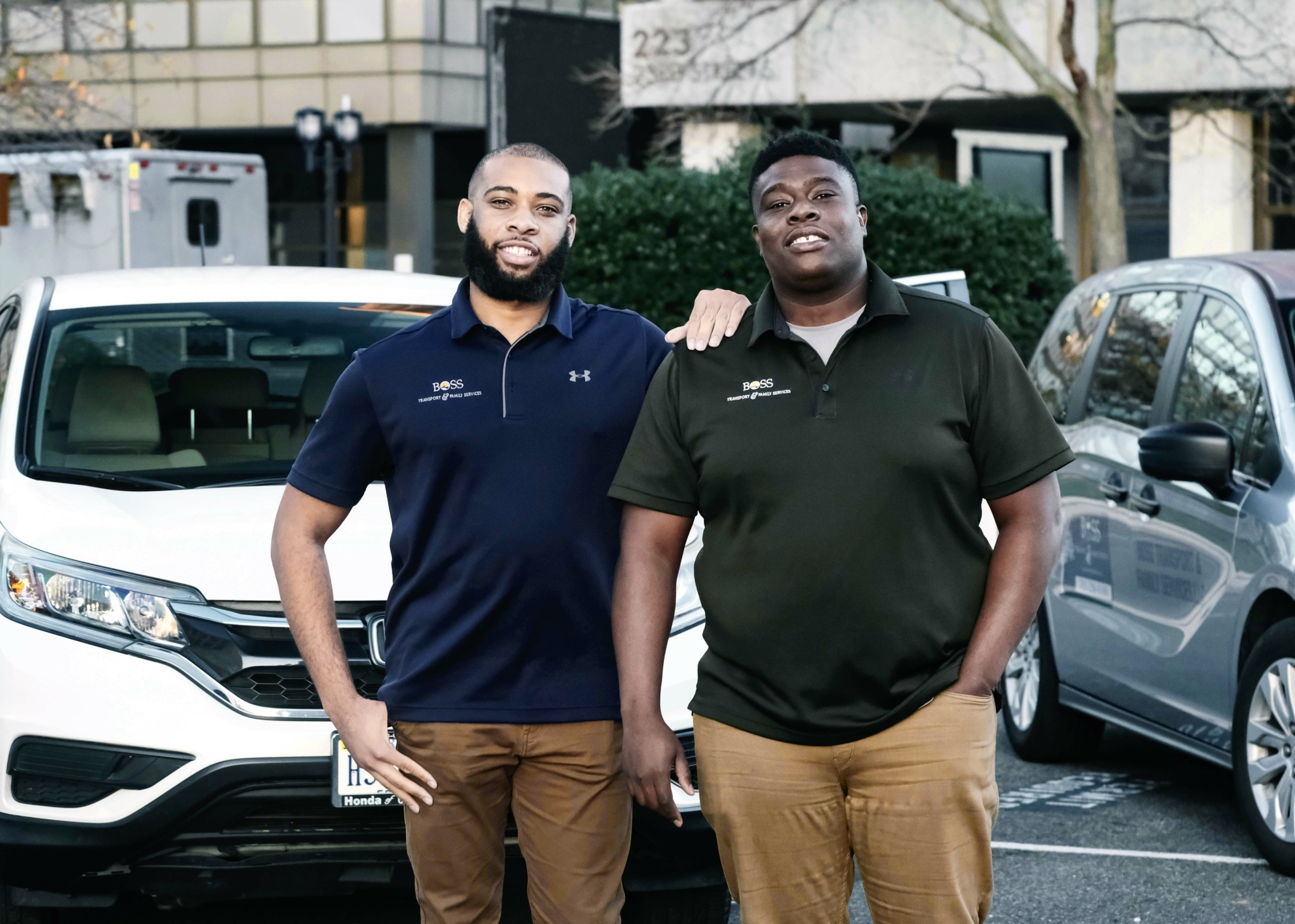 Being based at WeWork also helped the company maintain operations during the pandemic—and was a large reason they didn't need to lay anyone off during that difficult time. With the WeWork buildings open, says Odoi, he and colleagues were able to "meet with our staff and partners…[and] maintain structure." Plus, he says, "it allowed us to have many networking opportunities and increase our productivity."
A hallmark of Boss Transport is the pride and care with which it treats its clients. For many years, the company assisted a visually impaired client in going to and from class. She recently graduated college to become a teacher. "This makes us so happy," says Odoi. "We're proud to see how we have contributed to people reaching their goals."
A recruiting software flourishes with the rise of remote work
Beamery was founded in 2013 to change the way enterprise companies attract and retain talent. It moved into a WeWork space in London a year later with just a few employees.
Since then, the recruiting software provider has flourished as the rise in remote work altered the recruiting landscape. Beamery now has more than 200 employees spread across offices in WeWork Shoreditch Exchange in London, WeWork Warschauer Platz 11-13 in Berlin, and WeWork 801 Barton Springs Rd in Austin, TX. During the pandemic, teams have been using more WeWork locations as they choose for themselves how best to work.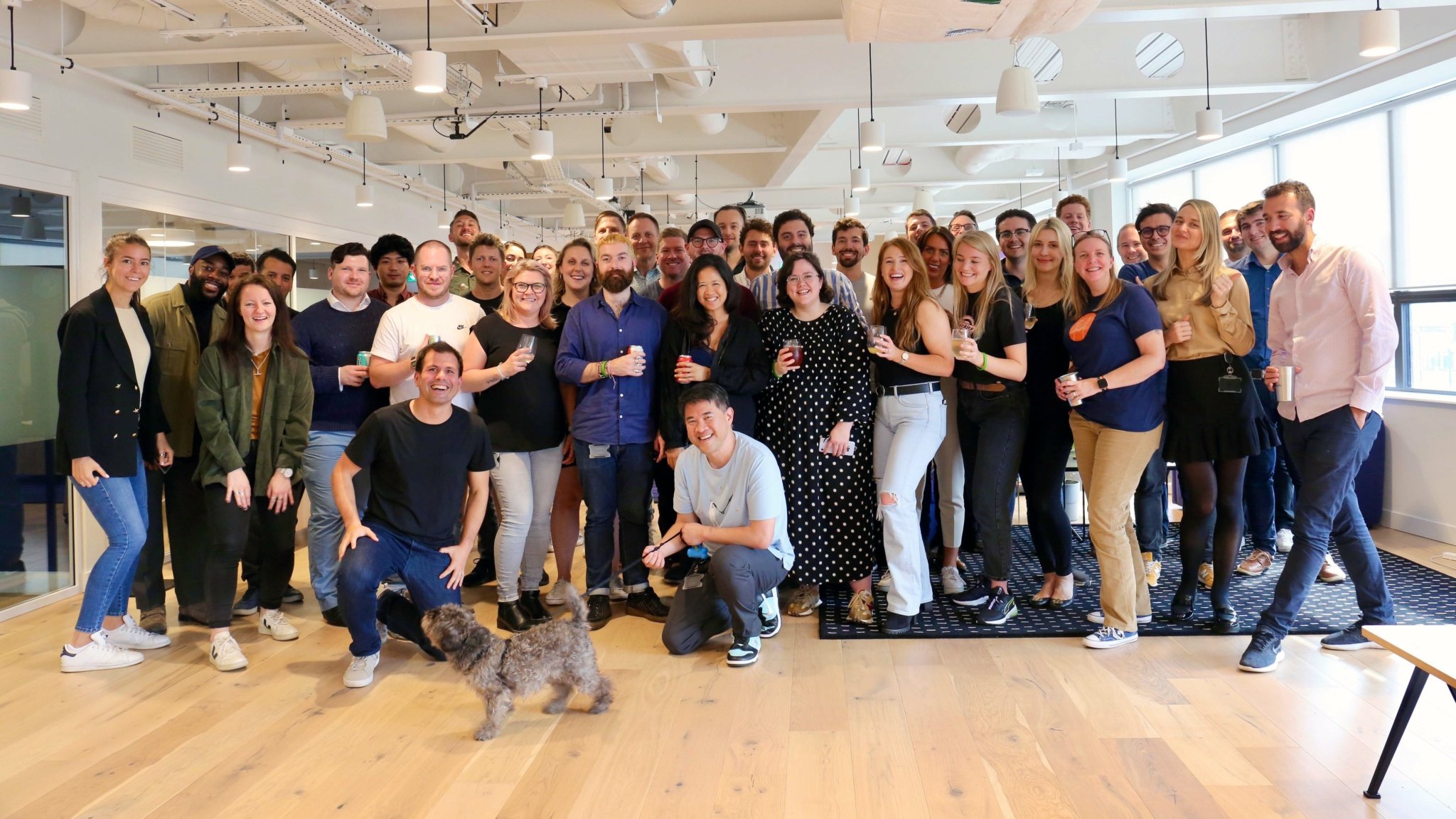 "Having access to work spaces in all locations across the world is a huge benefit to the business," says Tope Medupin, director of operations at Beamery. "It also means we can work closer to where our customers and partners are, further increasing opportunities to collaborate in person without always being restricted to a specific location."
The company had its most successful fiscal year to date, with revenue rising by 337 percent this past fourth quarter on-year. It recently raised $138 million in its Series C funding round, and has plans to double headcount in the next 12 months.
An energizing and entrepreneurial spirit
GrantMe is a digital platform that offers students scholarship guidance when applying to university. Since it launched in Canada in 2018, both revenue and headcount have tripled every year, says founder Madison Guy.
WeWork is such a dynamic and exciting environment for our team to be in. The entrepreneurial spirit is palpable and energizing.

Madison Guy, GrantMe Founder
The continuous growth led the company earlier this year to upgrade the number of desks it has at WeWork 2015 Main St in Vancouver. GrantMe now occupies two private offices and gives some employees WeWork All Access passes that allow them to work from the WeWork location of their choice.
"WeWork is such a dynamic and exciting environment for our team to be in," says Guy. "The entrepreneurial spirit is palpable and energizing. The company has built many relationships with other startups in the space and friendship with other members."
In short, says Guy, "WeWork has been a great space for us to grow into as our company grows."
Anjie Zheng is the managing editor of Ideas by WeWork. Previously, she was a reporter for The Wall Street Journal. Her work has also appeared in Fast Company, Quartz, and LitHub.
Rethinking your workspace?