Since 2011, Forbes has been highlighting 30 honorees under the age of 30 for extraordinary achievements in their field, across 20 categories. This year, seven WeWork members have been acknowledged for the ways their businesses advance industries including retail and e-commerce, education, social impact, games, food and drink, and media and marketing.
Now in its tenth year, the Forbes 30 Under 30 list is reflective of the way the world has changed in the past decade, and WeWork-member honorees embody and accelerate the disruptive changes across industries that we hope to see in the new decade. Here are their stories.
Madison Guy, GrantMe
During her university years at UBC Sauder School of Business in Vancouver, Madison Guy was the captain of the women's soccer team, which had awarded her a tuition scholarship. Yet the scholarship didn't cover housing, textbooks, and other expenses. So Guy researched, applied for, and received an extra $50,000 in scholarships and grants herself.
For Guy, it was an important lesson: Funding is available, you just have to know where to look. Knowing that the average Canadian student graduates with around $26,000 in debt, Guy decided to make finding funding easier for college students than it had been for her.
She created the platform GrantMe, which helps students find grants and scholarships. Launched in 2018, GrantMe has so far matched Canada-based students with a total of $3 million in grants. Today, GrantMe has more than 25 employees across two offices, and Guy, who mainly works from WeWork 2015 Main St in Vancouver, is looking to expand to the U.S. market within the next 18 months.
Vanessa Pham, Omsom
Meal kits have been the defining food trend of 2020 (and will continue well into 2021, The New York Times reports). The kits have evolved from no-frills enterprises into full-on gourmet offerings. But Vietnamese-American entrepreneur Vanessa Pham, a former adviser at Bain & Company, noticed that Asian pantry staples were an untapped niche.
Working with her sister Kim out of the WeWork 511 W 25th Street in New York, Pham launched Omsom. The chef-driven company tapped chefs including Nicole Ponseca (from NYC Filipino establishment Jeepney), Jimmy Ly (from Vietnamese restaurant Madame Vo), and Chat + Ohm Suansilphong (from New York City Thai restaurant Fish Cheeks) to develop starter sauces made with hard-to-get ingredients essential in dishes like Thai larb, Vietnamese lemongrass barbecue sauce, Filipino sisig, and Korean bulgogi, so that home-bound amateur cooks can prepare and enjoy these meals at home.
Matthew Davis and Gauthier Van Malderen, Perlego
Matthew Davis and Gauthier Van Malderen believe that education is a human right—it's the main tenet of their mission. But the pair noticed that—aside from the typically staggering tuition fees at universities—expensive textbooks are another hurdle that prices many deserving students out of the higher education system. Unorthodox download methods of textbooks abound, but they're largely unreliable.
So the two launched Perlego, which they operate out of WeWork 1 Waterhouse Square in London. A sort of "Spotify for textbooks," it's a subscription-based online library that partners directly with publishers and gives students access to more than 2,800 publishers and 500,000 professional and academic titles for as low as €8/month (approximately $9.80/month). The company's benefits extend to the students, who save up to 90 percent on what they would normally pay, the publishers, who directly profit from this subscription model, and also the planet itself.
Matthew Benson, eFuse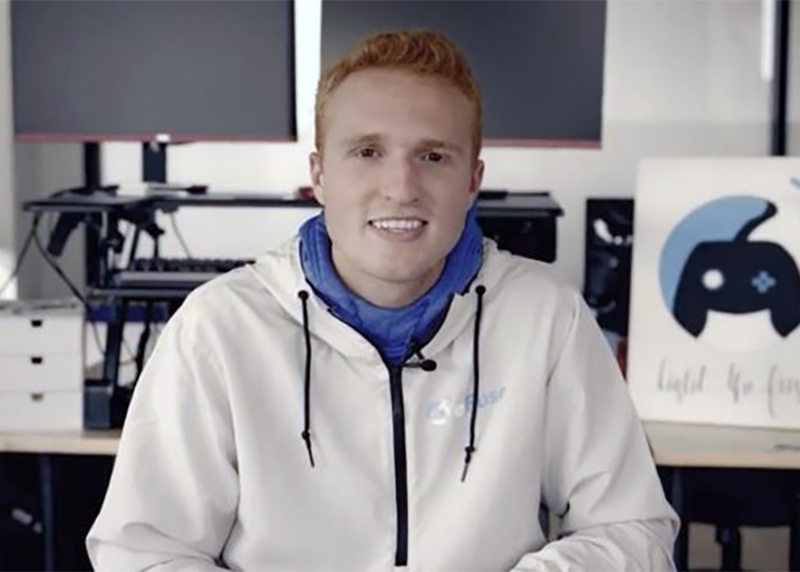 Esports are a huge business: The market was valued at $950 million in 2020 and is projected to grow to $1.5 billion by 2023. With so many players involved—literally and figuratively—Columbus, Ohio–based entrepreneur Matthew Benson, who works out of WeWork 800 N High Street in Columbus, wanted to bring them all together.
Benson founded eFuse as a "LinkedIn for esports," which connects gamers (from amateur to professionals) to industry-related (and adjacent) jobs, team openings, scholarships, and tournaments. Users are asked to fill out a portfolio, where, for each game they select, they provide their stats, videos of their own play-through (and, of course, highlights!), and links to their own streams.
Tess Michaels, Stride Funding
Student loans are an albatross for the majority of U.S. students. Tess Michaels—a Harvard Business School and University of Pennsylvania alumna who works from WeWork Preston Center in Dallas—aimed to reduce the debt burden of a college degree by founding Stride Funding, an income-share-agreement platform that mainly services students in STEM fields such as healthcare, engineering, computer science, and business.
With Stride Funding, borrowers pay a share of their post-graduation income over 5–10 years, rather than committing to pay back a loan with fixed payments (regardless of when they find a job, and how much money they make). A five-year plan, Stride Funding has a minimum income threshold ($40k/year). If a borrower makes below that threshold, they don't have to repay the loan until their income goes up. Payment starts three months after graduation, and there's a 2x payment cap, so that a borrower never pays back more than 2x the original funding amount. So far, 80 percent of Stride's borrowers are women, and 75 percent are underrepresented minorities.
Darius Baxter, GOODProjects
In the four years since the founding of GOODProjects, Darius Baxter and cofounder Troye Bullock managed to raise $6 million in grants and contracts to help at-risk youth in the Washington, D.C., area with mentorship, education, and career development. It's an incredible accomplishment for a simple idea that started on the football field.
"Because we ran a little faster than everyone else on the football field, that allowed us to go to an Ivy League–caliber school in Georgetown—where we met one another," Baxter told Forbes in 2019. "We decided that we needed to go back, to make it so that we weren't just the exceptions but examples of what could come from under-resourced families in America."
The trio kick-started GoodProjects with a summer football camp that—even when the founders had just $3,000 in donations—drew 200 kids. Today GOODProjects, which operates from WeWork Metropolitan Square in D.C., seeks to implement a range of social impact strategies focused on homelessness, juvenile justice, and gun violence.
Their impact is already clear. One of their mentees, Carza Posey, 13, has started their own clothing brand, Respect Brand, which seeks to help the community by "spreading positive vibes promoting positive self-image through fashion."
Saoud Khalifah, FakeSpot
Like many of us, Saoud Khalifah, who works out of WeWork 110 Wall Street in New York City, learned the hard way that the claims and promises made by hyper-enthusiastic product reviews are sometimes too good to be true. The realization hit him when he ordered a five-star-rated supplement that was eventually revealed to be nothing but wood dust. Getting scammed, however, inspired him to create FakeSpot, an AI-powered Chrome extension that scans product reviews to detect fraudulent claims and suggest better alternatives to the customer.
Help in this area is sorely needed. In a PCMag survey made around Prime Day 2020, it emerged that only 16 percent of potential buyers were "very confident" in determining whether a review was real or fake. Sure, with enough patience one can finesse their bullshit detector when it comes to bogus reviews, but given that life is already pretty complicated, why not let a noninvasive Chrome extension streamline the online shopping experience?
Rethinking your workspace?
Angelica Frey is a writer and translator who covers the arts, fashion, and food. Originally from Milan, she currently lives in Brooklyn.