Before the pandemic, Cimpress, the parent company of Vista, the design and marketing partner to small businesses, was a remote-averse company with a very office-centric culture. But during the global lockdown, our teams began to realize the many benefits of working remotely—and continued to deliver on our objectives.
On the strength of that successful remote experience, in August 2020 we began our transition to be a permanent remote-first company. That doesn't mean we're remote-only. Our culture is built upon shared moments, and there are some things that are still done best in person. That's why we evolved our real estate strategy to convert existing office space that was designed for an office-centric culture into remote-friendly collaboration centers across the world. As part of that strategy, we have an office fit for 250 team members at WeWork 501 Boylston Street in Boston, and provide some of our global team members elsewhere with WeWork All Access memberships. 
Prioritizing work-life harmony
The term work-life balance implies a constant juggling act. The concept of work-life harmony, on the other hand, allows work and life to coexist throughout the day. Everyone is empowered to define work-life harmony for themselves, as long as they're still getting their work done.
For example, someone might stick to a traditional workday schedule because that's when they're alone at home. Another team member may be a night owl who prefers to start working later in the day. Very commonly, team members will take some time midday to handle personal tasks.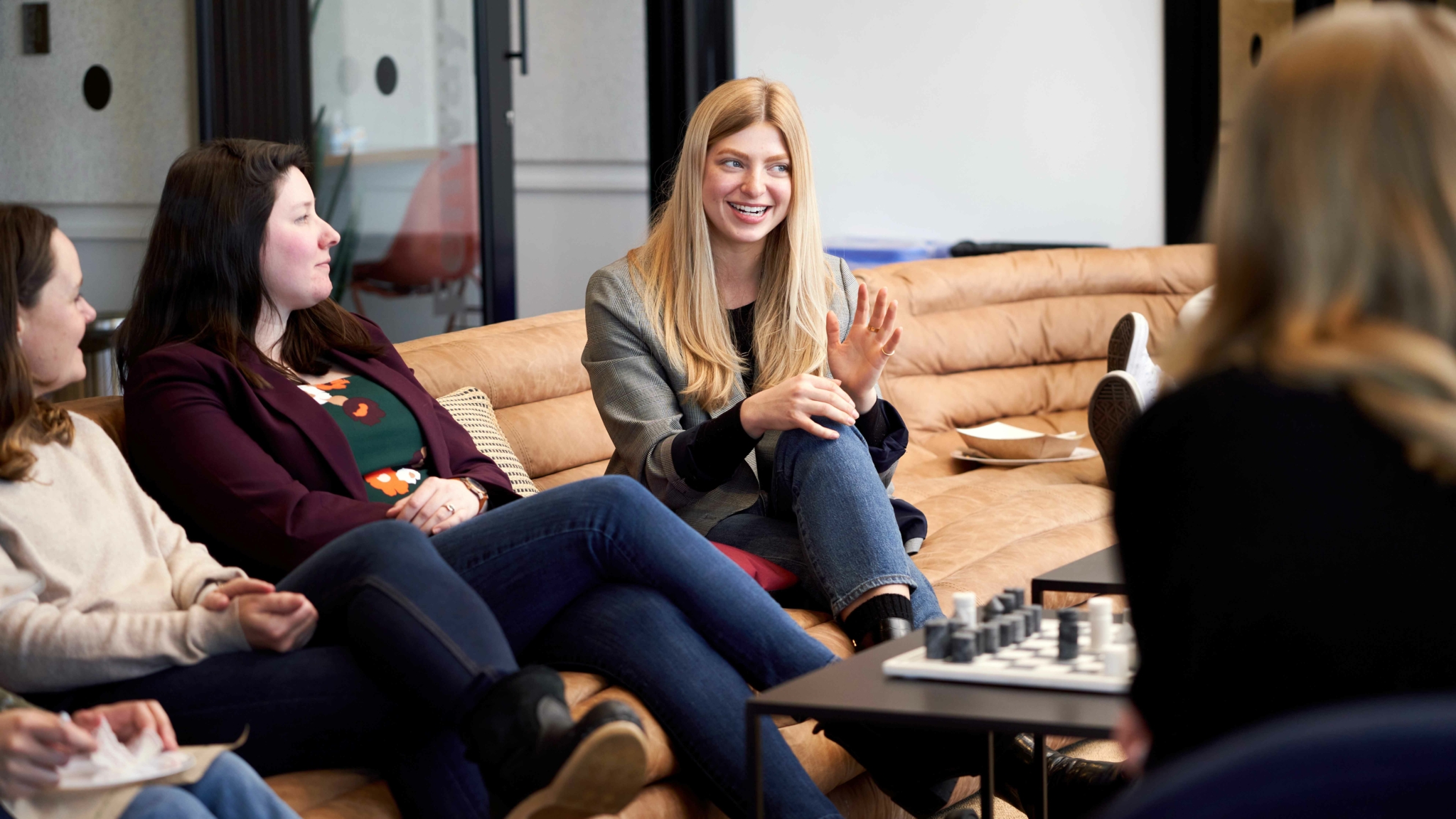 We're helping our team members to have a better relationship with work in many ways. It goes far beyond the basic upsides—like reduced commuting time—and includes thoughtfully developed policies, practices, tools, and resources our teams need to take full advantage of being remote. It's an entire mindset shift.
Tools and policies that make remote-first possible
Work-life harmony positively impacts how happy and productive team members are, but it's only achievable when there are tools, policies, and practices to support it. Here are a few examples of how we did it at Cimpress/Vista:
Launched in November 2020, our extensive handbook is the single source of truth for remote-first work. With the help of team members who add documentation, leave comments with ideas, and update information, it has evolved from a few brief pages to several hundred.
We default to asynchronous (async) collaboration whenever possible—moving projects forward without the need for two or more people to be online at the same time. This is enabled by technology like Slack, Box, and our virtual whiteboarding tool, Miro. Early in the pandemic, Zoom meetings dominated most of our days. Now we prioritize which meetings are truly necessary, what tasks can be done async, and how to improve meeting quality overall.
In 2021, we piloted a "Well-being Day" as well as "Recharge Fridays" in the summer months. In 2022, we instituted "Focus Fridays," giving team members meeting-free Friday afternoons for career development, deep thinking, and other work-related tasks that require focus.
We're providing well-being resources in a remote-friendly format. For our U.S. Cimpress/Vista team members (and for some of our European locations), we have partnered with the meditation app Headspace. Large events are a huge part of our culture, and once it's safe to do so, we'll resume bringing hundreds of team members together throughout the year for multiday conferences, in which we dedicate time to bonding activities, discussing strategy, and learning from one another.
We work with a remote ergonomic assessment provider, Rising Workplace, to provide quarterly webinars and one-on-one workspace consultations. We've also partnered with Peloton, offering U.S. team members free access to Peloton's online fitness content and preferred pricing on equipment.
We have seen the positive impacts of remote working in weekly engagement surveys that measure team members' commitment, advocacy, and overall satisfaction with the company. Our remote-first team member engagement score is 3.5 times higher now than it was in October 2020, which puts Cimpress/Vista in the top 25 percent of the most engaged tech companies, according to Workday's Peakon Employee Voice benchmark.
Remote-first but not remote-only
Part of supporting our team members' well-being is offering them options when it comes to spaces where they can do their best work. All remote-first team members are eligible for a monthly expense offset to cover some of the costs of remote working—including office furniture, supplies, and WiFi—to optimize their working experience.
Through our partnership with WeWork, we offer collaboration centers and coworking spaces in locations with a concentration of team members. These locations offer a quiet space for individual work, access to amenities, and flex-use areas for teams to socialize and focus on what needs to get done.
In Boston, we moved from our pre-pandemic space at WeWork One Lincoln Street to a 17,000 square foot space at WeWork 501 Boylston Street, which has plenty of collaboration and focus working spaces for up to 250 team members. In areas where we have a small but growing presence, like New York and Oakland, we have provided team members with a WeWork All Access membership. We also have dedicated office space in WeWork locations in India.
Company culture isn't dependent on a physical office—it comes from how we collaborate to achieve our shared goals. By empowering team members to work when and where they do their best work, and making work-life harmony a priority, any company can unlock the remote-first benefits we are enjoying at Cimpress/Vista. Productivity is possible anywhere when you have the right tools.
Maureen Carroll is senior director, global talent acquisition and diversity, equity, and inclusion at Cimpress/Vista. She oversees the talent acquisition team, which has seen positive, direct impacts as a result of the bold decision to go remote.
Rethinking your workspace?