Less than a year after arriving at WeWork, David Zhai's work changed drastically due to the COVID-19 pandemic. As a leader of the spatial strategies team at WeWork, David Zhai oversees the creation, implementation, and rollout of WeWork's design standards and space planning principles. The latest project for his team, collaboration hubs, was born as a result of changing workplace trends, including the shift to a more flexible and distributed workspace model.
"The future workforce will demand more flexibility, especially in where, when, and how they work. But companies and employees alike still really desire meeting in person for specific work activities that can't happen at home," he says.
The collaboration hub emerged from trends in the workplace, as well as a response to member requests. "We were hearing feedback from our enterprise members saying, 'I really want to come back to the workplace but don't know how. Do you guys have any offerings or solutions that can help?'" says Zhai. Through iterative feedback, Zhai's team is making continual improvements to the offering that it developed and rolled out.
What is a collaboration hub?
A collaboration hub is created by taking existing offices and converting them so they are less dense and can support diverse work environments. The point is to have more social and breakout meeting spaces, and make those spaces much more integrated to enhance teamwork and individual productivity. Collaboration hubs can also foster creative processes like brainstorming and design thinking.
At WeWork, a collaboration hub is created by "taking our vast fleet of locations and re-gearing them for collaboration through innovative, light-touch, and cost-effective design solutions," says Zhai. His team has developed a series of desk swap strategies where sections of desks can be replaced with new breakout or lounge settings. "This simple but effective strategy allows you to really open up the space and allow for more opportunities for collaboration," he says.
Of course, there are other considerations to making this work, including technology. Layering in connectivity and AV equipment is key to ensuring these new spaces are effective. On the procurement side, the goal is to reuse as much of the existing furniture as possible so a big capital expenditure isn't required to convert an office into a collaboration hub. "We really wanted this to be something that can be done quickly and cost-effectively," says Zhai.
How to bring a collaboration hub to life
To make the collaboration hub come to life, Zhai's team developed tools and guides to help illustrate the possibilities for enterprise teams. "Some of the tools that we created include a calculator and a discovery questionnaire," he says. "We really wanted to streamline decision-making [for business decision makers] and make these tools as easy to use as possible."
After clients or sales complete an input form to help define the ideal space, the result will be one of three office types:
An office that's geared more for focus work
An office equally balanced between social and focus
A very social heavy office
Once the program "flavor" is determined, the information is then given to the design team to put together a layout.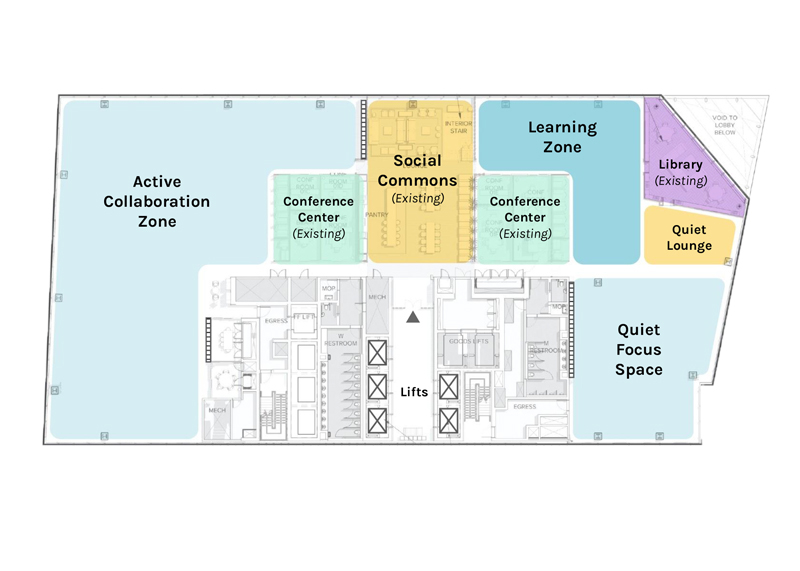 Zhai's team also created an internal tool that searches the company's existing fleet to identify offices and floors and locations that are suitable for converting into a collaboration hub based on a series of building criteria. Finally, the team developed a desk swap design strategy with instructions on how to easily convert any office into a collaboration hub, across any size.
Looking back at his education and career trajectory, Zhai's latest project is something he's been training for his whole career. Zhai studied architecture and completed a master's degree from Columbia University in 2012. After graduating, Zhai and two other friends received a grant to study the evolution of corporate offices. He also worked for top firms, including Grimshaw Architects and Bjarke Ingels Group, before starting his own interior architecture business and merging it with another company after five years.
The future of work is collaboration
Zhai says that being able to collaborate with different teams at WeWork has been the most fulfilling and rewarding part of working on collaboration hubs. "There is a lot of collaboration that happens at the company. But I feel that especially with this initiative, that success has really been driven by people across sales, marketing, enterprise services, and design," says Zhai.
He credits the successful rollout, piloting, and implementation to the excitement that everyone has brought to the initiative and their willingness to test something that had really never been done before. "Having the opportunity to work with all of these really talented people in a much closer capacity on this product development and rollout effort has been a truly unique and fulfilling experience," he says.
Zhai is confident that the collaboration hub is not only the right workplace solution for this time, but also that it will have staying power long after the COVID-19 vaccine reaches the masses. "From what we've been hearing, although companies are more open to the idea of remote work, there's still a very strong desire to have an office and a place that employees go to," he says. "This shift from a central headquarters model to a distributed network of offices—that is really about bringing work to the people—is something that's here to stay."
Rethinking your workspace?
Dawn Papandrea is a freelance writer who covers work, personal finance, and higher education. Her writing has appeared in numerous publications including US News & World Report, and on Monster.com. Follow her on Twitter.