Around the world, companies of all sizes find space to succeed at WeWork. Our case studies share their unique stories.
The challenge: finding an agile workspace that could flex with aggressive growth
Cimpress, a multinational mass customization company, was scaling aggressively in India. They envisioned expanding their geographic footprint outside Mumbai, where they were headquartered. Bengaluru, a leading talent market for software engineering, became a preferred location. Cimpress India is a shared strategic hub for all 15 e-commerce businesses that Cimpress runs across the world. They provide an opportunity for these businesses to grow their teams in technology and design services, so it's crucial to acquire the best talent.
Cimpress wanted to quickly set up a Bengaluru office without spending months visiting sites and negotiating leases. They needed a move-in ready office that was suitable for both the creative and technical talent they were hiring. Since Cimpress anticipated further growth, they also required an agile real estate solution that could flex to accommodate a larger team.
To keep in line with the company's global culture, Cimpress sought to create a positive and productive environment for their teams, where employees could maintain work-life balance. Furthermore, Cimpress needed a location that was easily commutable and provided a variety of workspace options.
The solution: a flexible workspace solution for diverse business needs
Cimpress India found a workspace at WeWork RMZ Latitude Commercial in Bengaluru. The office is centrally located near residential neighborhoods, just a half hour from Kempegowda International Airport. Cimpress initially chose a 30-person space knowing they would have the flexibility to expand as they continued hiring in the city.
WeWork understood the needs that were specific to hiring in Bengaluru. At WeWork, the engineers found quiet areas, while the open plan spaces and inspiring interiors motivated the creative professionals. With the WeWork community team organizing ongoing social and professional development events, all of Cimpress's team members can now better connect with one another to network and learn new skills.
In addition, WeWork's presence in cities around the world helped Cimpress become more nimble in their growth strategy. As Cimpress grew in Bengaluru, their Mumbai team was scaling and also needed room to grow. Considering the notorious Mumbai traffic, Cimpress selected a space in WeWork 247 Park, in the eastern suburbs, to give employees an additional office location, reduce travel time, and achieve the work-life balance that Cimpress strives to give team members.
The result: from an experiment to a strategic real estate partnership with WeWork
What started as an experiment for Cimpress India, with a 30-person office at WeWork RMZ Latitude Commercial in Bengaluru, quickly grew into a strategic real estate partnership. Within eight months of moving in, Cimpress had 184 desks at the same location and had taken up 123 desks at WeWork 247 Park in Mumbai.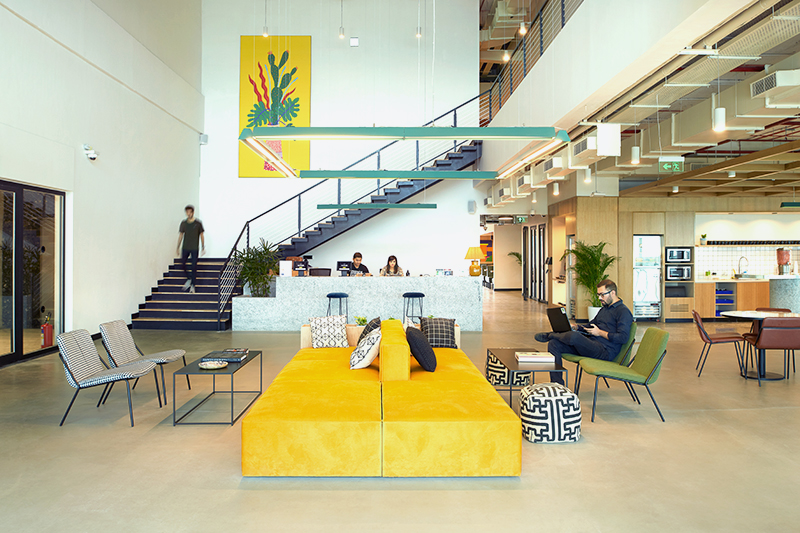 "For organizations that want to be nimble, agile, and fast-growing, WeWork is a great choice. Whether you are a startup or a Fortune 500, WeWork provides value that fits different kinds of organizational needs," says Jitendra Dadhich, head of finance at Cimpress India.
Since Cimpress now has an easily accessible space in Mumbai's eastern suburbs, they can widen their talent pool and hire people from across the city. The company's office in Bengaluru provides the same benefits. Cimpress's partnership with WeWork helps employees manage their time more effectively, spend more time with their families, and be more positive and productive at the workplace.
Key highlights:
Flexible workspaces that can expand to accommodate team growth
A pan-India presence that lets Cimpress open new offices quickly in different markets
Easily accessible offices that reduce employee commutes and help maintain work-life balance
Community events and professional development sessions that keep employees engaged and motivated
WeWork offers companies of all sizes space solutions that help solve their biggest business challenges.