Companies of all sizes have one thing in common: They all began as small businesses. Starting small is the corner for those just getting off the ground. Learn about how to make that first hire, deal with all things administrative, and set yourself up for success.
The way companies go about finding new office space is changing. More teams are turning toward serviced offices and other kinds of flexible office space as a way to remain agile and avoid being tied down by rigid, long-term lease commitments.
But with so many possible alternatives to a conventional office lease, how do you know whether a serviced office is the way forward for your company? These types of spaces are all-inclusive turnkey solutions, outfitted with everything you and your team need to get straight to work without the hassle of hidden setup costs and ongoing expenses.
WeWork has a range of flexible office space solutions designed to meet the specific requirements of your business. You can rent a furnished office suite by the month for teams of up to 100 people, scaled to your preferences, and with a layout chosen by you to support the needs of your business. You can make the space your own with the option to integrate your company branding, and add bespoke features such as a reception desk and executive offices.
For added privacy, WeWork also offers fully furnished full-floor offices for larger teams, with a wider range of private amenities and even more options for personal branding throughout.
In this article, we'll take a closer look at how serviced offices work, who uses them, and how they differ from conventional offices and coworking spaces. But first, let's define a serviced office.
What is a serviced office?
A serviced office is a type of rented office space that comes fully furnished and ready to use. They're sometimes called executive offices or managed offices. Unlike a conventional office lease that requires a company to commit to a long-term tenancy, serviced offices can be rented on a short-term basis for an all-inclusive fee.
These offices come equipped with everything a company needs to hit the ground running, including desks and chairs, storage, printing facilities, and a fast, reliable Wi-Fi connection. Many serviced offices also include extra features such as a staffed reception area, a full kitchen and canteen space, an on-site gym, pay-as-you-go access to shared conference rooms, breakout areas, and event spaces.
Who can use a serviced office?
Anyone can take advantage of a serviced office, but the flexibility and convenience offered by these facilities are well suited to certain types of business. These include:
Fast-growing businesses. Companies that have outgrown their existing premises and need more space quickly can take advantage of serviced offices to accommodate new and growing teams.
Companies entering new markets. When expanding into a new city, state, or country, a business can quickly lay the groundwork for this expansion with a serviced satellite office rented on a short-term basis.
Entrepreneurs and small teams. The lack of hidden overhead costs and the freedom and flexibility of short-term leases make serviced offices an attractive option for startups, entrepreneurs, and small, agile teams.
Benefits of serviced offices
Cost-effective
A serviced office comes fully equipped with everything a company needs to hit the ground running, such as printing facilities, furniture, and a fast wireless internet connection. They're also scalable to suit your business, so you don't waste money on office space you're not using.
Short-term leases
Shorter or more flexible lease terms allow you to rent office space for precisely as long as you need to, so your company avoids getting stuck in a rental commitment that might prevent it from branching out or adapting to changing market conditions.
Useful facilities
Most serviced offices come with useful facilities included. Common additions are features like private kitchens and staffed reception areas, but they might also offer more specialist facilities such as on-site gym access, IT support, and AV-equipped conference rooms.
Easy to move in and out
As these types of offices are fully furnished and ready to move into at the drop of a hat, there's no waiting around. Utilities such as internet, water, and electricity are already hooked up, and there's no need to remove or transport bulky equipment when it's time to leave.
Maintenance
The cost and time expense of maintenance, upkeep, and cleaning are the responsibility of the serviced office manager and are typically included in your rental fees. If serious repairs are required, such as fixing a leak, you may even be offered temporary office space while the work is being carried out.
Internet services
Serviced offices are "always on" and don't require you to enter into a contract with internet service providers when you move in. A good serviced office will also include a fast Wi-Fi mesh network throughout, ensuring teams can stay connected no matter where in the office they choose to work.
Access to new markets
Flexible leasing options present a low risk for companies looking to expand into new territories with a satellite office. By taking advantage of a serviced office, a business can quickly staff up in an unfamiliar market, without the expense of furnishing the space or the commitment of a long-term lease.
Networking
Many serviced offices are within shared buildings where other companies operate, giving you the opportunity to network and build relationships with other business leaders working in your field.
Location
Renting a serviced office in a prime location is an affordable alternative to entering into a long-term lease. It's also a great way to quickly center your company in the heart of the city, where you can be close to public transport links and local amenities such as entertainment venues and bars and restaurants.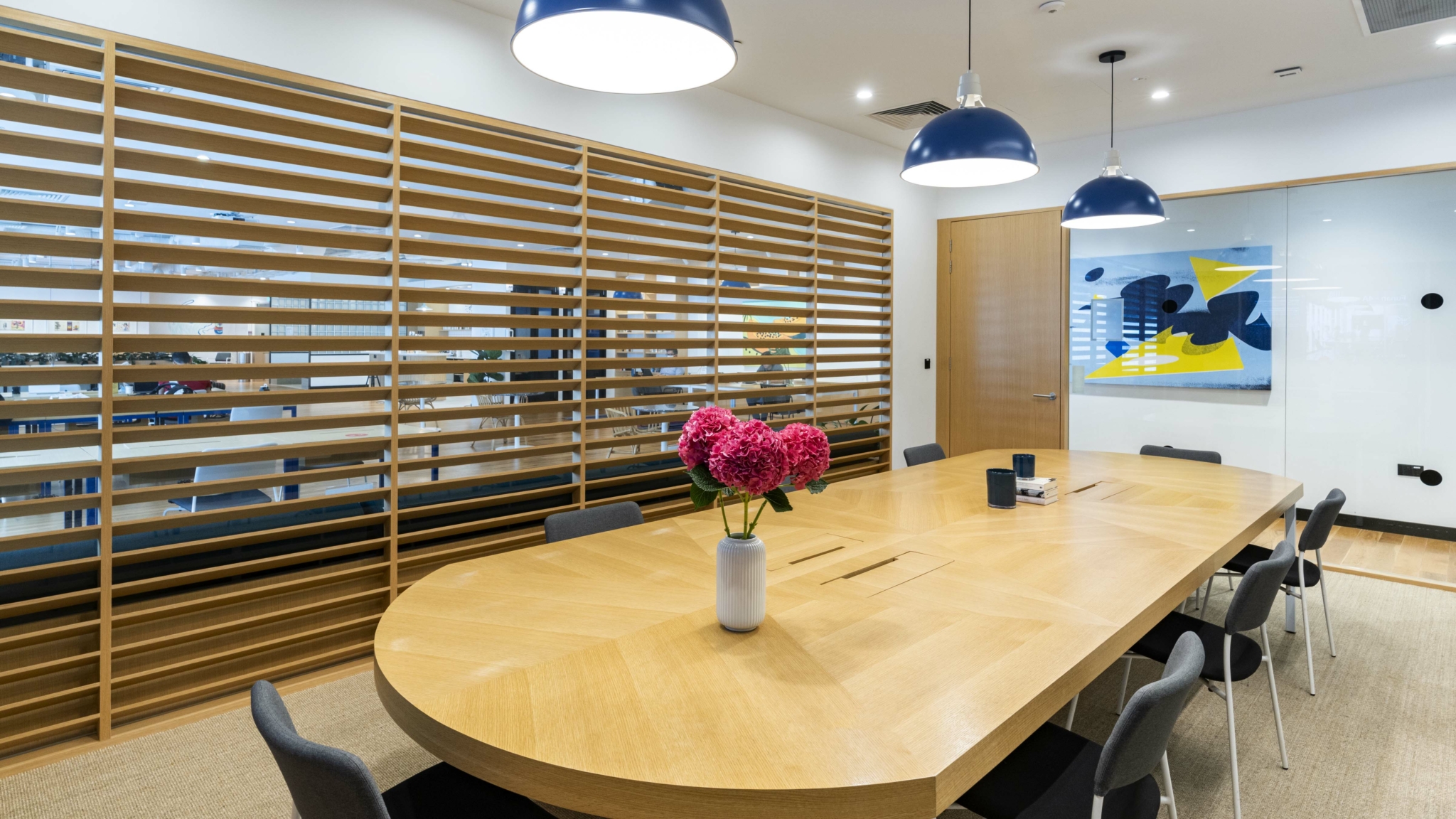 Serviced offices vs. coworking
While they may seem similar at a glance, serviced offices and coworking spaces are designed to meet the specific needs of two different types of businesses.
A coworking space is a more flexible solution than a serviced office, and it's more likely to offer things like pay-as-you-go access or membership of multiple locations operated by the same provider. A coworking space is more affordable than a serviced office and is ideal for small, agile startup teams, as well as freelancers who want to rent a single desk or a meeting room by the day or by the hour.
A serviced office is usually leased on a monthly basis and offers more private space and fewer common areas shared by multiple companies. It's better suited to companies looking to reduce maintenance and equipment costs as well as to businesses that require a greater degree of privacy and administrative support.
Why should you choose a serviced office?
Business owners choose serviced offices for all of the reasons we've mentioned above. Maybe you're a growing company that's not in a position to be tied into a multiyear lease. You might simply want to avoid the hassle and outlay of buying your own equipment and looking after unexpected maintenance concerns. In both cases, a serviced office is a convenient and flexible office space solution.
Renting a whole office or an entire floor of a shared building can also safeguard the privacy and confidentiality of your team, your data, and your clients. Depending on the office, it could also give you the freedom to brand your office space with your company logo to project a more professional image to visitors and employees.
Steve Hogarty is a writer and journalist based in London. He is the travel editor of City AM newspaper and the deputy editor of City AM Magazine, where his work focuses on technology, travel, and entertainment.
Rethinking your workspace?