Around the world, companies of all sizes find space to succeed at WeWork. Our case studies share their unique stories. 
As the COVID-19 pandemic hit this year, Bangkok, Thailand–based Globish Academia saw a huge surge in demand for its products. The educational technology startup provides online English language training for both adults and children. 
It needed to expand quickly – but in a way that prioritised health and safety – in order to meet the increased demand for virtual learning. To ensure that the company could rapidly grow and change, Globish relied on their partnership with WeWork.
The challenge: managing hypergrowth during a pandemic
Globish, which employs language coaches around the world, had to respond quickly to some major shifts in the market caused by the pandemic.
First, the demand for online classes exploded, especially as parents sought more learn-from-home options for kids. The ratio of children using the platform jumped from 25 per cent to 60 per cent, according to Gittitouch Apisaksirikul, Globish's co-founder and chief operating officer. The company also went from offering 250 classes per day to more than 600. To keep up with those changes, Globish needed to find ways to attract the talent it needed to keep growing. 
At the same time, Globish prioritised protecting the well-being and productivity of its employees in the Bangkok headquarters as the pandemic disrupted typical ways of working. Since WeWork kept its buildings open throughout the pandemic, Globish was able to implement split-team arrangements, with some departments coming in Monday, Wednesday and Friday, and others on Tuesday and Thursday. This allowed its key functions to have a conducive space to continue supporting the business.
Before COVID-19, Globish was already in a temporary space at WeWork Spring Tower in Bangkok. The organisation had previously turned to WeWork because it found that traditional office spaces could not provide the flexibility and scalability it needed. Now an increase in demand for its services meant it needed more headcount. It decided to upgrade its space by signing on for half a floor in WeWork Spring Tower, to support its hypergrowth while maintaining a safe work environment.
The solution: a de-densified space for innovation, collaboration
WeWork addressed both the short- and long-term needs that arose for Globish due to the sudden increase in demand for their services.
'COVID-19 has been a catalyst for change, and we are seeing the need to adapt to a new hybrid work order that best suits our business model,' Apisaksirikul says. 
What that meant in practice: during the height of the pandemic in Bangkok, Globish implemented a dispersed workforce and split-team arrangements for employees at its headquarters there. That de-densified Globish's space at Spring Tower so that employees could practise social distancing even as the Globish team grew larger.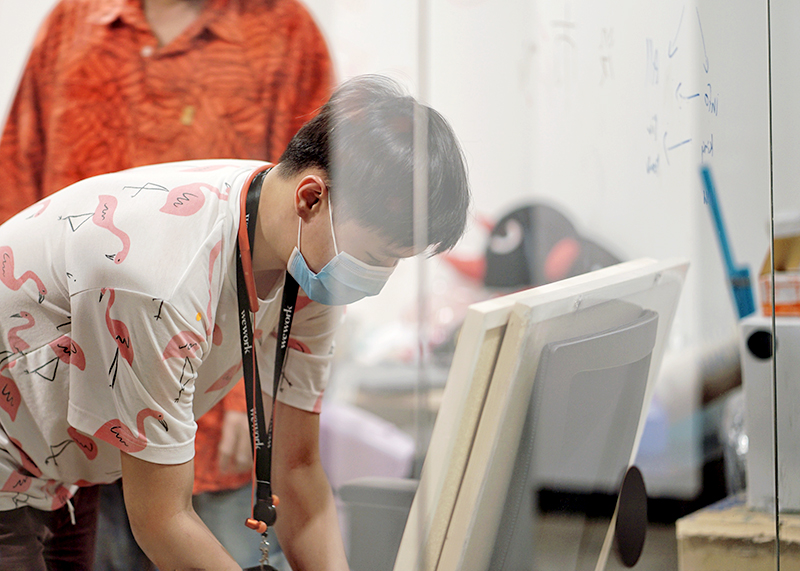 The company also had to make sure that the office followed the hygiene and cleanliness standards set by the government. Having WeWork handle the new health and safety measures gave Globish extra peace of mind and saved the business money compared with being in a traditional office space. 
'Their guidance and transparency helped us to navigate the situation as it evolved,' Apisaksirikul says of WeWork.
Another advantage WeWork offered over traditional office spaces was flexible leasing. 'As an education technology startup, they are familiar with the unpredictability and speed of how fast things evolve,' says Jarmjuree Leong, the account executive for Globish at WeWork. 
'For Globish, being empowered with the capabilities to plan their workspace strategy accordingly was crucial for their day-to-day operations,' Leong says. WeWork was able to meet Globish's need to scale, so that Globish could reimagine its workspace and provide its employees with a space to return to that prioritised safety.
The result: growing revenue and a flexible future
With WeWork's support on logistics, Globish could focus on its operations and strategy in scaling back to work. Apisaksirikul believes this was a 'turning point' in how the company navigated the pandemic.
As Globish brought more Bangkok team members back to the office, WeWork has enabled the company to maintain lower density while keeping the team in the same building. Apisaksirikul says that the company can continue to scale up as needed without compromising on safety or efficient operation.
The past months have brought dramatic growth for Globish. It has gone from 60 employees at its Bangkok headquarters to a little over 120. The WeWork space is a valuable tool in recruiting. It has also helped Globish maintain its company culture during the most challenging of times.
'When we looked at the talent landscape, one thing that stood out was the competitive recruitment and how an optimal workplace made the difference,' Apisaksirikul says. Knowing that their office is safe, employees have the confidence to maintain the in-person interactions that strengthen collaboration and connection, he adds.
That's especially important for a company that's growing as fast as Globish is. Apisaksirikul recognises the role that the right workspace has in supporting productivity in innovation.
'Having access to multiple meeting rooms with the support of various amenities at WeWork, it has thoroughly enabled us to balance employee productivity and company culture,' he says. In a space that keeps the inspiration flowing and enables employees to be at their best, Globish is thriving.
'With many of our employees from Gen Z and Gen Y, we see our workplace as our core that sets the tone for our company values,' Apisaksirikul says. 'Providing them with the space and environment to increase their fulfilment at work is one way we see a great improvement in their performance.'
Globish sees strong job satisfaction and performance reflected in employee surveys and benchmarks. The bottom line also shows that Globish is on the right track. From the first to the second quarter of this year, revenue grew more than 17 percent: from 29 million THB (about $930,000 U.S.) to 34 million THB (about $1 million U.S.).
'This is a testament to how our team has tapped into the WeWork space for greater success,' Apisaksirikul says.
Looking ahead, Globish is taking advantage of the worldwide presence of WeWork to fuel more growth. As the company expands its operations to Vietnam, it sees the opportunity to grow its footprint easily, Leong says. Globish is also planning to add new services, such as Chinese courses.
As it continues to grow, Globish knows that WeWork gives the company the flexibility to quickly adapt to their changing needs.
'This, in turn, strengthens our vision, culture and core values passed down to our learners and, ultimately, the greater society,' Apisaksirikul says.
Key highlights:
A de-densified space that allowed for a dispersed workforce within the same location
The ability to lean on a partnership with WeWork to spread out across half a floor
Health and safety measures, implemented by WeWork, that comply with government directives
Leasing terms that give flexibility amid rapid change
A partnership that supports global expansion as the business pursues new markets