The pandemic disrupted the office in profound ways. It also created significant opportunities and multibillion-dollar risks for the federal government—the largest owner and occupier of office space in the U.S. For the government, embracing hybrid work and a smaller, more flexible real estate portfolio turns financial risk into taxpayer savings and is an opportunity to recruit and retain the talented employees the government needs.
But do government agencies have all the tools they need to seize the opportunities created by remote work? I'd say not right now—but those tools are available to them through flexible workspace. Here are some ways flexible real estate can help the government make the shift toward hybrid work.
Flexibility turns risks into opportunities and savings
The pandemic and shift to hybrid work revealed a massive disconnect between the federal government's office space portfolio and what employees need to do their jobs. The government's real estate footprint is too large, too expensive, and too poorly configured to accommodate collaborative work. Yet officials have tremendous uncertainty about what to do about it.
Many private companies have already realized there is another choice: turnkey, flexible office space. This kind of space doesn't require upfront capital, can be acquired in months (not years), and has short-term commitments, so you can pay for what you need today and easily expand or contract to meet your changing requirements tomorrow. Paying for space when you need it—and only when you need it—is perhaps the most powerful tool for lowering costs and creating the spaces for collaboration your employees need after a year of working from home.
Flexible real estate providers allow agencies to cut expiring leases now, save money immediately, give employees choices, experiment with the office of the future, and buy time to figure out their long-term requirements. Without this solution, given the size of the federal government, hundreds of millions of dollars may be wasted on empty leases.
An expiring lease with a long-term space reduction or relocation
A common (and expensive) dilemma for federal real estate officials is having an expiring office lease while knowing that the agency has a smaller footprint requirement in the future or that it wants to relocate. Given the years it takes to replace a lease or build out a government owned facility, contracting officers often feel forced into expensive, multiyear lease extensions.
Yet the pandemic has made extensions like this even more difficult to justify, as the leases are mostly empty and larger than necessary. Fortunately, the investment that agencies made in mobile technology during the pandemic means they can shift to smaller, less expensive flexible solutions quickly and with minimal capital outlays.
Agencies can then experiment with the full array of distributed and remote work solutions their employees desire while they firm up their longer-term real estate needs and set those procurements in motion.
Employee recruitment, retention, and equity
In the new hybrid workplace model, employees will have the ability to work from multiple environments in any given week, and they may also split each workday between different locations. An employee might start their day working from home, then go into an office or coworking space to meet with colleagues. In fact, over half (53 percent) of employees we surveyed say they want to work in an office three days per week or fewer. Three in four employees said they'd give up a benefit in exchange for choosing where they work once the threat of COVID-19 subsides, a WeWork and Workplace Intelligence study showed. Even the White House's Office of Management and Budget acknowledged hybrid work is the preferred way forward for many in government.
While employees prefer to work remotely, many don't have the home offices of their dreams or may not benefit equitably from agency telework policies. Mandating employees to come into an office five days a week may not be any better, especially if long or complicated commutes are involved.
By adding flexible workspace providers to the mix, employers give their teams the power to choose where they work and ensure the benefits of increased telework are available to all eligible employees on an equitable basis. Working from a so-called "third space," such as a nearby coworking location, can increase their productivity and engagement.
One former GSA administrator has said he believes the flexibility of locations that WeWork— which has locations in over 120 global cities—provides may help with personnel recruiting efforts by providing more choice in duty stations.
A requirement for more of the right kind of space
After a year and a half of telework, a typical agency floor plan of private offices and cubicles is too big and poorly suited for the collaborative work drawing people back to the office. Reconfiguring existing space takes years and major capital investments, which most agencies don't have or could better spend on people or technology. Instead, companies are pivoting to flexible providers to add amenity-rich, collaborative spaces to their portfolio quickly and on a monthly or annual basis. There is no need for long-term contracts or large capital investments when partnering with WeWork.
Organizations find they need significantly less space with WeWork than they would in a traditional leased or owned location. This is because there are many shared spaces in WeWork locations. "Special space" requirements such as conference rooms, printer and server rooms, pantries, and reception areas often take up a larger portion of a tenant's dedicated usable space in a traditional lease.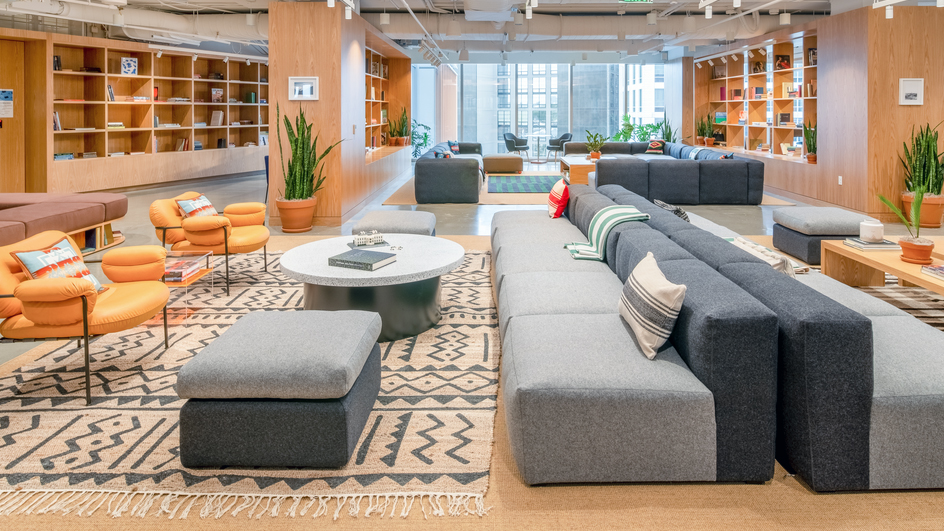 In a flexible office model, these spaces can be located outside a member's dedicated space and booked on an as-needed basis. Because these amenities are shared, members only pay a pro rata share of their costs and have access to a much higher quality and quantity of amenities. In fact, under a traditional lease, a large meeting room or collaborative space may simply be cost-prohibitive for smaller offices.
An uncertain future requires flexibility
Agencies won't know what the future holds for real estate for several more years, yet their employees want choices over where, when, and how they work today. Holding onto expiring leases not only wastes hundreds of millions of taxpayer dollars, but it also limits the opportunity to access the quality space, locations, and workspace choices necessary to retain and attract talented employees.
WeWork Government Solutions can offer access to traditional coworking spaces, private offices, full-floor suites, and whole buildings. Government employees can also elect to use hundreds of WeWork locations across the U.S. and over 30 countries through products including WeWork All Access and WeWork On Demand.
Each WeWork option comes with office essentials. The security infrastructure for non-classified work is already in place, while custom technology solutions are available for more sensitive or classified projects. WeWork already has deep experience working with governments and can provide dedicated bandwidth, private wired VLAN, even private, segmented IT closets when needed.
Governments around the world have already moved into WeWork locations. In Asia, a local government leased a private floor in one building to create a space for technology innovation. In Europe, a federal agency moved its 200-person digital development team to WeWork when it outgrew its existing offices earlier than projected. In North America, a military agency chose WeWork to house its 250-person team on a secure floor designed to meet its specifications. And in Mexico City, one intergovernmental agency moved into a WeWork after an earthquake damaged its office.
Get in touch to see how WeWork can help solve your real estate needs.
Dan Mathews is head of federal sales at WeWork. He has spent more than 20 years working in Washington, D.C., including more than two decades on Capitol Hill. He was most recently the Commissioner of the U.S. Public Buildings Service at the General Services Administration.
Rethinking your workspace?