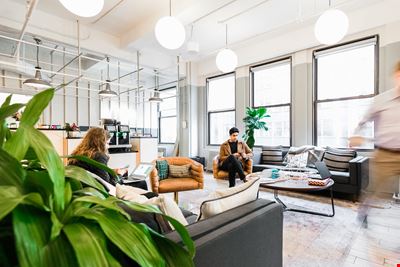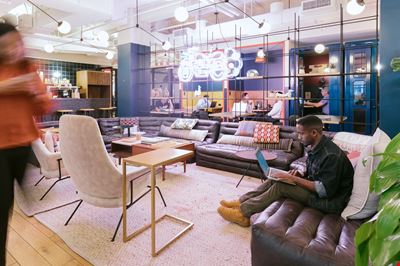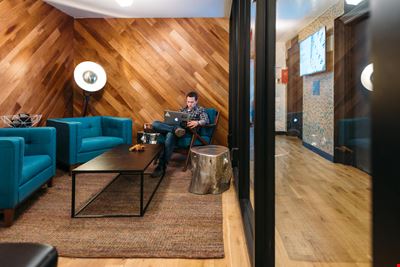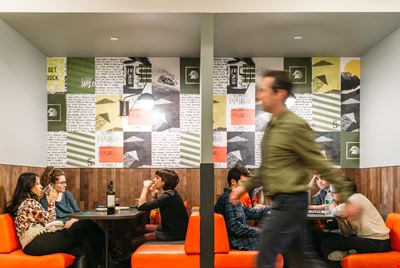 Interested in this location?
Complete the form below to book a tour or connect with one of our team members to learn more.
Available spaces and solutions
Recommended for you
Private Office
Move-in ready private workspace for teams of all sizes with your choice of shared or private amenities—plus Full Floor options available for added privacy and personalization.
Let's start a conversation
Workspace for the Day: WeWork On Demand
Book access to coworking space or a private office for the day. Learn more
Meeting Rooms: WeWork On Demand
Book conference rooms by the hour for groups of all sizes. Learn more
Monthly Membership: WeWork All Access
Access to hundreds of coworking spaces near you and around the world. Learn more
*Plus applicable taxes and fees
Private Office
Select your move-in date and capacity to view inventory.
Full Floor Office
With private amenities and options for personal branding.
Professional amenities
Cleaning services Event space Wellness room Mother's room Dog-friendly Recreational games Professional events and programming Tech Services
Learn more
Amenities
Cleaning services
Event space
Wellness room
Mother's room
Dog-friendly
Recreational games
Professional events and programming
Tech Services
View all amenities
Location
27 E 28th St New York NY 10016
Nearby transit
4, 5, 6, N, Q, R, L

Park Right, located at 39 East 29th Street (enter 6am-9am, exit by 7pm, $25.35). Imperial Parking, located at 201 East 28th Street between 2nd & 3rd Ave (enter 6am-10am, exit by 7pm, $21)

FDR

Madison Ave & East 29th, Madison Ave & East 30th, 5th Ave & West 29th, 5th Ave & West 30th, Lexington Ave & East 28th
NoMad Office Space
Near the iconic Flatiron Building, this New York office space encompasses eight floors of a 17-story building dating from the 1920s. It's a sprawling space, but thoughtful design ensures that there are always some tucked away corners where you can concentrate on the project or comfortable common areas perfect for hosting that large-scale event. Eye-catching original art decorates this grand building.
The types of businesses attracted to the space run the gamut from newly launched tech companies, fashion bloggers, architects, venture capitalists—you'll find colleagues in just about every field within these walls. To get here, hop aboard the 4 or 6 line (they stop less than a block away) or the R, N, or Q lines (all two or three blocks from the front door). With a warm, welcoming environment, this coworking space is the perfect community to start or grow your business.
What people are saying
Kate Harvie
November 06, 2023
The staff at this location is exceptional. And this is everyone from security at the doors on E. 28th and Madison, to the Community Team, to housekeeping. Who isn't exceptional are the too many people who - despite the witty and indirect o ...

Read more
Ivan Pohrebniyak
November 12, 2021
Came for a business meeting. The staff is friendly, lots of space to chill around, water and some free non-alcoholic on tap drinks. Clean and tidy. One caveat - the air ventilation in our meeting room (9 E) seem not to function (or that is ...

Read more
Nate
September 14, 2021
One of the best WeWorks in the citay 👑
Rosemarie Chan
November 20, 2019
Beautiful space. Nice restrooms. My meetup group used to meet there. Wish my workplace could move there.
Lysandra Webba Jorge
July 23, 2019
Dope shared working space that comes with lots of perks such as plenty of dogs everywhere, friendly community with lots of open activities, and diverse work spaces