Every WeWork space is intentionally designed to promote inspiration and collaboration. Designed to Inspire delves into the architectural and artistic elements of these spectacular buildings.
Soho, the heart of London, has been a magnet for British culture, music, fashion, and history for centuries. So when WeWork set about renovating two historic Georgian townhouses at 8-14 Meard St in Soho, they knew the new space would need to pay homage not just to the Soho of today, but to 300 years of buzzing neighborhood energy.
The result is a modern, sun-soaked lightbox wrapped in history. The twin storefronts of the building's original brick facade remain preserved in time, creating a time capsule of sorts that reveals a thoroughly modern interior as soon as you step through the door.
A neighborhood that was always a haven
The buildings in Soho are much like the neighborhood itself: quaint and compact. Development in the area began in the late 1600s, and although it was first populated by the well-heeled aristocracy, Soho quickly became a haven for refugees and those seeking religious freedom. Greek Christians came to its streets after fleeing religious persecution. In the 1800s, when a series of unsuccessful republican revolts failed to unseat the monarchies across Europe, a bohemian expat community flourished in Soho thanks to an influx of German, Hungarian, and Italian immigrants.
After World War II, Soho's status as London's cultural epicenter drew a flourishing music scene, which WeWork 8-14 Meard pays tribute to with the neon light installation of a trumpet that hangs at its entrance. The striking piece is the first thing that meets a visitor's eye as they walk in the door, and at night it casts a colorful glow over the darkened space.
British rock 'n' roll was born in Soho in the 1960s, and its first notes were heard at The 2i's, a coffeehouse on Old Compton Street that served as Europe's first rock club. Like most buildings in Soho, The 2i's is petite, with room for fewer than 30 people. But its tiny stage served as a launchpad for some of the greatest legends of European rock, including Cliff Richard and Tommy Steele.
A small space with a welcoming spirit
Like most of Soho's buildinngs, 8-14 Meard is designed on a smaller scale. To keep the experience cozy rather than cramped, WeWork adjusted its proportions. The reception desk is low and welcoming, allowing guests to gather around for conversation, as if they were at a dinner table.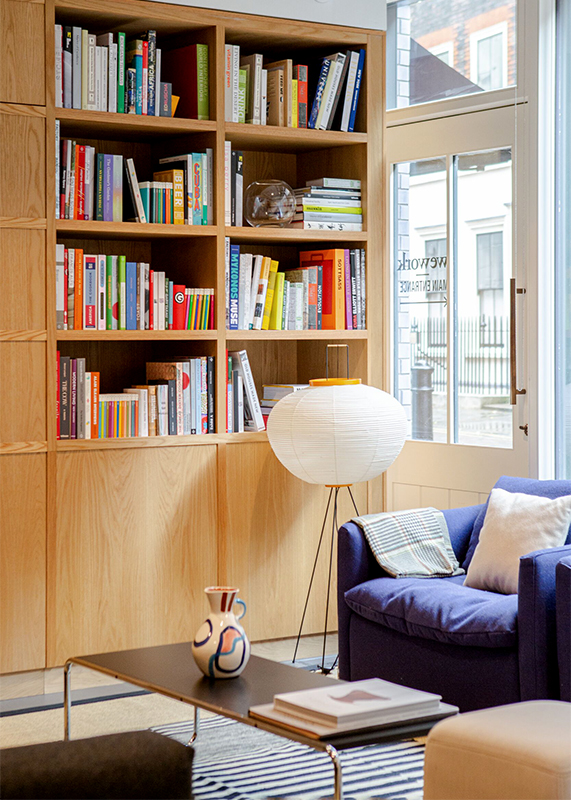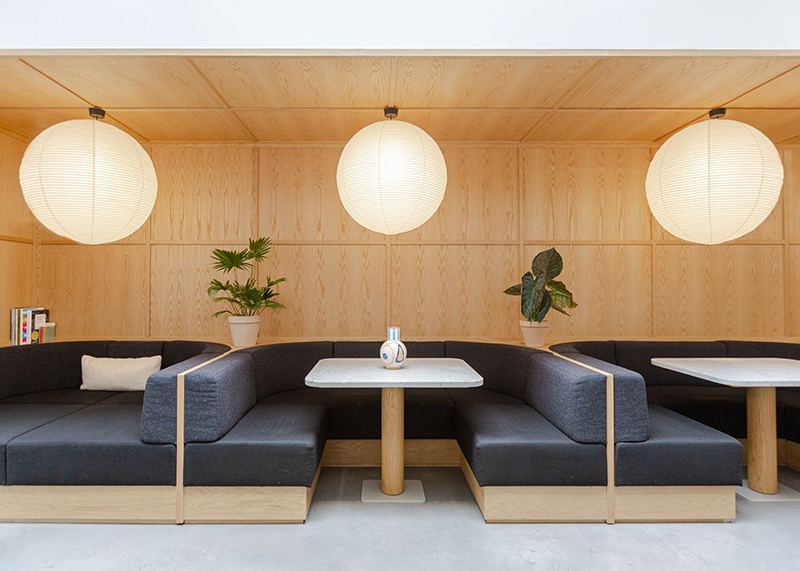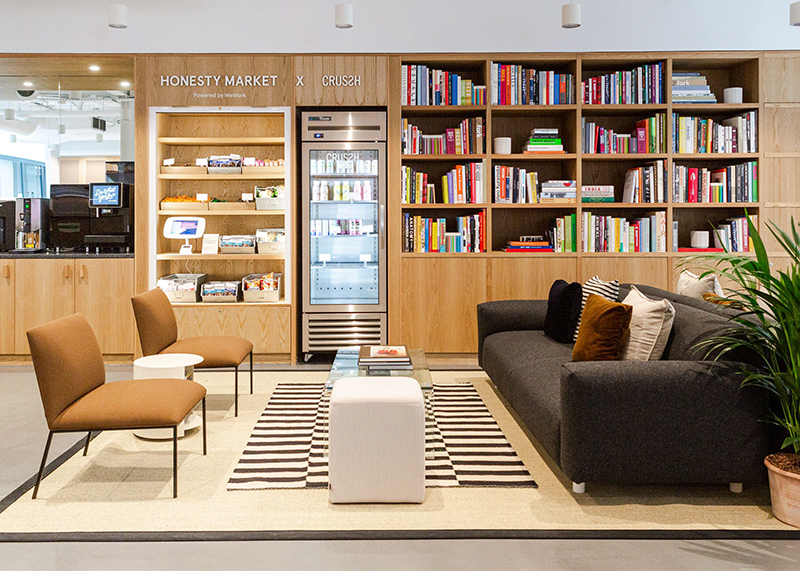 "It creates a space for people to come sit with the community team and have a conversation," says Scott Rominger, creative director, international studio at WeWork. "This building's size is so intimate. It gets such good light, and is clean and modern but also very homey."
Wood paneling on the reception desk and lounge walls is a nod to the historic interiors of Soho's Georgian townhouses, but its updated blonde color brightens the space and creates a sense of space and light. Bulb-shaped Akari lamps offer a dose of warmth.
The lounge, which is outfitted in a neutral palette with pops of primary color, also harkens back to Soho's past. Modern art pieces on white walls are illuminated by picture lights and fashioned into gilded gold frames, creating a fitting juxtaposition of old and new.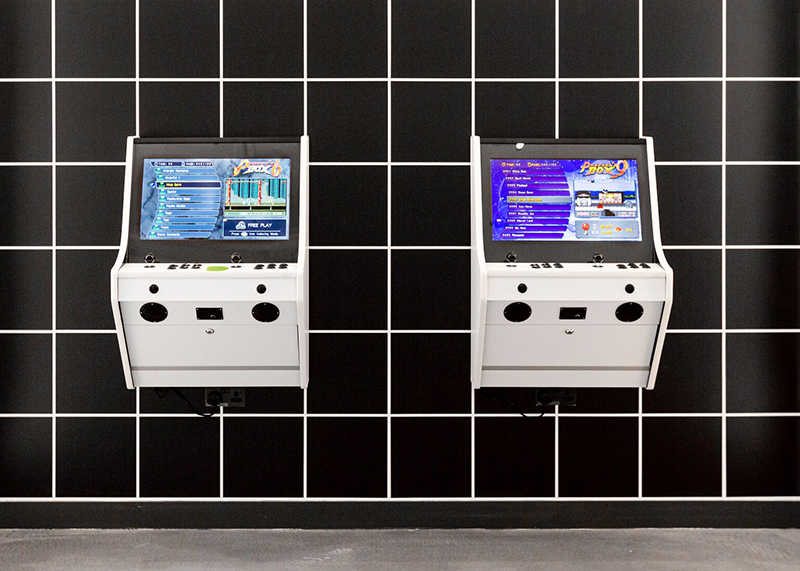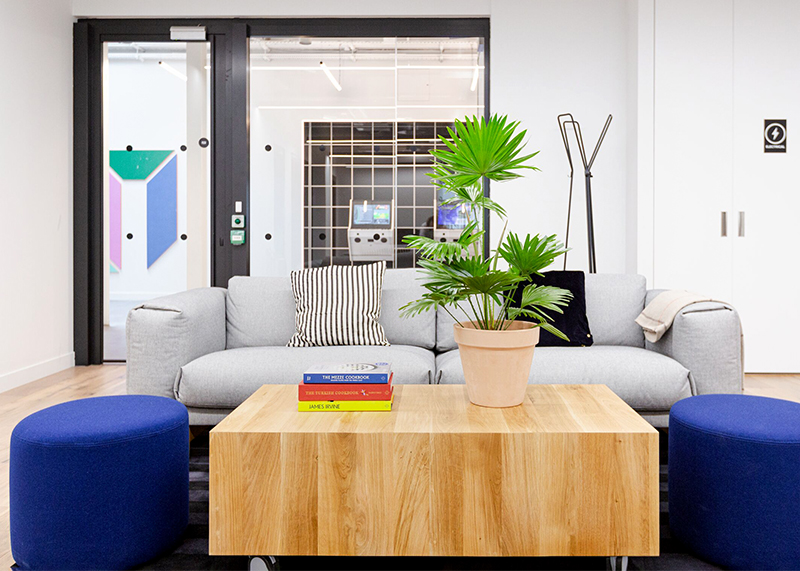 The lounge flows directly into the pantry, where the wood paneling extends. A mirrored backsplash and integrated appliances add roominess to the space, and bright white marble tables are wrapped by welcoming, curved benches upholstered in soft dove gray. Meanwhile, a stretch of hallway leading to the elevators, lit by skylights and graphic wallpaper, offers a playful contrast with vintage Atari games, an air hockey table, and neon tubing in the ceiling.
Remembering the roots of history
Like London itself, WeWork 8-14 Meard has a modern and fresh energy, but is always aware of its history. This legacy is expressed in the lowest floor, a basement bike storage room where a motif of London's streets creates a whimsical graphic floor.
Thanks to the building's compact size, each of the four upper stories is reserved for a single tenant, offering an intimate, private workspace that still benefits from the lively shared collaboration spaces of the ground-floor lounge and library.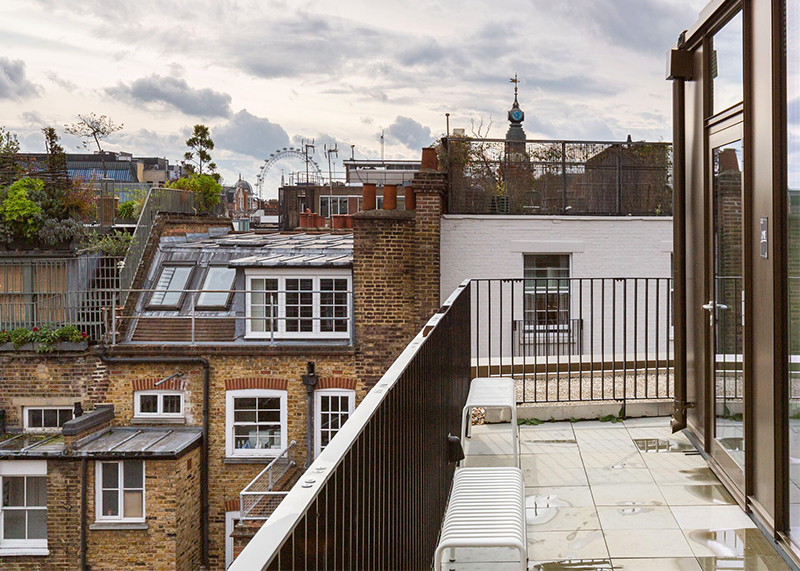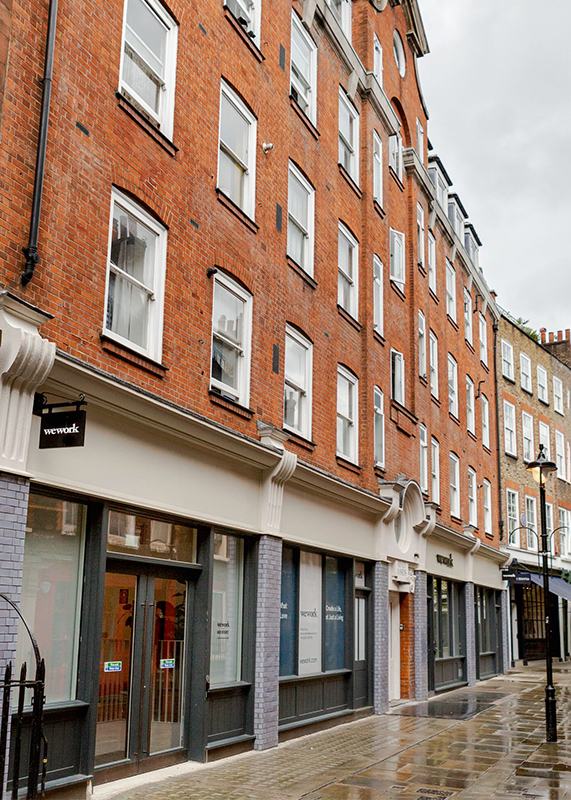 The workspace has clean lines and exposed black beams that bring the historic bones of the building up to date. The first, third, and fourth floors each flow into an outdoor terrace filled with fresh air and greenery, providing respite within the dense neighborhood. On the higher floors, each terrace places tenants directly amid the rooftops of Soho, with a view of a skyline that includes church spires and the legendary London Eye.
Soho takes its name from an old hunting cry that is synonymous with tallyho. It's an exclamation of joy and determination, of moving forward toward a shared goal. And in this reimagined building—where the bricks of a 1700s Georgian townhouse are now revitalized with bright, industrial design—London's most exhilarating district continues to move toward the future.
Rethinking your workspace?
Debra Kamin is a writer in California. Her work has appeared in The New York Times, The Wall Street Journal, Newsweek, CNN, and more.